Guys, I'm going to make a bold statement: I love winter. Unashamedly.
I enjoy the changing landscapes and the snow-capped mountains. I love the different light, and the drama of shorter days and long nights. I love being stuck inside on a snow day, cozied up wearing thick wooly socks and chunky sweater. I would infinitely prefer being cold to hot.
I feel more creative in winter, and I love being in the snow. Echoing memories of being a kid, snow invokes a great sense of nostalgia for me.
Does that make me a total weirdo? Wait, don't answer that.
This means that I often seek out places that are exceptionally beautiful come wintertime, and combined with my love of snowboarding, that means cold places with big mountains.
This means that I often seek out winter destinations on my travels, like reindeer sledding in Finnish Lapland to snowboarding in the Swiss Alps. As much as it's a total pain to pack for winter trips, especially now that I bring all my snowboarding gear along too, I really think it's a special way to travel.
While I've been to many of the mountainous areas of Europe, in all seasons, there was one place that had been on my mind for years that I hadn't been able to make it to yet: the famous Dolomites in northern Italy.
A land of fairytale villages and craggy distinct mountains lording over lush valleys, the Dolomites seems mysterious and not quite real to non-Europeans like myself.
And finally this year, 2019, I have the chance to really get to know an incredible part of the Dolomites: the Agordino.
To one side, over the past few years the neighboring Trentino-Alto Adige region has garnered quite a bit of love on social media, with popular locations quickly becoming "Insta-famous" online; and on the other side you have the well-known area of Cortina, home of the 1956 Olympic. However, there are plenty of other quieter parts of the Dolomites smack in the middle that have flown under the radar.
My good friend Emma, who I've known since my very first group blog trip to Brindisi a la summer 2013, runs innovative digital marketing campaigns in Italy, and has worked her ass off helping to create the Heart of the Dolomites, a project to develop and inspire tourism to this unspoiled region of the Dolomites and to share their incredible nature and local community with the world.
And guess what? I'm here to help!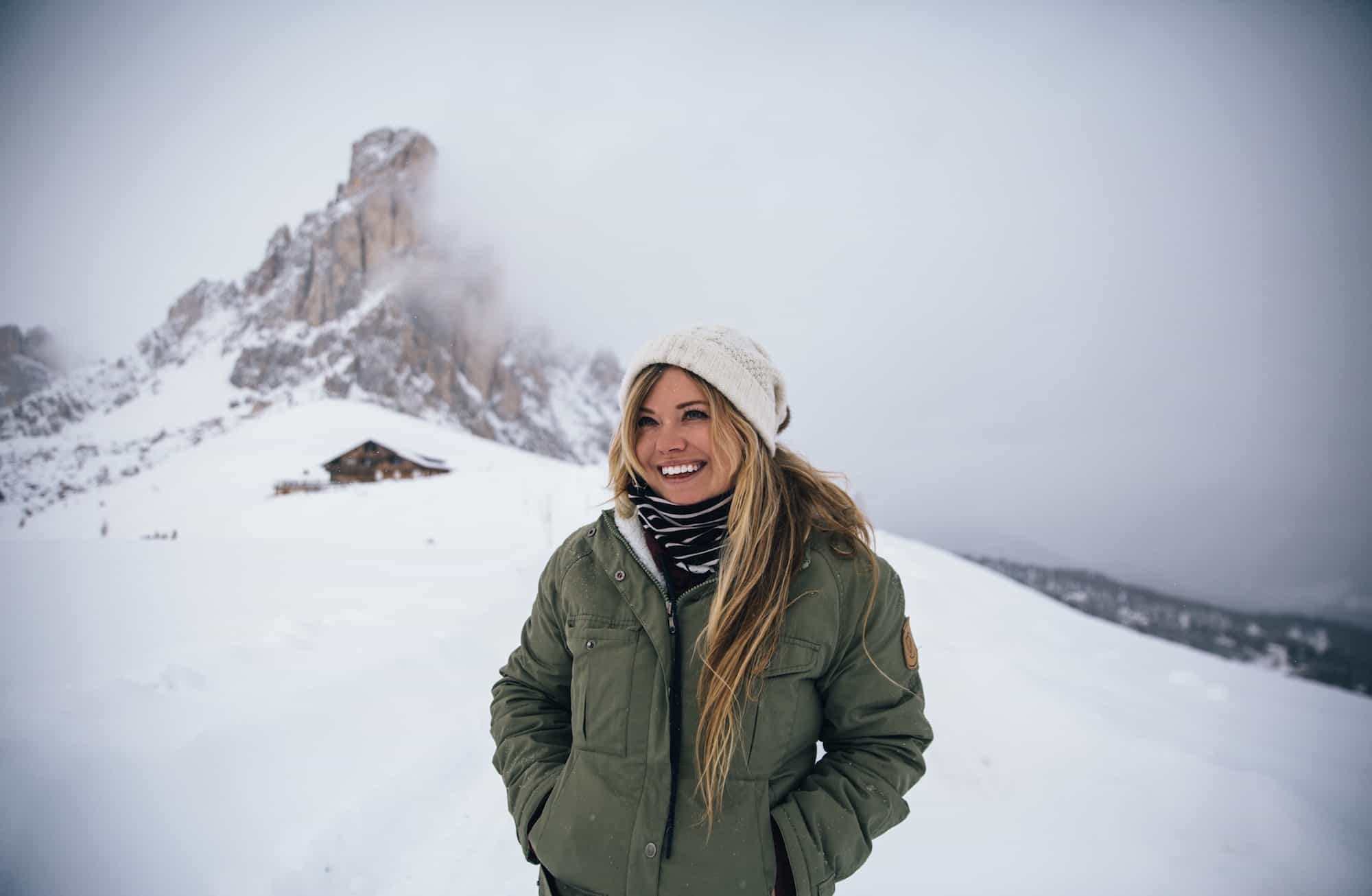 I'm working with them for a year to spread the word about the Medio Alto Agordino.
Made up of seven areas of Rocca Pietore, Alleghe, Cencenighe, Colle Santa Lucia, Livinallongo del Col di Lana, San Tomaso Agordino and Taibon Agordino, this is an area of the Dolomites that has been overlooked by international tourists for a long time. I made a handy Google Map here for you guys.
As about authentic as you can get, the Agordino area is an absolute treasure.
You want classic Italian nonnas stuffing you with homemade pasta and grappa? This is the place for you. You want to après ski with local mountaineers who talk with their hands emphatically and don't speak a lick of English? Come here. You want to experience the real Italy and some incredible nature without the hordes of tourists dominating places like Florence and Rome? Remember the name Medio Alto Agordino – AAA.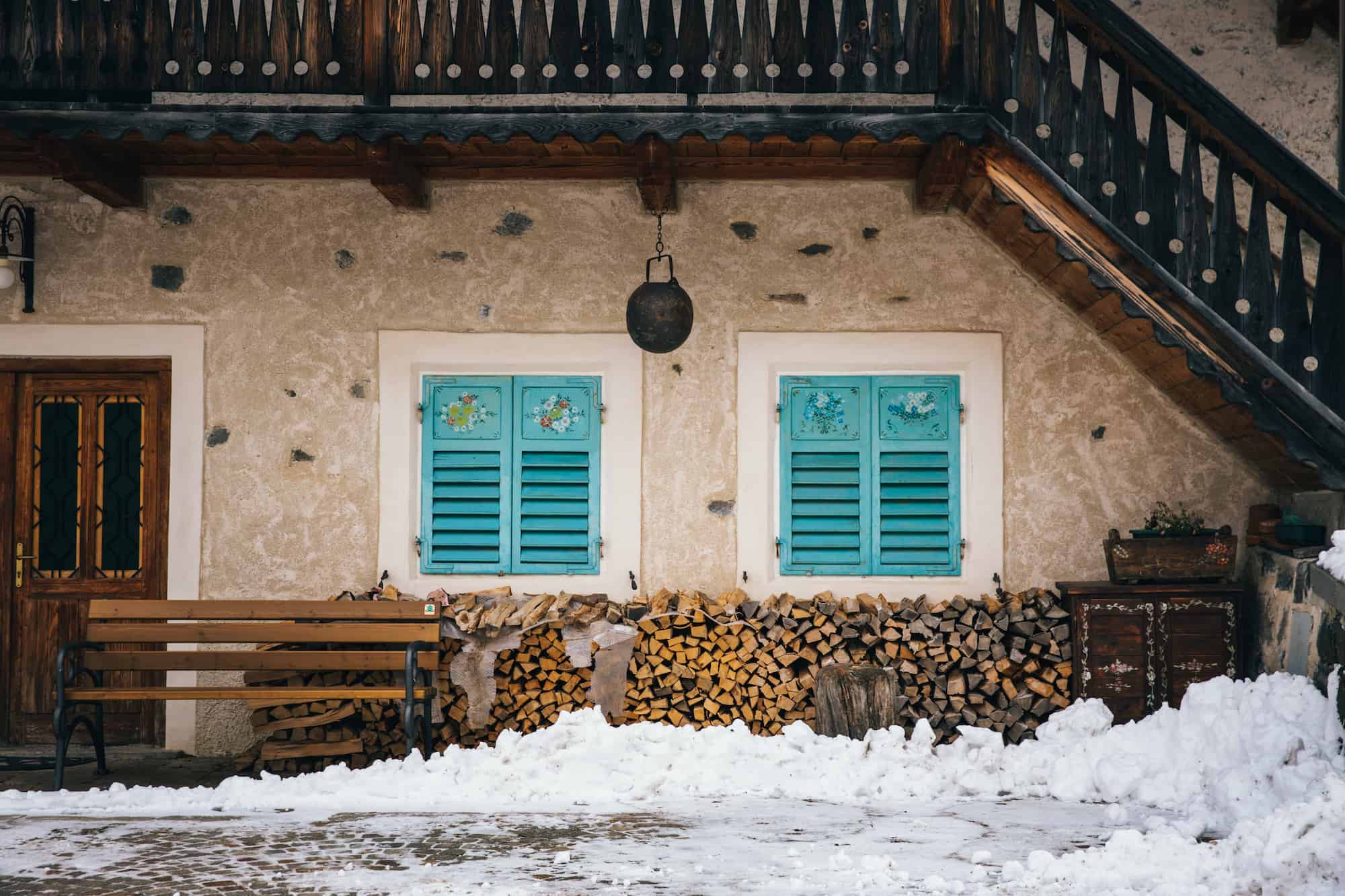 And if you love winter, this part of the Dolomites is for you.
Definitely book a winter trip here if you love to ski. With multiple resorts across the region, and part of the Dolomiti Superski, with just one ski pass you can access 12 resorts across the Dolomites, ride 450 chairlifts and ski 1,200 kilometers of slopes. Holy shit.
The closest airports are Treviso and Venice.
Even if you don't ski, Agordino is a perfect winter wonderland, an incredible landscape of snowy mountains and picturesque forests, of classic wooden chalets and cozy villages. Here are some of my favorite photos to introduce one of my new favorite corners of the world – enjoy!
Rocca Pietore
One of the municipalities making up the Agordino, Rocca Pietore is home to some beautiful hidden gems, picturesque villages and epic nature.
Lorded over by the queen of the mountains, the Marmolada, sitting pretty at 3,343 meters, in winter, it's a true winter wonderland in this part of the Dolomites.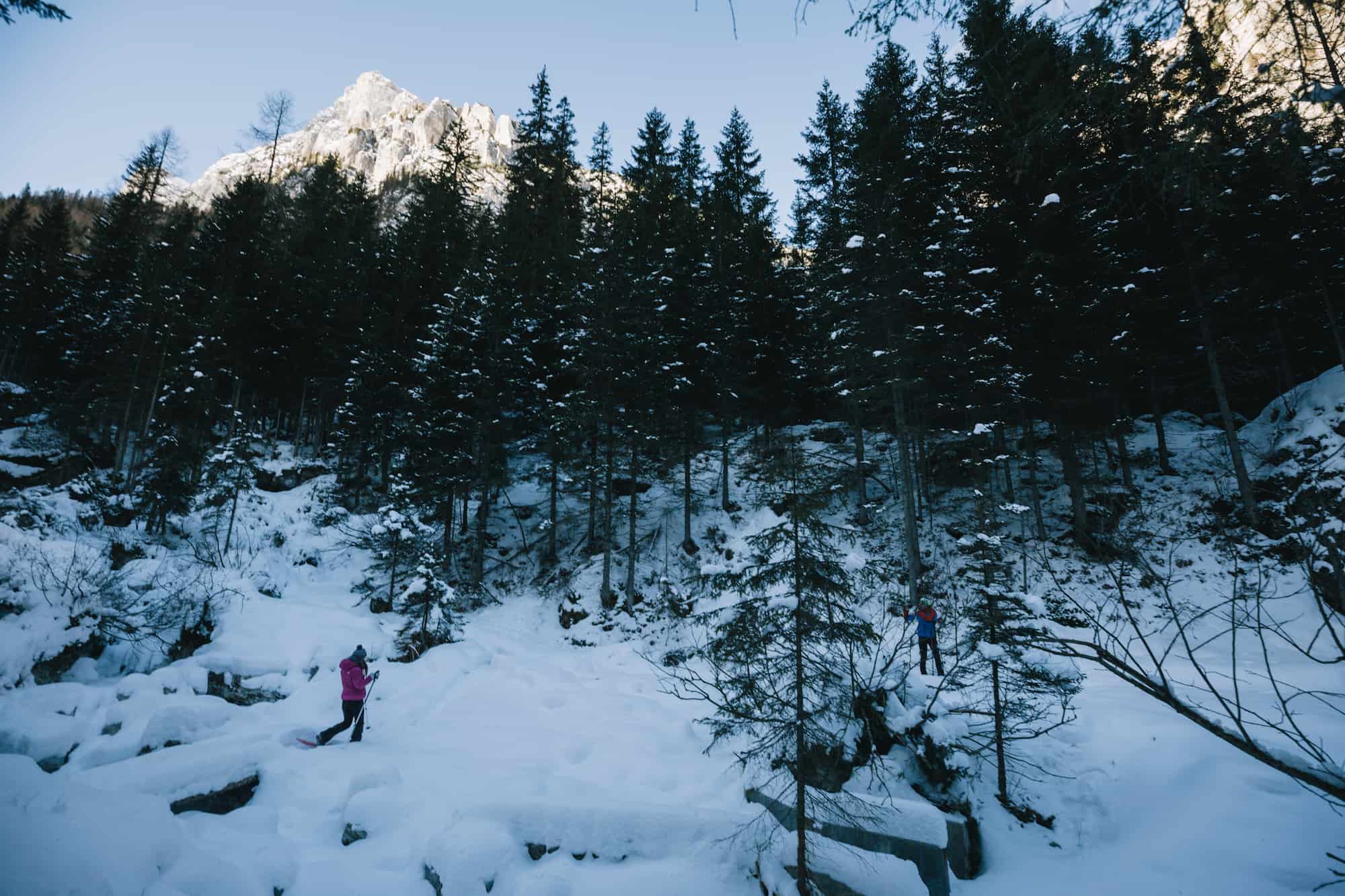 Snowshoeing around the mountains beneath the Marmolada from the local camp/caravan grounds, the perfect base for outdoor adventures in winter and summer
The little church of Sottoguda is quaint and charming
Sottoguda was named one of the most beautiful villages in Italy, and is home to classic woodcarving and ironworks studios, as well as this incredible cabin on a rock straight from a Wes Anderson film
Sunrise from the top of the Marmolada, accessible by cable cars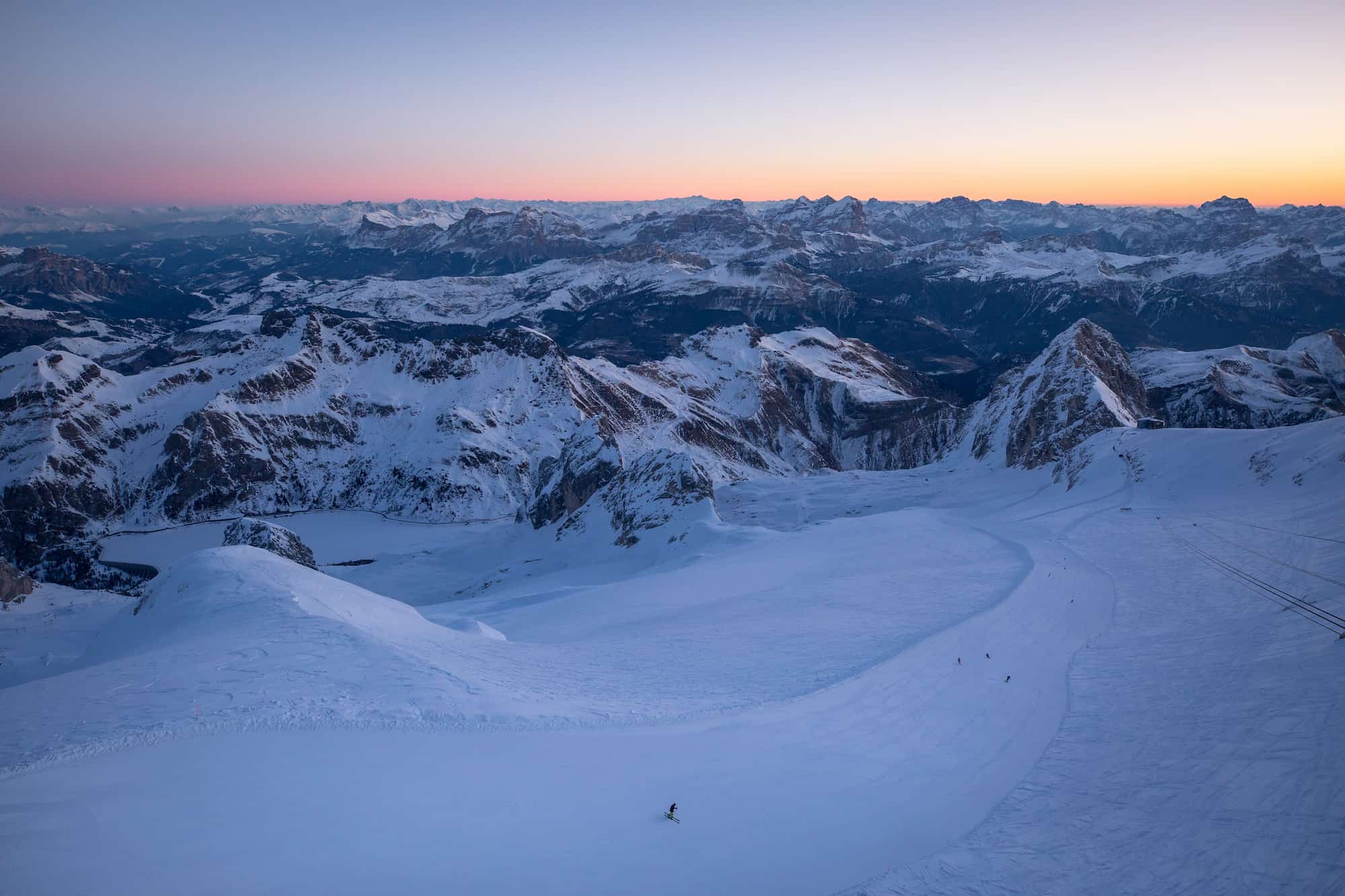 The ski run from the top of the Marmolada is 12 kilometers long and requires good legs
Cencenighe
I stayed in a cozy apartment in the tiny village of Chenet (ok, just a few houses) above Cencenighe, one of the many charming villages in the Agordino region.
Nestled in a stunning valley surrounded by mountains, I woke up my second day in the Agordino to the snow falling softly around me. Silent and pure, it was the most perfect welcome to the Dolomites.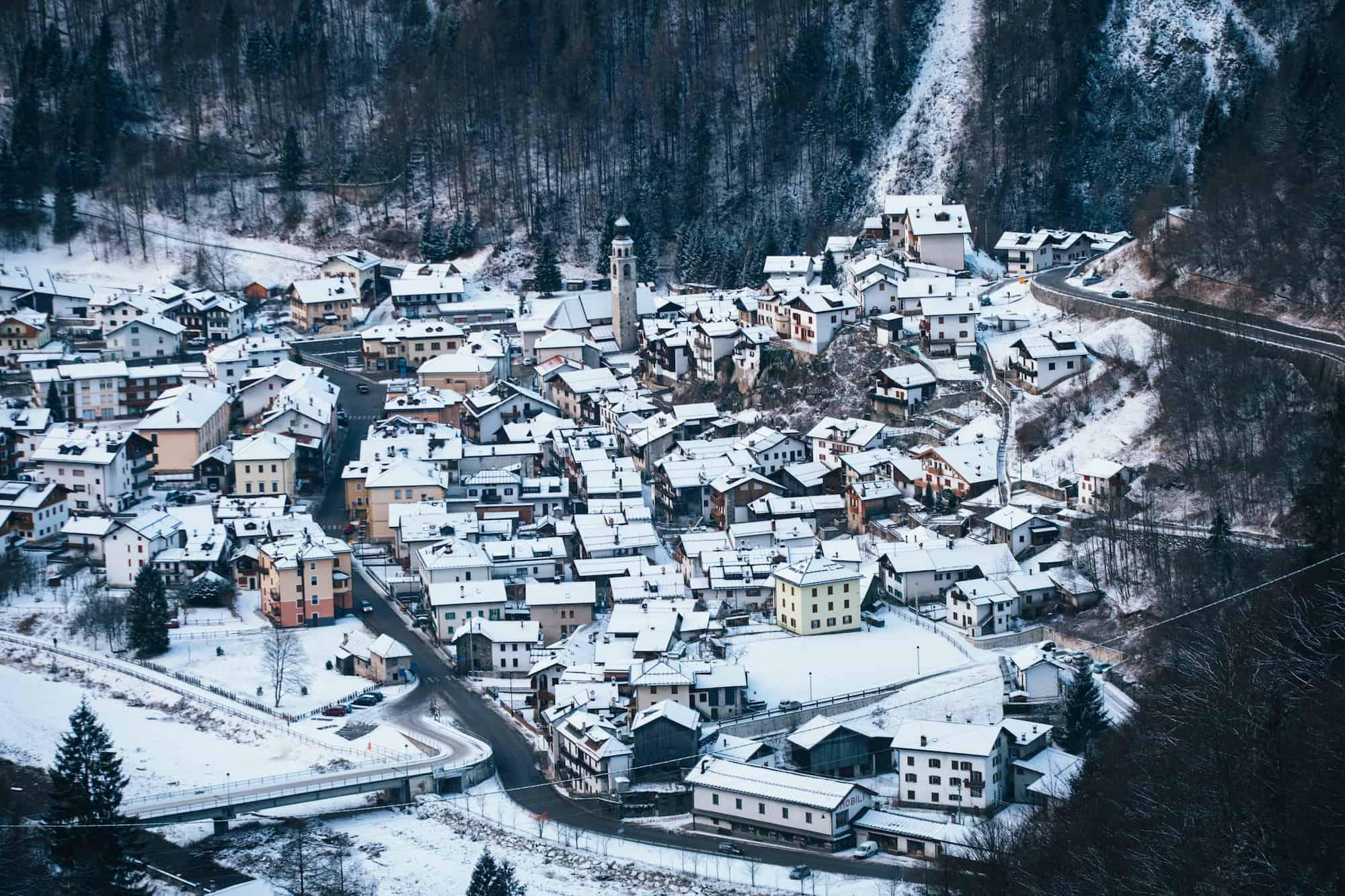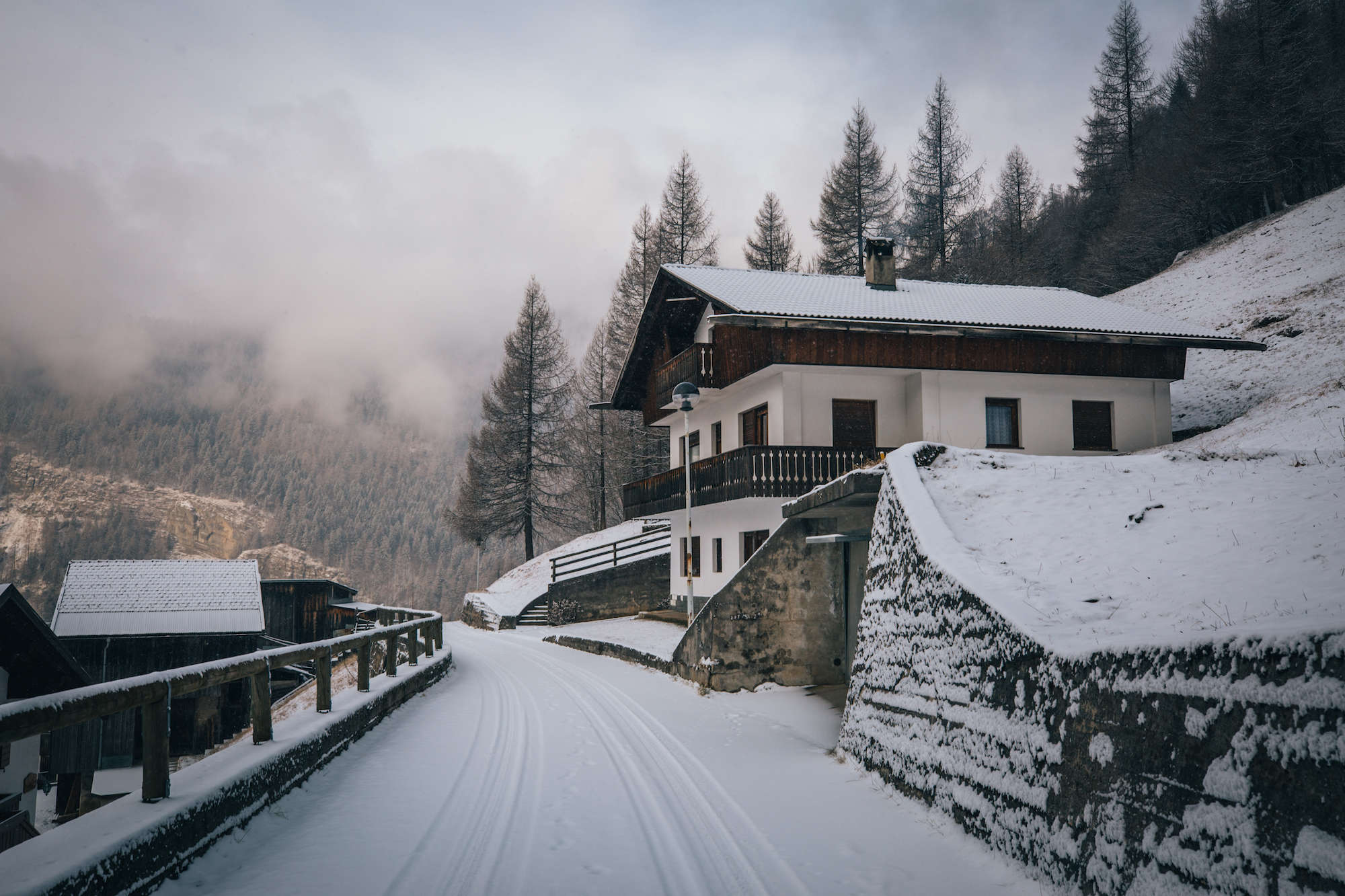 Colle Santa Lucia
The area around Colle Santa Lucia is one of my favorite parts of the Agordino in the Dolomites.
Perched high above the two valleys Val Fiorentina and Val Cordevole below, and surrounded by the iconic mountains of the area, Civetta, Pelmo and Marmolada, Colle Santa Lucia is the perfect base for those who want to play high up in the mountains.
It's also the gateway to the Giau Pass, and if you're lucky you might even hear the locals around here chatting in Ladin, their own dialect.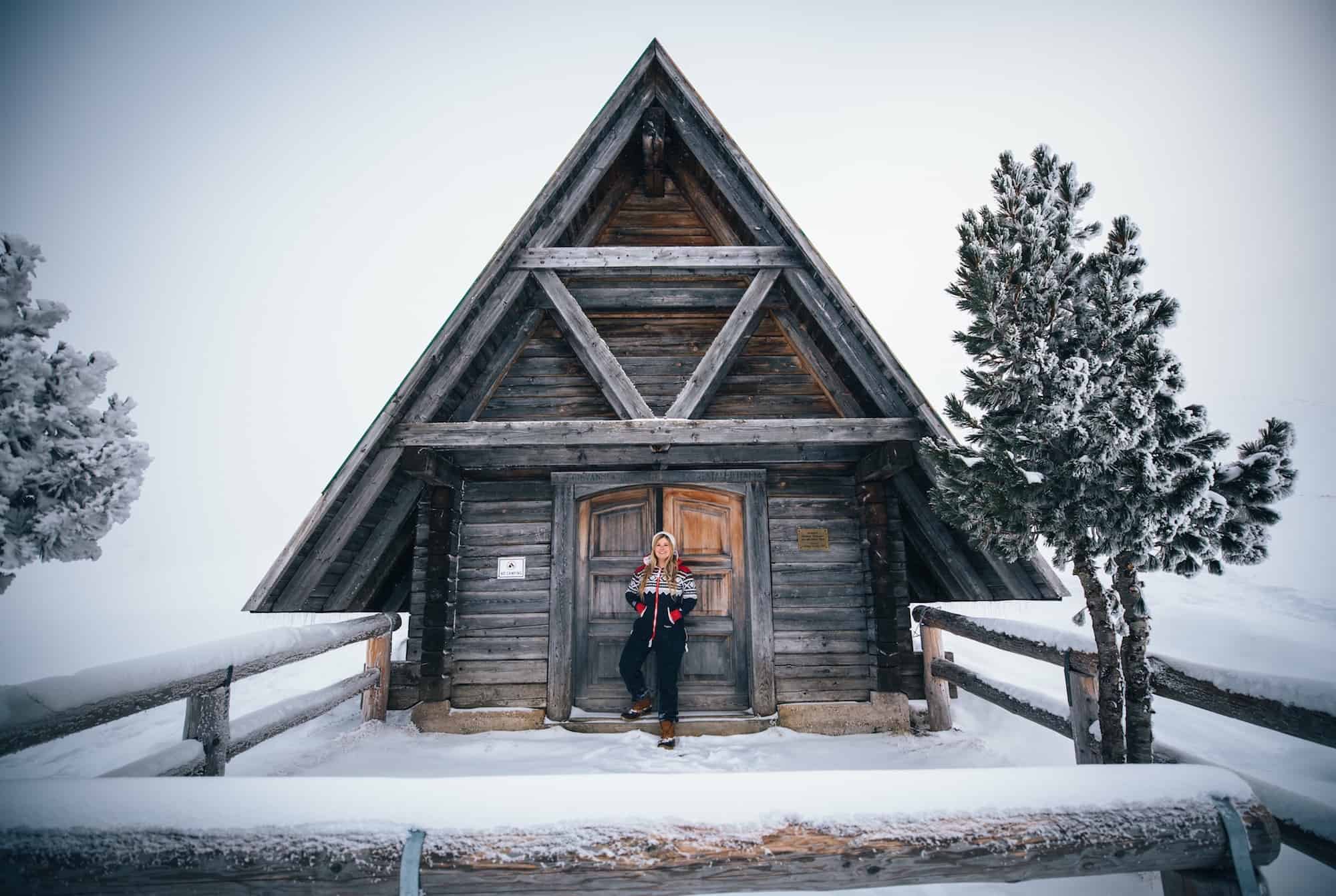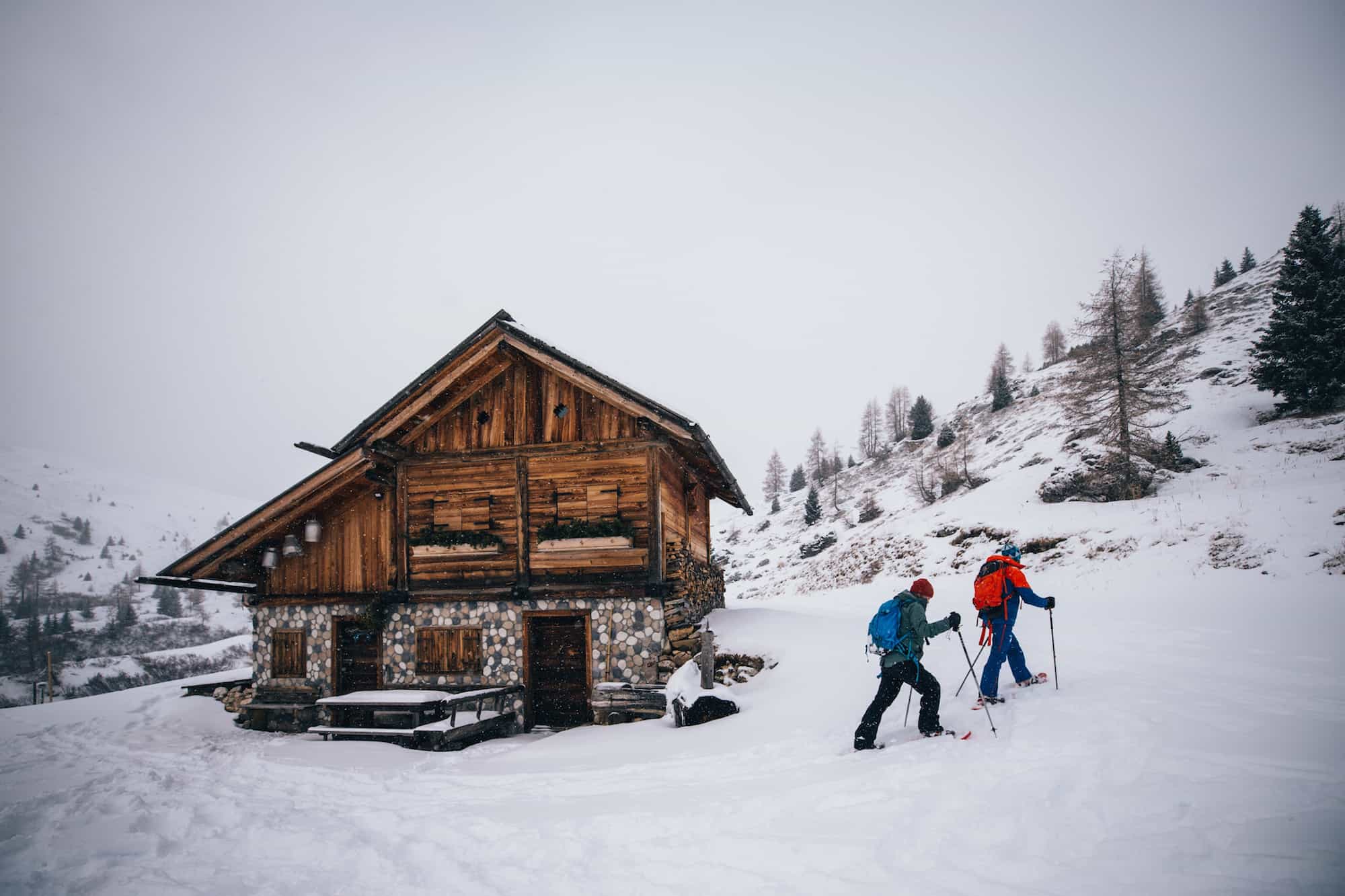 Snowshoeing around the Passo Giau
The top of the Gaiu Pass, which connects Cortina d'Ampezzo with Colle Santa Lucia and Selva di Cadore
San Tomaso Agordino
San Tomaso was one of my favorite quirky little corners of the Dolomites.
Accessed by some stunning, winding mountain roads, the views are incredible. And it's home to a charming local planetarium along with my favorite pizzeria in the area: Pizzeria Offline.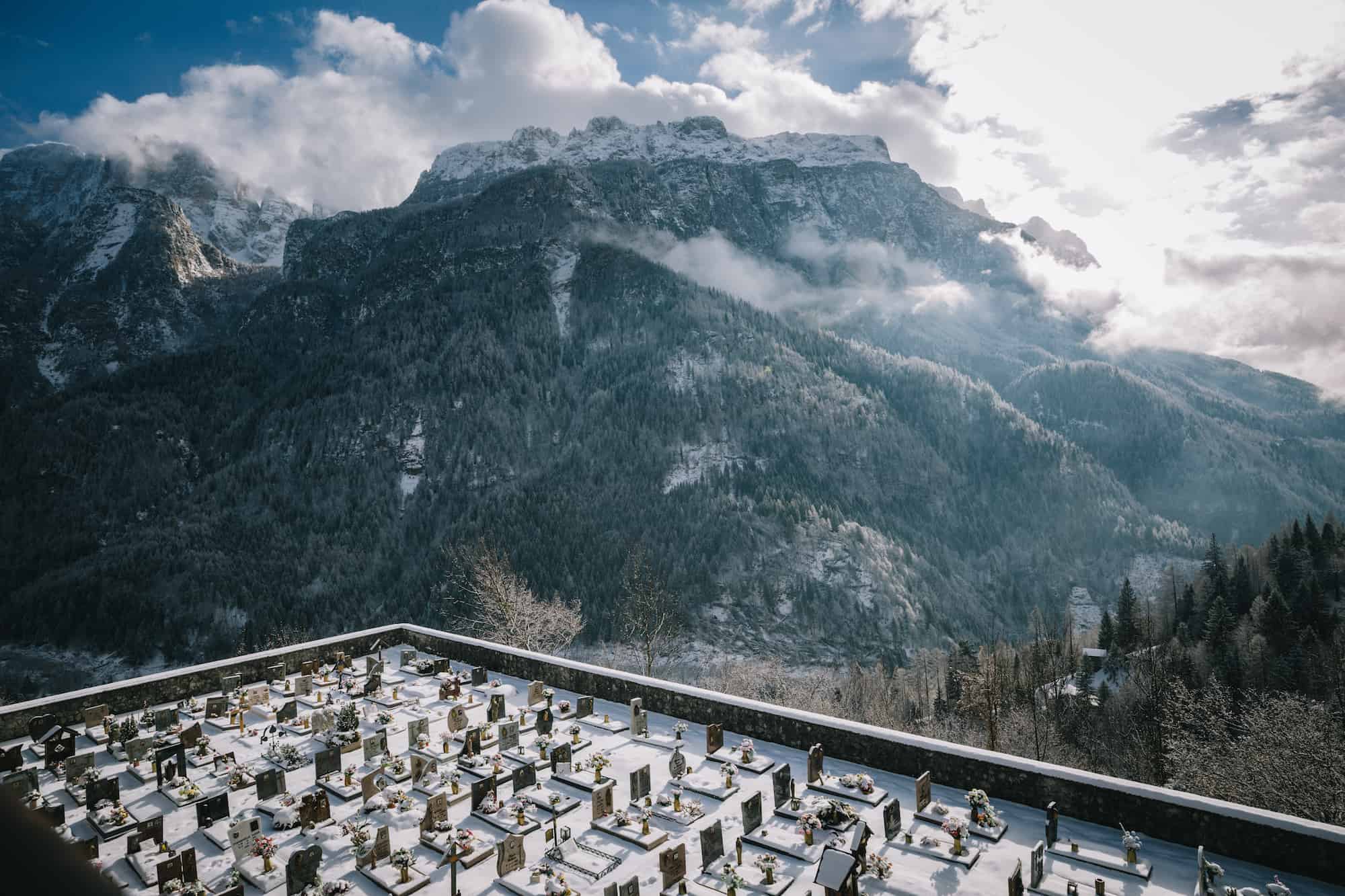 Livinallongo del Col di Lana
Livinallongo del Col di Lana is home to one of my favorite places I was lucky enough to visit – Arabba.
Hidden away high up in the Fodom Valley, you're surrounded by mountains, including the famous Sella and Cima Portavescovo.
A popular ski resort with heaps of terrain, it's also the base for completing the epic Sella Ronda, one of the most popular ski circuits in the Dolomites. A 40 kilometer loop that circles the iconic Sella mountain, it's connected by four mountain passes and is on the bucketlist of many.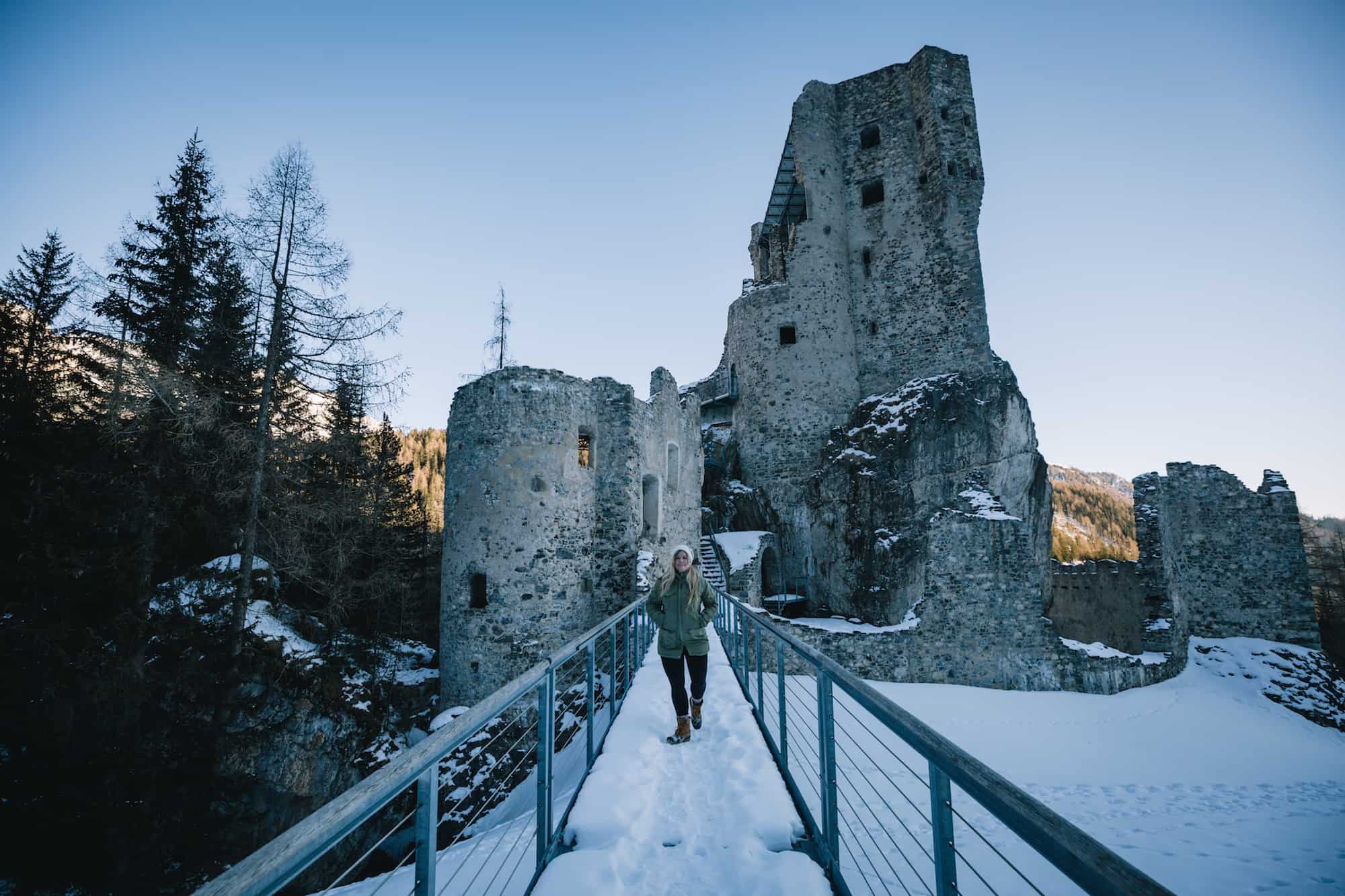 The Andraz Castle near Arabba is beautiful in wintertime
Arabba was one of my favorite towns in the Agordino
The top of the Passo Pordoi is stunning and worth driving up to and exploring
Taibon Agordino
The first place I visited on my trip to the Agordino was in Taibon, the San Lucano Valley.
While I've never been to Yosemite, I was immediately reminder of those enormous mountain walls jutting straight up from the valley floor that I've seen in photos over the years, or of Lauterbrunnen in Switzerland.
The only difference is that this is a local secret.
Alleghe
For the second half of my trip in Agordino I based myself around Alleghe, a stunning mountain town, overlooked by the enormous Monte Civetta next to a frozen lake.
An oasis of winter activities, I did everything from snowboarding to nighttime snowmobiling around Alleghe, and it's one of the bigger hubs in the Agordino to base yourself, especially in winter. Picturesque to a tee and with plenty to do, I could have easily spent a month here taking it all in.
I can't wait to come back this summer!
Have you heard of the Agordino before? Are the Dolomites on your bucketlist? Share!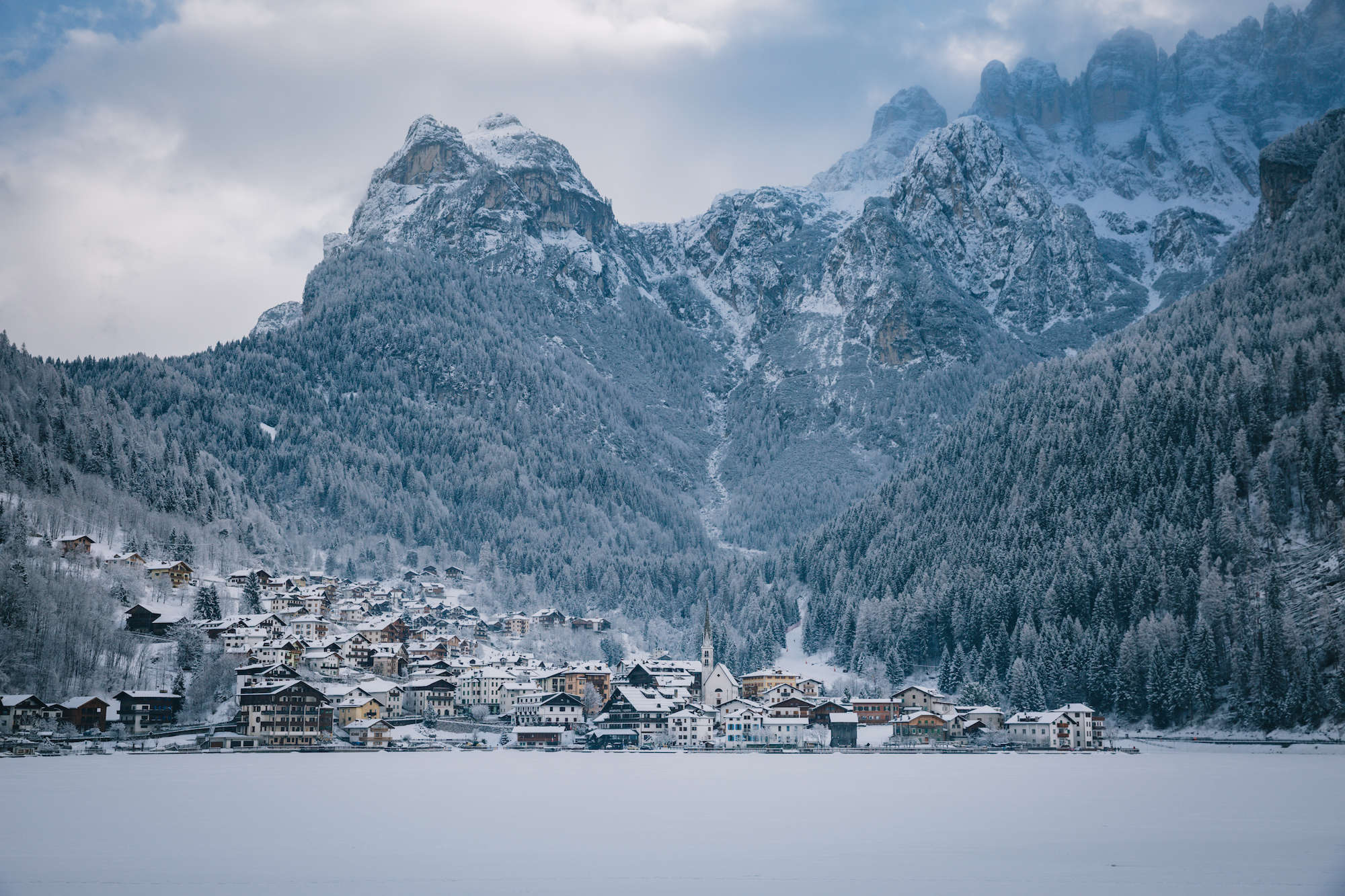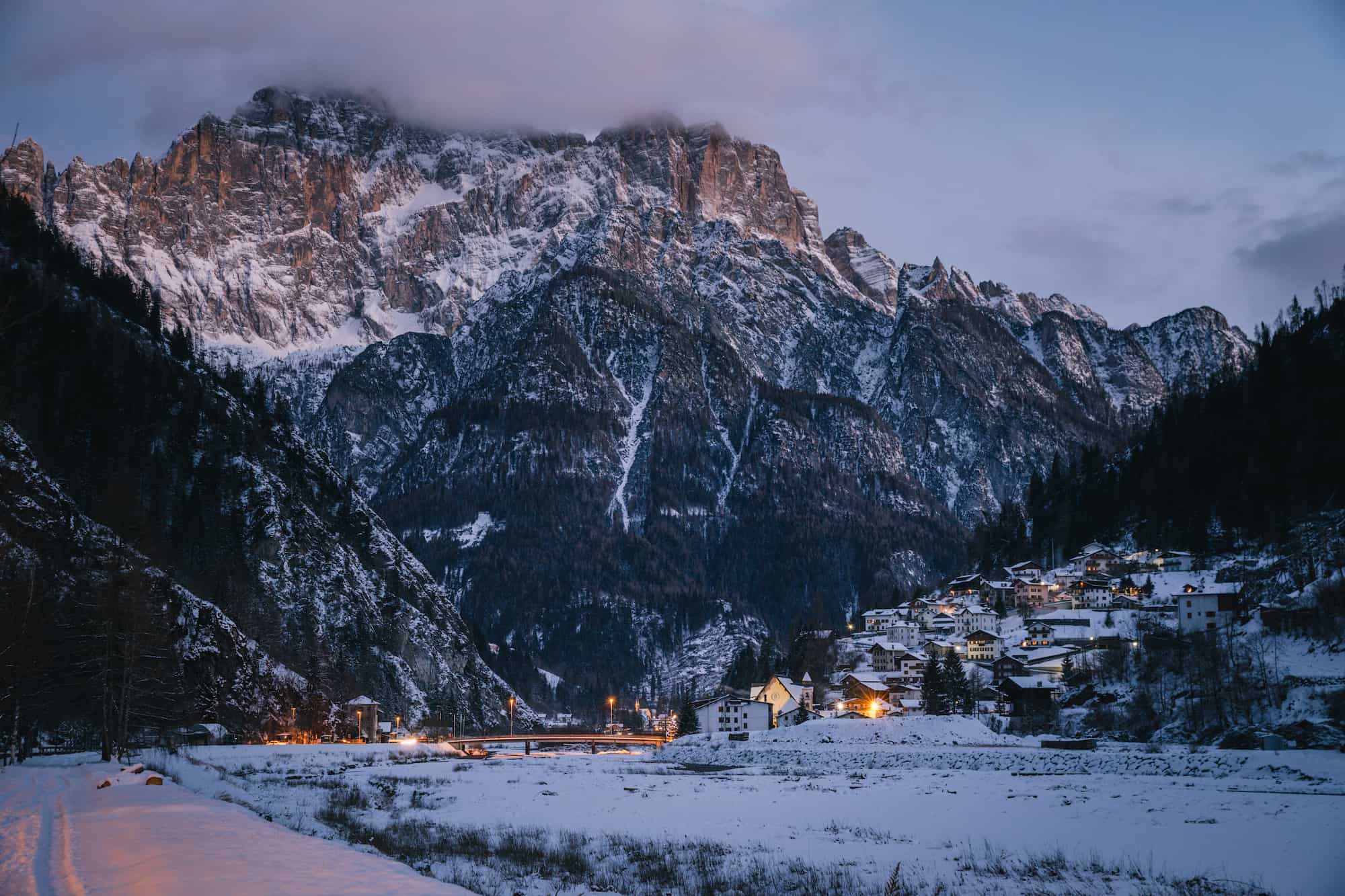 Many thanks to the Heart of the Dolomites for hosting me in the Medio Alto Agordino – like always I'm keeping it real – all opinions are my own, like you could expect less from me!