When I first began visiting Australia six years ago, I remember being overwhelmed with how to pick places to visit. Such a vast and diverse country, the scope and size of it was almost incomprehensible to me; ironic, I know, as an American.
I think it hit me once when I was exploring Queensland, and wanted to visit Cairns from Brisbane, thinking that I could just drive it. I mean how far can it be? It's in the same state.
Once Google clarified that it was a 20 hour drive, give or take, I realized the true scope of Australia.
As someone who is always looking to get off the beaten path and discover new places that weren't on my radar, Victoria, the home state of Melbourne, had been on my mind for years, particularly the north east part of the region, aka Victoria's High Country.
Speaking as someone who has been to Sydney for business approximately 1 million times and never even been to the Opera House (shame shame shame) this corner of Australia has appealed to me from friends who've worked ski seasons (yes there's skiing in Australia) at Hotham and Mt Buller to seeing photos of the mountains and beautiful forests.
Oh, and did I mention the world-class food and wine? Let's be honest here, I think the wine is what really got me.
While people from Oz and Victoria are likely familiar with the High Country and are rolling their eyes hard at me right now, I feel duty bound and honored to introduce this incredible corner of Australia to some fresh faces too.
The High Country left a real impact on me. It was a place filled with understated beauty, plenty of diverse landscapes and beautiful adventures, a fascinating gold rush history and some of the nicest people I've ever met.
If you want to experience the real, modern Australia, see the best it has to offer in a unique way, head to the High Country stat. Do not pass GO, do not collect $200.
Here are some of my favorite images from my recent trip there, in the hopes that it might inspire you to visit too. Enjoy!
Mt Buller and Mansfield
Flying into Melbourne, a city I've been to twice before, I was giddy with excitement to experience a new corner of Australia for the first time, picking up my hire car and head northeast towards the High Country.
Now that I live in a mountain town in New Zealand, I've come to appreciate everything you can do in these kinds of places in both winter and summer. Over the years I've had many friends do winter stints at Mt Buller, but I can attest that this part of Victoria is just as awesome in summertime, with trails galore, beautiful hot days, lovely swim spots and views for miles.
Where wildflowers adorn the stunning mountains and valleys, I jumped in straight away with an overnight hiking mission with Skadi Adventures, a local business that offers guided women's hiking adventures. Um, count me in!
Walking around the beautiful mountains of the High Country was the perfect introduction to this area. They provide everything you need including the best and lightest gear, making the adventure as delightful as possible.
Nothing beats watching the sunset over Mt Buller or falling asleep underneath the Milky Way! Though it was equally nice to have a hot bath and shower and clean up the following night at the incredibly cozy Sebel Pinnacle Valley Resort just down from the mountain.
With stunning views, a charming alpine theme, and kangaroos galore about the lawns, I could have stayed here for a week, maybe too.
Unable to sit still for long, the nearby wineries beckoned and I couldn't wait to get my first taste of this well-known wine region.
Ducking into Delatite Wines for a sampling and platter, it was a great welcome to the area, and I might have left with several bottles. By happy chance it turns out you can bring back 6 bottles to New Zealand!
Here the red earth mixed with beautiful rolling blue mountains and yellow grasses growing as far as I could see. It truly felt like Australia.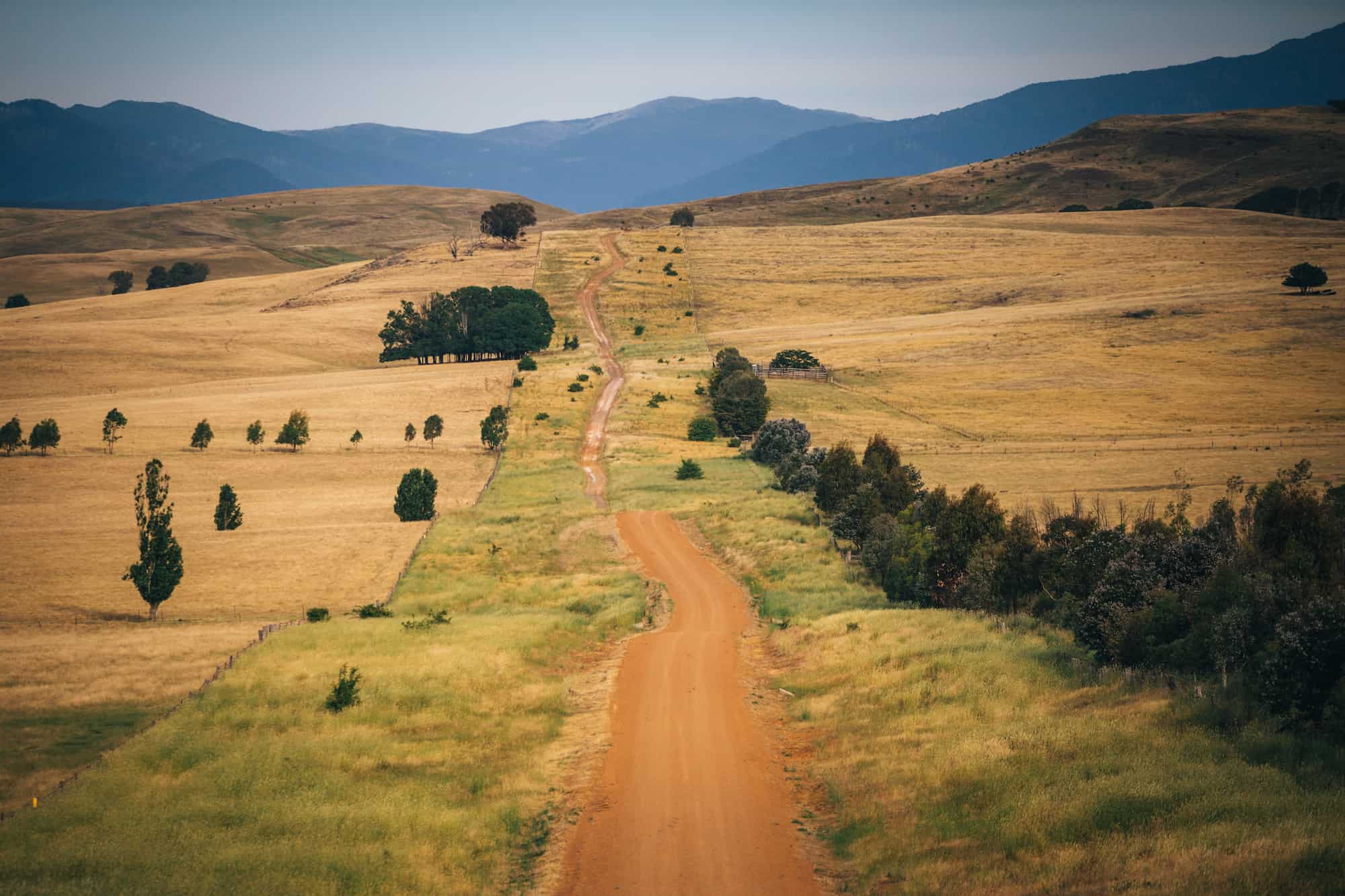 Beechworth
One of Australia's best-preserved gold rush towns, Beechworth oozes charm in abundance. Packed full of incredible dining options, world-class wineries and some great shops, the vibe here is relaxed and fun.
Though perhaps I am biased because I started my trip here with a massage and treatment at the newly opened Beechworth Spa, in a beautifully renovated historic space.
Right before I headed back out to nearby Stanley to pick cherries with Black Barn Farm. Honestly, cherries are my weakness, I love them so much, and this was my first time having them this summer season. Obviously I ate so many I had a bellyache by the end of the night, but no regrets guys!
There was a local Asian street food festival on in the old Beechworth jail while I was there! So yum!
One of the most unique things I loved about Beechworth was the nature right on its doorstep.
Right behind the town you'll find the famous Beechworth Gorge, which was once a hideout for the Ned Kelly gang. You can drive through it and stop at various points or take on some of the bigger hikes through the forest here.
I headed up at sunset and had the place to myself, frolicking around the beautiful swimming holes and waterfalls and dipping my tired toes into the pools.
As if the day couldn't get any better, I sat down to a late degustation dinner at Provenance, one of Australia's top regional restaurants. Japanese-influenced regional cuisine, I was drooling over every dish, each course topping the one before.
Rutherglen
One of Victoria's premier wine regions, Rutherglen is home to over 20 award-winning wineries, tucked along the Murray River. Famous for its fortified wines, I think I spent most of my time in Rutherglen nose-deep in a glass of Muscat.
I have a whole new appreciation and love for these babies.
There are so many wineries to chose from to visit here but here are the ones that I took in and loved:
Perhaps one of my favorite parts of the entire trip in Australia was staying the Tower at Mt. Ophir Estate. Built as a winery in 1891 it was once the biggest wine producing complex in the southern hemisphere before falling into disarray and slow abandonment by the 50's.
Luckily it was recently purchased and lovingly restored into a private venue and accommodation, and the French Provincial Tower is one of the spaces you can stay the night in on the old vineyard complex.
Beautiful and full of charm, I never wanted to leave! It was hands down one of the coolest places I've ever stayed! Three levels, the downstairs is the kitchen and dining room before you climb up to the second level, the living room and library, with the bathroom and bedroom at the top of the tower!
Bright and surrounds
Bright is surely one of the gems of Australia, and a place I could easily see myself moving to one day if I ever managed to acquire Australian residency (ha!).
A lovely mountain town, Bright is the perfect base for exploring Mt. Buffalo and the Alpine national parks in the area, and is also the base for many visiting Mt. Hotham in winter to ski. While I have yet to visit Victoria in winter, I can heartily attest to the fact that this place is just magical in summertime!
Wineries, good foodie spots, friendly locals and beautiful views and epic adventures, Bright and the surrounding area really does have it all!
Exploring Mt. Buffalo at sunset
Ladies Bath Falls in Mount Buffalo National Park
The Mount Beauty Gorge Walk is stunning and an amazing swimming hole
My accommodation near Bright was extraordinary. The Kilnhouses are a unique experience where contemporary luxury and design is combined with the stunning beauty of the high country landscape on a cattle farm.
I stayed in the Sorting Shed which was designed to mirror the old style of tobacco sorting sheds, with amazing views of the farms and mountains around it. It was hard to leave but I managed to drag myself out to a final dinner at the Wandi Pub which was so delicious
The Victorian High Country blew me away, every moment was bright and colorful and the towns and land and people left a distinct impression on me as one of the best parts of Australia. I'll be back for sure!
Have you been to the Victoria high country? Is this an area of Australia you'd be keen to visit? Share!
Many thanks for Tourism North East for hosting me in Australia – like always I'm keeping it real – all opinions are my own, like you could expect less from me!