The next day I decided to take a day trip to the famous Jungfraujoch in the Bernese Alps. It is the highest railway station in Europe at 3,454 meters (11,332 ft) with an atmospheric research station at the top open to tourists. Basically you get to ride a train to the top of a mountain with sick views of the Swiss Alps and freeze your ass off and spend tons of money you don't have on Indian food (don't ask-I have no idea) and souvenirs you probably don't need.
For a small fortune you can take a train there from Interlaken. Luckily I am extremely budget conscious and slightly OCD when it comes to travel planning, that beforehand I invested in a Swiss Rail Pass, which for any of you if you decide to go to Switzerland, I suggest you buy since the trains cost a pretty penny.
Map of the Bernese Alps region – image source
So I left Neuchâtel at the crack of dawn to begin my many train rides to get to the Jungfraujoch. I think I had to change trains 5 times! It was a loooooong day but totally worth it. It was cool to pass through Interlaken on the train because I was there two years ago with my good friend Natalie on vacation from Spain. We flew into Geneva for the weekend and spent a day in Interlaken where we went bungee jumping. We even took part of the same train ride to visit Grindelwald. So Interlaken holds some pretty excellent and slightly terrifying memories for me. Its such a beautiful town too, right smack in the middle of two bright blue lakes next to the mountains. It was one of the last really nice days and on a holiday, so the train was full of active old Swiss people in outdoor gear that undoubtedly would put me to shame on a hike.
On the train from Interlaken up towards the Jungfraujoch, I met this nice American couple. I don't know exactly how it happened as I usually avoid associating myself with my countrymen when I am abroad, but somehow we ended up talking and I kept running into them for the rest of the day. Oh I remember now, they overheard me speak "American" English to some Swiss people. Usually I pretended to speak German there (after taking a semester's worth in college). Throw in a couple of "Ja, ja, ja's" and "genau's" and a few well-placed head nods and you would be surprised what you can get away with. However, in this case it falied because this Swiss guy actually asked me a question that I couldn't answer with "ja" or "nein" or a head-nod. Shit.
So, in the end this American couple sort of became my awkward substitute parents. Anyways, they told me about different hiking routes on the way to the top which I hadn't known about before. So I decided to hop of the train early near Grindelwald and hike for a few hours before getting back on the train for the last bit to the top.
About to begin hiking in the Alps.
Now let me just say that this hike was AWESOME! It was not even that hard. The altitude hardly bothered my, unlike in Peru where I only had to walk 20 feet before I was panting and had to sit down as not to faint or vomit. Anywho, I started in a little place called Männlichen and I caught the train to the top in Kleine Scheidegg. The path curved along a valley with sweeping views of three of the highest mountains in the area: the Eiger (the Ogre), the Mönch (the Monk), and the Jungfrau (the Virgin). I had to remember to put my camera down and actually take in the scenery (especially as I have a nasty habit of faceplanting on hikes).
The sky was bright blue with no clouds in sight to obscure the beautiful snow-capped peaks. The air smelled fresh and clean. None of that nasty New England smog. Again talk about ridiculously gorgeous! It was also fascinating to walk in the shadow of the Eiger north face, or Mordwand, the wall of death. As a future climber of big mountains (hopefully-fingers crossed), I've read about the side of this mountain, which is infamous in the mountaineering world for being extraordinarily dangerous and damn near impossible to climb. It was not successfully summited until 1938 and since then over 60 people have died trying to make that ascent. The sheer rock wall is almost 6,000 ft high!
View of the Jungfrau 4,158 m (13,642 ft) from my hike
The Eiger north face (left) 3,970 m (13,025 ft) and the Mönch (right) 4,107 m (13,474 ft)
So after a grueling, labor-intensive hike where I almost died from frostbite and cerebral edema (just kidding!) I stopped at a restaurant next to the little train stop for a coffee and some pomme frittes to revive me! French fries (no mayo!) at 7,000 ft above sea level? Yes please! Honestly, thank god the scenery is so spectacular and the views are so stunning otherwise I would have avoided this tourist trap of an area like the plague. From Kleine Scheidegg I hopped back on the overcrowded train towards the Jungfraujoch.
After traveling through the mountain, we finally emerged in the station deep inside the mountain, and let me just tell you, it was NOT warm. Not remotely. Good thing I was dressed for high altitudes and thus cold weather unlike many of my Asian companions. After following hoards of people down the chilly tunnels and taking a bunch of elevators, I finally emerged in the main part of the station. I was literally on top of the world!
View from the Jungfraujoch
So after getting lost inside the station for a bit (somehow I managed to ignore ALL of the bright yellow multilingual signs pointing you towards different spots) I managed to stumble upon the main viewing platform at the top of the station. You could literally walk 360 degrees around and have perfect views of all the surrounding mountains and glaciers. My description barely does it justice.
It literally takes your breath away (besides the fact its bloody freezing and so windy it'll rip the hat off your head—thanks again Asian tourists for providing another hilarious example). It was actually slightly terrifying to walk along this viewing platform because the ground you're walking on is actually just metal grate that you can see through hundreds of meters below. Uh, scary!
View from the Observation Platform at the very top
View of the Aletsch Glacier
After I lost feeling in my nose and my ears I decided to head back inside the building to see what else there was to see. This time I actually followed the little yellow signs towards something called the Ice Palace. Needless to say the dork in me was intrigued. It turned out to be pretty cool! It was a series of ice tunnels and sculptures and little hidey holes for kids (and me) to play in, entirely made out of ice buried deep in the mountain.
It was so slippery with only a metal handrail for assistance (also conveniently covered in ice) with no rubber mat which I was expecting; I mean come on the Swiss can afford it! Especially with the amount they charge to get to the damn place! However it was so funny to watch everyone slip and slide down the tunnels—which might explain the no rubber mats. The American in me was screaming lawsuit waiting to happen, but what can you do?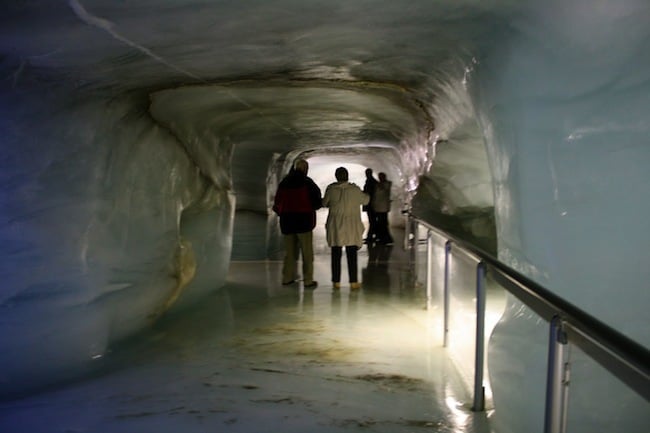 Ice "Palace"
From there I found my way back onto more solid ground to head outside to play in the snow. That's right, SNOW, in September, I was especially excited since I would be getting none of it in southern Spain this year. Again I went a little picture crazy out there! Nevermind that I already took all the same pictures of the same snow and mountains from higher above on the viewing platform. It was just so beautiful! It was also incredibly slippery out on the snow because it was later in the afternoon and all the hoards of tour groups and their inappropriate footwear had pressed it down into one giant platform of ice. I mean come on!
Some of the Asian women were wearing heels on the snow. HEELS! (last Asian joke, I swear!) The only difference this time is that if you slipped and slid far enough you wouldn't slide into an ice wall, rather you would slide off the mountain. And if that were to happen to anyone, it would probably be me and my embarrassing track record of clumsiness. But what a way to go! Thankfully I used the brilliant technique of digging my heels into the ice really hard and holding onto the boundary ropes for dear life while asking people to take my picture just to prove to my mom that yes, I actually was there.
View from the top
Conveniently place Swiss flag at the top. See those white puffy things in the distance? Those are clouds, and those people are people ABOVE the clouds. Very high and very pretty.
So after I took a million pictures I stumbled back into the station where I bought some overpriced postcards and ran into my substitute parents again. We waited in line and boarded the train together to head back down the mountain. 5 hours later I got back to Neuchâtel where I promptly passed out. All in all I would say it was a good day!