My friend Marie and me enjoying a long lunch in Toledo in 2009 (
paella
of course!)
So in an attempt to continue blogging about cultural differences between the US and Spain, I figured I would go ahead and write about something pretty basic: eating out! Spain has a very big café/restaurant/bar culture. In fact, most places you'll eat out at are all three at once! Café in the morning, restaurant at lunchtime, café again in the afternoon, and a bar in the evening. Remember that in Spain dinner is not a big deal or a big meal (Yes! 10 points to me for rhyming!) Also remember, lunch is the big meal and it's around 2-3 o'clock in the afternoon. If you try to eat lunch at noon you will most likely be the only one eating and the waiters will make fun of you. There also might still be people drinking their breakfast coffee and eating toast.
Most of the time when you walk around town, you'll see places to eat with signs or chalkboards outside advertising a menú del día (menu of the day) for a fixed price, around €7 in Córdoba, around €10 in the rest of Spain. This is really the best way to eat because it's cheap, and you get a lot of food. Usually you get to pick two courses from a list, and it comes with a drink, bread and desert. Be aware that when you sit down at a restaurant in Spain the waiter will bring you bread, and if you touch it, you have to pay for it; it's not usually free. I've even had to pay for ketchup at really touristy places. Sometimes they will bring you olives or tapas as a starter without ordering them for free or sometimes you have to pay. You never know. Also water isn't free either. If you just ask for water, you'll get bottled water and most likely fizzy bottled water at that (con o sin gas-with or w/out fizz). Ask for tap water (agua del grifo) if you want it for free. And don't expect ice. For a country as hot as Spain, they never serve drinks with ice, and if you ask for ice, you'll get one cube.
Typical menú del día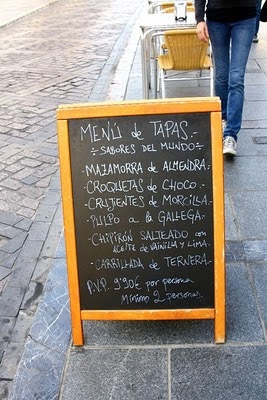 Tapas menu
Lunch in Spain usually comes in courses: a first course (primer plato) and a second course (segundo plato). Usually you start with bread, a chopped up baguette, yum yum. Spaniards are almost incapable of eating lunch without white bread, and yet they all are very thin. So unfair. Maybe you'll have some olives or cured ham, cheese, and salchicha to start with. First courses are usually lighter, like a salad, soup, or scrambled eggs with something like mushrooms or fish. Seconds are generally heavier, like meat or fish, and potatoes or pasta. Desert usually consists of fruit, yogurt, flan, or natilla (kinda like pudding), followed by coffee of course (café con leche).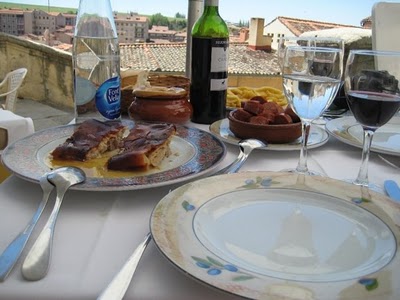 One of my favorite long lunches in Spain, eating
cuchinillo
(baby pig) in Segovia with Marie, and yes, we drank that whole bottle of wine between us two. Made for a fun afternoon!
In most normal restaurants, you just seat yourself; there isn't a hostess. Most places try to have tables outside too, best way to enjoy the wonderful Spanish sun. Also, don't expect good service. You don't usually leave tips for waiters here which means they could care less if you have to sit for half an hour before ordering. Eating out is a long, relaxed affair. Waiters in Spain make a salary and have pensions, so they don't have to work for tips. I think this encourages big time laziness among restaurant staff. I hardly ever eat out when I don't have to wave at least once to get the waiter's attention for something. They also look so offended that you actually asked if you could order, sometimes they will intentionally ignore you or make you wait even longer. It's kinda ridiculous. (For my Spanish friends reading this, in the States you always leave a 15-20% tip at a restaurant because waiters live off tips). In Spain you also have to ask for your bill at least three times, until finally you get up and walk to the cash register yourself. Spanish restaurants consider it rude even to hint that you should leave, unlike in New York or Boston, where they take away your silverware and tablecloth while you're still sipping on your coffee. Basically, if you eat out in Spain, what's the rush? Just enjoy the food and the company, and then afterward, take a long siesta and digest!
El Bulli
, arguably the most famous restaurant in the world. It's in Roses, Cataluña on the Costa Brava near Barcelona, run by chef Ferran Adrià. It's been rated the number 1 restaurant in the world consistently for the past decade. It's impossible to get a reservation here; they get millions of requests a year. I think they are closing this year which is a huge shame. But just imagine the incredible food! A culinary dream!