So the traditional Spanish breakfast is usually a very light meal. Spain keeps it simple when it comes to breakfast foods. No potatoes or eggs or bacon. Nothing hot. Just easy and quick. Lunch is the big meal of the day and you gotta save room! Here in warm sunny Andalucía in the south people generally eat toast for breakfast. It is usually half of a big roll, and most people eat it with butter and marmalade or with mushed up tomato and olive oil occasionally with ham sprinkled on top. The latter is the most popular choice around me for sure. You dribble the olive oil (local, of course) over the bread before spreading on the tomato. In Spanish this is called una tostada con aceite y tomate. People usually have it with a café con leche, which is a small cup of steamed milk and espresso. Almost every bar and café in Spain also has an orange juicer, which is SO awesome! They just throw the whole orange in and voilà! Fresh squeezed orange juice for super cheap!
My friend Kate and I enjoying a traditional Spanish breakfast
(ignore the chocolate muffins on the left, those were an impulse purchase)
Another popular breakfast meal is chocolate con churros. Churros are fried doughnut-like pastries sprinkled with sugar that usually come in long strips, and you usually dip them in a cup of hot chocolate-think a cup of melted chocolate. Trust me, this is paradise for any girl!
Traditional
chocolate con churros
Now toast and churros are popular breakfast meals when you eat out in a café or bar. At home people eat a light breakfast, such as light, wafer cookies (galletas) or magdalenas, which are small sweet cakes, almost like mini muffins but not quite. Also people make coffee on the stove with a coffee maker called a cafetera. You put water in the bottom part and ground coffee in a funnel basket thing on top, and when it heats the water rises through the coffee grounds and into the top section making strong, espresso-like coffee. Tasty, easy and cheap! A triple win!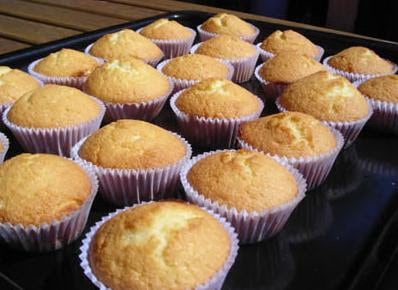 Stove top coffee pot, called a
cafetera