Espejo (Córdoba) Spain
I found this photo online that someone took of the pueblo where I work in Spain. A few days ago there was something called a super moon, where the moon is the biggest it has ever been over the past twenty years. Luckily, someone was prepared and captured a beautiful photo of the moon shining brightly behind the castle. That someone was NOT me haha. Seeing this photo reminds me of the poignant poem Romance de la luna, luna (Romance of the Moon, Moon) written in the early twentieth century by Federico García Lorca, one of Spain's most premier and well-known poets and dramatists. Unfortunately, Lorca's life is a sad story. An outspoken liberal and friend of some of Spain's most influential and creative artists (Manuel de Falla, Luis Buñuel, and Salvador Dalí), Lorca wrote some of the most moving and well-known poetry and plays of this generation. However, he was summarily executed near Granada in August 1936 just after the Spanish Civil War broke out, and his works were banned under the Franco regime. His life and poems serve us as reminders that not that long ago Spain was a dictatorship and of the importance of freedom of art and poetry today. How could I see a moon like that and not think of Lorca's incredible Andalusian poetry?
Romance de la luna, luna by Federico García Lorca
La luna vino a la fragua
con su polisón de nardos.
El niño la mira mira.
El niño la está mirando.
En el aire conmovido
mueve la luna sus brazos
y enseña, lúbrica y pura,
sus senos de duro estaño.
Huye luna, luna, luna.
Si vinieran los gitanos,
harían con tu corazón
collares y anillos blancos.
Niño déjame que baile.
Cuando vengan los gitanos,
te encontrarán sobre el yunque
con los ojillos cerrados.
Huye luna, luna, luna,
que ya siento sus caballos.
Niño déjame, no pises,
mi blancor almidonado.
El jinete se acercaba
tocando el tambor del llano.
Dentro de la fragua el niño,
tiene los ojos cerrados.
Por el olivar venían,
bronce y sueño, los gitanos.
Las cabezas levantadas
y los ojos entornados.
¡Cómo canta la zumaya,
ay como canta en el árbol!
Por el cielo va la luna
con el niño de la mano.
Dentro de la fragua lloran,
dando gritos, los gitanos.
El aire la vela, vela.
el aire la está velando.
English version translated by Helen Gunn

The moon came to the forge
with her skirt of white, fragrant flowers.
The young boy watches her, watches.
The boy is watching her.
In the electrified air
the moon moves her arms
and points out, lecherous and pure,
her breasts of hard tin.
Flee, moon, moon, moon.
If the gypsies were to come,
they would make with your heart
white necklaces and rings.
Young boy, leave me to dance.
When they come, the gypsies
will find you upon the anvil
with closed eyes.
Flee, moon, moon, moon.
Already I sit astride horses.
Young boy, leave me, don't step on
my starched whiteness.
The horse rider approaches
beating the drum of the plain.
Within the forge the young man
has closed eyes.
Through the olive grove they come,
the gypsies – bronze and dreaming,
heads lifted
and eyes half closed.
Hark, hear the night bird –
how it sings in the tree.
Across the sky moves the moon,
holding the young boy by the hand.
Within the forge the gypsies cry,
are crying out.
The air watches over her, watches.
The air is watching over her.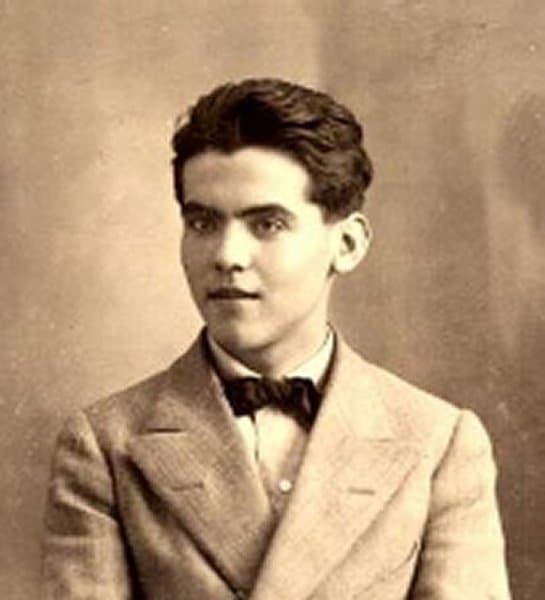 Lorca in 1914