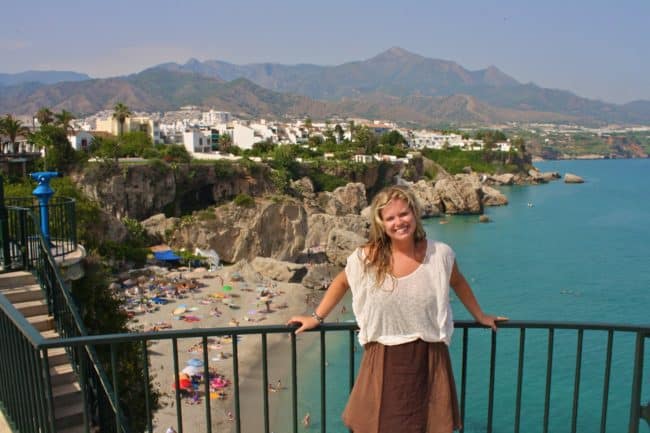 Sunburnt and happy in Nerja
When people think of traditional Spain, they tend to imagine the bright blue skies and the white hilltop villages that embody southern Spain. Girls twirling around in fluffy flamenco dresses while drinking sangria and hot manly boys dramatically fighting 1000lb bulls, that was certainly what I thought as soon as I found I would be moving to Córdoba for a year. However, Andalusia, the culturally rich and historic area in southern Spain has so much more to offer. Colorful, vibrant, alive. These are the three words that immediately pop into my head when I am thinking about Andalucía.
Planning a trip to Spain and need a place to start? Been googling southern Spain travel? Here are some of my favorite experiences in the south of Spain.
What are some of your favorite spots in southern Spain? Did I mention any of them?

1. Climb to the top of Seville's cathedral
Huffing and puffing, I slowly made my up to the top of the Giralda bell tower. After spending the morning getting lost in Sevilla's iconic and colossal cathedral, and taking about 100 photos of Christopher Columbus' tomb to boot, I was ready to climb up the symbol of Seville. Instead of stairs there is a steep walkway that men would ride up on horseback to announce the prayer call when the tower was the minaret of a mosque in Muslim Spain. As I emerge at the top wheezing like an old lady, the whole city of Sevilla opens before me below. It was worth it.

2. Visit Córdoba in May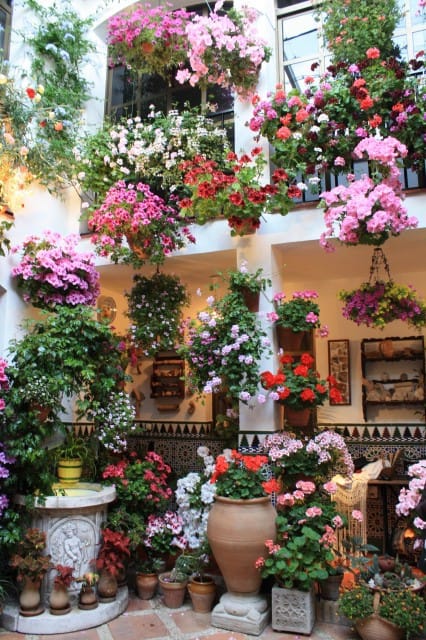 Córdoba, an amazing city to visit normally, comes alive in May. For the entire month there are festivals after festivals, leaving little time for boredom. Living here last year, I marked the days off on my calendar until the first festival, cruces, when giant flower crosses are placed around the city's churches, complete with temporary bars and flamenco music. Typical Spain. Then comes the patio flower festival, where I raced around the city, visiting all of the usually secret interior patios of houses that are opened to the public. For 10 days the entire city smells like flowers, mixed with the orange blossoms on the trees. But Córdoba saves the best for last with its annual fair or feria. A giant illuminated structure mimicking Córdoba's famous mosque-cathedral is set up along with hundreds of public tents filled with locals in traditional flamenco dresses and suits who stomp and clap sevillanas with visitors from dawn til dusk.
3. Have a beach day in Nerja
Whenever I needed an escape from the hustle and bustle of city life in Spain, I would head down to Nerja, a small beach town east of Málaga for the day. Without a doubt it's one of my favorite beaches on the south coast, simply for its striking beauty and lack of old northern European tourists. Big mountains and cliffs drop down to a stunning coastline dotted with little beaches. The water here is bright turquoise and clear 100 feet out, and instead of gritty sand it's made up of tiny pebbles. As I would lay on my towel with my toes pointed towards Africa looking up towards the cliffs, I would find the peace and relaxation I was looking for.
4. Walk along the gorges in Ronda

Perched precariously on top of a group of cliffs connected by a series of bridges, Ronda is a city unlike any other. Beloved by writers like Hemingway who used to come here and fight with the bulls, nowadays Ronda boasts nothing but charm and spectacular views. As I walked along the ancient walls and peer cautiously over the thin railings, I found myself imagining I could live there. I wouldn't even need to join a gym with all the exercise I'd get from climbing up and down the gorges. I also morbidly wondered if people were actually thrown off the bridges during the Spanish Civil War or if Hemingway just invented it. Anyone know?
5. Get lost in the gardens of the Alhambra in Granada

The jewel of southern Spain, the Alhambra is historic Spain at its finest. Nestled at the top of the old quarter of Granada, and perfectly situated in front of the snow-capped Sierra Nevada mountains, this massive palace is straight from a postcard. Every time I go I spend hours wandering around the extensive gardens, staring out at the spectacular views of the city and off towards the mountains. In fact, one time I slipped into one of the numerous fountains because I was too busy trying to take pictures of the flowers and medieval Islamic architecture. Lesson learned, always watch where you're going, even in gorgeous places like Granada.