Cappadocia, Turkey blew my mind. In the best way possible.
Now one of my favorite places in the world, it's hard to believe that 6 months ago, I had never heard of it. Bad travel blogger, I know.
Squished in the back row of an overcrowded hotel conference room in Porto, Portugal for TBU, my first travel blogging conference, I was furiously typing away on my laptop everything Adventurous Kate was saying about how to build your own press trip. Eventually she started talking about hot air balloons in Cappadocia, something she had done the year before, eliciting a load of responses from the audience.
Where the hell is Cappadocia? I thought to myself, nervously watching my fellow attendees nodding and imputing their opinions. It seemed like everyone knew but me! Not wanting to look like a complete fool, quickly I opened a new tab and bowed down to the gods at Google: "where is Kapadokia" I searched, completely butchering the name.
Holy crap!
The image results were astonishing. I had never seen a landscape like that anywhere before. It looked like something on the moon or out of Star Wars or some perverted version of the Grand Canyon. Making a mental note, and a physical note on my phone because I can't remember anything, I decided, yup, one day soon I would be going there.
Fast forward 6 months.
That magical day arrived. Groggily waking up at 5:30 in a cave (yes you read that right, details forthcoming) in Göreme, Turkey, I padded on the layers in preparation for the hot air balloon ride of my dreams with Royal Balloon. I barely slept the night before because I was so excited! Arriving at the balloon headquarters, flustered and windswept, we had to wait to see if the wind would die down and allow us to fly. While we loitered around, they offered us a big, hot free breakfast, my favorite kind of breakfast. Moderately more awake after two cups of coffee and several pieces of toast, we were herded together in the lobby and informed that it was too windy to fly that day. Bummer!
Grumbling about getting up at the crack of dawn for nothing, I was really happy that I scheduled in a few days in Cappadocia in case of bad weather. Talking with the friendly crew and pilots, it turns out the next day was supposed to be perfect. Excellent.
Round two.
The weather gods heard my prayers and it was perfect the next morning. Snowing the day before, the early morning world was crisp and clear, white and new. Under a windless blue sky, we piled in the hot air balloon basket under the watchful gaze of our captain-pilot-balloonist (the proper terminology alludes me) Nigel as the sun started to peak over the pillar-like rock formations. It was chilly and I forgot a hat, and by forgot I mean the hat I packed didn't match my outfit.
Luckily for me, Royal Balloon thought ahead and offered fleecy hats to us that matched my outdoor winter parka splendidly. Well done.
Under the safe and knowledgable direction of Nigel, we took to the skies, ooh-ing and ah-ing over the dramatic landscape. With bug eyes and my mouth wide open, I forgot to take photos for a few minutes, just trying to absorb it all in. It was magical. Then I quickly remembered I'm a blogger on a mission, and I started to take photos and videos like a fiend.
Luckily we were in a small balloon, I think 13 people in total, so we could move around a bit. Everyone was really wonderful, even the annoyingly charming dad from India who kept asking questions like how much does it cost to manufacture a hot air balloon and at what rate does the gas burn. Lordy. Though he was actually really nice and took lots of pictures of me and let me wear his sunnies when it got too bright. All's forgiven.
To see the dramatic landscape of Cappadocia from the ground is unforgettable. But to see it from above, soaring among the colored valleys, over the tip tops of the stone pillars, peeking into the pigeon holes and caves with snowy mountains in the distance, and seeing the sky cloaked with hot air balloons is nothing short of spectacular. It was one of the highlights of my trip to Turkey, and I recommend it to anyone.
I'll let my photos and video do the talking. Ok, this is my first video I've ever made (sober), so don't judge me.
The Specifics
I wasn't planning to write this for a while, but with the fatal hot air balloon accident in Luxor, Egypt last week, I decided the time was right for this post. Also, balloons make me happy, and I knew this would be one of my favorite posts to write about Turkey.
10 months ago I flew in a hot air balloon for the first time in Luxor, Egypt, and I loved it. I had some sort of traveler's food poisoning and it took all my self control not to vom over the side of the basket, and it was STILL my favorite part of Egypt. I'm a balloon convert. Hot air ballooning is now one of my favorite adventures while traveling and I look forward to more opportunities, but with my second balloon ride under my belt and after reading about the accident in Luxor, I have learned a few key things about this budding activity.
Almost 20 tourists died on Tuesday as their hot air balloon exploded when the gas hose ripped (video). That could have been me. Getting burnt to a crisp 1000 feet above ground is quite possibly number 1 on my list of ways I do not way to snuff it. I'm not going to lie; I was relieved this happened exactly a week AFTER I flew in Cappadocia, though I doubt it would have swayed me or kept me from flying in Turkey had it happened before. Though I probably would have had a panic attack every time the flame was on and bugged the crap out of Nigel to check all the tank pipes during takeoff, the main flight, and landing.
When M and I flew in Luxor, we didn't research any companies in advance, we just went with the one recommended to us by our hotel, which in retrospect was extraordinarily STUPID. Ballooning at dawn over the Valley of the Kings is one of the most popular activities in Luxor, with over 50 companies to chose from, you will definitely get your chance to fly. Of course with the rampant tourism business, hotels usually partner with specific companies, so of course they will recommend their choice, which is not necessarily the best or safest.
I learned a lot about hot air balloons over the past year.
With 50 companies to chose from in Egpyt, it's REALLY important to chose your research. You are not in Kansas anymore (pun intended), and especially after the Revolution, the government in Egypt was really unstable, and obviously the balloon companies weren't being monitored as the should have been. The same goes for Turkey.
There are far more balloon companies in Cappadocia since it is voted one of the best places to fly a hot air balloon in the world. It's an extraordinarily popular tourist activity, and in the high season there can be up to 120 balloons in the sky each morning. For some perspective, there were only 60 in the air the day I flew. That means the range of service and safety you will get varies widely, and it's important to research who to fly with before you go since safety regulations are in the hands of the operators. Because of the huge demand, many pilots are inexperienced and the companies unregulated.
For me, safety is number 1.
I love my life, and I am not ready to die just yet. So I would rather have a company, like Royal Balloon, that chooses not to fly on a day when it's windy or uncertain and get a second chance the following day. Some companies will fly in unsafe conditions for profit. But for me, I was much happier to wait for a perfect, safe day, than to fly in potentially dangerous conditions.
You can't control the weather so it's important to pack in a few days if you are planning to fly in Turkey. Besides, Cappadocia is awesome and deserves at least 3 full days. The good companies don't charge you if it's bad weather, and if they can't fly, they'll let you try again for free, so it's no loss to you. The weather in Cappadocia is great for ballooning and they usually fly 300 days of the year.
Is flying in a hot air balloon scary? Not at all! The balloon moves with the wind, so it doesn't shake or move around that you can feel, it's really interesting; it almost feels like you are still on the ground. I'm a scaredy-cat when it comes to heights, and I get major motion sick, but the balloons don't bother me at all, unless I have food poisoning.
In the highly unlikely event that you befall an accident in a hot air balloon, there's not a lot you can do prevent falling to your death. However, it's always sensible to be backed up by a decent travel insurance plan in case of any other injuries you may happen to sustain (also unlikely). I use World Nomads Travel Insurance whose policies are customizable AND affordable.
When I started researching companies in Cappadocia, I was astonished by how many there were to chose from. It's definitely intimidating. Beginning with TripAdvisor and Lonely Planet, I narrowed the list down and eventually chose Royal Balloon after speaking with several companies. I can't begin to stress how important it is to do your research first. For example, the company in Egypt, Sky Cruise, that had the accident last week, has had a history of accidents before. With 50 companies to chose from, why the hell would you fly with a one that has crashed a balloon before?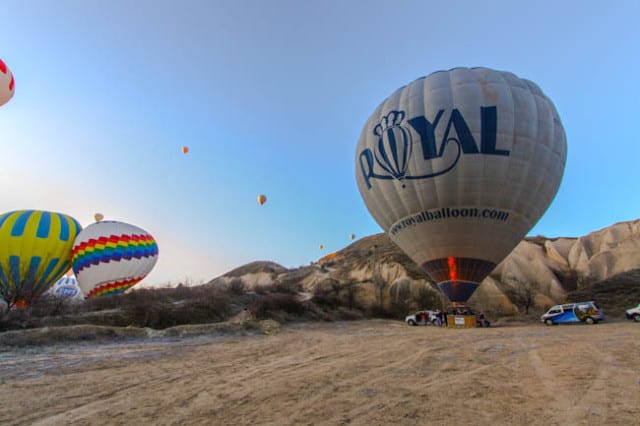 Why I chose Royal Balloon
They have the most reviews on TripAdvisor, and we all know how I feel about opinions and comments! I love them!

They have decades of experience, and their pilots have flown all over the world
They have the highest insurance policy in Cappadocia (you're welcome, mom!)
They are the only Turkish members of a bunch of fancy international hot air ballooning federations
They're the only British-manufactured balloons in Cappadocia (a very state of the art material- one of their balloon engineers was on my flight!) And let me tell you, thanks to nosy dad from India I learned that those balloons are NOT cheap, and I can tell you how they are made, but I don't want to bore you even more than I already have
They don't take any chances with safety. They even wedding-style carried me out of the basket upon landing. Someone must have warned them what I klutz I am
They give you a full hour up in the skies (some companies shaft you on that)
They have even flown Martha Stewart, and we all know Martha is never wrong
You get a really yummy breakfast, a nice wooly hat, and a medal and champagne upon landing. Flying in style, just how I like it!
Suat (the pilot-in-chief) is amazing, and Nigel and the crews are just overall really friendly and helpful. They know so much and have traveled and flown around the world. When you are 1,000ft in the air, it's important that you feel like you are in safe hands
Many thanks to Royal Balloon having me as their guest. Don't worry, I'm keeping it real – all opinions are my own.
More awesome stuff I recommend doing in Turkey!: