My oh my, it's been a while since I've written about my favorite region in Spain: La Rioja!
Never heard of it? It's ok, most people haven't. By chance you have, it's most likely from the red wine the region is world famous for or the the Camino de Santiago, the pilgrimage that cuts across Spain from France. Tucked away in the north of Spain, La Rioja is a little region that packs a big punch. I decided to move here on a whim the fall of 2011, after I fell in love with the countryside on a train trip through the north four years earlier.
As much as I loved living in Córdoba, Andalucía in the south, I wanted to see a different side of Spain. So I packed my bags and said adiós to the beautiful olive groves and whitewashed villages I had grown to love and traded them in for the vineyards and sandstone towns in the mountains.
La Rioja stole my heart.
Festival bandanas in Logroño for San Mateo
I wasn't expecting it, 2011 to 2012 was without a doubt the best 12 months of my life. It was incredible, and so much of it had to do with La Rioja. La Rioja charmed me; it helped me heal a broken heart, and in La Rioja was where I realized my love for writing and blogging. I was absolutely gutted to leave my life in Logroño, but I know it will lead to better things.
La Rioja is a place I miss each and every day. 
Underrated and overlooked by many people traveling to Spain, I want to show you all the reasons why it merits a visit all on it's own and deserves to be visited. So let me take a moment to share with you all my favorite reasons for visiting the region of La Rioja, Spain in the hopes that it might inspire you to travel there one day yourself.
1. La Rioja is still undiscovered!
Nobody knows where La Rioja is! Not even Spaniards (ok, I'm exaggerating) but let me ask you, how many of you have heard of La Rioja? And not from me either! I am all about off-the-beaten-track travel, and La Rioja certainly has that covered. I lived there for a year, and the amount of tourists that passed though was nothing compared to the rest of Spain.
It's the kind of place that locals will talk to you in the bars because they're curious and invite you for a drink. It's the kind of place that surprises you. Beautifully preserved medieval villages come to life at the foothills of the mountains that back up to the Basque Country surrounded by vineyards as far as the eye can see.
At the castle of Clavijo
La Rioja has a lot of layers. On the outside, it's not as ostentatious or as glittery as other cities like Barcelona or Granada, but once you begin to look deeper and peel back the layers, you begin to realize just how unique and special this little overlooked region really is.
Hiking in the Sierra de la Cebollera mountains
2. La Rioja has the best food in Spain
I am mentally preparing myself for the wrath I'm going to get for that statement, but I am going to go ahead and stick my neck out there and say La Rioja has the BEST food in Spain. Boom.
Hear me out! Named the 2012 Gastronomic Capital of Spain, there is no shortage of amazing eats to be found here. Now don't get me wrong, there is amazing food around all of Spain, each region having it's own specialities, making Spanish cuisine very diverse and unique. The culinary delights to be found in famous foodie regions like the Basque Country and Cataluña can't be ignored, but for me, La Rioja tops them all!
Why? Two reasons. The first being the diversity of food within La Rioja; you can find anything! From kangaroo bruschetta to slow-roasted baby pig, they have it all. Swank gastrobars rub shoulders with decades-old family establishments serving the same stew recipe for a hundred years. And the best part?
It's super cheap! Some of the cheapest food I have ever had in Spain was in La Rioja. The old quarter of Logroño, and most of the villages in La Rioja really, are jam packed with pincho bars, pinchos being northern Spain's version of the tapa. Each bar is usually famous for one or two pinchos, a small portion of food usually served skewered on a slice of baguette. For dinner, you go out with friends and hop from pincho bar to pincho bar, sampling as many treats as you can, paired with a nice glass of Rioja red of course.
Pinchos usually cost from one to three euros each. I usually spend around 10 euros a night for a four pincho dinner with wine at every bar. Can you top that?
3. La Rioja has the best wine in Spain
Ok, it's harder to argue with this one. La Rioja is world famous for its red wine and for good reason. It rocks.
There has been a tradition of wine harvesting in this region of Spain since the Phoenicians, which means, they've learned a thing or two since then about bottling a good grape. Literally the entire region is covered with vineyards and you can visit them all if you wish. From tiny family owned and operated bodegas to massive industrial producers, they have it all.
A great selection at LAN Winery
Bodegas Ysios, a very modern winery near Laguardia
My favorite time to visit is in the fall when all the leaves start to change on the vines, turning the landscape gold, red and orange. It's just spectacular.
And the best part? Considering most of the wine is produced right there in La Rioja, it makes it exceptionally cheap. I almost never spent more than 2 euros on a glass of red in a bar in Logroño. Try finding decent wine for that price in the US.
Vineyards in the fall near Laguardia
The mother of all wineries in La Rioja, Marqués de Riscal
4. La Rioja has insane festivals
Where else in the world can you have a wine battle?
Essentially a giant food fight with red wine, every June, faithful riojanos make their way out to Haro in the west to participate in the batalla del vino. Clad in white with water guns, buckets and wineskins brimming with cheap red wine, the party starts at sunrise.
Actually it starts the night before and ends around lunchtime the next time.
Hiking out to the mountains singing and dancing with marching bands, everyone drinks and makes merry in honor of a local saint. After mass, the battle begins and it's every man for himself. Very few foreigners know about this festival which means you will be getting drunk and tossing wine with mostly locals.
Every village and city in La Rioja has its own festival throughout the year, so there is no shortage of fun to be had. Apart from the wine battle in Haro, Logroño has two great festivals every year. San Mateo in September to celebrate the wine harvest and where you can even stomp the grapes yourself and the street parties rage on 24 hours a day for a week. In the early summer the patron saint San Bernabé has his day with another long festival in town.
Paella at the Valencia booth during San Mateo
5. La Rioja in an awesome location
Snugly situated between cities like Burgos, Bilbao, San Sebastián, Pamplona and Zaragoza, you are never far from the great northern cities. That being said, those are the main cities that you will have to go through to get to La Rioja. It's great because over the years Logroño has been a bit isolated from the rest of Spain, but at the same time it can be a pain navigating and getting there from the rest of the world.
Driving for an hour you hit amazing mountains and coastline along the north of Spain, and just a bit further you can head into France for the day. Oh la la. Really you can get anywhere in northern Spain quite easily from La Rioja.
6. La Rioja has a whole lot of history
Did you know that the first words ever written down in Spanish AND Basque were in La Rioja? A great half-day trip from Logroño is to the Suso and Yuso monasteries, some of the oldest in Spain. Beautiful and well preserved, they are worth visiting if you are ever in the area, especially with the beautiful surrounding fields and mountains. Further afield you can reach the ruins of the village of Mansilla. Abandoned, flooded and turned into a reservoir a century ago, in the hot summer months, the water level occasionally drops so low you can go and walk around the ruined village. How cool is that?
The famous medieval pilgrimage Camino de Santiago also passes through La Rioja, and it's not unusual to see hikers and walkers strapped up with big backpacks and ridiculous tan lines wandering about the city or along the roads. It gives La Rioja another layer of depth an culture that you don't always find in other cities.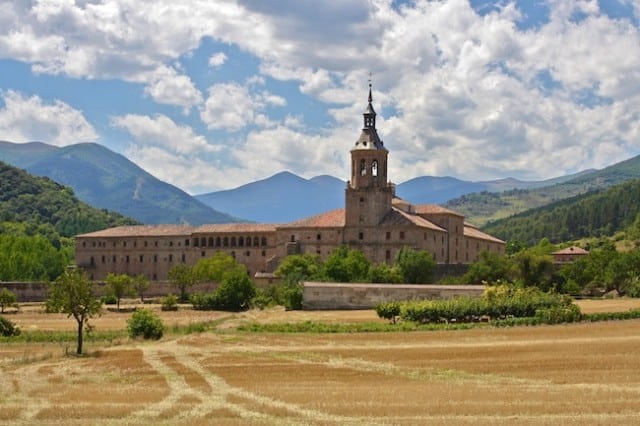 Monasterio de Yuso
Monasterio de Valvanera in the mountains
The ruined village of Mansilla in September
7. La Rioja has some of the friendliest people I've ever met
I don't know if it's the small town vibe combined with the complete dearth of tourists, but for me La Rioja still has some of the most genuine and kind people I've ever met, especially in Spain. People are outgoing and welcoming; they will help you if you have a problem and are proud to show off their region. It's really refreshing and honest, and one of the reasons I love La Rioja so much.
La Rioja is calling. Will you answer?
Have I convinced you to go to La Rioja yet?
Have you ever been to this little region in Spain? But more importantly, would you go after reading this?
The village of Briones in summer