While so many islands in Greece are being slowly conquered by foreigners (cough, cough Santorini and Mykonos, I'm looking at you two), it's great to know that there are plenty beautiful islands held firmly in the hands of Greeks.
As soon as I read about Hydra last summer, I knew I had to make it a stop on my itinerary through Greece, and I wasn't disappointed!
When there are so many islands to chose from to visit in Greece, for me at least, it was hard to pinpoint down which ones to visit. Two important things about Hydra struck me, and as fate would have it, they were the two things I loved most about the island.
Prepare to be shocked.
There are no cars or motorcycles on Hydra – they are not permitted. You can only get around by boat, donkey or your own two feet. Personally, I loved the sound of that!
Secondly, Hydra is still a predominantly Greek holiday island, which means that it feels more "local and authentic" than some other places, and in fact you'll hear Greek spoken more often than anything else!
What a novelty, hearing the national language of a place spoken in a major vacation destination!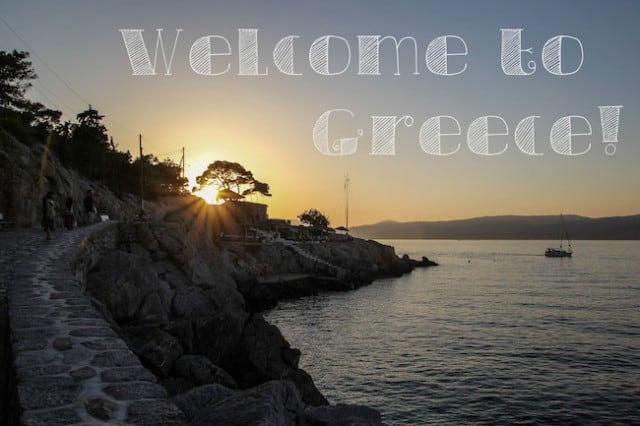 The reason Hydra is still a popular Greek getaway is because it's pretty close to Athens. By hydrofoil (superfast boat) it takes around an hour and will set you back 50 euros roundtrip, so it's not exactly a cheap place to get to, but it's worth forking over that price for what you get.
I've heard rumors that there are slower, cheaper boats but hell if I could find them out. Understanding public transportation in Greece is a nightmare at the best of times and I really wish I could offer better information here. In summer, there are tons of ferries to Hydra from Athens Piraeus (the main ferry port of the city) and I *think* I traveled with Hellenic Seaways.
I suppose it makes sense that Greece's beauty comes at a price.
Maybe Hydra has remained so local because there's not a lot to do there. The main part of the island next to the harbor is itty bitty, and because you have to walk everywhere, it's quite small.
But for me, that was perfect. I wanted to be able to relax in Greece, hang out under the sun at a cafe for hours, watching the boats bobbing in the harbor, the stinky donkeys trodding past all while eating infinite amounts of Greek yogurt piled high with fresh fruit and honey. And cocktails.
I was on vacation right?
I don't know about you guys, but as much as I am a fan of active and adventurous vacations, sometimes I need to just relax and chill the hell out, which after three weeks of running around southern Italy and Greece, I was all for it.
I didn't want to have a schedule; I didn't want to have to worry about getting to places before they closed. I just wanted to relax.
Give me a beach, a bikini a good book and an ice cold beer, and call me a happy camper.
Life's about the simple things, right?
Don't you ever just want a relaxing vacation too?
Stepping off the overpriced ferry in the little harbor under the hot noon sun, I was quickly drenched in sweat. Greece in July is not exactly a moderate climate. Luckily there's a nice sea breeze and infinite number of swimming spots to keep you cool.
Keen to get to the beach and enjoy the nice weather, I booked it to the Angelica Hotel where I was staying. Opening the doors I was greeted with this beautiful room.
Ok, maybe I had time for a siesta. I mean, the bed has a canopy on it for heavens sake – I need to take advantage, right?!
Forcing myself to leave my dream room, I managed to go back out and explore all Hydra had to offer.
You guys, I can't even begin to write about how good it felt to not feel rushed or have to be anywhere. Armed with only a book and my wallet, with a couple of cats trailing behind me, I felt like I really got to absorb the simple charm of Hydra.
Because Greece would be incomplete without a gaggle or two of street cats to keep you company.
It's a feeling I'm not likely soon to forget and one I need to remember more often when planning trips.
My first night in Hydra was picture perfect.
After hanging out by the harbor and picking up some tips from locals and other Greek tourists nearby who were curious about what a little foreign blond thing was doing sitting by herself, I went for a stroll along the waterfront as the sun slowly dipped down until I came to a restaurant – the Sunset Restaurant.
Right to the point, that's what I like to see.
"Table for one, please," I said, excited at the possibility of a nice seafood dinner – I had even put on make-up AND a dress, I was ready to splurge.
"Just one? Only you? Are you sure?" was the reply I got.
God damn it, can a solo female traveler just eat her dinner in peace without commentary? Sheesh!
Surrounding by smooching couples but with a great view of the sunset and water, and with a mangy cat for company, I enjoyed a nice dinner.
And I think I scared the waitstaff or they just felt bad for me because I scored wine AND desert on the house. Pity food, I'll take what I can get.
The next day I decided to be more productive and take a boat to one of the beaches around the island. After some pushing and prodding of various locals, I set my eyes on Agios St. Nikolaos, one of the furthest, least developed beaches on Hydra.
As happy chance would have it, I was 1 of 3 people who got off the boat there, including the teenager manning the "bar."
Wahoo!
Nothing like have a secluded beach to yourself in Greece!
And it is possible, even in peak season!
After a tough morning of snorkeling, tanning, napping and repeat, I was ready to get down to business and take some photos and videos in the clear water.
After a few moments of playing around with my absurd camera equipment, I heard, "what are doing over there?" from a girl about my age swimming nearby.
It only took a second, but after that I made some new friends, a couple of girls from Athens who were taking a little vacation.
We spent the rest of the day together talking travel, Greece, American culture and the usual. After heading back to the main port, we grabbed dinner and chatted til the sun went down.
These are the kinds of moments I live for when traveling, and honestly are why I love traveling alone.
Hydra was exactly the kind of recovery and vacation I needed, and looking back on my time there, I realized it was pretty much perfect. The only thing that would have made it better was if I could have stayed for longer.
I felt like I got to see a more "Greek" side of Greece, as well as have the time to take it all in, something I can be guilty of doing on the road.
Beautiful beaches, beautiful people, beautiful food, what more could you ask for from a summer vacation?
Have you ever been to Greece? Is it on your bucketlist? Where would you go given the chance? Would you like to visit Hydra?
Many thanks to the Angelica Hotel for hosting me in Hydra, like always I'm keeping it real – all opinions are my own!