If there was one place in Greece I was dying to visit besides the beautiful islands and beaches, it was Meteora.
Greece gets a lot of hype as a summer destination with more little islands and crystal clear water beaches than you can imagine. But I knew there was a lot more to that and I made sure to pencil in some time in central Greece to see some of the dramatic mountains.
Meteora caught my attention ages ago on Pinterest, and I always tucked the image away of beautiful mountaintop monasteries in the back of my already overcrowded mind.
After all, I love a legendary landscape, a place so unique no similar one exists. Well, Meteora DEFINITELY fits that bill.
I was again reminded of Meteora when I picked up a copy of Lonely Planet Greece to see it gracing the cover. Fate, right?
That's when I knew I had to go.
For those who are curious, Meteora meaning "middle of the sky" is a complex of 6 mountaintop Eastern Orthodox monasteries in northern Greece.
Here are my 5 best epic moments and memories from Meteora, Greece
1. Meteora for George R. R. Martin fans
But for the third time something else last year piqued my interest last year in Meteora, pulling it back to the forefront of my mind when I was plotting out my Euro itinerary. Care to guess what it was?
Think epic. Nerdy. Fictional. Moderately sexual.
Any clue?
Did you know that the Eyrie of the Vale from Game of Thrones is based on Meteora?
Totally awesome right?!
Not a Game of Thrones fan? Well let me take this opportunity to tell you that there are few more epic, badass books-turned-HBO-miniseries that deserve your attention. Get reading. You don't know what you have been missing.
But back to my point. Meteora inspired George R.R. Martin in creating the Vale where the fortress is built high atop the mountains, accessed through a rope and basket system. Talk about faith in the Almighty.
Then it was used in the episode when Tyrion gets taken to the Eyrie and thrown into one of the sky cells. Doesn't that background look familiar?
Sigh, I'm such a nerd. There really is no hope for me.
2. Climbing the back way to my first monastery at St. Nicholas
As soon as I checked into to the hotel in Kastraki, the closest town to the monasteries, I knew I had to get myself over there asap.
After the low-down on the opening hours and times, the monasteries open and close on different days, I decided to head straight to St. Nicholas, the closest one with the least amount of stairs.
Picking the brains of the owners, I managed to find a back route there through the woods and over some of the rocky pillars, thinking to myself, "oh this will be an adventure."
WHAT WAS I THINKING?!
I swear to GOD there will come a day when I realize that doing things for the sake of "oh hell this will make for a great blog post" is NOT always worth it.
It was 2pm in July, the hottest hour of the day in Greece, and the sky was baked blue, you know that hazy blue you get when it's hotter than Hades outside?
About halfway up the huge rocky hill behind the hotel towards the monastery I realized several important things. Wearing TOMS was a mistake. I didn't have enough water with me. Sunscreen would have also been important to use. Oh, and doing this during the hottest part of the day with no shade was not smart.
I'm a hiker and a runner. I also never give up. But after stair 200 of getting to the top of the monastery I lost count and thought to myself, "wow, I really really should have rented a car" and "I wonder what I have to pay a local guy to piggy back me up to the rest of these."
And that was the easiest and closest of the 6 monasteries! Heaven help me!
Of course after I recovered at the top, drank two bottles of water and stuck my red face under the tap and promptly getting yelled at by a monk-in-training, I realized OF COURSE it was worth it. Seriously beautiful up there, if you don't believe me just look at the photos.
Pattering around in a striped apron covering my legs and sweating like a whore in church under my wrap (women must cover up) I took it all in.
What must it have been like to build this on top of a mountain centuries ago? What's it like in the snow in winter? And how to the monks deal with living there now?
I pestered one of the trainee monks about how they used to get up there, and how safe it is now – you know, they still cross over in motorized cable carts? "So how often were there accidents? Weren't the afraid?" I asked.
"We used the ropes until the Lord lets them break." Wow. That's Faith, with a capital "F". Or blind stupidity. Not sure which.
Then after climbing all the way down, moaning and bitching about my aching knees, I did the only sensible thing a girl can do in these situations.
This.
3. Waking up in Kastraki with this view
Coming to Meteora you're faced with a few options of where to rest your head. Most people head to the more civilized Kalambaka a bit further down the road, but I wanted to be as close to these majestic mountains as possible, so I picked Kastraki, right at the foothills.
Just a few streets cobbled together with the occasional cat running around, with hot air that smells like farmland and history, Kastraki is unpretentious and simple. Just what I was looking for.
As soon as I discovered the Doupiani House where I was booked in, I fell in love.
Well, I fell in love as soon as I opened the balcony to THIS!
Swoon!
Holy crap, just look at that air conditioning unit! EXACTLY what I needed to see after a bagillion hour hot bus ride from hell!
Kidding!
I'm a sucker views and if I can swing a place with a view like this while traveling, I will.
Sitting under the beautiful terrace in the gardens overlooking the stunning Meteora rocks sipping coffee, I was in heaven. And then a kitten wandered over and sat in my lap.
Could it be more perfect?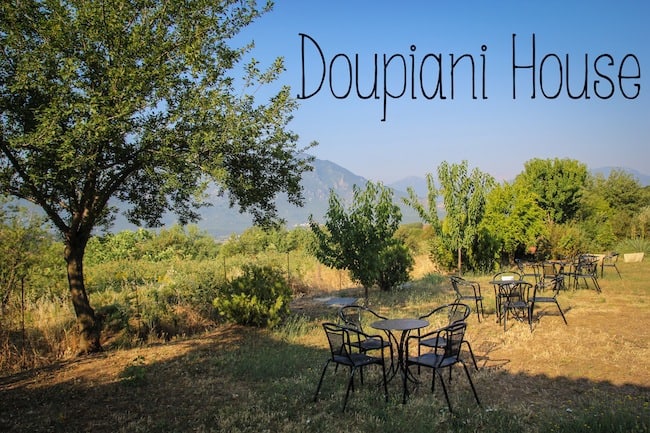 4. Riding in cars with strangers
Having breakfast in the gardens, enjoying the views and the trying to mentally prepare for a hot day filled with stairs that never end, I experienced one of those serendipitous moments chatting with an awesome couple from the UK.
Talking about Greece, Europe, world travel, happiness, you know, the usual over an amazing pastry (or three) we realized our plans for the day coincided and we ended up spending the day together driving (there is a god!) to the different monasteries.
It was one of those moments that only happens when you're traveling, you meet people who just match with your life choices, and you decide to throw caution to the wind and join them on an adventure.
That might be one of the things I love the most about travel actually.
We spent the whole day together visiting the different monasteries, then driving deep into the mountains eating the biggest lunch ever out in the sun with a local family.
Great Meteoron – Varlaam – Rousanou – St. Stephen – Holy Trinity 
It was heaven, you know, in a non-blasphemous way.
It was also one of those great moments as a solo traveler. Sometimes after days, weeks or months alone on the road, you just want to share an experience with someone else, even if you might never see them again.
Meteora was one of those places that inspired me to talk about it. It is fucking stunning, and I am happy I got to share the experience with different people. It cheesily made the the memory more special.
5. One of the best sunsets of my entire life
Sometimes I like to pretend I'm a great photographer.
What this really means is that I take way too many pictures with my big fancy DSLR or I even crouch down low for fun new angles. Usually I try to think about light and try to take advantage of sunsets.
Because let's be honest here, the only time I'm awake for a sunrise is when I'm stumbling home from a discoteca in Spain on the weekend. Or if I have to catch a flight.
Well one of the guys who took pity on me and gave me a ride between monasteries on that first day told me about one of the best view points in the area for a sunset.
I feel like I should add that he was about ninety and half my size. I totally could have taken him out if things got weird, but this was just a standard Greek I feel bad for you because you're traveling alone as woman scenario. Nothing to be concerned over (mom). Also it was over 100 degrees and my face was as red as a tomato. It would have been bad for tourism if a blond foreigner died from a heatstroke there.
But back to the sunset.
Perched out on one of the mountains above the monasteries, the clouds looked to dense to offer any decent sunsets, but my Greek savior told me to be patient and wait.
Lo and behold the sun finally peeked through the bottom layer of clouds turning the sky into a marvelous canvas of orange, red, purple and pink.
Quickly I put my camera down and tried to just take it all in. Ignoring all the couples making out around me, I focused on the pure, raw beauty of this part of Greece.
Meteora is still very much untamed and wild. Any trip to Greece would be incomplete without a visit here, that I can promise you, even in July.
Have you been to Greece or Meteora? Is this the kind of place that interests you? Have you been to any similar monasteries or mountain sites around the world? 
Many thanks to Doupiani House for hosting me in Meteora. Like always I'm keeping it real – all opinions are my own, like you could expect anything less from me.