Townsville, Australia
It's only October but I've already starting to look back and reflect on this past year, and I realized my travel style has changed quite a bit. Again. Surprise surprise!
As someone who is constantly reinventing herself (shudders when looks back at punk phase when she was 13 YIKES), I suppose it should come as no surprise that how I travel in 2016 is pretty different from how I traveled in 2010.
I think it all started when I moved to New Zealand three years ago. I didn't take long for me to develop an obsession with mountains, landscapes and epic nature, and before long, I began to cater my international travels that way too. Less cities more national parks!
From cold winters in Canada to hot summers in the Arabian desert, my wanderlust has taken me to some of the most remote places of the world, and I love it!
Svalbard
But because now most of my travel is outdoors in nature, and often in quite extreme climates, I've learned a few hard lessons over the years of how to travel accordingly – i.e. how to not break and destroy all my stuff.
Though the first big step was insuring all of my property and gear with Clements, and considering how clumsy and unlucky I am, that's been one of my wiser moves over the years.
Check out all my camera gear here
And of course, it took me many mistakes and misadventures to finally learn my lesson about traveling in vastly different regions with varying types of weather. So I've put together some of my best tips for traveling in extreme climates and how I protect my gear, my cameras and even how I pack and make do on the road. Enjoy!
Mt. Cook, New Zealand
1. Melting in the desert
I know, I know, blinding flash of the obvious. Traveling in the desert is harsh. But trust me, it's beautiful, especially in the early morning and even at night. The dunes, the Bedouin culture, the bright Milky Way at night, I love it!
Desert travel can take its toll on you and your gear. Apart from the glaring, unrelenting sun and usually no place to hide from it plus extreme heat, there is the issue of sand. And man oh man, does sand get everywhere! Often when I come back from being in the desert, I am finding sand stuck in places I could have never imagined. And I'm talking about my bags, guys. Get your heads out of the gutter.
Wadi Rum, Jordan
I think my first real experience out in the desert was in Morocco and Egypt when I was living in Spain. But my favorite trip was in Jordan by far. Jordan is seriously magical guys. It was there I learned the hard lesson to always carry a lot more water than you think you might need. I ran out of water on a long hike, and it was the worst!
Often the desert climates I visit are in places where women are "encouraged" to dress modestly; but through that I've learned that I'm often more comfortable in the heat wearing longer lose clothing anyways. I usually wear light colored flowy pants or capri pants and baggy white tops and I'm a lot more comfortable than when I wear tight short clothes. But I also pack layers because the temperature can drop a lot at night. I also try and rock a hat because I always burn the crap out of my scalp and my god that hurts.
I prefer to wear merino wool if I can because it keeps me cool during the day and warm at night, and it doesn't smell when you sweat in it and it's not itchy and it dries really fast so you can rewear it over and over again without washing it. Seriously guys, it's magical fabric – my favorite merino comes from Mons Royale (Wanaka based), Icebreaker and Macpac. Merino wool mostly comes from New Zealand – the land of sheep, and while it's on the pricy side, remember – 10 day underwear. Worth it!
Amman, Jordan
Protect your camera gear:
Extreme heat is never good for camera equipment so try and keep it out of the direct sun when you're not using it. I usually toss a blanket or shirt over it, or put it inside if I can.
I've destroyed quite a few cameras over the years with sand so try not to change lenses, memory cards or batteries in unsheltered areas. Dust, dirt and sand will get everywhere so clean your kit everyday using a dust blower and try to use a filter on your lenses so that sand can't scratch them.
I somewhat famously fell off a camel in Jordan on my very first press trip, and broke myself and my brand new camera. But luckily I finally bought Clements property insurance right before I left so the repair ended up paying for itself. Phew!
The U.A.E.
2. Dealing with humidity
I'm from the south in the US originally, and man do I hate humidity. While I much prefer being in places with dry heat, it still doesn't stop me from traveling to humid hot environments, like the Maldives or pretty much anywhere in Southeast Asia.
Again, I rock the baggy clothes look and lots of merino so that I can get some air on my skin and feel the breeze if possible, and I try to avoid carrying a backpack because back sweat makes me super uncomfortable. Just me?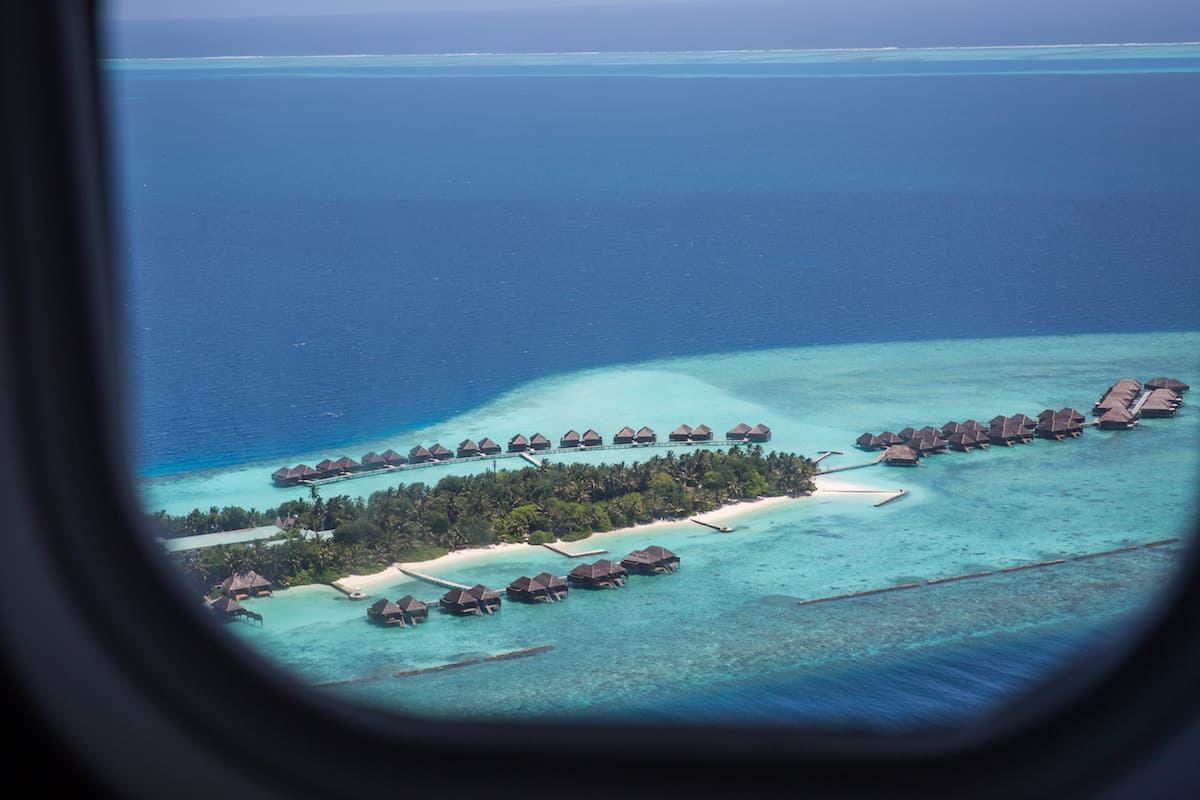 The Maldives
Cameras:
Humidity and condensation can seriously mess up cameras. This happens a lot to me when I am in humid places, when you often have to go from being inside in air conditioning to outside in hot temperatures. Your camera lenses will fog right away.
I made a rookie mistake with this in Dubai last year when I changed my camera lens outside and fogged my sensor (inside my camera) for about 30 minutes. What a fail.
Try and put your gear outside for a while if you can or store in a place that isn't super air conditioned. I would leave it on my hotel balcony as I got ready for the day in Dubai so that the cameras warm up and are closer to the outside air temperature. I also keep those little sachet packets of silica gel that come in packages to keep in my camera bag to absorb moisture.  I also make sure I have plenty of lens wipes I can use.
And don't change your lenses outside straight away.
Dubai
3. When you get soaking wet
It just sucks when you have to travel and be outside in the pouring rain. With travel being my job now, and the fact that I often have limited time in places and have to shoot and do things in rain or shine, I've learned to accept the rain over the years. I spend a lot of time hiking and I also really enjoy taking photos on moody weather days which means I often get soaked.
I also spend a lot of time on the water and the sea and always makes sure to have quick dry things with me including a little foldable towel.
The trick is having waterproof everything. Starting with shoes. Wet feet SUCKS and boots take forever to try out. I waterproof all my boots when I first buy them. I bring really good rain pants or snow pants, and take a really good waterproof Goretex rain jacket. Nothing else cuts it and water will seep through. Though I do Otherwise in hot climates during the monsoon season I bring tevas or quick dry sneakers that I don't mind if they get soaked.
Fjällräven jacket which I waterproofed with Greenland wax in New Zealand
New Zealand
Finally I make sure that everything I bring when I travel to rainy places where I am outside a lot are packed in mostly waterproof luggage.
My favorite now are the classic North Face Base Camp Duffels. This year was the 30th anniversary of these duffel bags so there are some great colors out. They are the ultimate adventure bag, can be worn as a backpack and are made of super tough waterproof fabric. I brought all my gear to Norway and the Arctic in these duffels this year, and it was a lifesaver. I use the large ones as a suitcase and the small one's are a great day pack.
If I'm hiking (or just inside my suitcase) I don't even bother with rain pack covers because they are useless, at least in windy New Zealand where it rains sideways. Instead I always use one of the classic New Zealand yellow pack liners (you can get them here in pretty much any outdoor shop) and use them inside my pack – totally waterproof. And one time I ended up sleeping inside one of them, but that's a story for another day.
Svalbard
Cameras:
So far I've only ever killed one camera with water – I've found them to be much sturdier than you think they are, but shooting in super wet conditions isn't the most fun. I'm talking downpour rain here, not a drizzle. My main trick is dry bags. My camera bag is mostly waterproof which is great but I also carry an array of sizes of Sea to Summit dry bags that I can put cameras and batteries, ect inside when I need to.
Depending on your camera it might be moderately weather resistant so it can get fairly wet and be ok though that's not always ideal. I've definitely pushed the boundaries quite far with all my Canon gear. Normally I carry an umbrella or toss my rain jacket over my kit if needed and that's usually just fine. If I'm more prepared I'll rip a hole in a plastic shopping bag and stick it over my camera and put a rubber band around the lens or use my lens hood to keep water off the lens. One time I even used a hotel shower cap. Though I will point out they do make professional rain covers for cameras.
If I am shooting underwater in the ocean my cameras are in an underwater housing to keep them dry. It's important to not open them while they are still wet, and when you finish for the day, it's really important to wash the housings to get the salt water off of it.
Maldives
Maldives
4. Traveling in extreme cold
I seriously don't know how this happened, but somehow wintry, cold weather became one of my favorite types of travel. WHY? Why not tropical beaches? I don't understand myself.
It's not that I like being cold. I think it's that to me landscapes and mountains look the most beautiful in the snow, and I love photographing mountains. When everything is all sparkling and white I'm in heaven. And by default that means I will be cold. Sigh.
The coldest temperatures I felt this past year were in Banff in Canada at a whopping -30 ºC (-22ºF). And don't get me started on the wind chill. As we say in the south, it was colder than a witch's tit.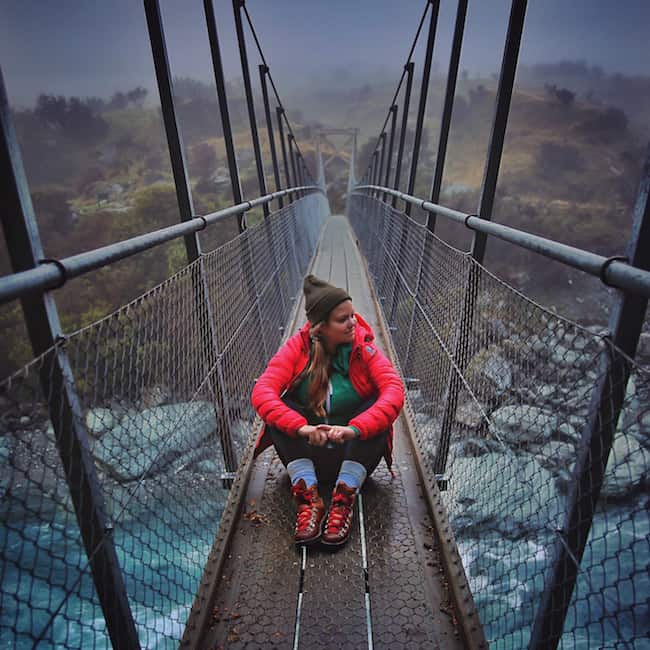 New Zealand
Packing for travel in extremely cold places also sucks because everything you bring will take up more space. Normally I carry my big Parajumpers jacket on the plane because it's huge and doubles as an awesome pillow/blanket. I love this big jacket because it's so warm, but it's way too hot in anything less than below freezing temperatures. I usually bring my ski jacket as well because it's lighter, waterproof and I can wear it hiking or when I'm doing an activity that makes me sweat.
Again I pack a lot of thick merino wool clothes and base layers to stay warm, usually I wear two thick pairs of leggings or a pair of merino long underwear underneath my pants or wear snowpants. But the key to packing for extremely cold climates is good warm and waterproof boots for snow and ice. And thick socks or sometimes I wear two pairs of socks. My favorite boots are L.L. Bean shearling boots or my retro Danner Cascade boots.
I pack warm mittens and fingerless photography gloves and lots of cute beanies and neck warmers I can pull up over my mouth and face.
Svalbard
Finland
Cameras:
Take plenty of spare batteries – cold temperatures kill batteries fast. I generally have at least three with me and when I'm shooting in very cold places I keep them in an inside jacket pocket. But also remember to always carry batteries in your carry-on on a plane. Lithium batteries can explode and start fires. I also carry my gear in a heavy duty F-Stop camera bag that can withstand snow, ice and freezing rain.
And just like with humidity, often times you can get condensation moving in between extreme temperatures, so it's important to gradually let your gear transition. I almost froze my Canon in Canada and it took ages to warm back up, but oftentimes I've found that the gear is sturdier than you think. I put my camera in a big sealed plastic bag with those sachets and with the cold air and try to let it gradually warm up when I go inside, and that way condensation doesn't form inside the bag. I also put it by the door or on the windowsill.
Finally one last trick I learned was how to keep my iPhone on in cold weather – Apple products are notoriously bad in cold weather, and my phone will shut off all the time. In Banff I learned that the ski staff often stick those toe warmers you can put in your shoes and pockets to the back of iPhone cases and it will keep your phone warm enough to stay on. Smart!
Do you have any tips to share about traveling in extreme weather and climate? How do you protect your stuff, pack and prepare?
Fox Glacier, New Zealand
Many thanks to Clements for protecting me over the years – like always, I'm keeping it real. All opinions are my own, like you could expect less from me.