Living in New Zealand means that the most stunning of Pacific Islands are on my doorstep.
Growing up in a place with no tropical islands on my doorstep, I have come to appreciate the beauty of New Zealand's remoteness, and while it not be near my family back in the US, it is quite close to some of the most stunning islands in the world.
I'll take a holiday and visit Rarotonga over Virginia Beach any day!
My first trip to the South Pacific set the bar incredibly high. After the crappiest summer in history in Wanaka (it snowed far too many times) I felt cheated of hot weather and was itching to escape somewhere tropical.
Luckily Virgin Australia launched a direct route between the South Island hub of Christchurch Airport and Rarotonga in the Cook Islands in just four hours. Since Christchurch is my favorite airport in New Zealand, I was stoked!
And by happy accident it was well below freezing, foggy and the South Island was blanketed in icy mist the morning I headed over to Rarotonga. Goodbye winter, hello summer!
While many kiwis grow up holidaying here, for me, my first experience of Rarotonga bordered on the ethereal. To visit these kinds of tropical islands that we hear about as kids but never really imagine we could see for ourselves is beyond words.
Blink and you could miss it, Rarotonga is the most picture perfect Pacific island. Remote yet modern, the Cook Islands are within easy access of New Zealand, and make for the best first time voyage into the deep blue.
Encompassing 1,800,000 square kilometers of ocean, the Cook Islands themselves only cover about 240 square kilometers of land, which makes you feel so far off the grid you might fall off the map.
Sandy beaches, white seashells, a coral reef off the door from your villa, and more palm trees and sunshine than you could hope for, Rarotonga ticks all the boxes and then some.
But perhaps what appealed to me the most that while Rarotonga certainly gives off strong holiday vibes, it still manages to keep that local feel and culture that so many of us millennials crave for in a trip these days.
Like for the past 30 years, Jake Numanga has serenaded and greeted every flight that lands in Rarotonga. So yes, it took me only about 5 minutes to fall in love with the Cook Islands after stepping off the plane, you got me!
Exactly the kind of hands off holiday you would want, Rarotonga feels like a great escape and experience without all inclusive drinks and scheduled activities everywhere you look. Like it's still waiting for you to stop by and explore.
Arriving late at night, I headed straight to my own charming seaside villa at Little Polynesian. A small peaceful property on the southern side of Rarotonga, I fell asleep to the wind and the waves lulling me to dream about paradise.
A cute boutique small resort, it was exactly the kind of place I love to squirrel away in on holiday on a visit to Rarotonga.
In fact, it was so cute I didn't want to leave it. I could have spent the whole time there just enjoying my own little beach and stretch of the lagoon.
And did I mention the hammock? ALL MINE.
Perhaps what I was most excited for was diving in Rarotonga and slipping down beneath the waves to the see what their reefs had in store. I've been diving for a couple of years now, and it's one of my favorite ways to travel.
Oh, and spoiler alert – the diving ROCKED.
With fantastic visibility (30-60 meters), and incredible reefs and fish life, not to mention warm waters, I was more than keen to jump in with the locals at the Big Fish Dive Centre. The squad here are awesome and look after you, with all sorts of dive trips available, and you can even do intro first dives in the lagoon right off the beach.
We saw heaps of stuff on our dives, and it was the perfect introduction to Rarotonga, with the lush mountains in the distance and turquoise warm waters at our beck and call.
From rays to little reef sharks to lionfish and nudibranches, I got better and better and spotting the sealife on my own while diving, even spotting a moray for the first time on my own.
Did I mention it only takes 45 minutes to drive the entire island of Rarotonga?
Oh, and it's best done in a Mini convertible, with the top down. Zoom zoom.
While you definitely don't need wheels while on holiday in Rarotonga (the bus only goes in two directions) and it's easy to get a lift, it's pretty fun to have the freedom of a convertible or scooter at your fingertips.
Typical me, I can't write about Rarotonga and not mention my favorite meal there. In fact, favorite multiple meals since I went back three times.
The Mooring Fish Cafe isn't exactly a secret, and let me just say, their fish sandwiches are out of this world. Tucked in near the buzzy Muri Beach, get in early to make sure you get the FOB crumbled Mahi sandwhich, though they are all delicious. And yes, I tried them all, though I probably could have lived without the milkshakes. Self control, Liz.
Fat and happy, lounge on the beach in the afternoon and walk along the jetty looking for fish before heading for an afternoon stroll through the Maire Nui tropical gardens. Their smoothies are divine; bring a book and bug spray.
As if Rarotonga couldn't be even more up my alley, I was lucky enough to spend my last few nights glamping, one of my favorite kinds of travel.
While everyone thinks of Rarotonga for its stunning beaches (and rightly so) don't forget that it's also a stunning tropical jungle. Just inland, you can experience waking up amongst the forest with views of the mountains at Ikurangi Eco Retreat.
Developed with the a purpose for sustainable and responsible tourism, the first eco accommodation on Rarotonga doesn't disappoint. If you're looking for something new and different and to make your trip stand out a little bit more, book here now.
Barefoot with my toes in the sand as the warm clear waters of the lagoon lapped around my ankles, I wasn't ready for my trip to visit Rarotonga to be over yet. I wish I had another week to just chill and take it all in but like with everything, reality and sub zero temperatures were calling me back home to New Zealand.
Til next time Raro!
Have you been to Rarotonga or any of the Pacific Islands? What do you look for in a tropical vacation? Share!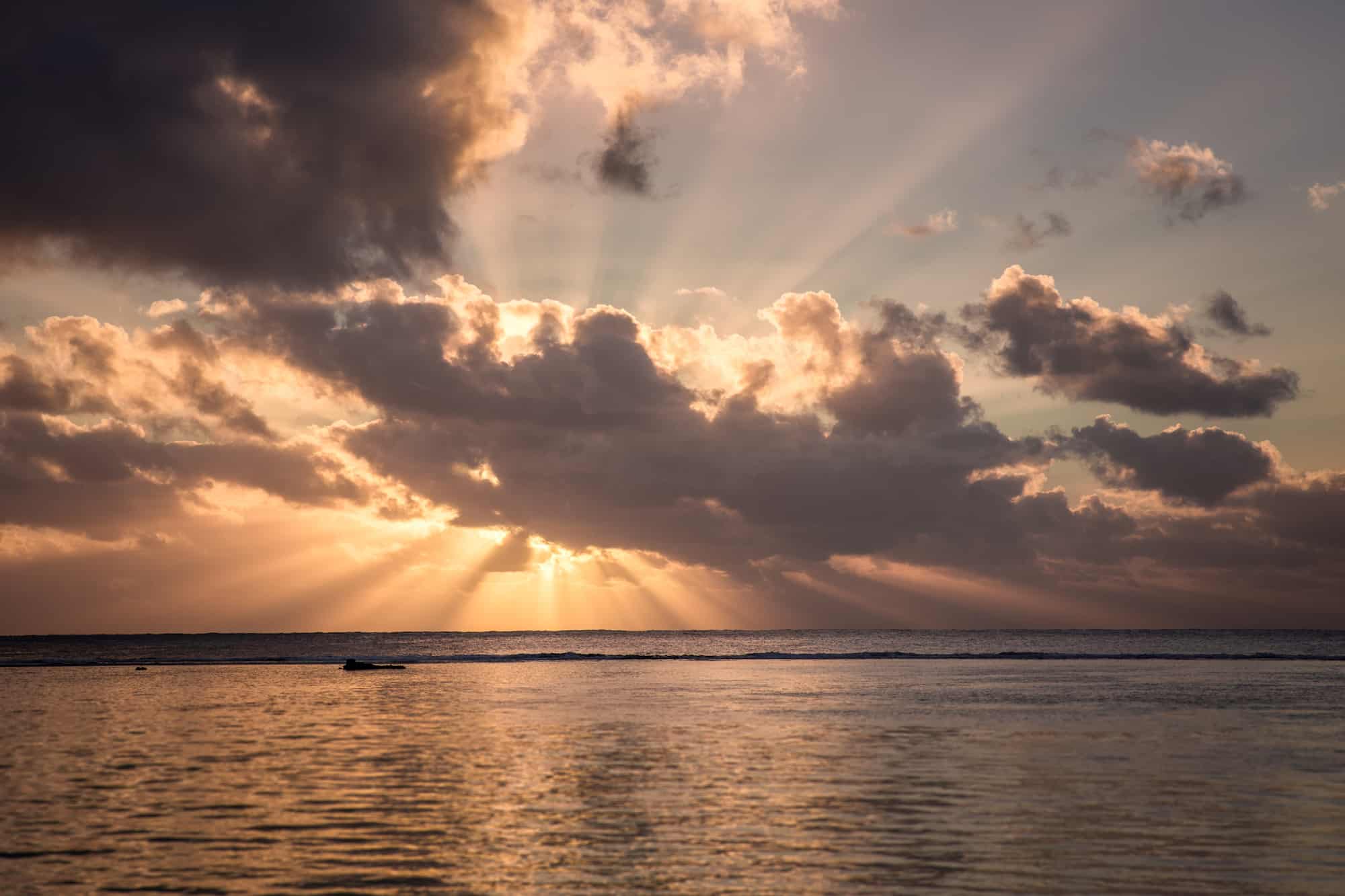 Many thanks to Cook Islands, Virgin Australia and Christchurch Airport for hosting me in Rarotonga. Like always I'm keeping it real, all opinions are my own, like you could expect less from me!