It's no secret – New Zealand is an outdoor enthusiasts paradise. With some of the most pristine nature, epic landscapes, and unique biodiversity in the world, it's no surprise that hiking and getting outside it pretty much on everyone's bucketlist here.
With trails ranging from mellow walks to intense multi-day missions that require expertise, there is something for everyone here. From rainforests to glaciated peaks to alpine deserts and volcanoes to coastal walkways, New Zealand literally has it all.
But with more than a third of the land looked after by the Department of Conservation with thousands of kilometers of incredible tracks of all varieties to choose from, choosing hikes can be daunting.
Along with DOC, and after five years of tramping (kiwi for hiking) here are five of the best day hikes in New Zealand, all unique and worth checking out on a trip to this corner of the world
1. Te Whara Track in Northland (Whangarei)
7.5 kilometers, one way. 5-6 hours. Intermediate walking track. More info here. 
At the top of the North Island is some of New Zealand's greatest and most culturally significant Māori spots, and Northland has no shortage of beautiful coastal views to chose from, and it's still a bit of a local secret and often very quiet.
One of the best has to be the the Te Whara track, which follows the track of Manaia, which is at least 700 years old, which is pretty old by kiwi standards. Passing through some of the finest coastal forest in New Zealand, after a steady climb to the ridge you'll be greeted with amazing views of the coast.
Keep an eye out for the North Island robin and whitehead, and make sure to stick to the marked trails out of respect for the local iwi (Māori tribe) and their ancestors.
2. Hooker Valley Track in Canterbury (Mt. Cook Village)
10 kilometer return, 3 hours. Easy walking track, more info here. 
No argument, the Hooker Valley walk at Aoraki/Mt. Cook is one of the most scenic day hikes in New Zealand. And flat, well maintained, and pretty easy, it definitely offers the most bang for your buck in terms of stunning vistas on a relatively mellow hike.
The very well-trodden path is one of the most popular in New Zealand, and winds its way along the Hooker Valley towards Mt. Cook, New Zealand's highest mountain. You can't miss it. You'll pass Mt. Sefton (one of my favorite mountains) with its stunning hanging glaciers, and you can often hear and see avalanches tumbling down year round. Bounce along three swing bridges that traverse the Hooker River before eventually popping out at the Hooker Lake, at the bottom of Mt. Cook.
In winter it freezes over and there are often icebergs floating around in its milky blue waters.
Keep an eye out for kea, the world's only alpine parrot and who's quite cheeky and for the Mt. Cook Buttercup, the world's biggest buttercup.
Looking up towards Mt. Sefton
3. Cape Kidnappers Walking Track in the Hawke's Bay (Clifton)
19 kilometer return, 5 hours. Easy walking track. See the gannets between November and February. More info here. 
In addition to being home to so many natural wonders and fascinating birds, it probably shouldn't come as a surprise that New Zealand also is home to the world's largest gannet colony. A stunning coastal walk along a beach with incredible cliffs that show the formation of New Zealand will eventually lead you to the bird colony with great views of the Hawke's Bay.
The walk is mostly along a beach and can only be attempted at low tide.
Keep an eye out for heron, tern, little blue penguins, and oystercatchers.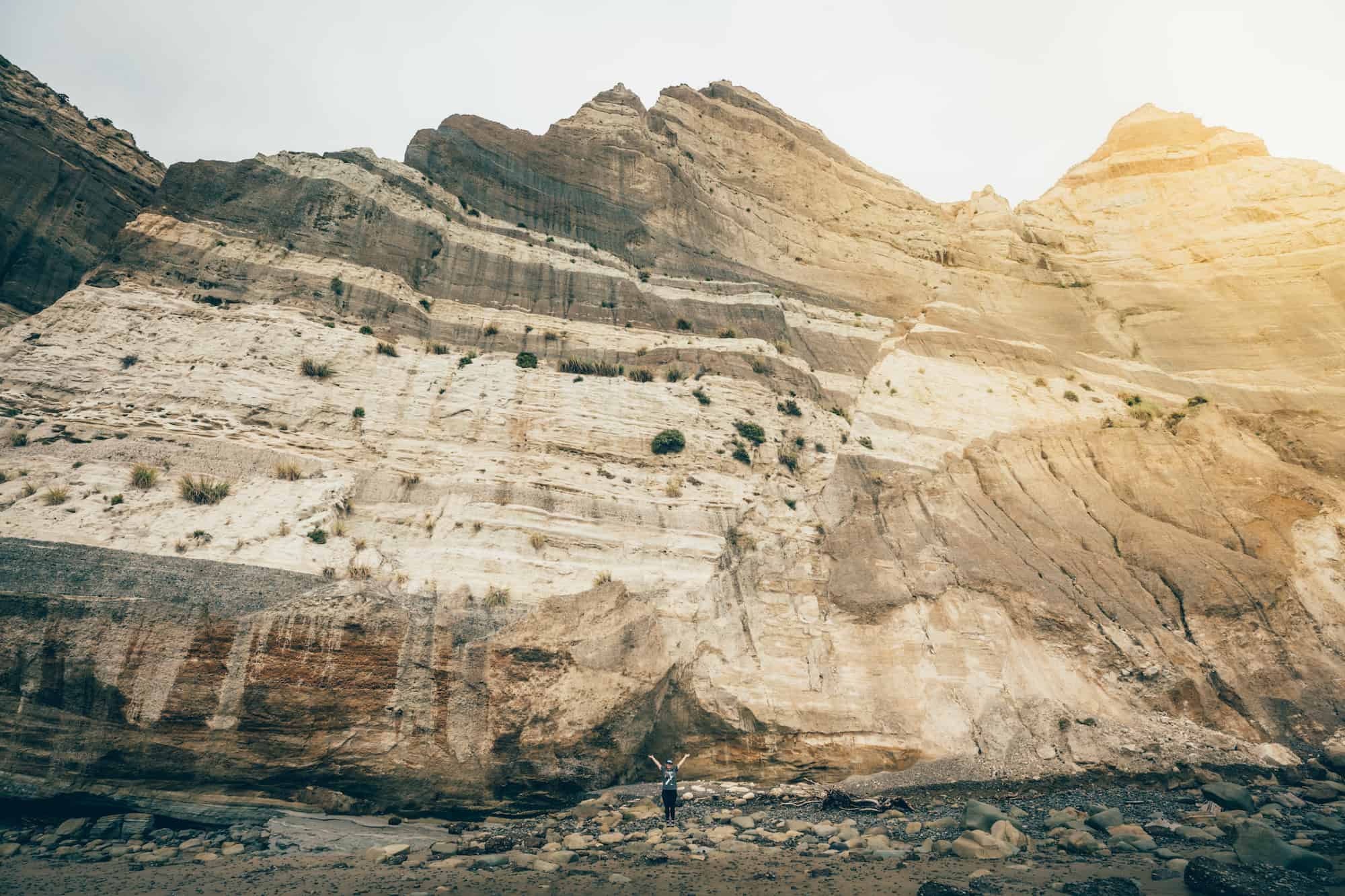 4. Tongariro Alpine Crossing (Central North Island)
19.4 kilometers one way, 7-8 hours. Easy/intermediate track. More info here. 
Often lauded as New Zealand's greatest day walk, the Tongariro Crossing has been famous for as long as I can remember. In fact, it's become so popular you can no longer park at the two main carparks at the start and finish of the track for the crossing, instead needing to book a shuttle.
New Zealand's first national park, this massive day trip crosses near three of the most iconic volcanoes on the North Island – Tongariro, Ruapehu, and Ngauruhoe – which you might recognize as Mt. Doom in the Lord of the Rings. You'll pass along bubbling neon lakes, see steam rising from the volcanoes in the distance and even go through ancient forests. This tramp has it all.
Make no mistake, this is an alpine crossing reaching almost 2000 meters at the top and you need to be prepared for it.
Keep an eye out for many of New Zealand's iconic birds, like tui, bellbirds, tomtits, and fantails.
5. Roy's Peak in Otago (Wanaka)
16 kilometers, 5-6 hours return. Easy walking track. More info here. 
Thanks to Instagram, Roy's Peak has quickly become one of the most popular day hikes in New Zealand, and with good reason – it's stunning. Be warned, you won't have this track to yourself, and it can get really busy, especially in summer.
A relatively straightforward and easy track – it's almost like a four wheel drive road – it's also long and unrelentingly steep so you need to be relatively fit to do it. You'll climb up and up on switchbacks through meadows and farmland dotted with sheep before you'll eventually be rewarded with incredible views of Wanaka, Mt. Aspiring and the mighty Southern Alps.
There are various iconic viewpoints near the top, and the views get better and better the higher you climb. Bring plenty of water as there is none on the track and there is no shade making it incredibly hot in summer. The track is closed around October 1 to November 10th every year for lambing.
Often there are long queues to take this classic photo
Many thanks to DOC for looking after our beautiful land here in New Zealand and keeping these trails up to snuff for us to continue to enjoy them. Like always I'm keeping it real – all opinions are my own – like you could expect less from me!