There are a lot of things to love about New Zealand.
The endless soundtrack of birdsong playing from sunrise to sundown. The plethora of terrain and ecosystems densely compacted into a relatively tiny block of land. The turquoise blue braided river beds, the cascading waterfalls at every turn, the pods of dolphins greeting you while you swim in the sea. The fact that people routinely walk through cafes and supermarkets barefoot (seriously this happens and is amazing and borderline concerning).
But perhaps the thing that makes New Zealand stand out from every other country in the world is its unparalleled system of well-maintained huts which has offered shelter and refuge to generations of trampers (kiwi for hikers), mountaineers, scientists, hunters and all other walks of life who move through the mountains and backcountry.
If hut bagging is on your New Zealand bucket list, be sure to check out these amazing backcountry huts.
Bask in their glory and treat them with kindness and please, for the love of god, pay your DOC fees. These huts are not free and supporting the Department of Conservation means ensuring decades more of hut maintenance and upkeep.
Here are 1o of New Zealand's most iconic backcountry huts on the South Island. Enjoy!
1. Mueller Hut 
Mt. Cook National Park: 5.2 kilometers and 3-4 hours one way, 1800 meters, 28 bunks, advanced fitness, moderate tramping skills required. More info here.
It's impossible to have a list of breathtaking high alpine huts without mentioning Mueller Hut.
This iconic red hut can be found in Aoraki/Mount Cook National Park and with a well worn and accessible track, this hut can be reached by almost any determined visitor ready for a 3-4 hour steep jaunt. After tackling a few thousand built-in steps, the route sends you up a mild scree field before walking the ridge to the hut.
This is undoubtedly one of the more popular huts in the area so bookings are required from November-May.
If you still have some energy in the legs after reaching the hut, it's worth a scramble up to the summit of Mt. Ollivier (1933 meters), notable for being the very first peak summited by climbing legend Edmund Hilary as a young mountaineer in 1939.
You know, New Zealand's greatest son and the first person to conquer Everest?
Both the mountain and the hut give you exceptional views of Mt. Cook on a clear day. A century of climbing history paired with some epic views? Yes, please.
2. Liverpool Hut
Mt. Aspiring National Park 15 kilometers and 6-7 hours one way, 10 bunks, advanced track. More info here.
Living in Wanaka affords us the pleasure of having the Mt. Aspiring National Park practically in our own backyard. Home to New Zealand's second highest mountain, Mt. Aspiring, this national park provides endless valleys and peaks to explore for local adventure seekers and curious travelers alike.
Liverpool Hut is a challenging walk not to be taken lightly.
Similar to the Brewster track, the climb up through the bush is steep and requires hand over hand climbing up a path of tree roots. Unlike Brewster hut, you get a 3-4 hour warm up before this climb with a flat and hot valley walk.
Fear not, your efforts will be rewarded with gobsmacking views of Mt. Aspiring, Mt. French, and Rob Roy Peak from the hut's veranda.
3. Brewster Hut 
Mt. Aspiring National Park: 5 kilometers and 6-8 hours return, 12 bunks, advanced track. More info here.
Continuing the theme of bright red huts perched on precarious ledges, may I introduce another Southern Alps classic: Brewster Hut. Read my personal account here.
Located just before Haast Pass past Makarora on the other side of Mt. Aspiring National Park, Brewster Hut sits about a kilometer vertically above the highway below. After a quick river crossing to start the hike, the track steeply winds its way up through the bush. After a few hours, you will reach bush line where you'll be greeted by perhaps one of the most pleasant 300-meter ridge lines walks in the area.
This is another hut quickly gaining popularity and as of December 2017, bookings will be required online to secure a bunk in the hut.
If you're after a summit, follow the cairns up to Mt. Armstrong to catch the sunset or sunrise. You'll be rewarded with 360-degree views of the alps and a stunning shot of Mt. Brewster looming to the North East.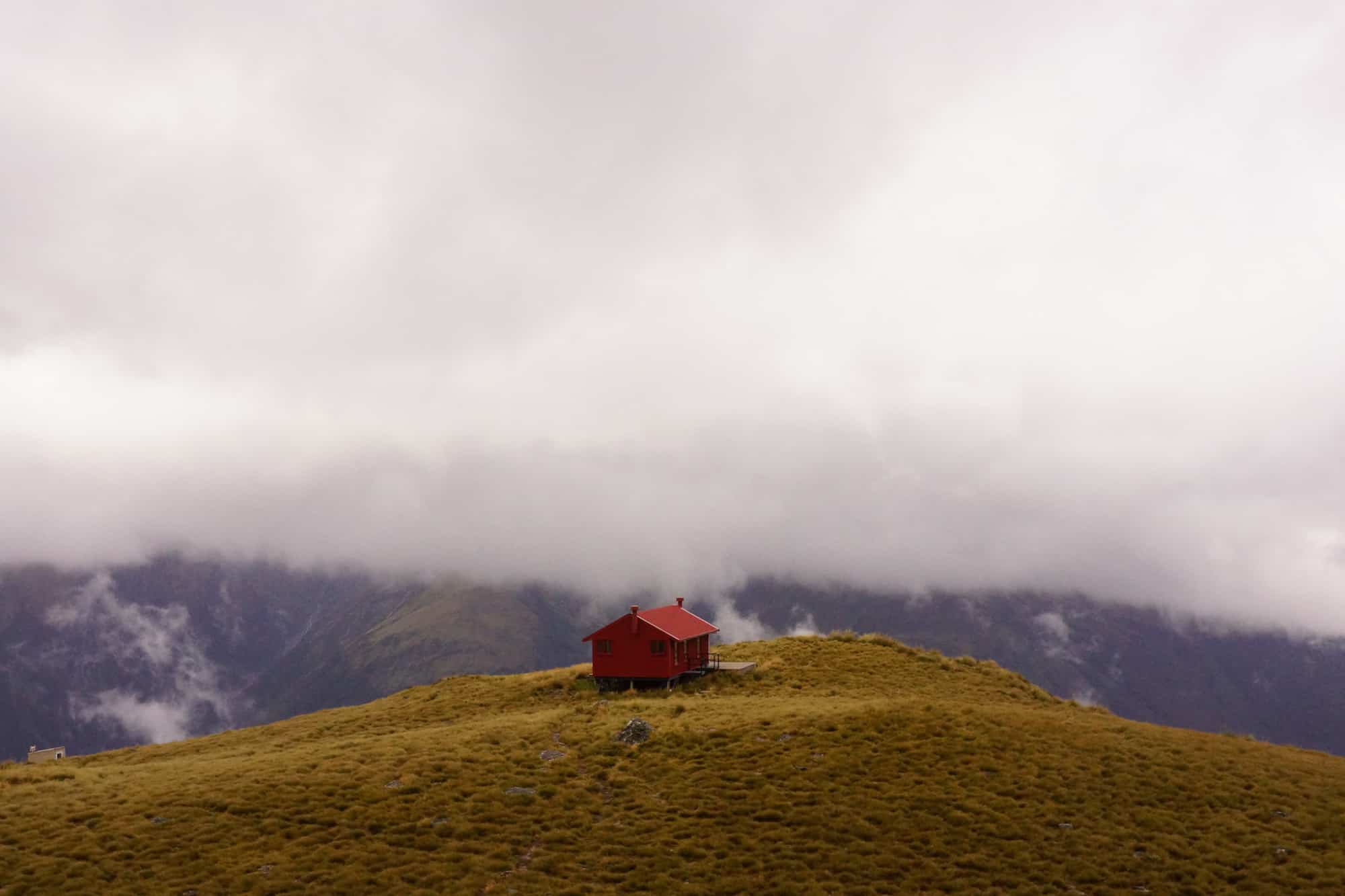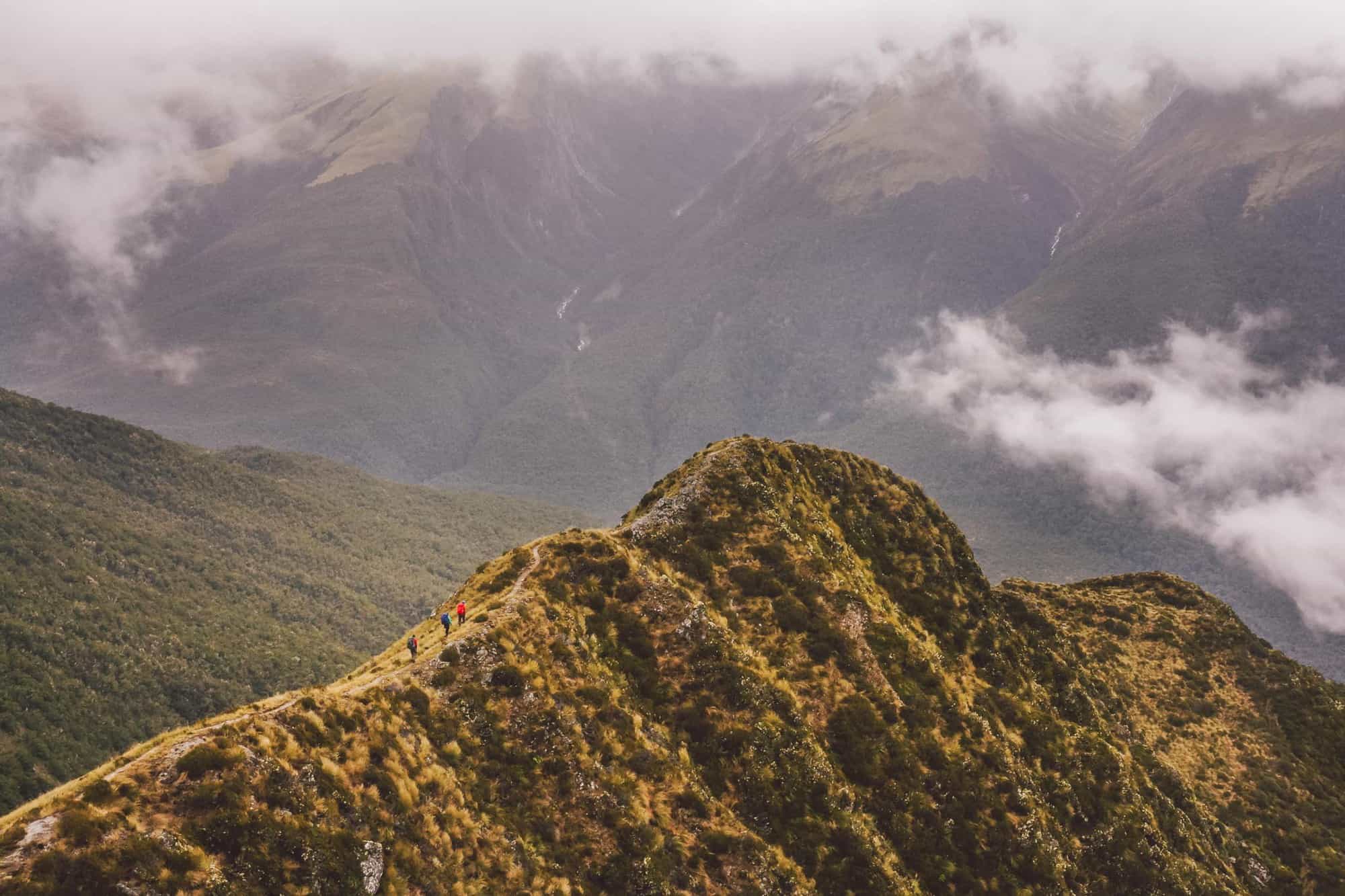 4. Welcome Flat Hut  
Westland Tai Poutini National Park: 18 kilometers and 7 hours one way, 31 bunks, intermediate track. More info here.
Visitors of the North Island who venture south might be a little disappointed with the relatively few natural hot springs available to trampers.
However, one of the more popular hot springs in the South Island sits alongside the Welcome Flat Hut on the West Coast. The hike in is not difficult but is long and follows a canopy forest and a braided riverbed which can make for slippery footing during the colder months. After a long day on your feet, you will arrive at the hut and are free to immediately jump in the pools for a well-deserved soak.
This is a popular hike and a busy hut and bookings are required. For the best experience, do this hike in the late autumn or early spring. The weather will be just cool enough to really enjoy the temperature of the hot pools and the sandflies are not nearly as hungry when the temperatures drop!
5. Luxmore Hut 
Fiordland National Park: 1085 meters, 13.8 kilometers 5-6.5 one way, 54 bunks, easy track. More info here.
Luxmore Hut sits on the Kepler Track which has been deemed one of the official Great Walks of New Zealand and is also a 60km loop track. While the hut itself isn't particularly stunning or unique, this hut easily makes the list for the high alpine views overlooking Lake Te Anau, especially with a beautiful veranda.
The track to the hut is well worn and maintained and takes 5-7 hours to complete. Trampers start with a gentle walk through the forest before a steeper climb to the top of the bush. From there, the hut waits just a kilometer ahead.
As part of the Great Walk huts, trampers visiting from October – April enjoy a big hut with running water, flushing toilets, solar lighting and gas stoves but has to be booked.
If you're a runner and ambitious you can even compete in the annual Kepler Challenge and run the track in a day.
6. Siberia Hut 
Mt. Aspiring National Park: 26 kilometers and 7-8 hours one way, 20 bunks, track varies depending on routes. More info here.
Siberia Hut is one of the more popular huts in Mount Aspiring National Park and for good reason. The relatively easy hike in offers up majestic valley views and access to Crucible Lake, a hanging lake perched at the bottom of a bowl of jagged peaks. If you catch the lake at the right time of the year, you might even see the floating icebergs!
Siberia Hut sits on the Wilkins / Young circuit on the Gillespie Pass, a 58km loop near Makarora. If coming from the Wilkin Valley, most visitors will opt to jet boat up the river and finish with a 2-3 hour hike to the hut. Trampers from the other direction will be coming from Young Hut and will face a big climb over Gillespie Pass before descending into the valley to the hut.
The relatively new hut was built after the old hut burned down in 2011 due to a faulty fridge in the warden's quarters of the hut. The entire building caught fire and burned the hut to the ground within an hour. Luckily, the hut was quickly rebuilt do trampers could continue to enjoy this awe-inspiring valley.
A side trip to Lake Crucible is well worth the effort, and there are different ways to combine a trip out to this hut and valley for all experiences level. You can even fly in on a day trip on the Siberia Experience or even visit on guided adventure tours around New Zealand with Active Adventures.
7. Dumpling Hut 
Fiordland National Park: 18 kilometers 5.5 – 6 hours one way to Sandfly Point, 40 bunks, easy/moderate track. More info here.
The Milford Track is one of the most popular hikes in the country, and for good reason.
Dubbed as the greatest of New Zealand's Great Walks, this 4-day hike requires bookings and is often booked out a year in advance (though often there are last minute cancelations). Trampers are required to stay at each hut which might not be ideal for those wanting to fly through the track quickly but is actually a great way to force trampers to take their time and enjoy the rare beauty for Fiordland.
This means that if you want to stay in Dumpling Hut during the main season, you pretty much need to walk the whole track (4 days) and this is the 3rd night of the trip.
This hut is reached via the Mackinnon Pass, the highest point on the Milford Track so trampers are guaranteed to be rewarded with some of the best views of Fiordland…unless it's raining, which happens a lot.
Milford Sound gets roughly 7 meters of rain annually so if you are lucky enough to do this track, don't forget your rain gear!
8. French Ridge Hut 
Mt. Aspiring National Park: 16.2 kilometers and 6 – 7.5 hours one way, 20 bunks, advanced/expert track. More info here.
It's a tough call and very competitive but I'm going to make the bold call and say the French Ridge Hut might take the cake for the best view from a long drop toilet.
This bright red hut and its matching toilet bask beneath the massive mountain range leading up to Mt. Aspiring. Visitors of this hut will find the track eerily similar to the Liverpool track. A long, flat walk through the valley before a steep, full body climb to the hut, all hands. French Ridge sits a bit higher in elevation than Liverpool Hut and a serves as a resting point for many mountaineers on their way to climb the mighty Mount Aspiring.
With 20 bunks, this popular New Zealand Alpine Club Hut offers spectacular views of Mt. French and the Bonar Glacier and is often frequented by the ever mischievous keas – don't leave anything outside or it's gone.
If you're up for a challenge full few days of hiking, this hut can't be missed.

9. Anchorage Hut 
Abel Tasman National Park: 12.4 kilometers and 4 hours one way, 34 bunks, easy track. More info here.
New Zealand's high alpine huts get a lot of attention for their dramatic views but the hut system also includes hundreds of unique huts tucked away in the native New Zealand bush or hugging the sunny coastlines.
Anchorage Hut, located in the Abel Tasman Coast Track, another NZ Great Walk that's 60 kilometers and 3-4 days, is one not to be missed for beach lovers and sunshine soakers. There's many different ways to reach this hut and explore the Abel Tasman, and it's often the most fun to combine them all, hiking, kayaking and a boat ride.
With safe swimming, easy walking tracks and glowworm caves nearby, this large and easy to access hut will do well by those who prefer a milder hike and lots of beaches.
As a bonus, this hut can be reached foot, boat or kayak. If you're lucky you might just get some dolphin companions to escort you to the hut!
10. Lake Mackenzie Hut 
Fiordland National Park: 12 kilometers and 4-6 hours one way from the Divide, Milford Road, 50 bunks, easy/moderate track. More info here.
The Lake Mackenzie Hut is found on another one of New Zealand's Great Walk tracks, The Routeburn, a 23 kilometer, 2-3 day track.
Found in the Lord of the Rings mecca near Glenorchy, this track promises amazing views at every turn. This hike offers trampers a two for one national park deal starting in the Mt. Aspiring National Park and crossing over into Fiordland National Park, or vice versa.
The hike starts slowly through the forest before making it's way up to the Routeburn Falls Hut. The falls are stunning on their own but trampers will soon learn the best views are yet to come. The track continues to climb before reaching the Harris Saddle, the highest point on the track at 1,255 meters.
Trampers enjoy a nice relatively flat walk across the mountains before being rewarded with a birdseye view of the turquoise Lake Mackenzie and it's matching hut. A steep and quick descent will put you on the veranda of the hut where you're free to enjoy a cup of tea or take a swim in the lake.
The track can be walked in both directions and you can also walk to the Lake Mackenzie Hut from the Milford Road.
Do you have backcountry huts where you live? Have you ever stayed in one or one of these iconic huts in New Zealand? What's your favorite? Share!