It's no secret that New Zealand is a hiking mecca. With the world-renowned fiords, ancient rainforests and even more ancient birds, with towering mountains that will blow you away, and impossibly complicated braided riverbeds, a quaint and classic backcountry hut system and some of the hardest and kindest people on the planet, hiking in New Zealand is guaranteed to be a life-changer for most who are ready to hit her trails. 
While it may sound cliche these days to say that we head back to nature to get off the grid to find ourselves, it's because it actually still rings true, especially here in New Zealand.
One of the last pristine wilderness' in the world, with views that defy imagination and make every grunty climb and long days on your feet worth it, New Zealand hiking pretty much guarantees at least one moment that will have a profound and positive impact on you, if not many.
Here are nine ways in which hiking in New Zealand will change your life. Enjoy!
1. You'll learn humility while challenging yourself
These mountains are hard and unforgiving. New Zealand hiking is unlike anywhere else in the world. The mountains are steep, the switchbacks are minimal, and the terrain is challenging. Forget everything you thought you knew about the outdoors and prepare for a re-education. 
The razor sharp native plants will draw blood if you find yourself in the bush, the crumbling schist rock will make you question your every step, the unrelenting sun will make you thirst for shade on the exposed alpine ridges. You'll fail over and over again. You'll trip and stumble. You'll find yourself lost even though you were sure of the trail. You'll constantly second guess your abilities. But in the end, you'll succeed no matter what.
With New Zealand hiking, you succeed when you get out of your comfort zone and push yourself to try new things. These mountains will beat the arrogance out of you and will demand your full attention and respect. You'll come out a better person for it, trust me.
One of my favorite challenging hikes you also get to do on a Tui tour with Active Adventures is to Lake Crucible in Wanaka. Demanding but fun, challenging but rewarding, it's full of all my favorite types of hikes, like multiple river crossings, beech forest climbs, alpine scrambles and an incredible glacial lake at the top that begs you to jump on in.
And pretty much everywhere you go makes all the suffering, makes the challenge worth it. Accomplishing something hard and doing something beyond your expectations often is one of the most fulfilling ways to travel, at least for me.  It wouldn't taste as sweet or be anywhere near as memorable if it were easy, right?
One of the best ways to experience New Zealand's nature is on a guided hiking trip around the country with Active Adventures. You still get to challenge yourself but you'll be with local guides who can teach much more than you'd find out on your own and also have the planning and logistics sorted for you, freeing up your time to focus on the adventure itself.
2. You'll gain perspective and reflect on how small you are
New Zealand's mountains are BIG. So big it's almost hard to fathom how dramatic the peaks are rising from the flat valleys below until you're there in person, staring up in awe and then once again when you're at the top looking down. You'll need to be pinched a few times before you can fully understand this is actually real life and not some fancy CGI generated mountain landscapes.
It's no surprise once you're here that this dramatic land gave birth to Sir Edmund Hillary, the first person to tackle Everest.
It only takes one summit, one valley, one massive flowing river to understand how big the world is and how small you are in comparison. Climb a mountain and gaze down at the minuscule valley below, the same valley floor that seemed infinite and vast only a few hours before. Suddenly your daily annoyances, your tiny struggles, and your nagging stress seem to melt away and nothing seems important enough to shake your sense of happiness and calm.
There is nothing quite so beautiful as standing small amongst giants in the wilderness.
3. You'll be forced to be present
I'm no saint.
At times, I am guilty of being glued to my phone, unable to avoid my email, constantly checking social media over and over and over again. It's so easy to get caught up in a virtual world while the one you're actually living in passes you by.  If you blink, you might miss it.
What a mistake it is to live your life online and neglect the one that's right outside your door.
Being in the hills forces you to disconnect both mentally and physically since there is rarely reception in the backcountry in New Zealand. After a while in nature, you'll find yourself no longer impulsively grabbing your phone, opening apps without even realizing it, checking for notifications (and well, you can't here because most of national parks don't have even reception – thankfully).
You'll stop caring about what's going on in the virtual world and start being fully present in the world you're in. You'll start to notice little things like the smell of the grass and the call of the birds. You'll feel time slow down. You'll feel every minute of the day.
When you return from the mountains, you'll return to your phone and and your emails but you'll be a little more present and a little more grounded than before.
4. You'll meet the crazies who make up New Zealand outdoor community
New Zealand is full of crazy people (of the good variety).
Just when you think you've really accomplished something by pushing yourself and hiking up a giant mountain, you'll come across someone who has done the same thing only in roller-skates and in half the time with no water breaks. Every hike I go on and at every hut I stay in, I'm introduced to a new crazy person who has does something that is equal parts utterly insane and supremely inspiring.
You'll meet the man who has hiked every peak barefoot, the cancer survivor who's run a mountain marathon every day in a row for a month, or the woman who slings her 14 month old child on the front pack and the gear on the back and charges up the mountain. Or the guy that hikes to huts with sheet music and an accordion to serenade everyone in the evening. 
Each crazy you meet will change your perception on normal just a little until you realize there is no such thing as normal. You realize at the end of the day, the mountains and huts are just manifestations of all the crazy passion that fuels New Zealand's mountain culture.
If you join in on a guided hiking tour of New Zealand, you'll be guaranteed to meet like-minded folks and sharing life-changing experiences with them that often lead to life long friendships.
5. You'll learn to pack light and strip down to the necessities
Have I mentioned that New Zealand's hills are steep?
If you go for a jaunt up the mountains be prepared to get your sweat on and work hard. It only takes overpacking your bags once to learn the value of your things. You'll stop carrying all those little extras you "might" need and strip down to the essentials. Why did I bring shampoo again?
Do you really need those extra three camera lenses? Do you really need those extra few layers of cotton long sleeves?
You'll quickly learn to value light, moisture-wicking layers and merino that will replace your bulky and heavier items. You'll stop carrying three liters of water and learn to locate drinkable water sources on the trail. Once you learn you have to carry everything you bring, you'll decide what's important in your pack.
6. You'll learn to accept responsibility
We live in a culture that often fosters a society that discourages us from accepting responsibility.
We require our coffee cups to tell us contents are hot. We need hi-viz signs to warn us about wet floors. We look for orange signs for every dip, divot or abnormality in our roads. It's easy to blame others for mistakes that are often a direct product of our own inattention and negligence. It's convenient to adopt the notion that our own safety is somehow someone else's responsibility.
Even on New Zealand's easiest trails, things can go wrong.
One misstep can lead to a twisted ankle. A quick daydream can have you flat on your ass. You can blame the sneaky tree root or the steep slopes all you want but at the end of the day, you'll know that no one but you was responsible for your own safety. You're bound to make mistakes but New Zealand's mountains will make you tough and soon you'll realize that no one but you is going to get you off the mountain top.
You'll learn to make smart decisions, set turn-around times, and back down when things get out of control. There is no self-education quite like that of Mother Nature here.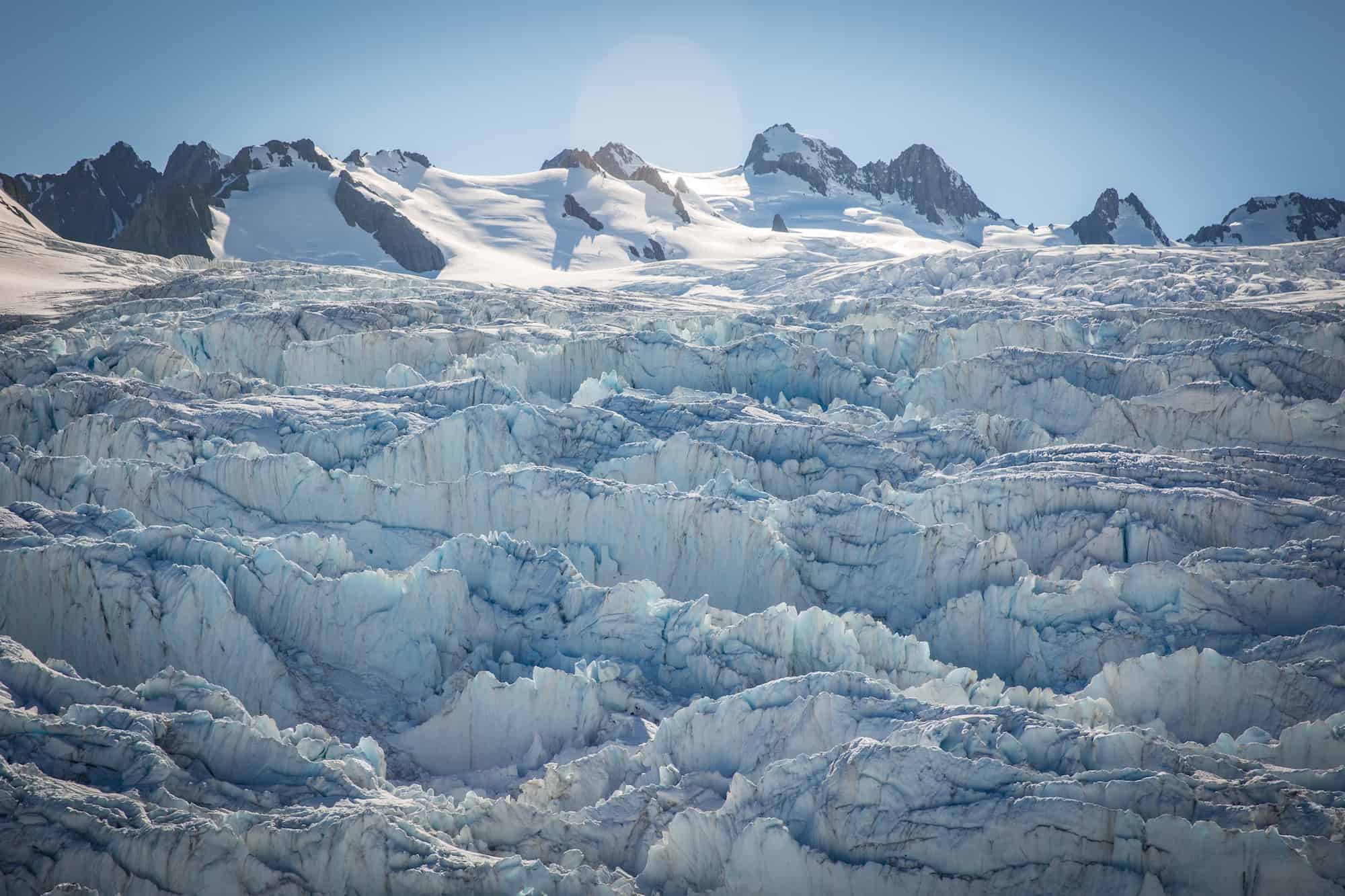 7. You'll learn to say YES!
New Zealand's mountains are addicting. It will only take one hike to get you hooked. New Zealand seems to be one of the only places in the world that gets under people's skin enough that they come back again and again. 
It's wild and diverse, each region a completely different world, you can do coastal hikes, rainforest hikes, mountain climbs and even scurry up volcanoes. There's something for everyone here.
With it's awe-inspiring beauty and relatively easily accessed nature right on your doorstep, you'll find yourself often transitioning from being a person that might be hesitant to challenge yourself or try new things to being the first person to jump off a cliff into a lake. After all, New Zealand is the country that invented bungy jumping.
You'll conquer a few mountains and push yourself a little further than you thought you could go and suddenly, you're filled with confidence. You'll find yourself saying yes to more adventures, even the ones that seem a bit bigger and harder than you thought you were capable of.
Start your adventure off her by saying yes to it all!
8. You'll appreciate your surroundings
Being surrounded by a big bowl of juicy mountains will undoubtedly spark fierce loyalty deep down inside of you. You'll soon be willing to do anything to protect the spaces that bring you to life.
Perhaps you'll finally look into that whole climate change thing. Maybe you'll start thinking of the status of native species around you. Maybe you'll be inspired by the impossibly blue rivers and wonder how we can make every river in the world look that color. It might even be as small as just picking up a bit of trash every time you go for a walk outside. Who knows!
Being face to face with nature will have you appreciating the things you maybe once took for granted. 
I grew up in urban America, surrounded by a concrete jungle of malls and supermarkets and cinemas, with rivers you wouldn't put a toe into and parks that were often trashed. It wasn't until I moved to New Zealand that I realized how much I loved these incredible landscapes and how much we need to protect them for the future.
9. You'll learn the struggle is always worth it in the end
Nothing tastes quite so sweet as victory over something that was really hard and you perhaps didn't think you were able to do. Am I right?
It's a fact that the views from a mountain top are way more rewarding to a hiker than a helicopter passenger. It's easy to question why you're putting yourself through the torture of walking up a mountain but that feeling always dissipates when you get to the top and get a majestic sweeping panorama. Things may not always go according to plan but it's always worth it in the end.
How many people do a hike and regret it later? None that I know of. Even on the hardest hike I've ever done, climbing Mt. Taranaki here, I don't regret it and I'd do it again. I would just bring more water and perhaps more food than jellybeans for lunch.
It's always worth it.
Has hiking changed your life? Do you often go back to nature to reset? Have you been hiking in New Zealand? Share!
Many thanks to Active Adventures for fueling my hiking wanderlust in New Zealand and helping out with this post – like always I'm keeping it real – all opinions are my own, like you could expect less from me!