Deep in the heart of the Southern Ocean, roughly 500 kilometers due east from the bottom of Argentina, you'll find the Falkland Islands (Islas Malvinas), an incredibly wild and rocky conglomerate of hundreds of islands, home to some insane wildlife, epic landscapes, and a truly remarkable history, that I'm guessing, you probably don't know much about.
I unashamedly admit I didn't know much about the Falklands before we landed here after setting sail from Argentina to begin our adventure to the Antarctic with Quark Expeditions, even though I have a mild polar obsession. My knowledge was limited to vague textbook memories from high school about a war.
What I was greeted with was a remarkable surprise – the Falklands were amazing.
About as different as I could have imagined for being so close to Antarctica, the Falklands are made up of stunning beaches that intersect with rolling green hills with a cottage hidden away here and there, it was a mix of both the old world we are all familiar with and the utterly unknown. A true bridge to the Antarctic.
Often touted as the gateway to Antarctica, the Falkland Islands are well worth visiting on their own right and as an introduction to the subantarctic islands of the Southern Ocean.
There are far more voyages by ship that travel down to the Antarctic Peninsula than to the Falklands and South Georgia.
If you find yourself on a journey to the Falklands, you've discovered a place few experience. I applaud you. In fact, I believe the Falklands are the perfect introduction to Antarctica, a place easier to get to and will likely inspire a deep fascination with this part of the world.
We spent the first day at sea with Quark getting to know the ship the Ocean Adventurer, as well as the incredible expedition team and staff. This would be a collective experience for all and we couldn't wait to get started. For someone who often doesn't get to sleep in the same bed every night, it was a real treat to settle into my cozy bed in my cabin and tucking all my belongings away for an adventure.
As our wobbly legs and weak constitutions began to harden up, we caught sight of land at the Falkland Islands. It was sunny and warm, and not a cloud to mark the bright blue sky as we boarded the zodiacs for the first time guided by the expert expedition team, to heard to land and begin a exploring a world new to all of us.
We were greeted with friendly faces, white sandy beaches, and a lot of penguins, and it didn't take long for us to understand that we had arrived at a curious, unique place in the world and we couldn't wait to get to know it.
The story of these subantarctic islands at the bottom of the world is a fascinating one, utterly distinct from anywhere else on earth. Follow along with me as I introduce you to one of my new favorite places: the Falkland Islands. Enjoy!
The history
Settled, claimed and disputed by many countries over the years, the Falklands are nothing if not controversial. Even chasing to say "Falklands" over "Malvinas" potentially is offensive.
Claimed by Argentina, the islands have been under British control since 1833, which simmered until it erupted in open conflict in 1982 before the Argentinians surrendered after the Falklands War. Nowadays over 98% of people on the islands vote to remain a UK overseas territory.
Also, did I mention the population is less than 3,000 souls? Lovingly nicknamed "Kelpers," and mostly of British descent living in the only town of Stanley.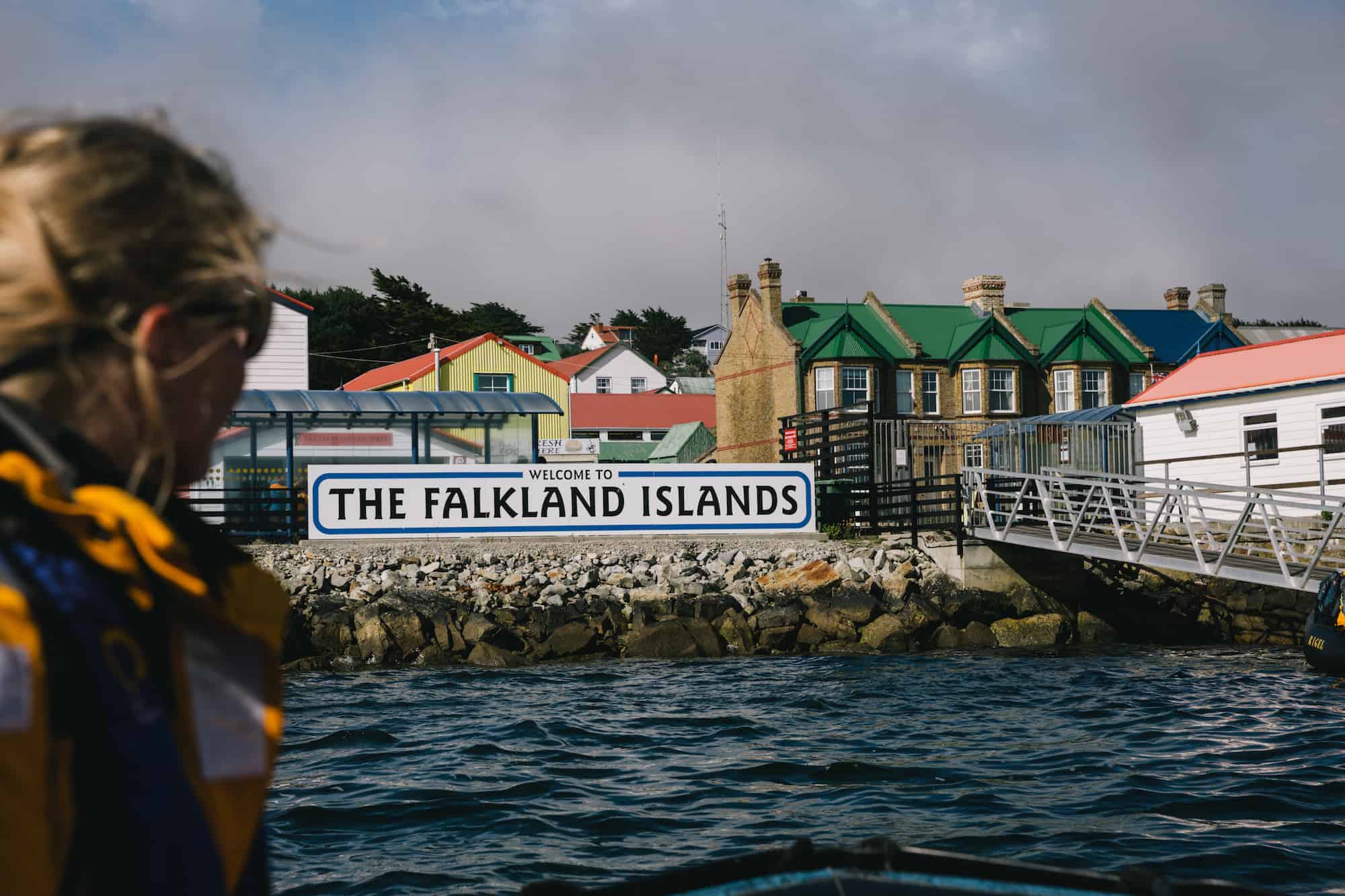 The birds
Let's be honest, I'm just here for the birds.
When people say that the Falkland Islands are home to some incredible wildlife, they mean it. In New Zealand, we freak out if we see one penguin or an albatross. These are species that are super rare and endangered, and you count yourself very lucky to lay eyes on one.
In the Falklands over 220 species of bird live or breed, and you'll likely to encounter 5 types of penguins. Welcome to this part of the world!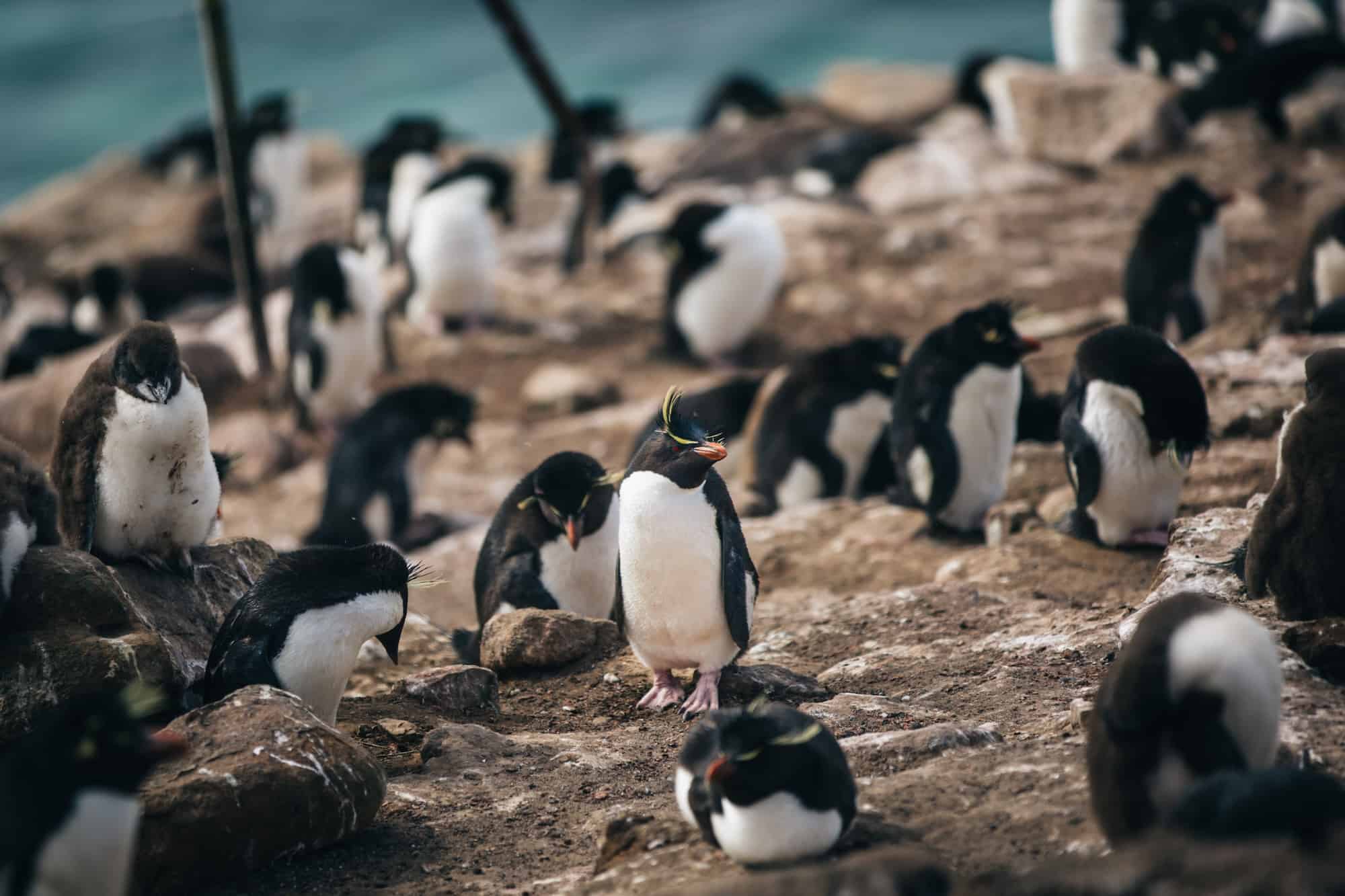 Our first landing on West Point Island brought us on a lovely hike up the hills to some incredible sea cliffs. As we made our way down, suddenly an incredible colony of Black-browed Albatrosses were visible amongst the tall grasses.
Well, if I'm honest, I could smell them before I could see them.
Dozens of albatross sat on nests and huge fluffy chicks were sleeping amongst them along with many rockhopper penguins and their chicks too.
It was a veritable zoo of wild and rare birds. Obviously I freaked out and didn't know what to do. I had never seen anything like it, and it took several minutes of gazing adoringly at these fat fluffy chicks ooh-ing and ahh-ing to myself before I was even able to take photos.
And this isn't a unique scenario – later on at our second landing of Saunders Island we encountered even more birds all living together seemingly cohesively, even with some sheep thrown in for good measure! What a place!
The beaches
I seriously doubt if you asked anyone to describe what they imagine islands off of the continent of Antarctica to look like and they would reply with white sandy beaches. But here we are.
Perhaps one of the biggest surprises for me when we made our first landing on the Falklands were the white sandy beaches. Oh, and all the penguins on the beaches. Not what you expect!
On the first day I had time to catch up with our amazing expedition leader Ali who told me that Saunder's Island, where we were about to visit, was one of her favorite places on the entire trip. And after spending a day there, wandering amongst many penguins on white beaches, I couldn't agree more.
Surely there isn't anywhere else like this on earth?!
As we zoomed close to the shore, the water became clear and turquoise, and you could see straight to the bottom. It looked like a swimming pool. One quick dip of the fingers though or a splash to the face and you're very much reminded how close to the South Pole you actually are.
As inviting as it looked, you couldn't pay me to jump in.
Penguins mingle on the white sand making for a truly ironic image that I'll likely never to forget.

The Defenders
Can someone please explain to me why every other car in the wee town of Stanley are a Land Rover Defenders?
It's a hipster Instagrammers dream come true.
We had several hours to wander Stanley, take in the sights and enjoy the local pub culture. But what began as a walking tour of the town with just Jarrad and I quickly degenerated into "let's spot the Defender" photoshoot, both of us unashamed hipster Instagrammers who's biggest dream would be to own one of these pricy rides.
Defender police car. Defender ambulance. Defender firefighter. Retro landies meet more modern whips. WHY? I must know why there are so many in a town of 2,100 souls.
My theory is that the Falklands are stereotypically British, between all of the Defenders, union jacks and small town pubs and red phone booths, it really felt about as British as you could get, being about as far from Britain as you can possibly get.
You could easily picture the Queen herself rolling on by in one of these rides with a bunch of corgis for company.
Curious, curious.


The views
The Falklands are also incredibly colorful and full of stunning views around every corner.
In Antarctica, the world is desaturated of color, everything blends into shades of blue, grey and white. But the Falklands couldn't be more different, vibrant and alive, somewhat reminiscent of places like Ireland with its wild coastlines and green hills.
If only Ireland had less people, more penguins and a incredible population of Defenders.
Request a quote

to adventure to the Falklands and South Georgia with Quark Expeditions today!


It's one of the Antarctic's best-kept secrets
There is no where quite like the Falklands. If you're a curious and intrepid traveler like me, always seeking secret spots and getting off the map, it's for you. 
The Falklands are a place that few travelers visit as there aren't many voyages there, and many aren't aware of the incredible views and exceptional wildlife opportunities that are available. It's a place that intrigues and inspires, unlike anywhere on earth and a unique bridge between the modern world we are familiar with the and the vast emptiness of the Antarctic. 
These islands are a kept secret of the region and this definitely won't be my last visit here.
Have you heard of the Falkland Islands before? Is visiting a place like this on your bucketlist? What's the most curious place you've ever traveled to before? Share!
Book the 

Falklands and South Georgia today and u

se promo code LIZ150 for $150 onboard credit that can be used for purchases on board at the polar gift shop, or, cough cough, the bar
Many thanks to Quark Expeditions for helping get me to the Falkland Islands, like always, I'm keeping it real, all opinions are my own, like you could expect less from me!