I honestly don't know if I've ever been more exciting to share a post on here before.
Guys, guys, GUYS, my ultimate travel dream has come true. And no, I am not just saying that. This time I really mean it!
I finally made it to Antarctica. HOLY CRAP!
The last continent. The great white south. Land of penguins and ice. And this Antarctica travel happened in January with Intrepid Travel, who share the same key goals and values as me, the leader in powerful transformative trips and small group tours around the world.
And wow, oh wow, what can I say? I've got off the ship in Argentina about a month ago, and my mind is still reeling. It was so incredible and life-changing, it's almost been hard to process. Without a doubt, Antarctica is the coolest place I've ever been and I imagine, ever will be privileged enough to travel too.
Photo by Jarrad Seng
A year and a half ago I was lucky enough to visit Svalbard – the land of the polar bears in the Arctic – and ever since I've been hooked on polar travel. To visit Antarctica was a dream come true.
Since I've returned everyone has been asking me about what Antarctica was like, and ironically, I, the writer, the lady of endless words, has been at a loss for words. I'm still not sure I'm ready to describe the experience or really be able to articulate what it meant to me. But, I'll give it a crack, as we say in New Zealand.
Profound wilderness like you can't even begin to imagine. Epic landscapes that are hard to wrap your head around. Icebergs bigger than buildings. Penguin colonies in the tens of thousands. ZERO polar bears (they live in the Arctic, guys). Silence. Life, death, it had it all. It is a place that has the power to change your life in many ways. I think I can safely say that everyone on the ship returned home changed, inspired, in awe and happy. Deeply happy.
From over 20,000 photos and over three weeks at sea, I've managed to whittle it down to 25 of my favorite shots in the hopes that it might inspire you to make the journey too.
I just can't help myself but I have to say it: I've been trying to go to Antarctica with my blog for over three years and it always fell through and never happened, over and over, again and again I was disappointed. I can't begin to thank Intrepid for believing in me and my work, and trusting me to share my stories and adventures there with you all. And also to Jarrad Seng, an old friend of mine and absolutely legendary photographer and videographer for coming with me on this adventure. From the bottom of my heart, thank you.
Map by one of our amazing guides and photographer Nix Souness for Quark Expeditions.
Our trip to Antarctica began from Ushuaia before sailing to the Falkland Islands onto South Georgia before heading back south towards the Antarctic Peninsula and along the west side down towards Adelaide Island into the Antarctic Circle – Next year's trip is on sale here
Falkland Islands
Our adventurer began by boarding our ship in Ushuaia from the bottom of Argentina to the Falkland Islands, or Las Islas Malvinas, depending on who you're talking to. About a 500 kilometer journey, it has a population of less than 4,000 souls and is a wild and stunning bit of land worth visiting on its own.
With vague memories of learning about the war between Britain and Argentina over the Falkland Islands from high school, I arrived with minimal expectations. But as it turned out, it surprised and delighted me over and over again.
A beautiful, quirky land of wild beaches, lots of wildlife and few humans, it was a perfect introduction to our Antarctica adventure.
Gentoo penguins on the Falkland Islands.
The Falklands was my first introduction for the incredible wildlife on this trip. While I'm used to visiting birds here in New Zealand and overseas, I had never experienced colonies of the same scale that you have on these islands. Hundreds and thousands of birds that you might never see anywhere else, it was just incredible.
A local farmhouse in the west Falklands where we had afternoon tea in a warm sunny garden. Are you as surprised as I am to see such a green and inviting looking place?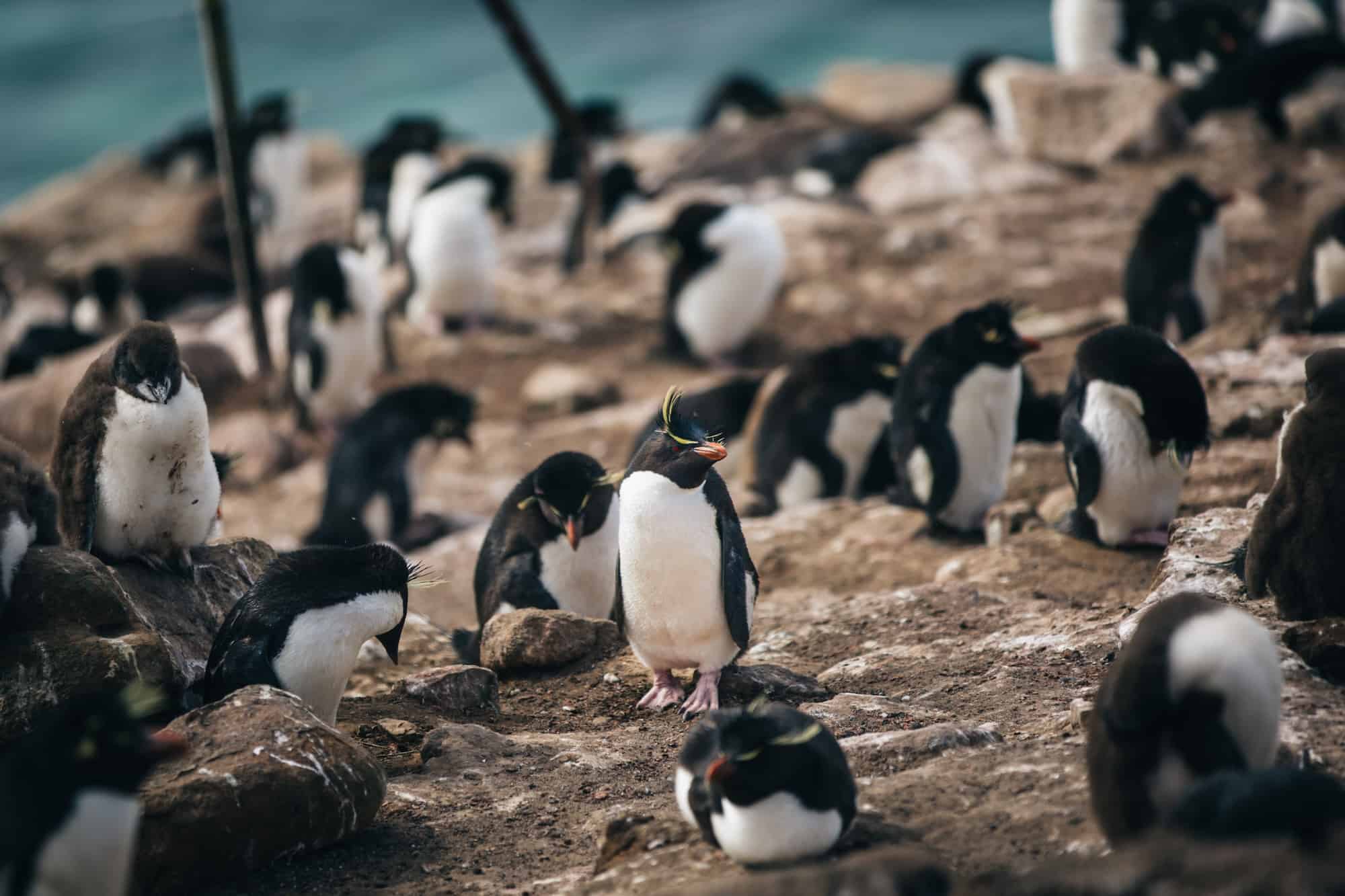 Southern rockhopper penguins on Saunders Island, a sheep farm and the 4th largest island on the Falklands
Stanley is the tiny capital of the Falkland Islands and home to a surprising number of Land Rover Defenders, of all shapes, sizes and colors. Photo by Jarrad Seng. 
Sailing away from the Falklands on our way to South Georgia after being hit with an enormous storm.
South Georgia
Holy crap. South Georgia. What can I say?
I'm not sure, but I think I might have liked South Georgia MORE than Antarctica. It's a place few journey too because it's so far (and expensive) but let me tell you, it's worth every penny. It's well out of the way, so most voyages there are much longer than just down to Antarctica and back, and obviously cost a lot more.
However, that being said, South Georgia is the BEST PLACE EVER ON EARTH. Period. No arguing. If you love nature and wildlife, South Georgia is the place for you.
The place I was most excited to visit on the entire voyage was St. Andrew's Bay on South Georgia, home to half a million king penguins. This is a place you might have seen on David Attenborough documentaries or on National Geographic, and yes, you can visit there too.
The abandoned whaling station at Leith Harbour on a sunny day.
At the beginning of the 20th century, South Georgia became a hub for the whaling industry. An unpleasant and very dangerous place to work, with some of the worst conditions and weather on earth, more than 100,000 whales were killed here over the decades, vastly reducing the world's population of whales.
Now you can see the remnants of the abandoned stations in the sheltered harbors on South Georgia, rusting and creaking in the sun, with whale bones scattered everywhere, taken over by penguins and fur seals. They are just as creepy in real life as they come across in photos.
Photo by Jarrad Seng of me at St. Andrews Bay
Photography was a huge part of my adventure around Antarctica, if you can't tell. Jarrad and I both are longtime Canon users, tough and dependable gear that was able to endure the incredibly harsh conditions of Antarctica.
Though all of my gear needed a thorough service and clean after three weeks of ice, snow, salt water, dirt and penguin shit. It all still worked at the end!
My main gear consisted of two Canon 5D Mark 3 bodies with a 24-70mm f/2.8 lens on one and a 70-200 mm f/2.8 lens on the other, and a 16-35mm f/2.8 lens in my bag. Jarrad preferred to shoot with a 100-400 lens.
Young, and if you can believe it, small, male elephant seals battling it out on a beach on South Georgia.
Three wandering albatross soar high above Prion Island on South Georgia, a breeding colony for these magnificent birds.
The wandering albatross is one of the biggest birds in the world, with a wingspan over 10 feet long, and to watch them soar close to you on Prion Island, one of our first landing sites on South Georgia, was an experience I'll never, ever forget.
Molting king penguins at St. Andrew's Bay – in addition to the incredibly huge king penguin population here, its location couldn't be more picturesque, surrounded by glaciers and mountains, and home to a lot of elephant seals
The Antarctic Peninsula
And finally the highlight of the adventure, making our way down to Antarctica proper.
We had dark and stormy weather as we sailed from South Georgia to Antarctica, with a stop at Elephant Island, which you might know as the desolate tiny island where Ernest Shackleton's expedition was stuck on in 1916. I'll be talking more about this next week on a project with the New Zealand Antarctic Heritage Trust so stay tuned.
I knew Antarctica was close by as we began to see more and more colossal icebergs drift past the ship the further south we voyaged.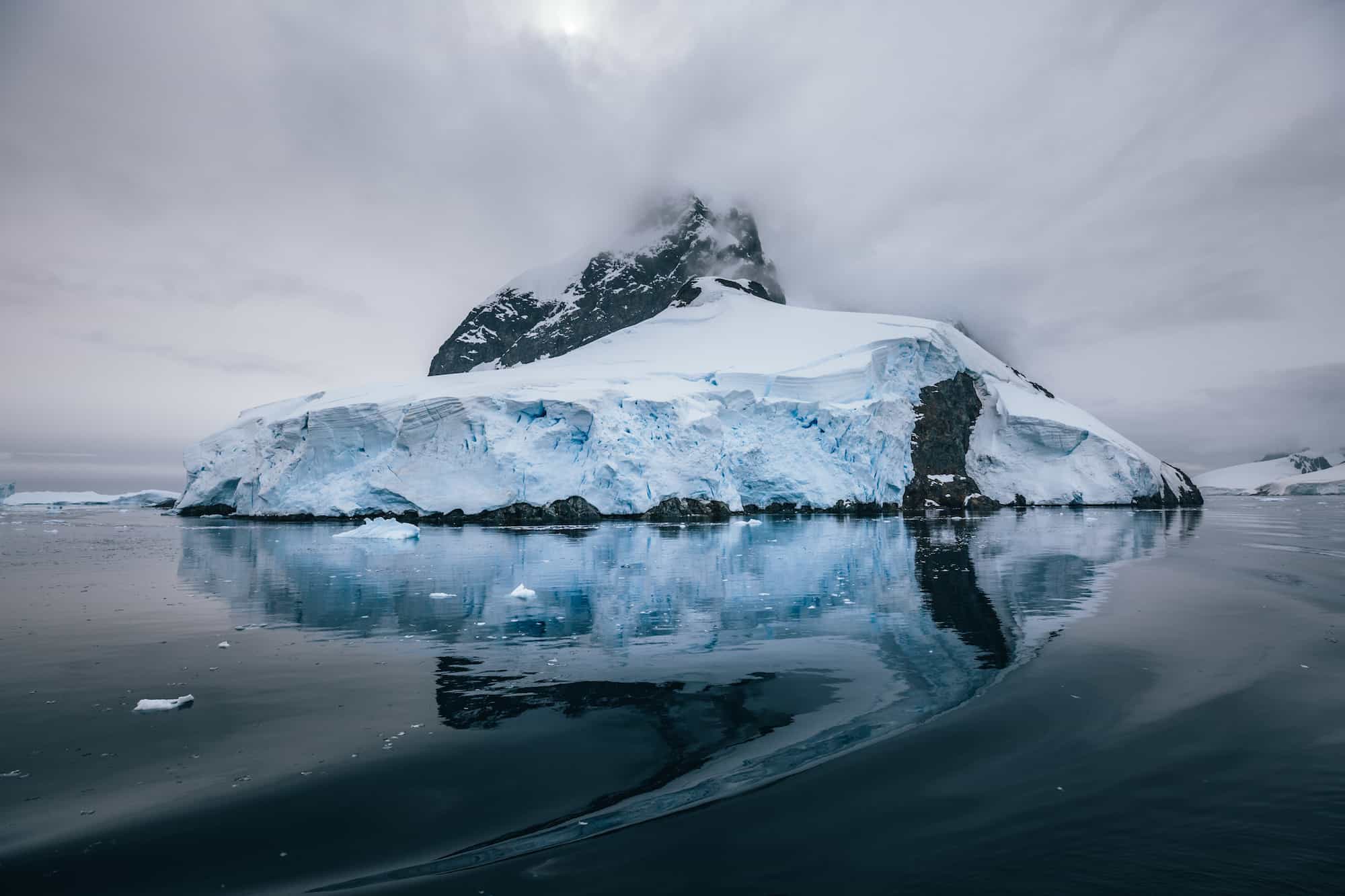 Antarctica is a fascinating place for many reasons, but one of the main ones being that it has no native human populations and is governed by the Antarctic Treaty, which was signed in 1959 with 53 countries currently as members.
There are many different territorial claims but back in the day, 12 main countries got together and agreed that Antarctica should be set aside for science and research. That means that there are no arms or armies there, rather scientific research stations and bases, all generally working towards the same goals and helping each other out.
And while there is tourism practiced in Antarctica, any reputable tour operator is a member of IAATO (International Association of Antarctica Tour Operators) and adheres to safe and responsible environmental practices in Antarctica.
Humpback whales feeding at sunrise.
I woke up ridiculously early the day we were due to arrive in Antarctica. Looking out the window, I could see a few humpback whales right next to the ship as the sun was rising. I grabbed my jacket and boots and ran outside only to be greeted by the most glorious sight.
We were surrounded by dozens of humpback whales and their calves feeding on the surface of a very calm sea. All around us were snowcapped mountains and glaciers, turning red with the sunrise, in a place like I'd never seen before.
It really felt like the end of the world and it was something I got to experience all to myself before the rest of the ship woke up.
Photo by Jarrad Seng
The Antarctic Peninsula is the most northern part of the Antarctic mainland, closest to Argentina.
It is home to some of the most dramatic scenery and wildlife in all of Antarctica and it's where the vast majority of expedition ships journey too.
A leopard seal growls and drools on an iceberg. They are one of the top predators in Antarctica, over three meters long and huge, with massive heads and jaws and a face that looks reptilian.
They are scary.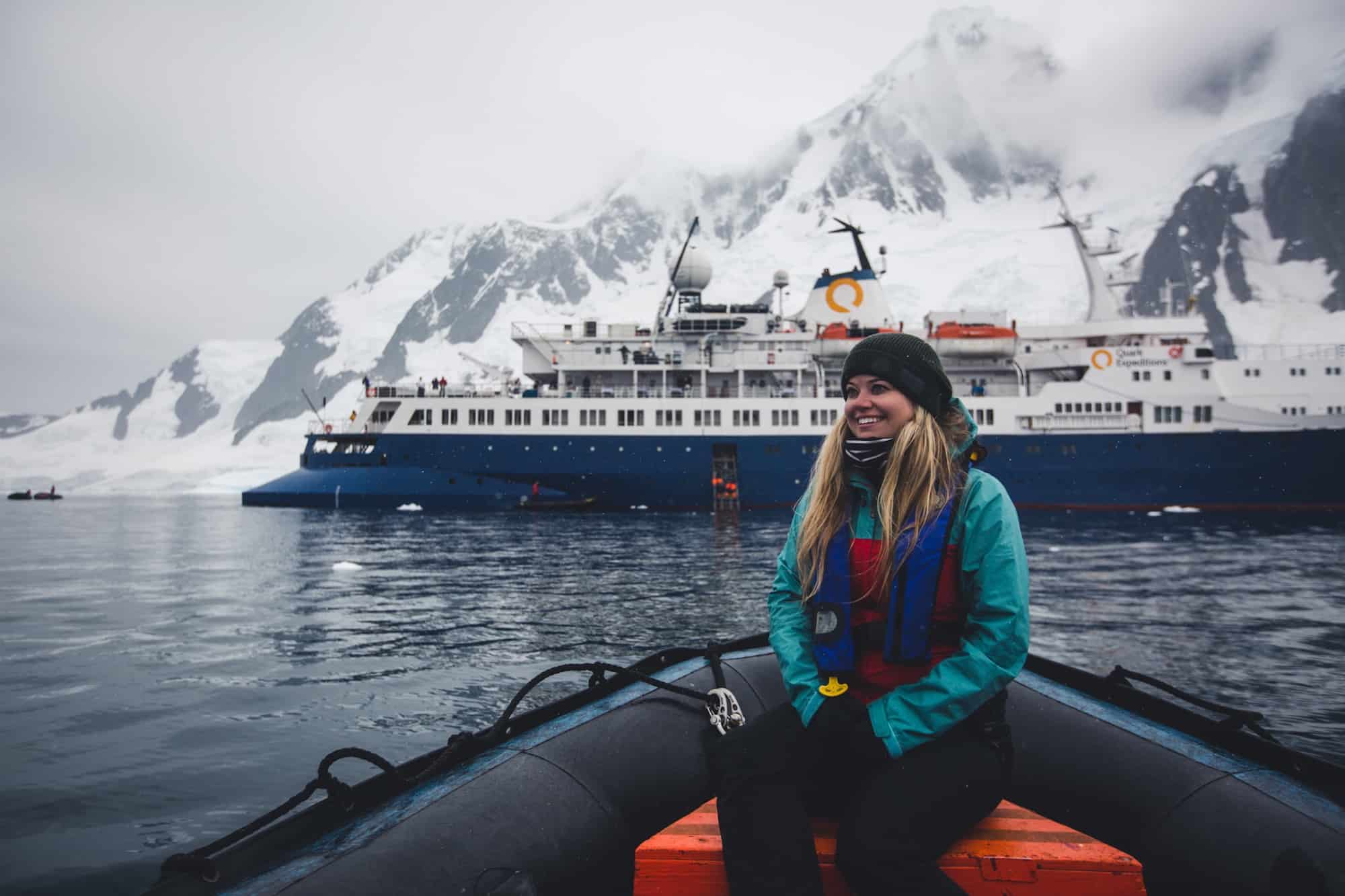 Photo by Jarrad Seng
Me and our ship on one of the many zodiac boat cruises in Antarctica. I'm cold and oh so happy!
Our journey was extra special because we traveled all the way down into the Antarctic Circle, not all the Antarctic expeditions go that far south. Located at 66 degrees south, it was snowing and freezing when we finally crossed it, though still many of the landings were thick with pack ice.
I never got tired of photographing or watching the icebergs in Antarctica. All different shapes and styles, they were just beautiful. Some were huge and some tiny, some from glaciers and some were enormous walls of ice that had broken off the ice shelf.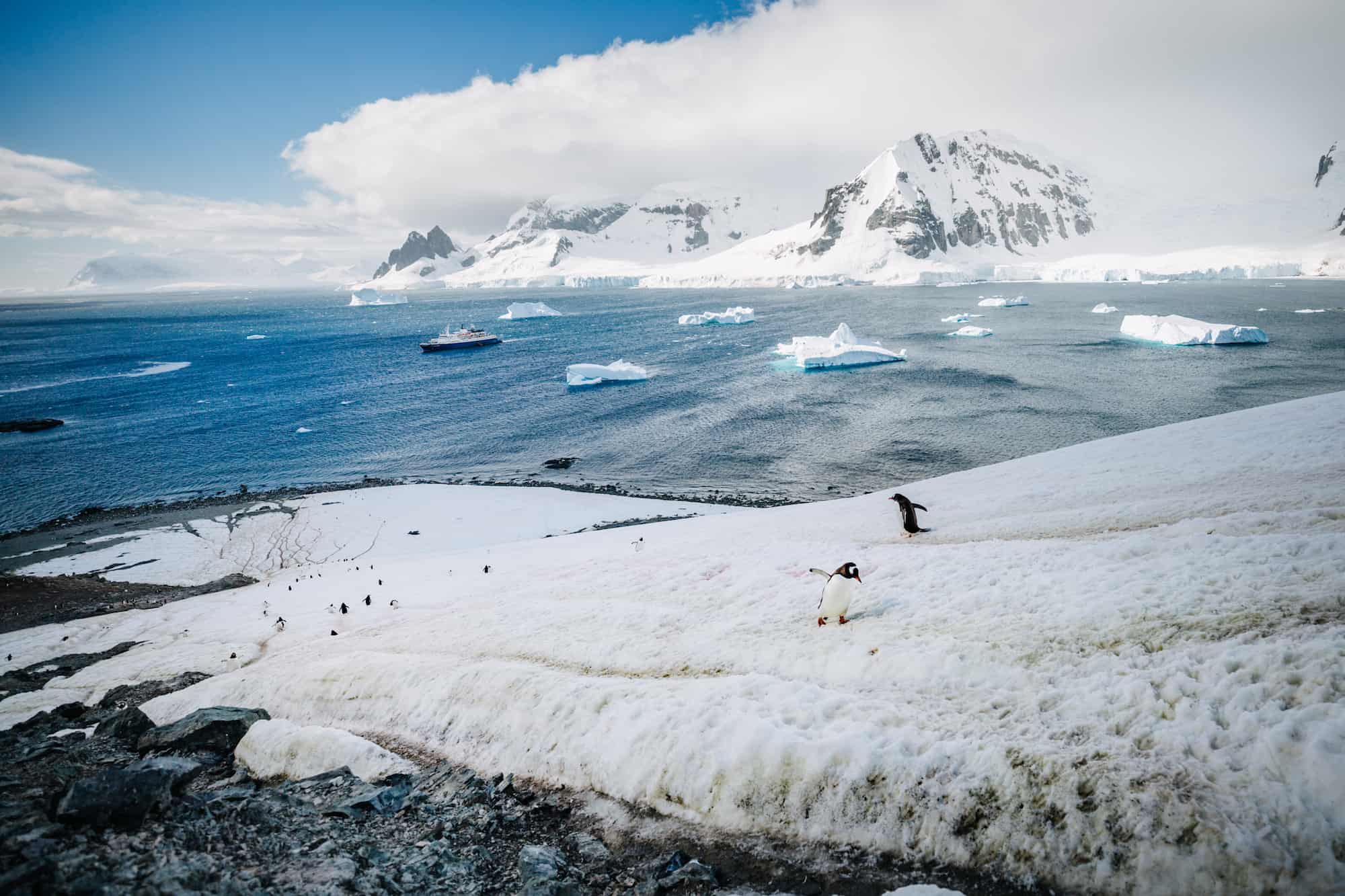 These channels carved in the snow that lead up and down from the sea to penguin colonies are called penguin highways. I could have sat and watch these guys waddle up and down for hours.
This was probably my favorite iceberg, a triple arch. We watched it for ages hoping it'd crash into the water but it lived on to another day.
Photo by Jarrad Seng
Hanging out on the front of the ship on one of our first days on the Antarctic Peninsula. This is the helicopter zone in case someone needed to get rescued, though that wasn't likely to happen as there aren't any rescue places in Antarctica, really.
One of the many scientific bases in Antarctica. They aren't usually manned all year round, and those that are there in summer are often glad to say hello to visiting tourist ships, as after all, they don't really get any visitors.
A curious gentoo penguin says hello on our last day on the Antarctic Peninsula.
These are older chicks and often are rather cheeky and curious. If you let them, they might even get into your lap.
And yes, you get covered in penguin poop. It's unavoidable.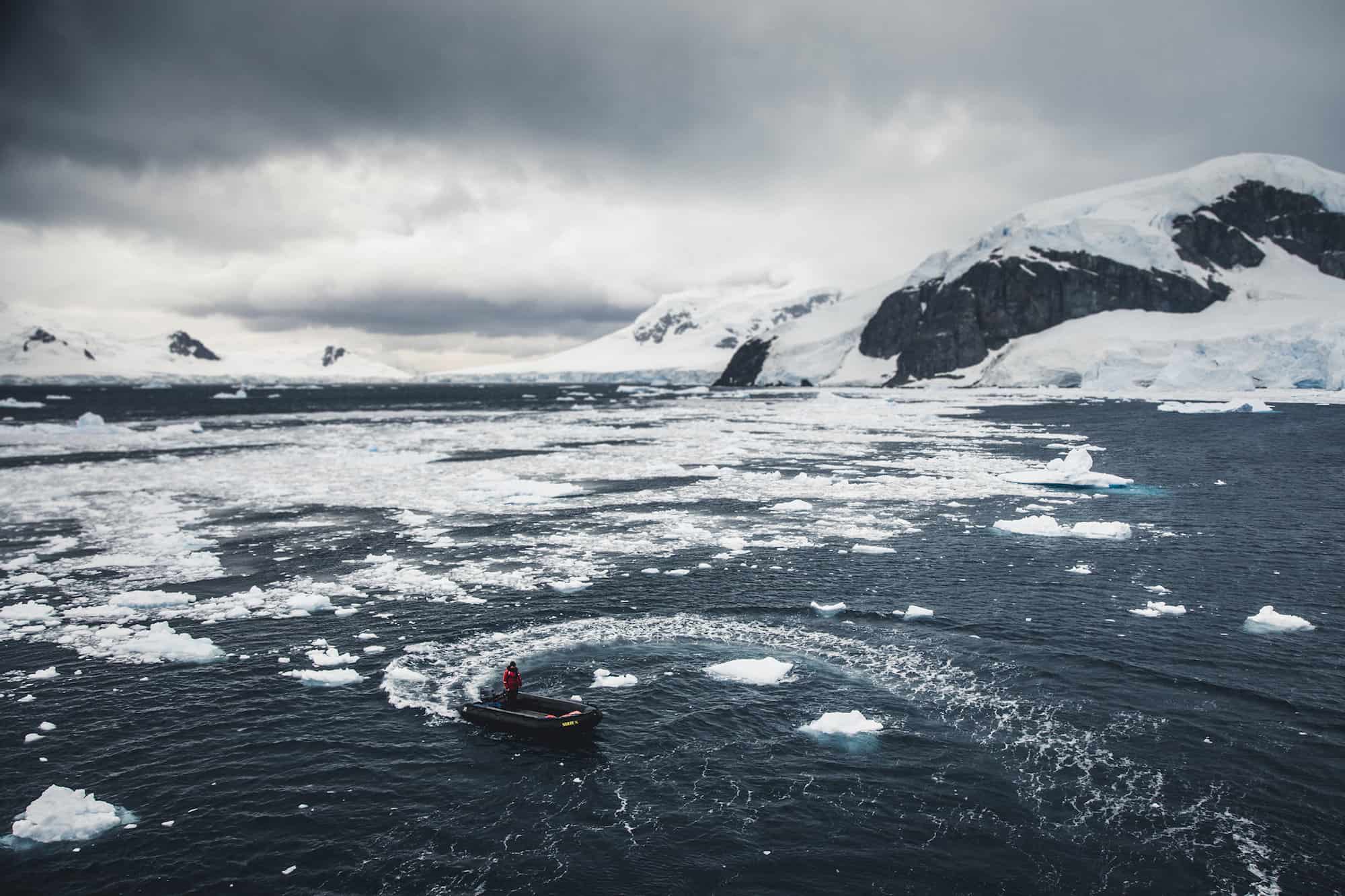 Photo by Jarrad Seng
On most voyages to Antarctica, you sleep on the ship – remember the Treaty – there are no hotels or places like that in Antarctica, and you need consents and permits to land almost everywhere. Instead you do landings at different sites and locations depending on the weather and conditions.
Zodiacs (these inflatable boats) are lowered down from the sides of the ship, and you board them to go visit land or to cruise around on.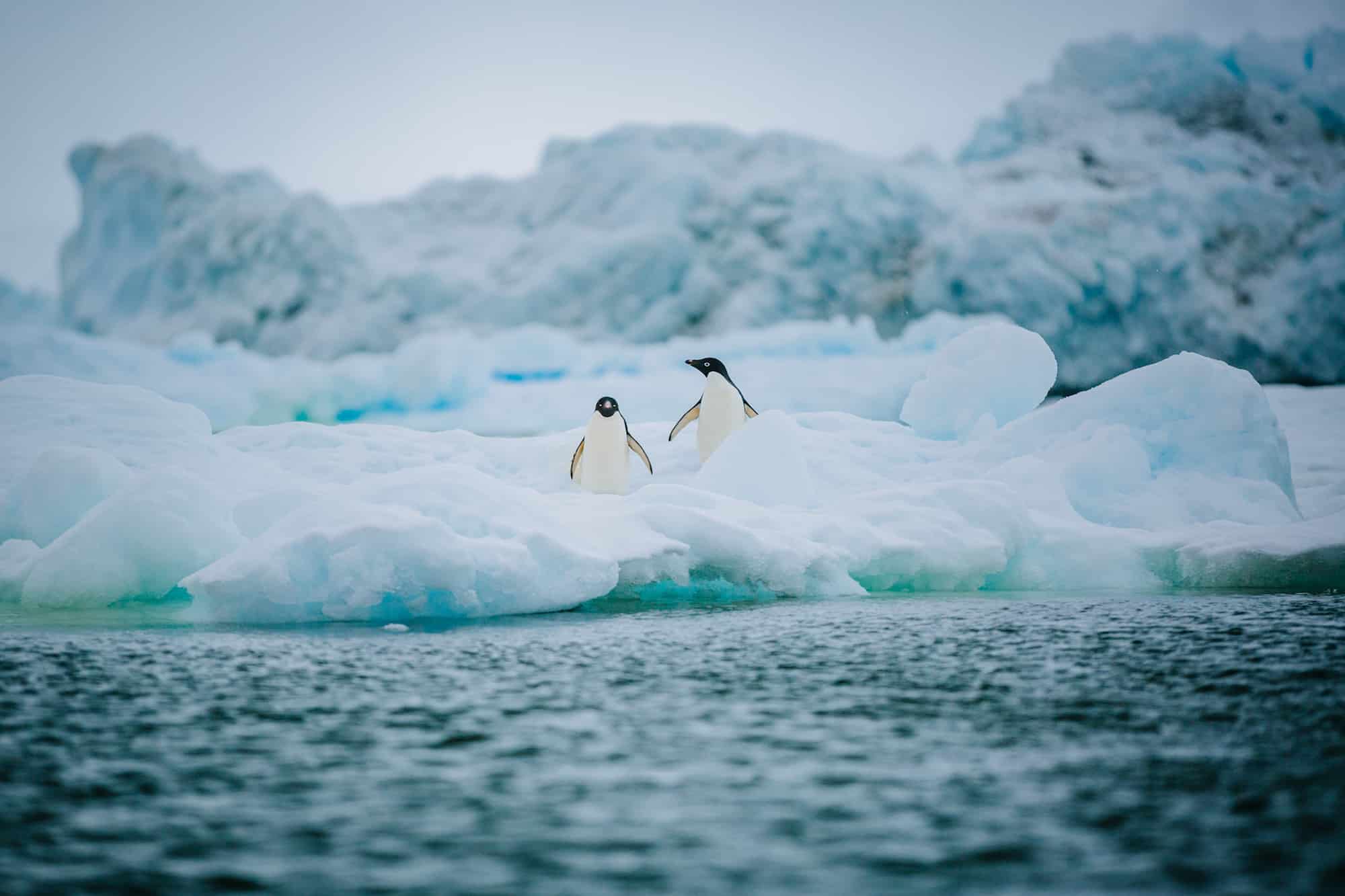 Two Adélie penguins on an iceberg. These penguins are just beautiful, right?
We saw many types of penguins on our trip to Antarctica and islands, from rockhoppers to kings to gentoos and chinstraps, I never got tired of seeing these guys in the wild.
Some thick pack ice that prevented us landing at Paradise Harbor.
On any trip to Antarctica you have to be really flexible. The expedition leader and team work tirelessly with the captain and crew to make fun and special landings for us, though the weather and ice often plays a big part in changing plans.
After all, getting stuck on land because of thick windblown ice or even getting the ship stuck like Shackleton is far from ideal, and which, by the way, still happens.
Have you been to Antarctica? Is it on your bucketlist like me? Have I inspired you to blow all your savings on a trip to the last continent? Share!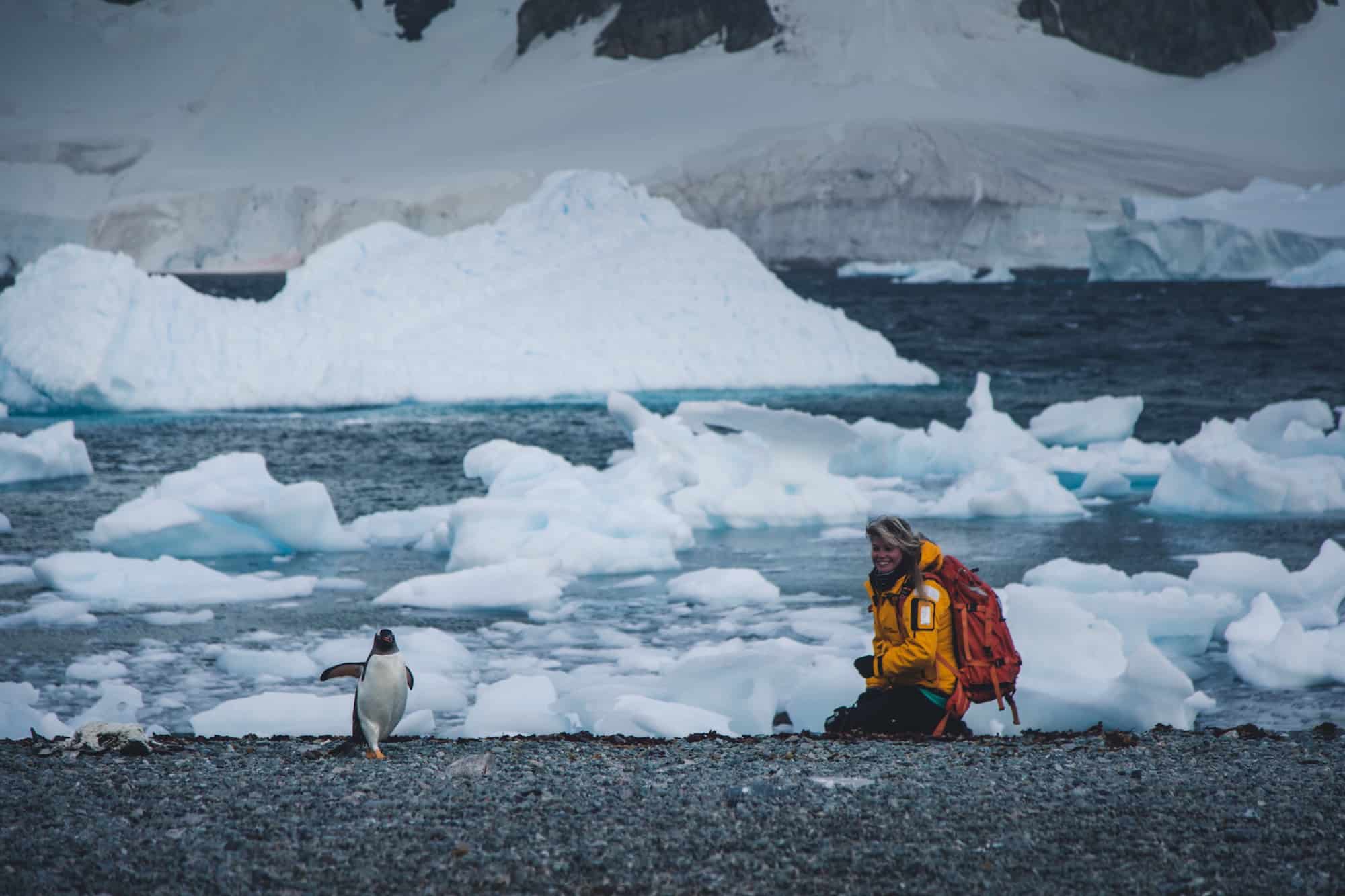 Photo by Jarrad Seng
Hanging out with the gentoo penguins in Antarctica.
Many thanks to Intrepid Travel for hosting me on my dream trip to Antarctica – like always – I'm keeping it real. All opinions are my own, like you could expect less from me!