It's the most wonderful time of the year. The sun is shining getting warmer, the days are getting longer, and Santa is putting on his best Hawaiian shirt for the holiday BBQ by the beach.
Ok, ok. I know a summertime Christmas probably isn't really what you'd first think of when you hear about Santa, elves and general holiday spirit. But whether you're spending your holidays in the Arctic or Australia, we all have one thing in common: buying gifts sucks BIG TIME.
How are you supposed to know what gift to buy for that brother who's into that really obscure hobby? Or a cousin whose name you have trouble remembering. Can't give everyone socks or candles can we?
Well, if you're buying for the outdoorsy person in your life or someone who travels, you're in luck. I've selected my top gifts for the Young Adventuress (or adventurer) in your life from the nomadic traveler to the dirtbag darling to everything in between.
Gifts for the Nomadic Traveler
Buying gifts for a traveler is tricky because usually, people on the road don't want to be weighed down by unnecessary baggage but even the wandering nomad is likely to have a secret wishlist.
This pack is like if a backpacking bag and a suitcase had a love child.
The hip belt and sternum straps make it easy to tote around from country to country and the front zip makes it easy to pack and unpack. No more digging through a top loaded bag to find what you're looking for.
As a bonus, the 40L size is accepted on most airlines as carry-on luggage!
If you're on the road a lot, these packing cubes will change your life.
Separate your clothes in belongings into different categories will make packing and sorting much easier. Keep one for your dirty clothes, one for your regular clothes, and one for your intimates.
Even use one to keep track of all your random bits and bobs, like chargers, cables and receipts.
My Hydroflask goes with me everywhere.
The insulated walls ensure that the contents stay warm or cold for up to 24 hours! The double-wall 18/8 stainless steel construction prevents condensation from building up on the exterior, and the nonporous corners on the inner layer help to kill odors and bacteria buildup.
Finding clean water as a traveler can be tough and for those who are environmentally conscious, buying plastic water bottles is not very attractive.
The LifeStrwa filtration bottle solves all of your hydration problems. This water bottle features a built-in filtration system that filters water as it flows through the straw when you're drinking. The carbon capsule eliminates waterborne bacteria and protozoa for 100 liters of water sourced directly from the cool waters that you love to backpack by.
I finally invested in one of these after my second parasite. I'm not kidding.
Go ahead and drink out of that river. You'll be fine.
A carabiner may seem like a lame gift but I can't tell you how many times mine has come in handy.
They're great for clipping things on to the outside of the bag whether it's your water bottle or sun hat or camp lanterns. Never underestimate the value of a simple but sturdy carabiner.
And it's cheap as chips too
Finding power can be a struggle as a traveler.
If you're prone to staying in hostels, fighting for an outlet can be a gruesome battle. This power bank features two USB outputs for powering your tables, smartphones, and any other USB device. The power bank is rugged and waterproof so it'll stay safe during your most adventurous excursions.
This converter set allows you to use North American appliances internationally. The set includes the actual converter as well as five ungrounded adapter plugs. Low and high settings accommodate different watt requirements so no more worrying about blowing up your appliances.
Gift for the Outdoor Lover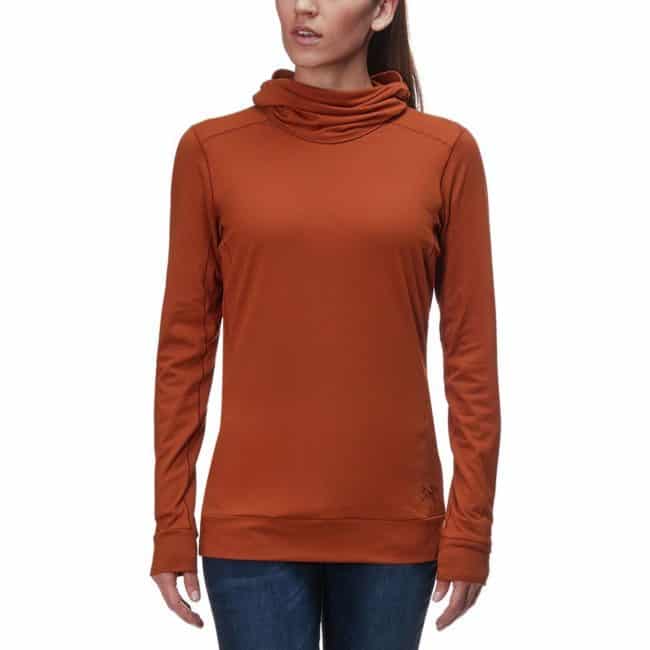 This hoody is everything!
It's stretchy and moisture-wicking fabric makes this hoody the most comfortable outdoor shirt I've ever owned. The balaclava hood is a great addition for when the wind picks up or the temperatures drop. This piece is perfect for any outdoor adventure where you'll need warmth and versatility.
Ever since I bought these pants I've been reluctant to take them off.
They are the perfect mix between comfy and high performance. Wear them on a hike or wear them to get coffee. They're great for climbing or great for sitting on a plane for long periods of time. Seriously, you'll never want to take off these pants.
Merino wool tights are the best. They regulate your heat and keep you nice and toasty when the temperatures drop. I wear these on cold weather hikes or under ski pants on the slopes. They are higher waisted and super comfy.
I admit I have a jacket obsession.
I have more jackets than any one person needs but this one has got to be one of my favorites. The jacket is a lightweight soft-shell that protects against the wind while still being remarkably breathable. The fabric stretch in this jacket is amazing. It doesn't prohibit any movement which makes this the perfect jacket for climbing, hiking, and all over adventuring.
This is my go-to day pack.
It's hip belt and sternum straps make it a conformable fit and the mesh back panel helps keep you cool when the temps rise. With 20L of space, you can fit all of the essentials without being bogged down. It's also hydration compatible so your water is always within easy reach.
I'll never stop loving this pack.
I use it for most of my multi-day hikes unless I really need to bring a lot of gear. It's a simple construction made with ultra-light materials. Every piece of the bag was made with being ultra light the top priority. The construction is simple and there's no hood or brain pocket but this doesn't bother me at all. It's really comfortable, despite being ultra minimal.
Socks aren't a lame present, guys.
I love getting socks because they are expensive to buy but so invaluable. I love these socks because they're ultra durable and have an amazing warranty system. If you do manage to wear them out (and that's a big if), just send them in and they'll replace them!
It may seem like a bit of a luxury but I can't tell you how many times I've wished I had something to sit on in the backcountry.
It keeps you off the cold ground and gives you a comfy seat which is a huge relief when you're sitting on the ground for hours. The seat basically packs down to nothing and inflates within seconds.
Anyone who hikes with a camera can tell you how annoying it is to dig out your camera every time you want to take a photo but if you keep your camera out all the time, you risk banging it up.
The capture clip solves this problem. Keep the camera on your shoulder strap of your bag and unclip it with ease. This product has made taking photos in the backcountry so much easier.
These are expensive but an amazing investment, thank you Dad!
Keep yourself safe in the backcountry with a PLB. If trouble arises, activate your beacon and search and rescue will be notified. You can use these in practically any country and it's totally worth the peace of mind. You never know what could go wrong and even a tiny spill can lead to monumental consequences.
Gifts for the Glamper
I love camping but I love my comfort as well. I've invested a lot of money into products that are comfortable and lightweight, making my camping experience much more enjoyable, and these are generally the go-to gifts I ask from my parents every year.
If you're buying for a camp lover, these are sure to be a hit.
I'm not afraid to admit it, I love my sleep and I don't sleep well in the backcountry.
I recently upgraded to my Thermarest and I'll never go back. It weighs nothing and feels like I'm sleeping on air. It inflates in minutes and takes up very little pack space. It's a must have if you plan on sleeping outside often.
For someone who enjoys hiking in all four seasons, including the depths of winter, this is what you need, especially to sleep on snow.
Did I mention I'm a sleep princess? This pillow is gold. Again, it takes up very little pack space and provides maximum comfort. Gone are the days where I stuff my clothes into a bag and sleep on that. Now, I'm sleeping like a queen.
If you do a lot of car camping, this chair is invaluable! It only weighs 2lbs and packs down to the size of a loaf of bread. Put it in the trunk of your car and you'll always have a seat, no matter where you go. It's much better than sitting on a log around the campfire, trust me.
This little solar powered light is a great addition to any campsite. Just leave it in the sun for a few hours and then turn it on. It's lightweight and small and lasts up to 50 hours on a single charge!
This is a small but mighty tool that I never go camping without. This nylon spatula makes cleaning up camp dishes a dream. Simply scrape out your pots and pans and give it a rinse and voila! Clean dishes.
This is my go to back for 3 season temperatures.
It's warm enough to last just below zero but only weighs in at 600grams. It packs down super small so it makes lightweight hiking very achievable. As a bonus, it has an internal pocket for your phone or head torch and also unzips from the bottom in case you want to poke your feet out.
Sea to Summit makes great collapsable dinnerware.
This five-piece set has you covered from coffee to oatmeal. The pot has a stove friendly base made of aluminum so you can cook in your pot then squash it down into its collapsible state.
Trust me, this will help save you from the classic food mistake of bringing too much weight on a hike.
This is a bit of a splurge, I know but for the die-hard backcountry coffee connoisseurs, it's a great kit addition. Weighing only 29 oz with a stowaway handle, this percolator is ultra sleek and easy to carry.
Gifts for the Dirtbag
These days, being a dirtbag is a badge of honor. These are the people who enjoy the simple life and live out of small spaces. They don't care much for material things and prefer to enjoy the outdoors more than anything. Here are some great gift ideas for those van lifers lovers.
This collapsable sink makes washing up a breeze. It's good for dishes but also good for hand washing clothes. Simple unfold the bucket and add your water.
It's great for those living off the grid and/or living in their van.
People who live the nomadic dirtbag life know that showers come few and far between. This pocket shower can alleviate the shower problems when things get dire. Fill up the bag and twist the spout and enjoy your camp shower.
For people who want less material things in their life, this is the perfect gift. It's an all in one multi-tool that does most everything. It's durable and lightweight so chuck it in your van and forget about it until you need it.
Living off the grid can have its challenges, especially when it comes to charging your devices. Sometimes, you just need a little juice and the Goal Zero solar charger is just the ticket. This charger has two USB ports to charge multiple devices at once and the weatherproof housing means you can use it in all conditions.
This hammock packs down to the size of a water bottle and comes with two carabiners and Dyneema slings for easy setup. It's perfect for a day at the crag when you need a rest or when you want to hang out in the warm summer shade. This hammock has an easy setup and is sturdy and durable so you won't risk flipping over and falling out.
You can never go wrong with a headlamp. It seems to be the thing I always lose and could always use an extra of. This Petzl Actik Core headlamp packs 300 lumens into a lightweight, compact design and lasts for 60 hours on full blast.
Use offer code LIZC15 for 15% off your first order at 

Backcountry

 until the end of the year
PS some of these links are affiliate links.