There's a lot to be said about those adventures that don't really have a point. Adventure for the sake of adventure.
You know the ones. The hikes that have no destination. The camping trips that have no agenda. No peaks to climb. No cutoff times to make. Just going outside, solely for the pure joy of it.
It's easy to get caught up in adventure goals, to have a list a mile long of things to accomplish but often I find when I'm stressed or super busy, I tend to crave a simple adventure. One that doesn't take much planning or scouting. Walking for as long as I want and resting when I feel like it.
In the midst of a chaotic winter in New Zealand, a low-maintenance trip was just what the doctor ordered. Luckily Crystal Brindle (who you might remember wrote for us about living with the birds in Fiordland) is always down for an adventure.
We're constantly asked for tips on gear and preparing for outdoor adventures in New Zealand, even winter camping, so I've begun working with Backcountry.com, my go to resource for getting everything I need for my activities, and you'll find some of our best winter camping gear tips and tricks below. Enjoy!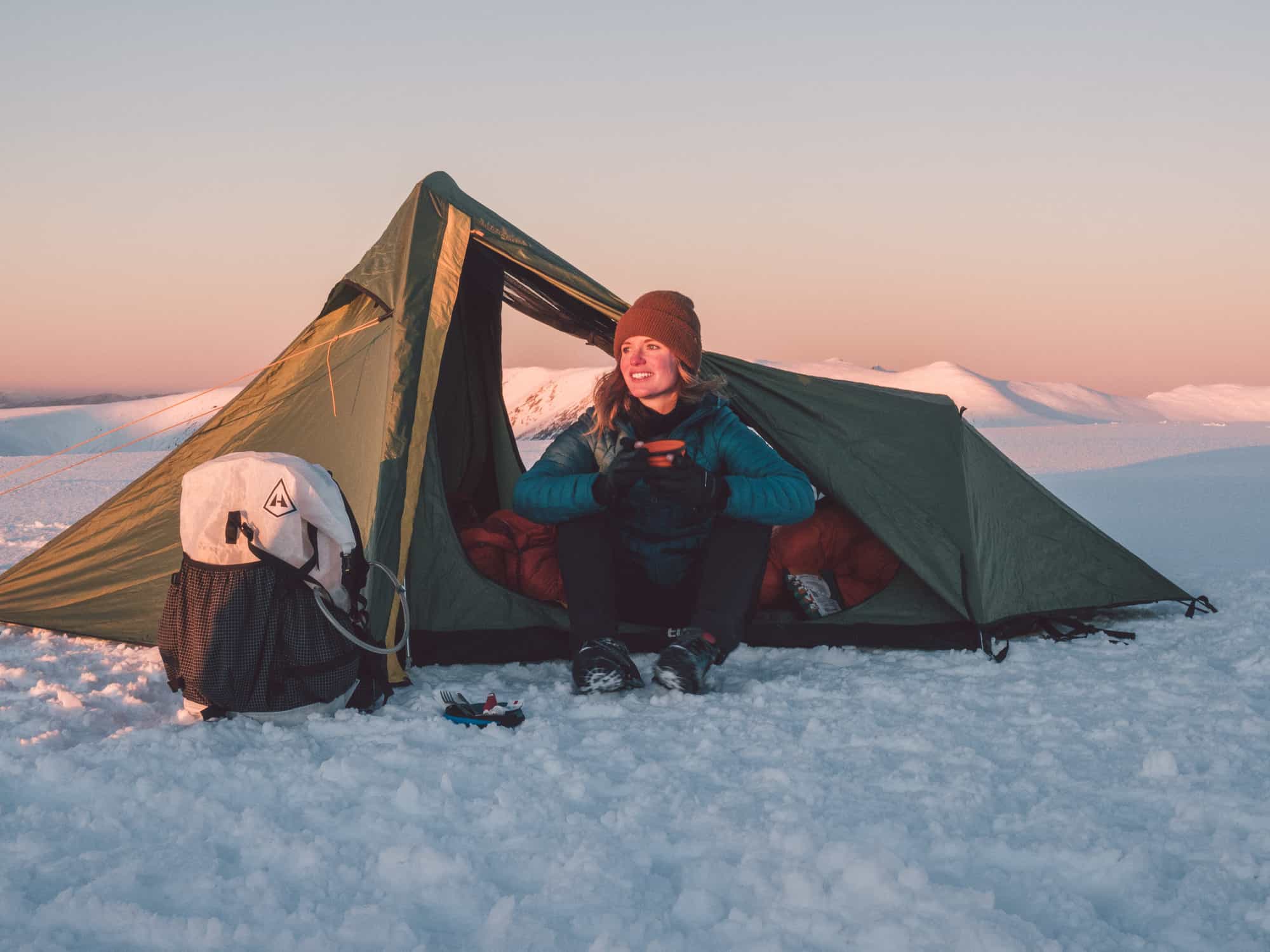 For this trip, a quick look at the topographic maps and picking a location that was new to us was about as far as we went with scouting a place to go. We had a rough idea of where we were going but we wanted to camp meaning we wouldn't be stressed about getting to a hut in time to secure a bunk bed.
We ended up picking the barren brown hills of Central Otago for our weekend getaway, despite the fresh dump of snow received a few days before.
We were all prepared to camp and I was secretly looking forward to my first winter backcountry camping adventure. For a country that doesn't get that cold, I've been looking for an excuse to bust out my super-duper warm camp gear, and this trip turned out to be just the ticket.
For this trip, I was breaking in my new Marmot Lithium Sleeping Bag (rated to -18f!!) and my Hyperlite Backpack I picked up from Backcountry recently, my go-to adventure gear site.
I was so excited to use this backpack finally because it weighs practically nothing, allowing me to even out the inevitable heaviness of the winter camping gear I'd be carrying.
I was also decked out in all of my warm layers because I knew as sun as the sun dropped, it'd be freezing. My Marmot Featherless Hoody and I are inseparable in the winter.
It's perfect for adventures because it folds up into its own pocket and despite not being down, it's rated to be as warm as a 700 fill down jacket.
We started mid-morning up a lazy 4WD farm track. Central Otago is all rolling mellow hills and mountains, straight out of a Grahame Sydney painting. Rural South Island New Zealand at its finest.
Despite the single-digit temperatures, it was a magically clear day and we were soon basking in the warmth of the sun.
We weren't sure what we would find in the high terrain so we prepared and packed our crampons and ice axes, making sure we were ready for whatever might great us at the top of these gentle giant mountains.
The track was easy but the uphill slog was relentless.
When camping in the winter, it's essential to have enough gear to keep you warm. Although we were sweating in the sun down low, we knew we'd be in for a freezing night up high. Crampons, ice axes, heavy warm boots, tents, winter sleeping bags, layers and layers of clothes.
New Zealand Mountain Safety Council Plan My Trip is a great tool for the backcountry here
Everything had to be trudged up the hill and I had never been as happy to finally have a Hyperlite Backpacking bag, weighing in at only 800 grams. It made carrying my other winter gear much more pleasant.
I don't know how long we walked for. A few hours perhaps.
We didn't keep track and we really didn't care. We were happy to plod along, breathing in the fresh air and taking in the new sites.
As we neared the top of the range, we eyed up the trail before us. Deciding we weren't going to get a much better view, we settled on the peak we were on, an un-named and modest plateau-like mountaintop, 1,700m high. Yes, it was covered in a few feet of snow but it was hardpacked and flat and offered the best views of the valley.
Lake Ohau, Lake Pukaki, and even the towering Mount Cook was in our skyline. This is definitely an underrated part of New Zealand by tourists.
And the best part is that we had it all to ourselves.
MSR Access 2 Tent: 2-Person 4-Season is perfect for winter camping
As we set up camp, we quickly realized the tent pegs we normally use wouldn't do us much good in deep snow but luckily our ice axes substituted just fine as anchors to hold down our temporary home for the night.
With our tent set up, we got straight on the Jet Boil, making sure we stayed warm before the sun dropped below the hills. This is our go-to tool for quickly boiling water for our food and drinks when on missions in the hills.
Also, pro tip, the Jet Boil coffee press has truly changed my life. No more instant coffee in the hills. It's my go-to for quick coffee, delicious coffee without sacrificing weight.
Sunset is always a chaotic time for anyone into photography.
Sure, golden hour technically lasts a full 60 minutes but in reality, there are only 10 minutes of truly magnificent light in which to get your shot. Because of this, I was running around like a madman, sprinting from one side of the mountain to the other, trying to get every angle for the best possible shot.
When the last light faded away behind the layers of barren mountains, we were treated to a few more minutes of a light show on Mt. Cook, the last mountain in the area to see the light.
With a bottle of wine and a bottle of chocolate to share, we huddled into the tent but left the door open, continuing our entertainment. There we sat quietly, sipping our wine and counting the shoot stars, which were abundant and visible on a perfectly still and clear night.
Finally, our eyelids began to droop and we settled into bed.
It was merely 8 pm but such is the way when you live by nature's clock. The weather forecast looked calm and still for the night so we opted to leave the door open.
Again, I was so grateful to have my Marmot Lithium sleeping bag, which is rated down to -18c. I felt like I was snuggled up next to the fire and I knew it would be hard to leave my cocoon of warmth in the morning.
I woke up just as the sky was lightening and in a rare move for me, I sprang to my feet, took off my warm camp booties and pulled on my frozen boots.
The sky was pastel pink and my friends were already up and enjoying the rising sun. Again, I spent the next 15 minutes frantically taking photos, trying to capture forever the magic that I was experiencing in real life.
With frozen digits, we managed to melt enough snow to cook breakfast and make coffee. Even the water in our hydration reservoirs had completely frozen solid. Before we knew it, our camp was packed up and we were bidding this special area farewell for now.
We sauntered back down the mountain, laughing when one of us would hit a patch of soft snow, sinking to our mid-thigh and before long we were back in the lowlands, feeling the warm sun on our faces and feeling like the cold summit morning was already a world away.
How nice it was to get away from life for a bit in our own backyard, a seemingly endless playground to explore. It was a good reminder that not every adventure needs to be hardcore or militantly planned and that good trips are defined by the people you're with and the mindset you have going into them.
Oh, and wine. Lots and lots of wine.
Are you a fan of camping? Would you go on a winter adventure too? Share!
Use offer code LIZC15 for 15% off your first order at

Backcountry

until the end of September
Many thanks to Backcountry.com for supporting us on our adventures. Note: some of these links are affiliate links. Like always, we're keeping it real. All opinions are our own, like you could expect less from us!