I didn't start out as an expert in the outdoors.
I didn't grow up doing orienteering races or learning navigation or given any backcountry tips. Aside from binge eating Thin Mints, I had nothing to do with Girl Scouts and couldn't have cared less about hiking or camping.
As I got older and more appreciative of my natural surroundings, I became more curious. I, like so many other people, began wondering how to exist in the outdoors despite having absolutely no skill set or knowledge to get me there.
Like most people, I didn't have thousands of dollars to spend on an outdoor education course so I had to learn the old fashion way: through many, many trials and errors. Living in New Zealand, I love spending my free time hiking and exploring our incredible backyard.
Here are my top 10 lessons I've learned from spending time in the backcountry.
1. Invest in your gear
Look, I know it's expensive.
I live on a barista wage and I also can't afford to splash out at every new piece of gear on the market. Despite that, I'm here to tell you that spending money on quality gear may save your life and make the outdoors much more enjoyable.
First things first one of my best backcountry tips, NO. COTTON. IN. THE. BACKCOUNTRY.
Get that shit out of here because we do not have time for that malarky. You'll want to find synthetic materials that will wick away moisture and not drag you down and make you freeze to death if it gets wet. I, too, was dubious of the term "moisture wicking" when I first started exploring the outdoors because it sounds like a scam but trust me, it works.
Merino wools and synthetic materials will take moisture away from your skin so you don't feel damp and bogged down all the time. Your clothes will be damp but you'll stay dry! Opt for light pieces that can be layered on top of each other instead of a few bulky items. Always bring a hat and gloves, even in the dead of summer because you never know when the weather will change.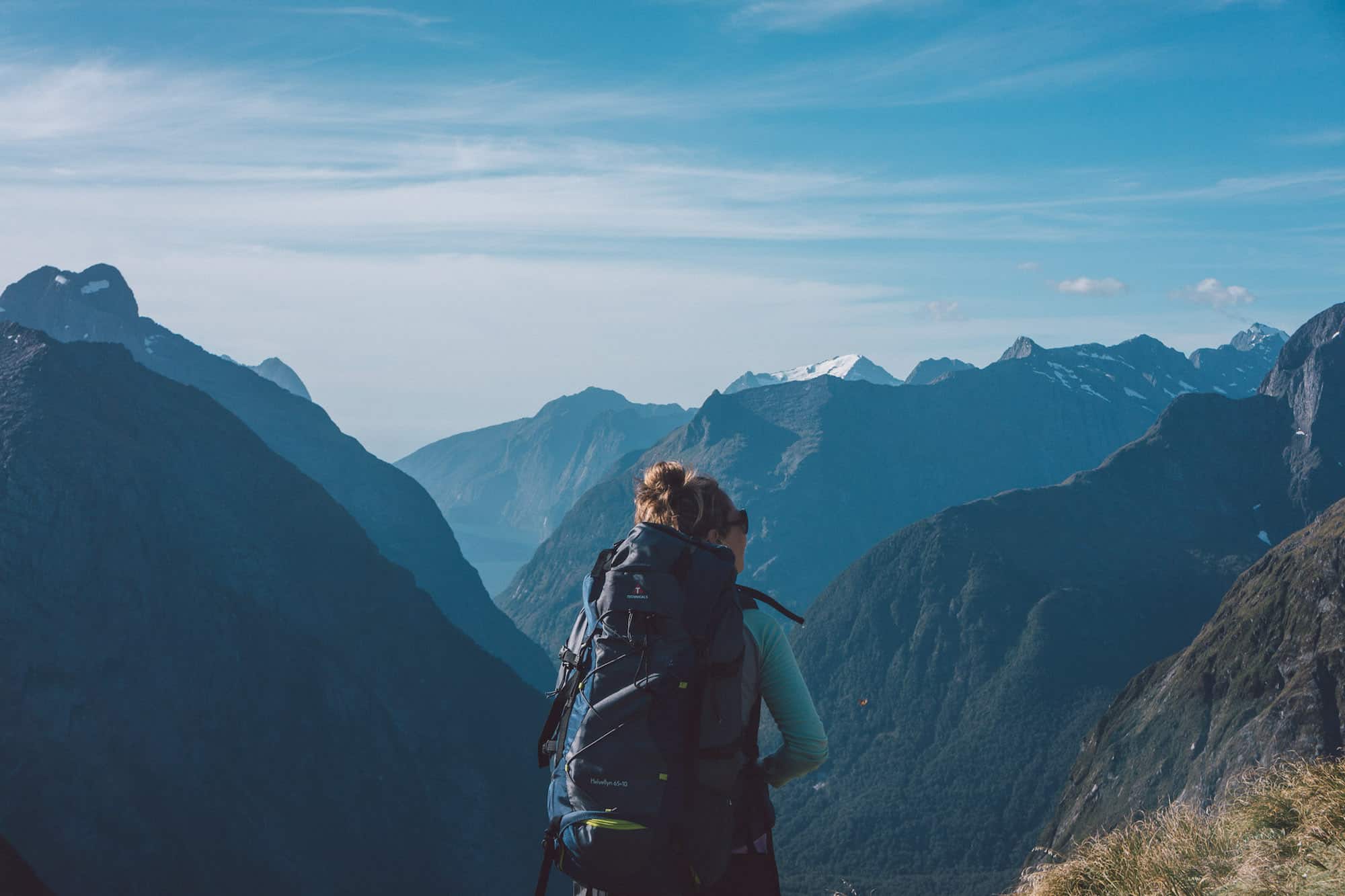 In New Zealand, it's a guarantee that you'll be walking through streams and rivers and down boggy valleys for long stretches at a time. I opt for quick drying trail shoes in the summer and waterproof boots in the winter when I know I can't afford wet feet for hours at a time.
I promise if you buy the good stuff and look after your gear, the expensive things will last you decades. If you break out the cost by the number of times you use your stuff, it's actually pretty cheap! (FYI this is also how I rationalize buying anything I lust for but don't really need).
Aside from clothes and shelter to keep you safe, I would also highly recommend investing in a Personal Location Beacon (PBL or EPIRB). Remember those Life Alert commercials about elderly people falling in the tub and not being able to get up? This is the backcountry version of that.
This is especially crucial when you're on your own. When you set off the beacon, Search and Rescue (SAR) is notified and the rescue mission ensues. I know these are expensive but they are literally life-saving devices and you can't put a price on staying alive. If you really can't afford one or don't think you'll use it enough, you can always rent a PBL from the nearest Department of Conservation office.
2. And test your gear before you go
There is absolutely no shame in wearing your new high tech hiking boots on a casual 2 km dog walk if that's what it takes to break them in.
Do not, I repeat DO NOT, bring brand new gear on a multi-day hike. Give yourself time to work out the kinks at home because when you're 36 hours into a backcountry adventure, you won't have the luxury of swapping out your gear for something more comfortable.
This goes for other gear too, not just your clothes and shoes. Make sure you have set up your tent in your living room before you take it out. Test that you actually bought the right type of fuel for your gas cooker.
These little details are not things you want to find out alone in the wild.
3. Plan, plan, then plan some more
I can't help it guys, I'm a mega-nerdy planner. I thrive off organization and am often the reception of multiple jabs and jokes for my super trusty, ultra-organized packing list of anything I might ever need in a backcountry mission.
I try to think of every scenario for the upcoming days so I can be fully prepared for what's ahead.
What will I wear at camp if my day clothes have been soaked through? Do I have a pair of sandals I can slip on to go to the toilet when my shoes are dripping wet? How many hours will I be out in the day and how many calories will I need to consume to sustain myself? What is my Plan B in case my Plan A falls through? What will I do if I get to a hut and the beds are taken?
I know it sounds anxiety inducing but it's crucial to think through the trip.
Mountain Safety Council makes it's easy to plan your backcountry trips in New Zealand by identifying unforeseen risks and hazards you might not have thought of. Headed up to a remote hut for the weekend? Plug it into MSC's trip planner.
MSC's tool brings finds the relevant alerts for DOC and MetService as well as the NZ Avalanche Advisory if you're in an avalanche zone. By planning your trip through MSC, you can also easily print, email and share your plans with trustworthy friends and family via Facebook.
MSC will tell you if there's been a reported shortage of water at the hut or if there are any significant trail hazards to be aware of. By planning your trip through MSC, you can also easily print, email and share your plans with trustworthy friends and family.
It sounds obvious but it's easy to get caught up planning for a mission and then forgetting to actually tell people where you're going and when you'll be back.
4. Know your water sources
In New Zealand, most high alpine water is safe to drink but if you're going into an area where the water quality is questionable, it might be a good idea to invest in a water purifying system. I'm a fan of LifeStraws and Steripens. 
If you know the streams and rivers are safe to drink from, have a look on the topographic (topo) map to identify how many rivers you'll come across in order to plan for how much water you'll need to carry. If you're staying in a hut, be sure to research if the hut has water or if you'll need to carry your own in.
It's important you stay hydrated but let's be honest it's even more important you have a steaming hot cup of joe before your alpine start. Crucial!
Aside from drinking purpose, it's imperative to know if you'll be encountering any major river crossings.
New Zealand has a lot of beautiful rivers but very few bridges. While it might not seem like it, river crossings can, in fact, be very dangerous. I hear of deaths from river crossings every year in New Zealand. They can rise rapidly and either trap you on one side or be a serious hazard when you cross them. 
Some popular tramps, such as the Gillespie Circuit of the East Matukituki Valley trails require some serious river crossing skills. More often than not, the Makarora River which provides access to the Gillespie Circuit is often impassable. I know people well over 6ft tall who have tried to cross the river in shoulder high waters. For the rest of us shorties, that means we'll be going for a swim. No thanks.
I've also learned through trial and error that it's much safer to keep your shoes on when crossing rivers here, and if it feels too rough, turn back!
Be very careful around rivers.
5. Know the weather (alternatively titled: you'll NEVER know the weather)
Speaking of river crossings, the rivers may be fine at the beginning of your trip but may become impassable if you endure heavy rains while on your adventure, leaving you stuck on the wrong side. Make sure you have a backup plan in case this happens and be aware of where there might be other bridges several kilometers in other directions.
In New Zealand, as with any alpine environment, you must be ready for any and all weather patterns.
My first multi-day hike was the Great Walk around Lake Waikaremoana in the North Island. Aside from being the poster child of what not to pack that trip (more on that below), it was also the first time I've encountered every weather pattern imaginable in four days: snow, ice, hail, freezing temps, hot burning sunny days and torrential rain. I did not have a waterproof pack cover so in case I already didn't have the heaviest bag in the Southern Hemisphere, I solidified that title by soaking my packing entirely through, doubling the weight and ensuring I'd have no dry clothes for the next three days.
Don't be like me. Be smarter than me. Bring a waterproof jacket and pack cover. Hell, throw in some waterproof pants too if you know you'll be walking in hurricane conditions. You can thank me later.
Erica's non-negotiable multi-day essentials:
Two thermal tops

Thermal leggings

Hat

Gloves

Puffy jacket

Rain jacket (that's totally waterproof)

Short sleeve top

Shorts

At least two pairs of wool socks

Waterproof pack cover (New Zealand sells a great $5 yellow pack liner that also is a dry bag in most outdoor shops)

Waterproof bag liner
Erica's negotiable multi-day essentials:
Water proof pants

Windbreaker jacket

A few more pairs of extra socks (just say no to wet feet!)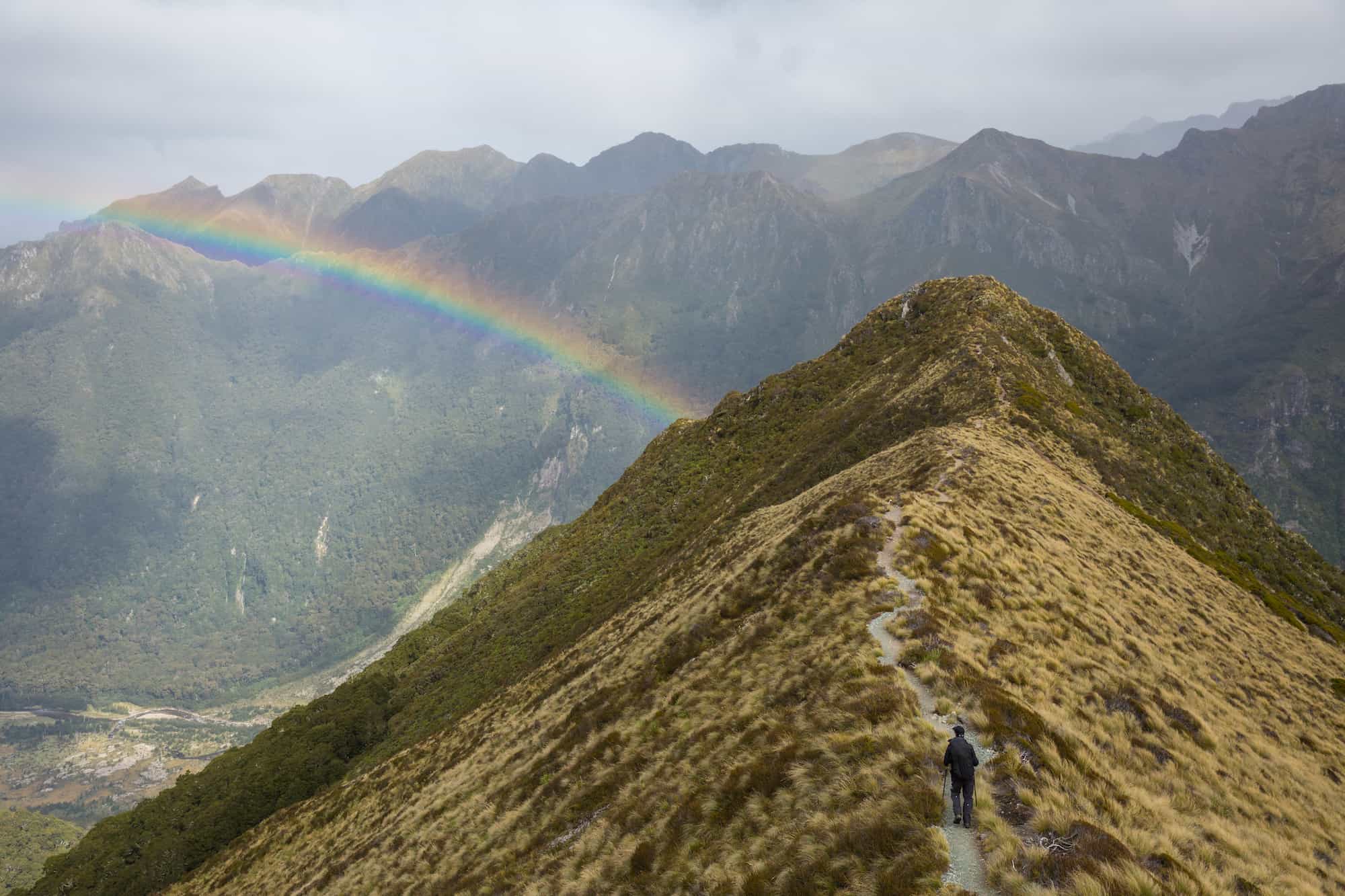 6. There's a very fine line between not carrying too much and carrying what you need
Remember before when I mentioned my coming of age hiking experience around Lake Waikaremoana? Well, here's a prime example of what NOT to do.
I had never packed for an overnight trip before and had no idea what to bring for fuel. I'm begrudgingly going to tell you what I packed for food you can learn from my mistakes but just know I'm not thrilled with having this shameful information be public. 
Here we go: a 2 liter container of cooked potatoes, a 2 liter container of cooked pasta salad, two cans of chickpeas, a liter bag filled with salted peanuts, a loaf of bread, a jar of peanut butter, a jar of jam, two sticks of salami, oats enough to feed a caravan of horses, a block of chlorate and a variety of oat bars. I ate a quarter of it and desperately tried to pawn off the rest on other hikers who looked hungry.
There you have it. From complete hiking newbie to fairly well equipped minimalist mountain woman. I'm living proof that even the most inexperienced outdoors person can get their shit together eventually if you're willing to make and learn from your mistakes. Actually, if you're reading this, learn from my mistakes so you don't have to carry the embarrassment.
While you're packing, try to think light but don't skimp on things you'll actually use and need.
A good way to figure this out is after each tramp, break down your pack into things you used and things you didn't use. The next trip, maybe ditch the things that were superfluous to the last tramp. After a few adventures, you'll probably have your packing list dialed in. Of course, there are somethings you should always carry, regardless of whether you used them last time or not (i.e. rain jackets, PBL, first aid kit, etc.)
Once you have the things you need, pack your bag with heaviest items at the bottom and lightest at the top. Mountain Safety Council has some good tips on how to pack your bag in a way that will keep you balanced and comfortable for the duration of your hike.
7. Maps are essentia

l
It took me a long time to get on to this one.
Learning backcountry navigation was never a skill set I learned in my adolescence. To be honest, street navigation was never a skill I learned either. Thanks, Google Maps!
When I moved to New Zealand, a housemate of mine changed my life by telling me about topographical maps. I had vaguely seen them before but they were weird and foreign to me and I had no idea how to read them. She showed me an app to download on my phone (NZ Topo 50 North Island here South Island here) that downloaded the topographical information for the entire South Island on my phone.
The app works offline too so you could always pinpoint your location on the map. MSC has a great video here about how to read them. 
I did a quick YouTube tutorial on how to read topo maps and in my next outdoor adventure, I was glued to my phone, matching up the contours with what I was seeing in real life. With a bit of practice and research, you can quickly learn to translate the symbols and lines on the map to what you're seeing in real life with your own eyes.
When you're in the backcountry, knowing a trail is so and so kilometers long is not good enough. You need to have a  good understanding of the elevation you're likely to encounter, the type of terrain you'll be walking through (bush-bashing? rock hoping? scree skiing?) and the rivers you'll have to cross.
If you're old school and prefer paper maps, please know I admire and salute you and can you please teach me how to navigate with a compass? For the rest of us, this a great way to feel confident when you're miles away from civilization.
Just remember to take into account the battery life on your phone. If you won't have enough charge, come up with a backup plan!
8. Know your limits
In an average year, MSC reports there are nearly 6,000 injuries, 540 people involved in Search and Rescue and 13 fatalities in New Zealand's backcountry. While I'm a huge advocate for everyone exploring the outdoors, it's also crucially important to accurately evaluate your own abilities and skill level and know your limits. 
Having properly researched your adventure in advance, you should be able to make a well-informed decision if this is the track for you.There's no point in embarking on a sufferfest if you already know the hike is out of your ability.
The good thing about New Zealand is there are hikes and trails for every single skill level.
Why not start small and work your way up from there? Be honest about your experience and what you're willing to tackle and understand great skill and mountain competence only comes with time and patience. Try as you might, you're not going to turn into an Edmund Hilary protege overnight.
If you are really new to hiking or want to go with others, consider doing guided hikes in New Zealand, like some of the adventure trips with Active Adventures.
9. Learn your lessons, pay attention!
Sometimes, you'll spend weeks or maybe even months planning and preparing for an adventure and things still don't go according to plan.
Sometimes you head out for the easiest of adventures you and still end up with a bum knee. I once severely broke my foot playing charades and last winter I smashed my face after tripping on the Hooker Valley Walk, one of NZ's easiest and flattest day walks. These things happen.
If you can learn to take the good with the bad and roll with the punches, you'll be a better all-around mountain adventurer for it.
Don't beat yourself up when things go wrong. Instead, try to look back at how mistakes could have been prevented and how you can do better next time. You'll never be as skilled or advanced as you want but there's nothing wrong with good old-fashioned trial and error.
Go ahead and eat that humble pie. You'll learn from your mistakes and you'll be better for it.
10. Celebrate your victories
Don't forget to celebrate your victories, even if they seem small and insignificant.
New Zealand has a magical way of breeding phenomenal mountain athletes who are just as humble as they are talented. It's easy to fall into the trap of comparing yourself to others, finding your adventures are not quite as extreme or interesting as someone else's.
While this can be good for pushing your limits and trying things you'd never thought possible, it can also be damaging.
Be proud of yourself when you've completed your intended trip, no matter how small. Celebrate every time you come home and be thankful for your quick problem-solving skills for those moments that don't go exactly according to plan.
Being in the mountains is always a risk, but it's well worth it and the skills you acquire in the backcountry will translate to your everyday life. You'll find you're a little bit tougher, a little more resilient, a better problem solver and a  little more able to embrace the unknown.
So go ahead, give yourself a pat on the back for fording that icy river crossing, take a bow for doing the longest hike you've ever done and congratulation yourself for trying new things and learning along the way.
What do you think? Do you have any hiking tips or things you've learned from the backcountry? Do you enjoy hiking? Been to New Zealand? Share!
Many thanks to the MSC for inspiring this post – like always I'm keeping it real – all opinions are my own – like you could expect less from me!