If you're coming to New Zealand, then you probably already know it's one of the major adventure capitals of the world.
Sure, you can have scenic, quiet drives and calm, easy strolls but if you've done your research you know that New Zealand has the potential to fulfill any adrenaline seeker's wishes. what do you expect from the country that invented bungee jumping and birthed Sir Edmund Hillary?
But how do you have it all?
How do you plan a trip to a place you've never been before and strike that fine balance between trying new things and not being pushed too far out of your comfort zone?
In my honest opinion, you can't really do better than booking yourself on a tour instead of trying to do it all yourself.
And no, not one of those cheesy tours that shuffle you on and off the bus every few hours like a bunch of sheep. The key is finding a tour that strikes that perfect balance of having a relaxing holiday but it is also borderline badass.
Let me help you!
No planning = Stress-free holiday
One of the best benefits of doing a tour is that you don't have to plan a single thing.
For people who are tired of researching for months before the trip, this is a huge bonus. You simply find a tour you like and trust and let them do the rest. Haka Tours is one of the most reputable tours offered in New Zealand.
How do I know? Because I've done them since 2013! I've been there, on the ground floor experiencing the tours just like everyone else and I've even organized my own takeover tours with them too.
Perfect for solo travelers (like me)
Haka Tours also eliminates the stress of having to be a solo traveler, (which frankly, isn't always what it's cracked up to be LOL). Many tour operators add on a single booking supplement but if you book with Haka Tours, you'll fit right in. 70% of their guests are solo travelers so you have the best chance of meeting new friends and not feeling like you're interrupting a bunch of honeymoons.
They have options for any length of vacation you want. Need just a week? Want to make it longer? Perhaps you prefer to see one island over the other? Maybe you want to see it all!?
Their summer adventure tours vary in dates and length so you can get exactly what you want from the trip.
Goodbye backpackers!



If you're anything like me, you're going to need a bit of a balance in your vacation.
Sure the wild and crazy adventure part is fun but also, to be completely honest, I like to end the day feeling comfortable and relaxed, not waiting in line for the shower or pushing my way through a kitchen filled with barely legal travelers who steal my cheese when I'm not looking
My backpacker days are long behind me, and I'm glad. It was fun while it lasted but comfort at 30 is much more important to me than it was when I was 20.
I'm officially over having to use communal showers or put in earplugs because one of the 15 people in my dorm room snores too loudly. Just, no.
Haka Tours have their own upmarket backpackers (Haka Lodge) dotted throughout NZ, where you will spend plenty of tour nights on their premium tours.
Along the way you might stay at Aquapackers – an ex-navy marine boat in Abel Tasman or Te Nikau Retreat – cozy cottages set in the lush West Coast rainforest (my favorite!). They prioritize having totally unique accommodation options so you leave feeling like you get a fuller experience than just another backpacker.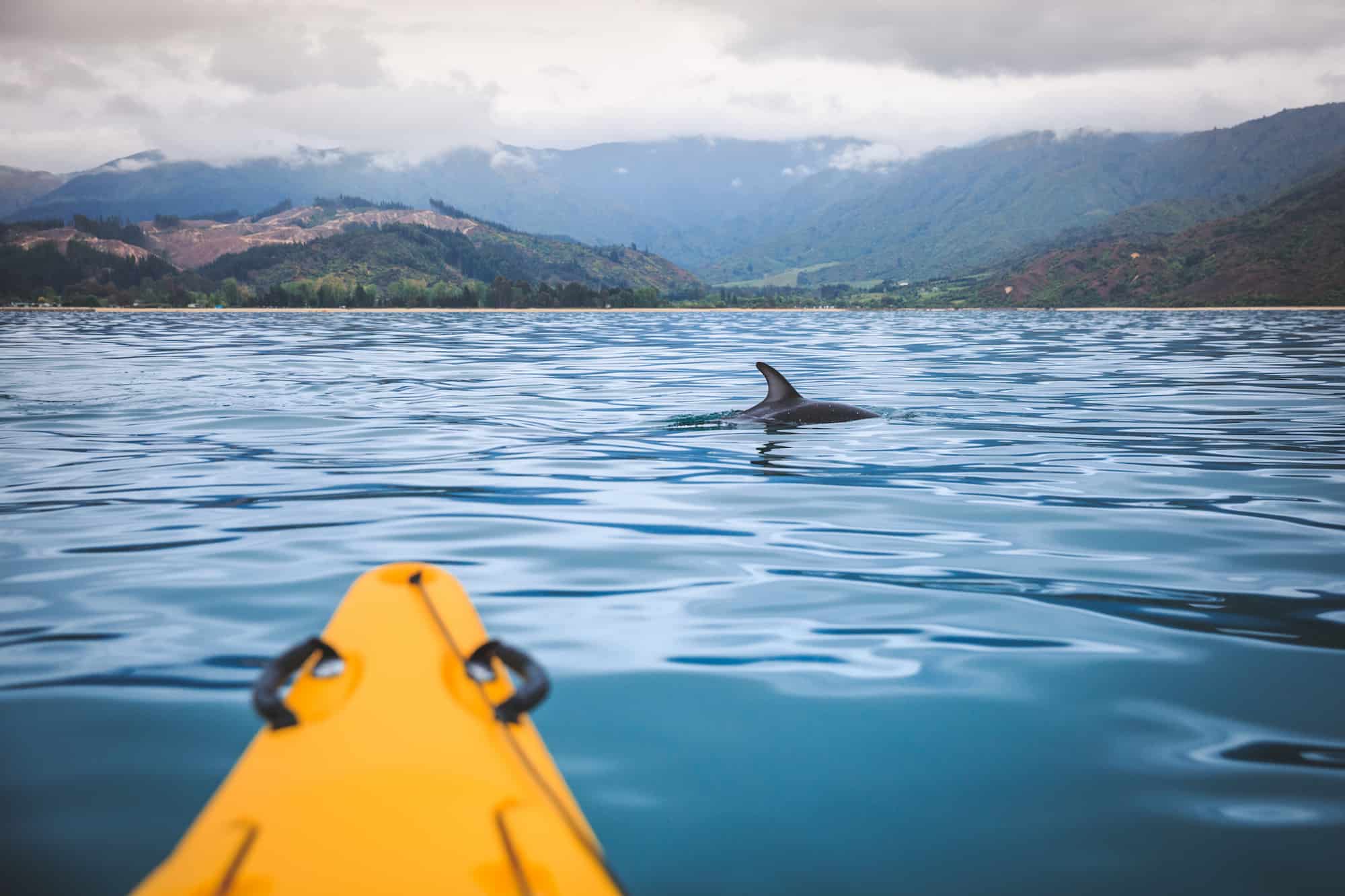 Hello adventure!
Just because your accommodation is flashy doesn't mean this a trip for retirees. One of the original pioneers of adventure tours in New Zealand, you can't help but expect some heart-pumping moments. Your tour will include plenty of opportunities to take advantage of New Zealand's biggest adrenaline sports.
Being the only company that lets you pre-book activities, you have the chance to do just about anything! From bungy jumping, skydiving, white water rafting, dolphin swimming, surfing, hot air balloon rides…you name it, they've got it.
However, nothing is compulsory and if you want to relax and enjoy the tour without jumping off great heights, your guide will always have plenty of alternatives. You can pick and chose what you want to do! It's a completely customizable trip with lots of surprises in store!
You'll be surrounded by your people
Haka Tour guests are usually between 25-40 years old so you can completely get rid of any fears of being surrounded by party-hungry teens. Their tours focus on immersion and culture so you leave feeling like you've done more than just scratch the surface.
Focusing on small groups, usually between 8-12 people, there is no giant bus and no getting lost in the crowd. The small groups give guests an excellent opportunity to really get to know each other and the guide with lots of fun vibes.
Haka Tours feels like a road trip with your mates, not a corporate bus trip. By the end of the trip, it'll feel like family.
The tours are not like the "hop on – hop off" bus passes in New Zealand either aka the sex bus: incredibly popular with 18 year old european backpackers on their first adventure overseas.
These guides are genuinely focused on giving you the best experience possible which means getting off the beaten path a bit and checking out some of the best-kept secrets in new Zealand Your small group will get to go where the big tour buses can't.
Experience authentic New Zealand culture, like for real
Haka Tour is not your typical big corporate tour company. They are a small team that loves New Zealand and more importantly, loves sharing the best of New Zealand with visitors. The guides are super passionate about their jobs and are all 100% Kiwi so you can be sure you're getting the real deal.
Haka Tours also places considerable emphasis on sharing Māori culture. Any tour passing through Rotorua will include a hangi, the traditional Māori way of cooking food in a hole in the group using heated rocks. The food is amazing and the cultural experience is even better.
As a side note, I always try to look at the ethics and company practices of any tour I participate in. How do they affect their environment? How do they impact the culture? What values are important to them?
It's important to me to only support tours that share my personal values and Haka Tours goes above and beyond to elevate Māori culture in addition to sharing the best of New Zealand in a responsible and sustainable way.
They even offer a Māori Tour Manager Scholarship to all New Zealand citizens of Māori descent. They want to actively encourage more kiwis to consider tourism as a career as they feel there is an under-representation of Māori Tour Managers within New Zealand. Knowing Haka Tours is doing everything possible to celebrate diversity and represent responsible travel in New Zealand is a big plus in my book.
Have you considered coming to New Zealand with a tour? Are you a solo traveler and want to have both an adventure down under without the stress of planning? Share!
Beep beep! Some of these links are affiliate links!