Guys, I'm just going to put it out there. Italy is better in winter.
I know, controversial. But hear me out, ok?
Earlier this year I took a trip in the snowy season to the heart of the Dolomites, and I swear, it was the best. This part of Italy has charm in abundance, hidden away in the high mountains, it's exactly the kind of place I love to visit and recharge.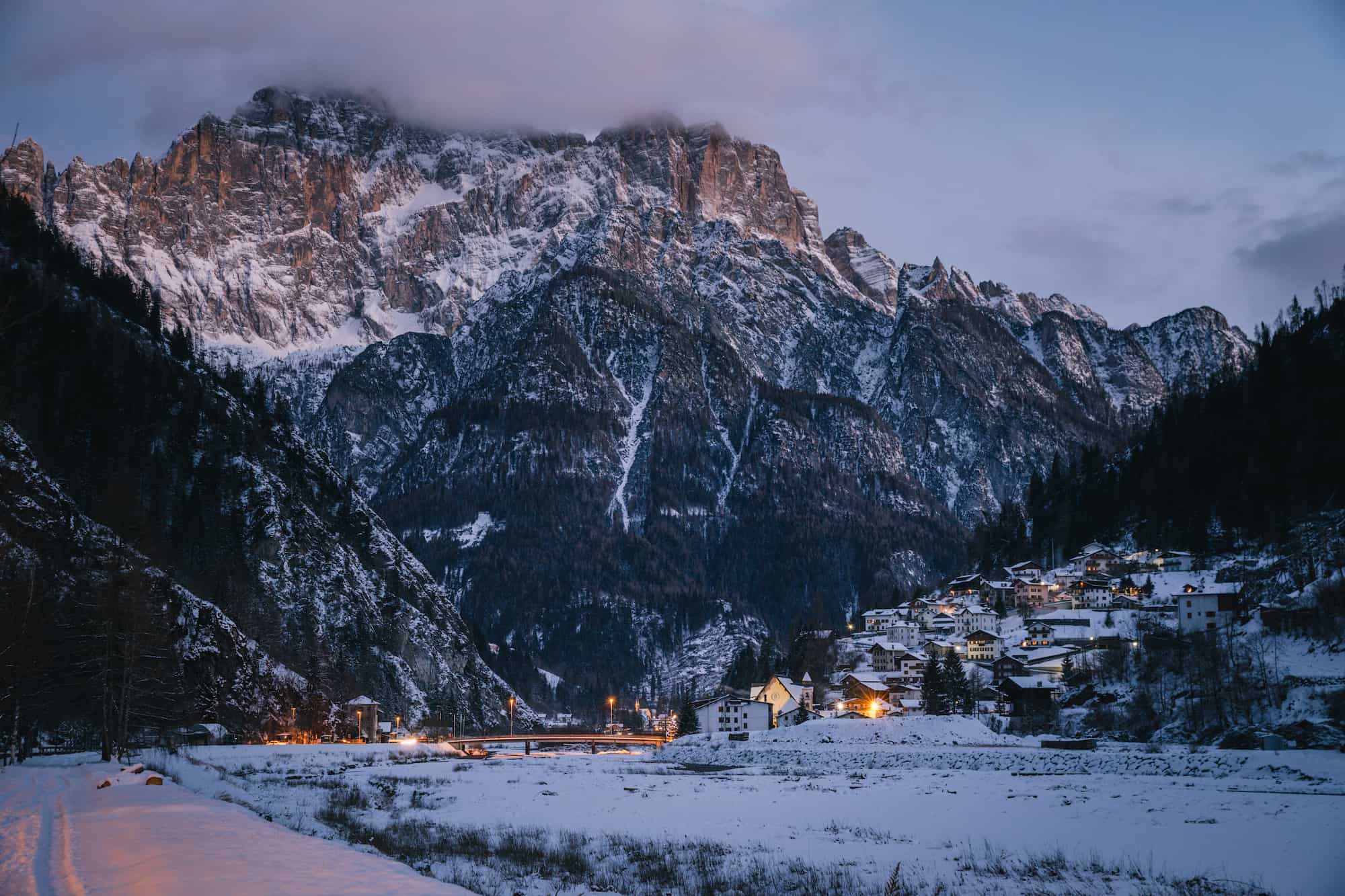 Nestled in the heart of the Dolomites (a mountain range in north east of Italy) is the tiny gingerbread town of Alleghe.
We're talking chocolate-box levels of cute. 
Think wooden houses framed by balconies overflowing with flowers (or holly branches and pine in the winter). Quaint churches and cobbled streets, endless forest, soaring peaks and the clearest turquoise lake you ever did see. Except in winter, when it's frozen over. 
Alleghe is home to one of the largest and most exhilarating ski and winter areas in the Dolomites.
Alleghe is really a gem, and still very much a secret spot in Italy. But first let me teach you how to pronounce it? "Ahhhhl" "lay" "gay". Just move your hands in the air when you say it and you'll be mistaken for a local!
In winter in the Dolomites, it snows! Like, alot. My first day in Alleghe was freezing cold but with no fresh snow, and then it started dumping! Last year they were truly buried in snow while this January it didn't start snowing in earnest until the end of my trip. Typical. 
Everything's better when it snows. Until you're sick of it. You've heard me say it before, I'm sure. The light is nicer, the air is fresher, the world is suddenly magical.
And Alleghe in winter is no exception.
You can even go ice-skating at their locally popular rink, home to an awesome hockey team and killer figure skaters! I even got to go skating with some of the local kids at the Alleghe ice-skating rink, though I was very ungainly and wobbly. 
Head here if the weather outside is too frightful for skiing, it's really a popular local activity and a must-do when in Alleghe.
It's a full-size ice hockey arena and caters for the beginner skater to the advanced. I'm not going to go into how many times I almost fell over to the amusement of all the kids, but everyone was SO nice and sweet, I couldn't help feel inspired.
Seriously though, it's like living in a christmas movie. With really good pizza and a fondness for grappa. 
But even better than the pizza, is the skiing.
As I said, Alleghe is surrounded by mountains on all sides. A UNESCO world heritage site, the main ski resort is called Civetta – the largest in the Veneto region and it's lorded over by the stunning Monte Civetta (3,220 meters). It's pronounced "chi-vay-tah."
A paradise of endless runs, powder barrels, groomed slopes and park. There's gondolas and T-bars, double and quadruple chairs, everything you could want in a field with the additional bonus of breathtaking views and THE BEST pine scent. 
Civetta is part of the Dolomiti SuperSki, the largest ski area in the world with more than 1250 km of always piste and 450 ski lifts accessible with a single ski pass. New Zealand, take notes.
There's just something about being out on the snow, in the heart of the mountains that is so very calming. And with 80 kms of trails and 22 lifts at Civetta, you can literally ski (or in my case, snowboard) all day and only see a handful of people at time.
I spent four days boarding here, and I could have easily done more. My hamstrings on the other hand, definitely couldn't. 
Damn, I'm unfit. Once day my legs were so tired I had to stop early because I could no longer bend my knees. Oh the shame!
Dotted all over the mountain on and off piste on the Civetta you'll see many a cute and charming wooden cabins.
These are called "baita" in Italian and are very local, privately owned rustic chalets or huts. Originally they were very rustic, I imagine used by shepherds though nowadays they are turned into second homes and holiday homes. From what I understand you can't even really just buy them.
In Italy, things stay in the family.
Once a winter season they all open their doors on the same day and people can visit inside them. As a professional house-snooper, I'm all over that.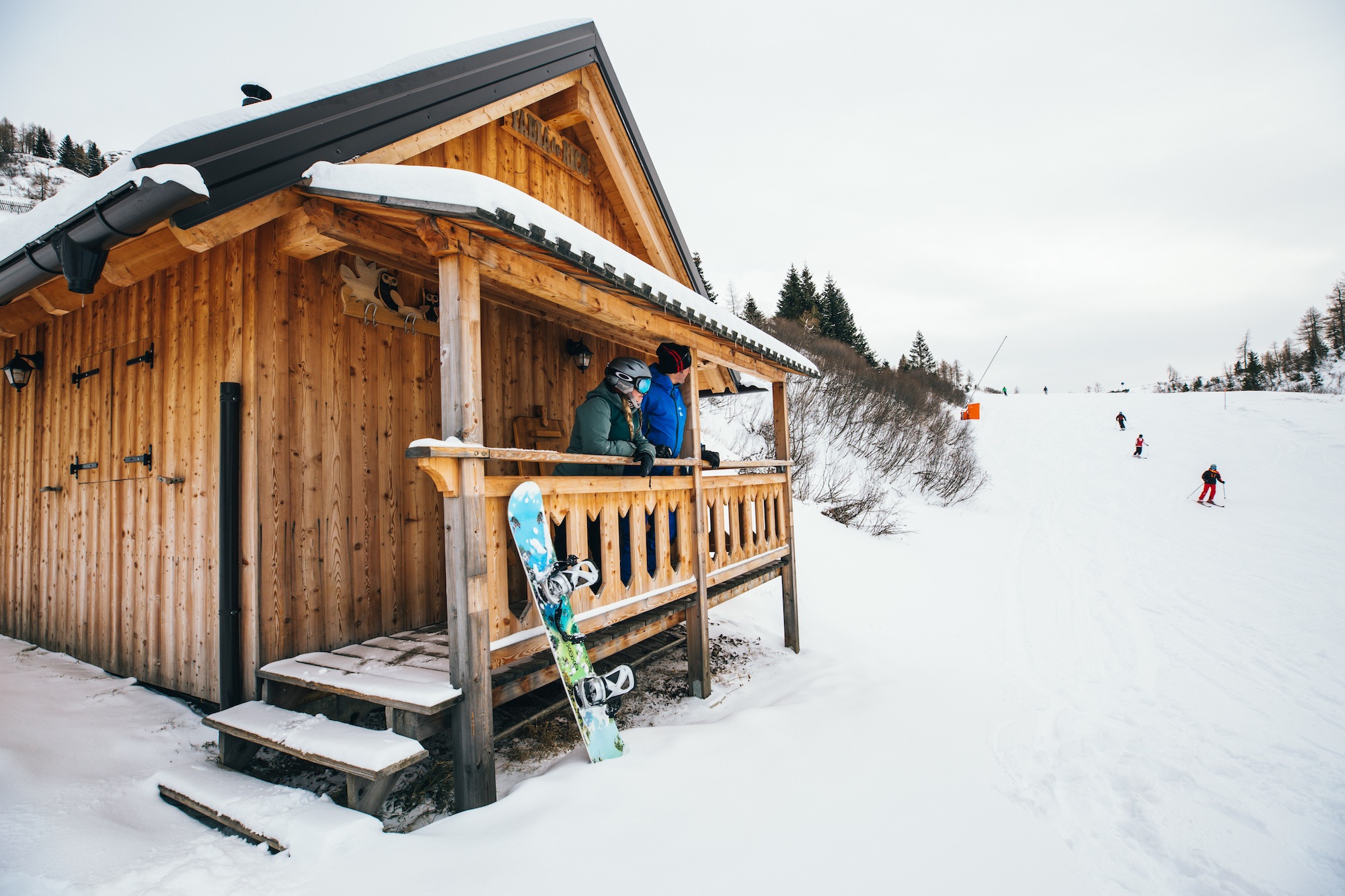 Oh, but the best part of skiing the Civetta in winter is when you get to defrost by fire afterwards in one of the many charming log-cabin-slash-restaurants dotted around the mountains.  With a large mug of mulled wine, of course.
And being in Italy, this means you are in for a real treat when it comes to lunch on the mountains or aprés-ski.
First things first, it's acceptable to drink grappa any time of day, and all of these chalets will have homemade grappa of varying levels of flavors and strength on tap.
The food in the Dolomites can only be described as "mountain hardy food" so like traditional Austrian meets Italian. Lots of meat, and game meat like venison, gnocchi, polenta of course, and pasta pasta pasta. My favorite dish on the menu was spinach spaetzle, a rustic handmade noodle from the area. So satisfying when you're cold.
But if skiing isn't your thing, no worries, there is so much else to do in Alleghe in winter.
You can hike and walk around and explore too. So you're still getting all the snow and the mountain feels, just on foot. There a literally hundreds of trails to explore, ranging from easy to pack-an-ice-pick-and-crampons hard.
Be sure to check before you go, as not all are open at this time of year. It's really well managed and labeled and organized.
Definitely go at least for a walk around the lake, it's stunning! It's something all the locals do to and where they go to walk their dogs.
Skiing and walking don't do it for you? Why not climb a frozen waterfall! Another point for winter. I mean where else can you do that? I can't tell you how awesome it was, because on this trip the fire-and-wine-and-book combo won the day, but it looked awesome. Really.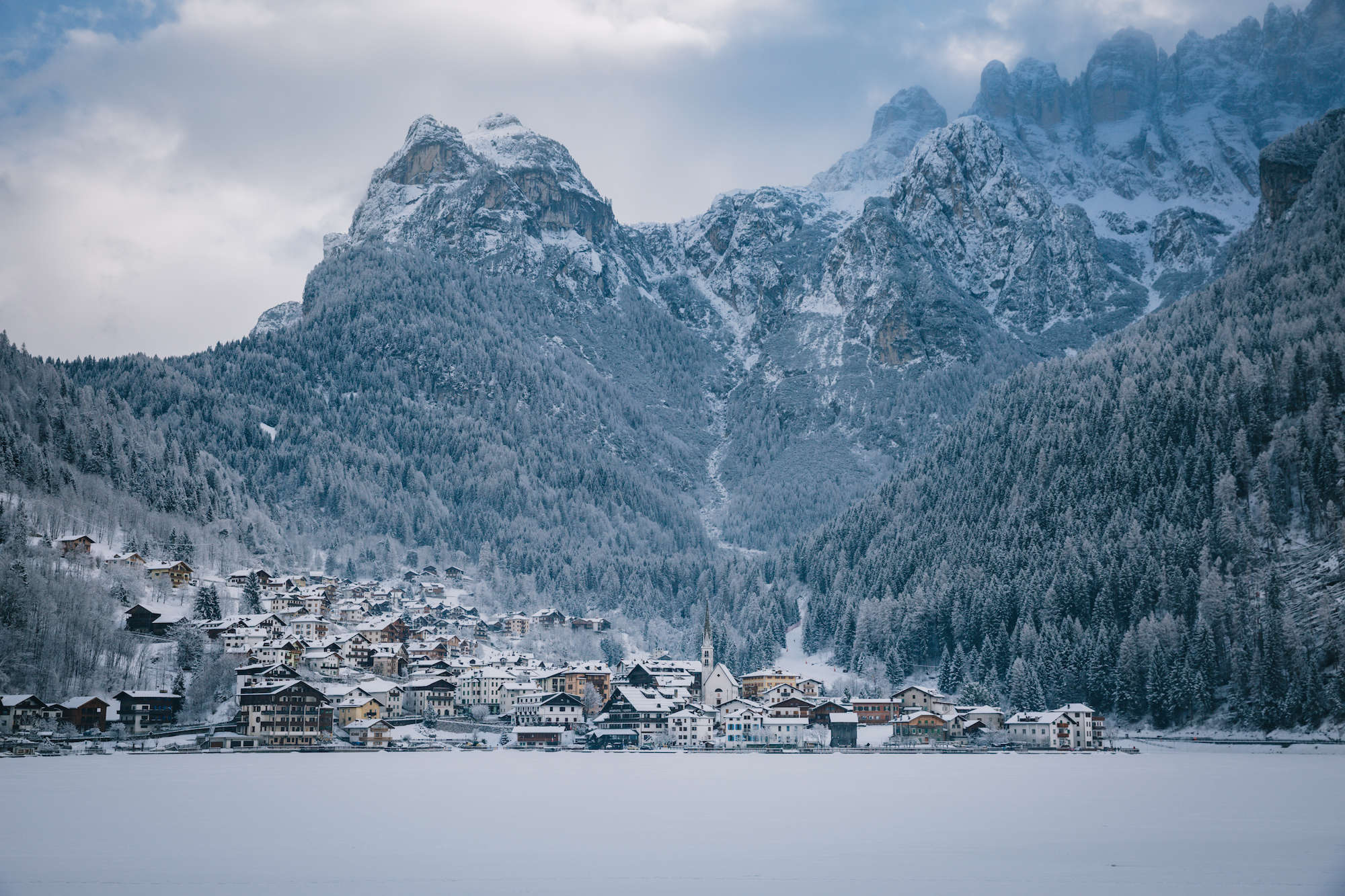 Another excellent way to get a shot of adrenaline is night snowmobiling.
I actually did this one, and it was amazing! Equal parts thrilling and terrifying. Also, it was freezing and I'm not sure my toes have recovered.
It was so cool zooming around the piste at night and how fast you get to go. Max who runs the snowmobile training school in Alleghe is the Italian champion so you're in safe hands.
I also spent a bit of time wandering the main streets around Alleghe, especially first thing in the morning when the snow was fresh and no one had woken up yet.
There are quaint artisan shops galore and you can lose track of several hours easily. Local handmade products are abundant, and it's been a long time since I've visited anywhere that felt so grassroots and real. Honestly, it felt like I stepped a bit back in time to the 70's, or maybe a Wes Anderson film. Most of the tourists in Alleghe are Italians so it feels really real.
 If you're after unique and authentic travel experience Alleghe in winter is for you.
Have you been to the Dolomites? In winter? Is Alleghe in winter a place you could see yourself hanging out in? Spill!
Many thanks to the Heart of the Dolomites for hosting me in Italy – like always I'm keeping it real – all opinions are my own, like you could expect less from me!