It's that time of year again guys.
The leaves have turned golden, the wind has died down and the temperatures are quickly falling which means only one thing: winter is coming in New Zealand. Confusing, perhaps, if you live up in the northern hemisphere, but you get used to it. Winter here runs from around June through August.
While summer is by far Wanaka's busiest season with our small humble town hosting thousands of visitors each week, I'm the first to say that Wanaka is so much more than warm days and dips in the lake.
It's pretty awesome all year round, and I'd argue that it's even more beautiful in the winter, especially with all the colors and snow on the mountaintops.
For those who live here year-round, we know that part of what makes this area so special is the magic that comes with a fresh blanket of snow on our already impressive mountaintops come wintertime.
The energy in the town starts to pick in May as seasonal winter workers begin to arrive to take up their posts at the ski resorts and the lull of the shoulder season starts to ebb by June, when fingers crossed, we have a very nice level of snow in the mountains. At the end of June winter truly arrives with Real Journey's Winterfest kicks off, getting everyone stoked for snow and cold nights around town.
With a different but equally awesome vibe in the colder months, if you're looking for a holiday to a beautiful place where temperatures don't matter, come visit me in Wanaka!
Here are five reasons you should visit Wanaka, New Zealand this winter.
1. Come shred some piste at Cardrona
It's no secret that Cardrona is by far my favorite ski field in all of New Zealand, and my local mountain where I've held a season pass for the past couple of years.
It has been a long time favorite spot for locals as it continues to gain popularity worldwide, the ski field has responded by expanding its terrain to become New Zealand's largest ski field yet. No long lines, no crowded runs. Just you and over 900ha of new terrain to explore and unlike neighboring ski fields, Cardrona has something for everyone from complete newbie to dedicated park rat to world class skiers.
Since I only learned to snowboard a couple of years ago in New Zealand, Cardrona has been instrumental in helping build both my experience and confidence. A friendly mountain, I head up all the time in the winter, even getting good enough last season to go heli-skiing with Southern Lakes Heliski in Wanaka.
Especially in June during Real Journey's Winterfest there are heaps of fun activities up the hill at Cardrona too.
But terrain aside, Cardrona in the winter is amazing for one other extremely crucial detail: it's an easy way to get high above the dreaded Wanaka inversion layer.
Each year as the ground cools off during its transition to winter, a thick blanket of low lying cloud covers Wanaka. Sometimes it lasts only a few days but sometimes it can last weeks, depriving the town of some much-needed vitamin D.
While many people assume the cloud is impenetrable, locals know the truth. All you need to do is simply get a few hundred meters up which will land you above the cloud and directly in the sunlight.
The easiest way to do this? Drive up the Cardrona ski field! You'll be basking in the sun and laughing at all the poor suckers in town stuck in the cloud.
2. It's the perfect time to indulge in hearty winter food
Winter is the perfect time to nestle into your cozy clothes and indulge in some good old fashion comfort food.
Menus at the local cafes subtly change from salads and summery foods to hearty soups and decadent meat pies and decadent roasts.
Winter is the perfect time to try New Zealand's famed lamb shank with mint sauce, roasted kumara, pumpkin soup, or venison bangers and mash.
My personal favorite is the seasonal seafood chowder, a rich and creamy soup stuffed with fresh seafood and served with a side of buttery crusty bread. Pair with a regional Pinot Noir or a local craft beer and your aprés ski just got infinitely better.
Book into Francesca's (polenta fries!) and Kika or take away from Big Fig.
3. Marvel at the still, perfect weather and glassy lake
If you've visited Wanaka in the spring or summer, you like noticed one thing about the weather: the often incessant wind that howls down the mountains and through the town center, often picking up in the afternoon.
It's something that you learn to get used to, something that is rationalized away in lieu of the beautiful mountains and warm sun.
When the summer gives way to autumn, the wind slowly dies down until winter hits and there's practically no wind at all. While you might not believe me, come mid-winter the weather is often blue skies and zero wind.
The air sits completely still and the lakes turn glassy giving perfect mirror reflections of the surrounding mountains.
Soaking in the winter sun will warm you right up, even if the actual air temperature is low and for those who can bear the cold water, winter is the perfect time to get out the kayaks or paddle boards and enjoy the eerily calm waters.
Trust me, it's stunning.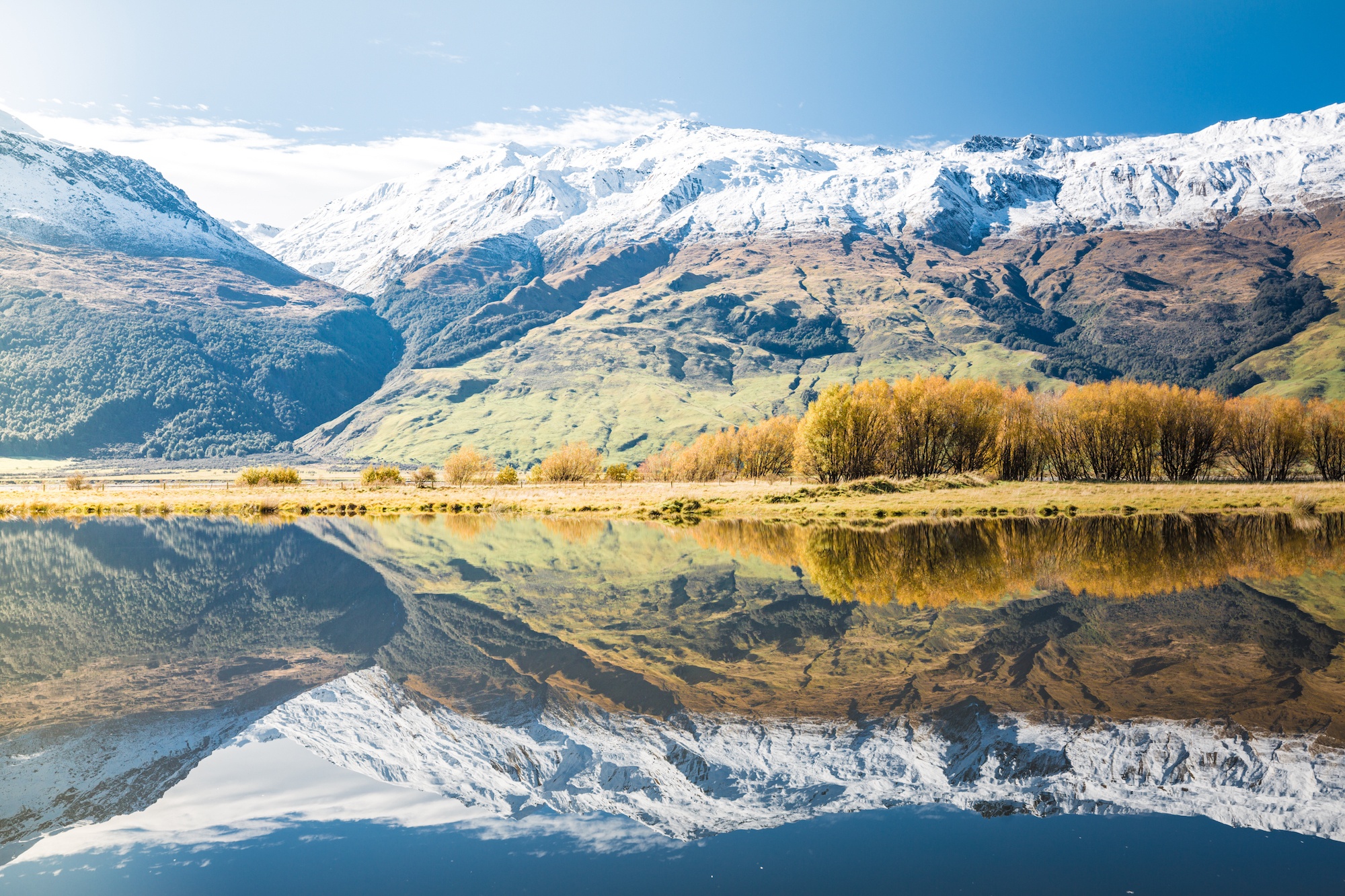 4. Après ski, baby!
Let's be honest, 90% of the reason I ski is so I can enjoy the après ski.
Nothing like a long day on the mountain followed by wedges and beer at the local pub. Wanaka has a great après ski scene with most pubs offering happy hour after the ski fields close and if you're looking for a local beverage, you're in luck.
With dozens of craft breweries in Wanaka along, a local brew is never out of reach. Grab a beer at Kai and sit outside under the heatlamps discussing your tricks and turns in the park during the day or warm yourself by the fire at the iconic Cardrona pub on your way home from the mountain.
If wine is more your thing, we've got you covered there too. Local area wines are easy to find at all Wanaka pubs, and we've got a "new" wine bar right in the middle of town.
Most importantly, après ski snacks. Wedges with sour cream and sweet chili sauce, string fries with aioli, or cajun fries are all frequent menus items you must put on your list. Fried things are fine in winter, the carbs don't count.
As a bonus, most of the bars in Wanaka overlook the picture-perfect lakefront so you can enjoy your brew with one of the best views in the country as the sun sets behind the famous Roy's Peak.
5. Get inspired at the New Zealand Mountain Film Festival
Contrary to what you're probably thinking, snowsports and good beer isn't all we have to offer our winter visitors. We have culture too, dammit!
Okay, okay it's still heavily focused mountain living culture but it still counts.
Wanaka is home to the annual New Zealand Mountain Film and Book Festival that kicks off every year in July bringing huge crowds showing up for the nerve-wracking films and inspiring speakers. We crave adventure here.
It's a very locally supported event, and if you're thinking of coming to New Zealand in winter and want a taste for what Wanaka is all about, try to come to some of the events. I've even been a speaker a few times running workshops on how to build a successful blog to fund your adventures.
Our humble little mountain town can attract some of the biggest names in the industry. We've previously hosted Alex Honnald, Conrad Anker and Leo Holding. This year is no different with world-renowned climber Lynn Hill as the prominent guest speaker.
This year the festival is from June 28th to July 6th, and festival passes and tickets are on sale soon.
The festival lasts for an entire week and has everything from local artists displays to book talks to workshops and of course, adventurous independent films. You can spend all day at the festival or catch the main events during the evenings after a day on the mountain.
Are you a fan of winter? Would you be keen to check out Wanaka in the winter months? Spill!