Nowhere else in New Zealand tugs at my heartstrings quite like Central Otago, where I've called home the past six years. And when I think of where to eat in Central Otago, it's hard to pick a favorite.
A place of big skies, unchanged pubs, and demeanors reminiscent of a bygone age, "Central" as we call it is uniquely kiwi as it can be. You can just tell by the soft herbal scents in the air exactly where you are. The vibrant seasons and rugged landscape is wild and untamed, and it's a place that evokes serious nostalgia amongst travelers like me.
There's nowhere else quite like Central Otago.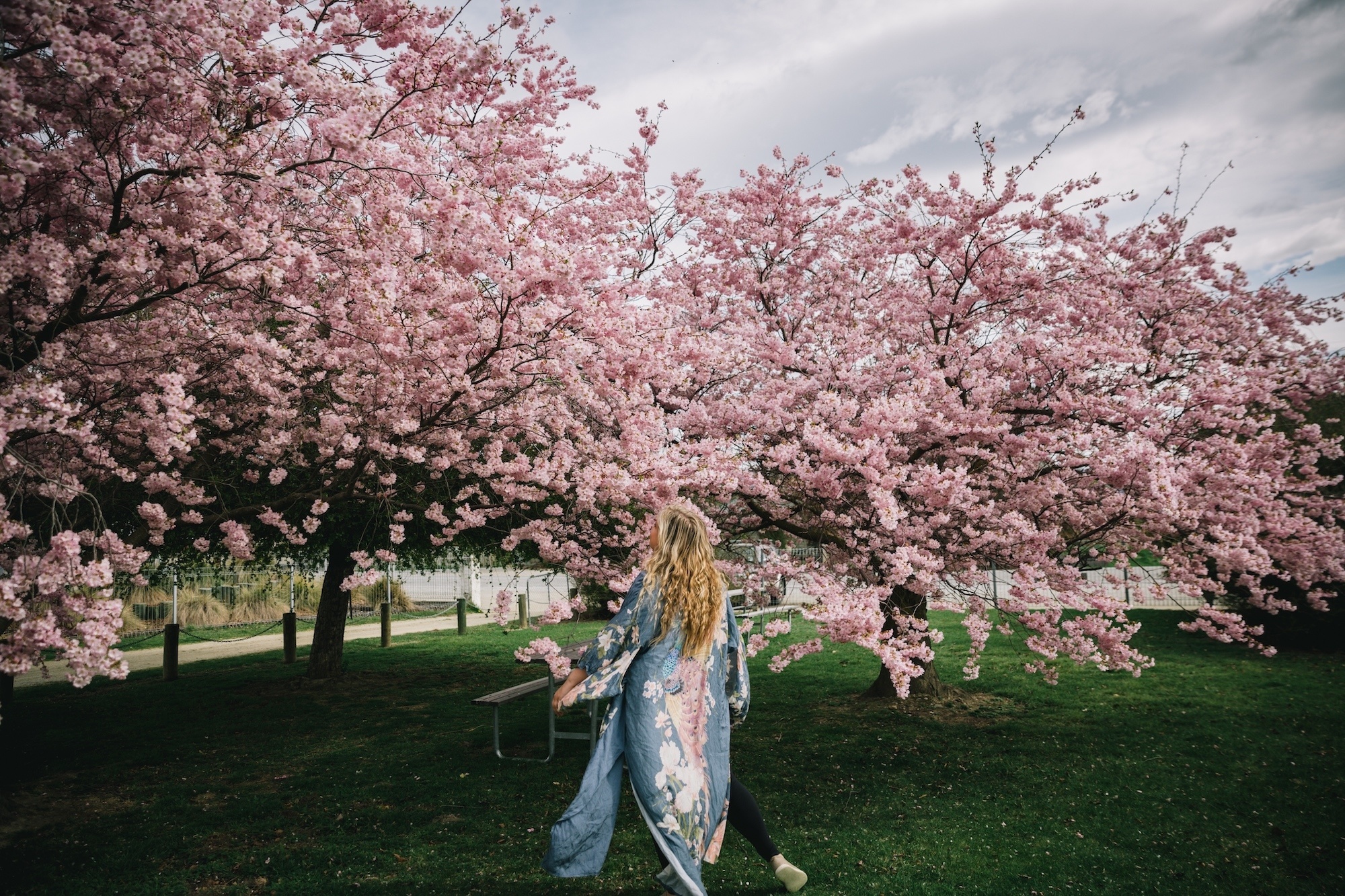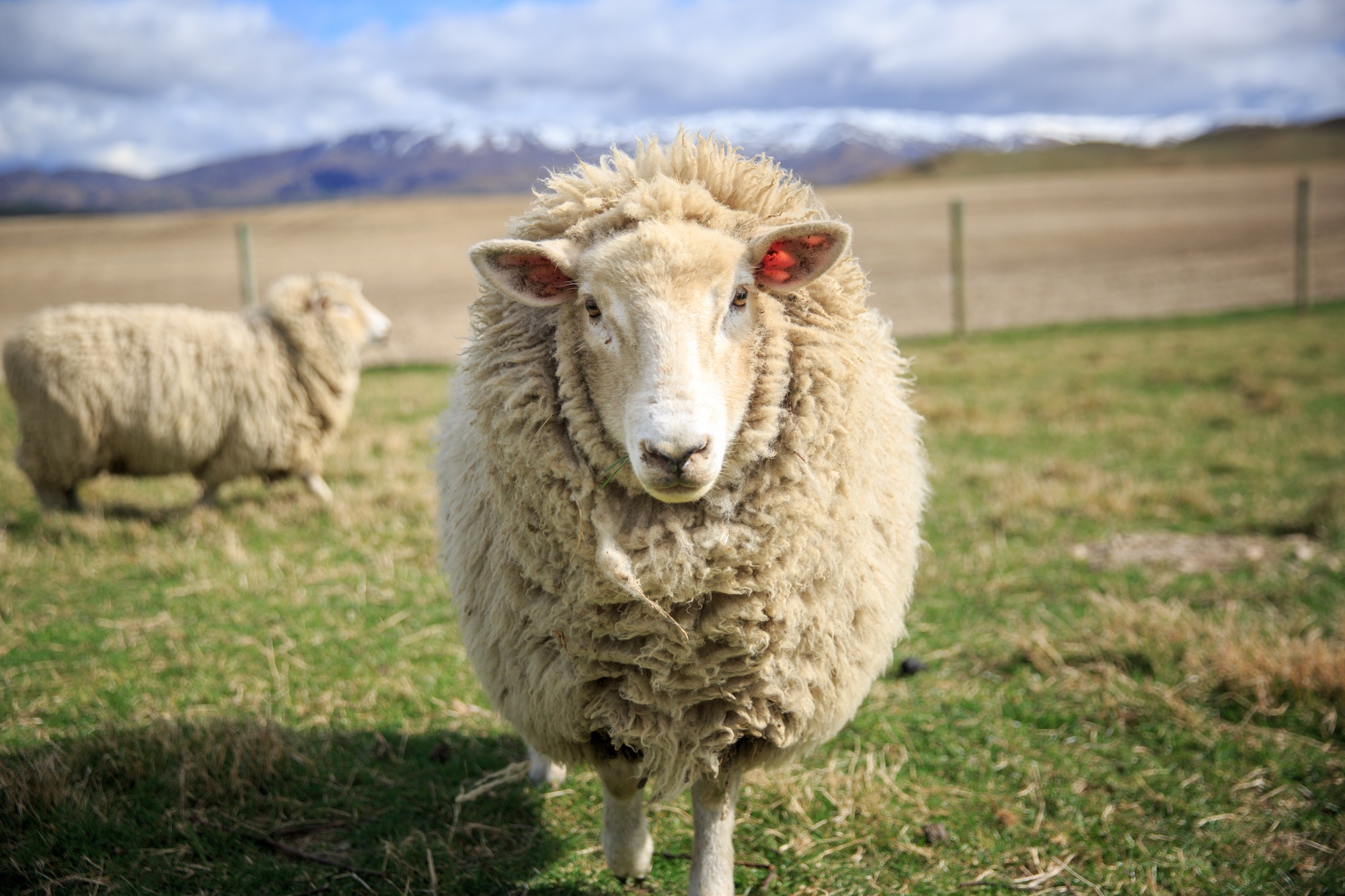 Hidden away on the bottom half of New Zealand's South Island, Central Otago is sprawling and empty, a land of high country sheep farms and rolling tree-free mountains straight from a painting. Here the skies are significant, and the rivers are bright blue, a place of deep gorges and tussock, and hills covered in wild thyme.
The mountains are rocky and feel vaguely lunar, and with a rich history of a 19th-century gold rush, Central Otago is memorable and a bit weird. With harsh cold winters and scorching hot, dry summers, the climate here is unique in New Zealand.
On top of that, it's New Zealand's premier Pinot Noir country, dotted with mum and pop vineyards and exceptional wineries, with fabulous eateries to boot.
A place that births impressive produce, from cherries in the peak of summer to the most delightful honey and incredible meats like lamb and venison, the food scene in Central is blossoming fast.
For the past couple of years, Central comes alive every spring (September – October) with their own celebratory food festival, where restaurants, pubs, wineries, and venues put together festival dishes over a month that showcase the flavors of Central Otago. It's the perfect time to explore Central Otago – but remember to come hungry!
After dining in and around here for years, I've decided to cobble together a list of recommendations on where to eat in Central Otago – enjoy!
Cromwell and Bannockburn
Cromwell is by far the biggest town in rural Central Otago (discounting places like Wanaka, Queenstown, and Dunedin, of course), and it's an excellent base for exploring the area with heaps on offer. The place where the Clutha and Kawarau Rivers meet, Cromwell has been a hub since 1862 when gold was first discovered here.
The lakefront and historic precinct in Cromwell is one of my favorite haunts, and of course, I always stop through here for fresh stonefruit come summertime when I am visiting vineyards in the area.
Ten minutes up the road from Cromwell, you'll find the adorable wee township of Bannockburn, another critical gold mining area and home to some of my favorite foodie spots and walks.
Mt. Difficulty
Without a doubt, one of my favorite places to have a long lunch in the sunshine in Bannockburn is at Mt. Difficulty winery restaurant.
A solid, delicious choice, it hasn't let me down yet. Tucked away on the prestigious Felton Road, the Mt. Diff menu changes regularly, and their Pinot always makes me smile. My mom loved it here.
Book in for sure.
Carrick Winery
Carrick is another winery in Bannockburn that also serves up a classic Central Otago lunch and is another go-to spot for me, especially when I'm bringing friends out for a visit.
The views at Carrick over Bannockburn are some of my favorites, especially in the autumn.
Armando's Kitchen
Tucked away in the historic precinct of Cromwell, Armando's Kitchen is a bit of an institution, overlooking Lake Dunstan.
I come for their cinnamon scrolls, which are so good.
Cloudy Bay Shed
Cloudy Bay is an iconic New Zealand wine label from the famous Marlborough region at the top of the South Island, and I always call in when I'm in the area to pick up a bottle or three of their Chardonnay.
I was so excited to see they opened a beautiful tasting room in Northburn just outside Cromwell in the most picturesque of settings. Since they also grow grapes in Central, it's pretty exciting to get a taste of Cloudy Bay closer to home.
And their platters are to die for, and they're usually is a puppy or two around to play in the sunshine.
Alexandra and Clyde
Alexandra is Central Otago's busy business town, and it is the heartbeat of the region. In many ways, Alex is more classically "kiwi" than Cromwell, which is closer to Queenstown and experiences a significant tourism spillover.
I love Alex, and it's right in the middle of some of my favorite landscapes along the Clutha River. Just up the road is the preserved gold mining town of Clyde, a place I love to spend time.
There is no shortage of small wineries and delicious eateries to chose from around Alexandra and Clyde, and I'll let you know where to eat in Central Otago.
Oliver's
If I had to pick a favorite place to dine in Central Otago, it would probably be Oliver's in Clyde, a Central institution.
Beautifully restored historical accommodation, it's also home to a restaurant that will knock your socks off (book in advance) with the most classic of Central flavors, you can feel the heart and soul that went into bringing the original gold mining general store back to life.
On-site, they also have the Victoria Store Brewery and The Merchant of Clyde, which is a cafe and deli with the most fantastic collection of antique maps and cozy corners to read in.
Paulina's
While Oliver's is very much the king of Central Otago in terms of local cuisine and flavors, just across the road, you'll find the very busy Paulina's (also book in advance), which brings the rustic farmhouse menus from her native southern Chile to life in New Zealand.
A place where South American flavors mingle with Central Otago tastes, it's a match made in heaven for foodies like me who yearn for dishes from our travels.
Courthouse Cafe
First things first on any road trip I take through Central Otago, I always stop at the Courthouse Cafe in Alexandra. No matter what. When I think of where to eat in Central Otago, this cafe immediately springs to mind
Feminine and borderline kitschy, the Courthouse Cafe in Alex, is not surprisingly inside the renovated old courthouse, complete with pew-like benches.
Their food is creative and AMAZING, and they have the most fantastic cabinet food in New Zealand. And they also usually sell fresh flowers. I love it here.
Shakey Bridge Bistro
A walk across the famous Shaky Bridge in Alexandra (Kerry Street) will bring you to the beautiful outskirts of the town with some pretty special views. Now a footbridge, it's best experienced in autumn when golden poplars surround the river.
On the other side, you'll find a little bistro / cafe / bar that is sometimes open, sometimes not, but if you're lucky and it is open, it's a fantastic spot to while away the hours in the Central sunshine.
You can also drive there, but the directions are a bit confusing in Google Maps.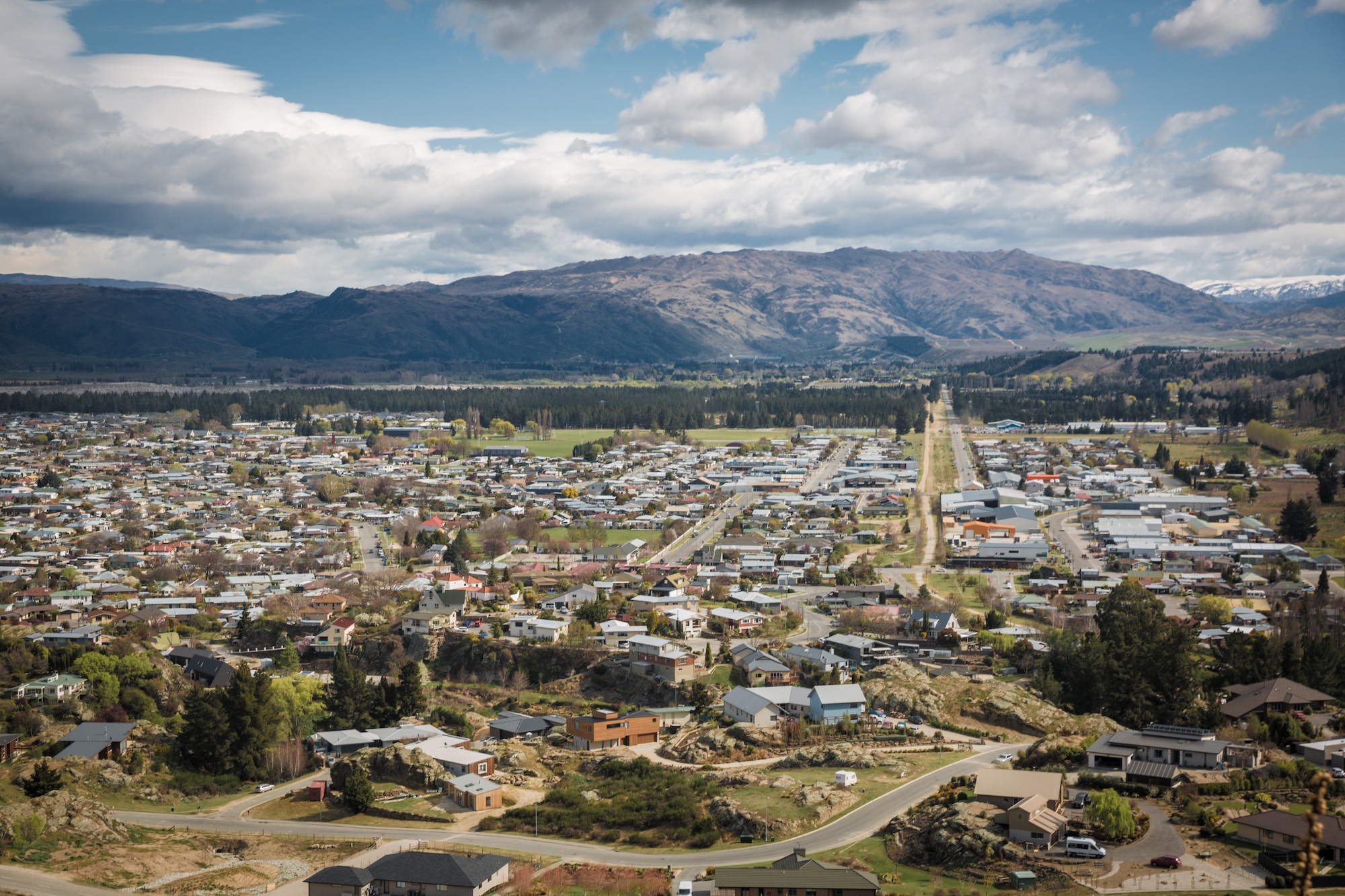 Ranfurly and the Maniototo
As you pass through Alex and head inland towards Dunedin on the classic Pigroot (don't ask me where that name comes from), you'll visit some of my favorite spots. If you're wondering where to eat in Central Otago in this part, read on.
Overlooked by most visitors except those cycling the famous Central Otago Rail Trail, Ranfurly and the Maniototo are stunning pastoral plains with the big wide-open skies you might expect from the American midwest.
Here you'll find ghost towns, abandoned cemeteries and classic pubs that haven't changed much. Great views, no people, and beautiful food, deep in the heart of Central, is worth exploring if you have the time.
This part of Central is home to many country pub hotels, which are pretty self-explanatory. Back in the day, it was so remote that the pubs were also hotels, a tradition that's carried on here.

Pitches Store
My first foray into the amazing dining in rural Central was at Pitches Store in Ophir (pronounced "oh- fur") back when I have a girl's getaway to Lombardy Cottage – which since has sold.
Hidden away in the tiny historic gold mining town of Ophir, Pitches has been lovingly restored into a beautiful B&B and restaurant/cafe.
A beautiful setting with an exquisite menu, Pitches is worth traveling out of your way to visit.
Blacks Hotel
My other favorite spot in Ophir is Blacks Hotel, a total gem!
Built-in the '30s in an art deco style (standing out in a place with gold rush heritage sites), Blacks will charm the pants off you. Full of love and character, leave your shoes outside and park up and stay awhile.
With a real home away from home vibe, this pub slash country hotel is super charming.
Maniototo Cafe
Ranfurly is small, no doubt about it, and if you blink, you might miss it.
Don't blink, and be sure to call into the local Maniototo Cafe for a perfect flat white and something yummy to fill you up.
I could get a turmeric latte here well before I could find one in Wanaka, which is saying something (not that you could pay me to drink turmeric), and I've always made a point to call in here on a road trip. Ranfurly is close to some pretty amazing historic towns and sites around Central, and it's a great hub for exploring.
Waipiata Pub
It's hard to pick a favorite country pub in New Zealand. If I had to, it would probably be the Waipiata Pub in Central Otago.
Built-in 1898 in mudbrick, the Waipiata pub is about as classic kiwi as you can get.
Quirky and full of character, nothing beats having a cold beer after a day exploring in the hot Central sun here.
I love Central Otago. It's a place I've called home for a long time, and it's worth exploring more. A quieter part of New Zealand, it's home to some world-class wineries and memorable spots to dine.
The question isn't where to eat in Central Otago, rather how much?
What have I missed? Have you explored this part of New Zealand? Have any Central Otago foodie spots to add to the list? Share in the comments!
Many thanks to Tourism Central Otago for hosting me – like always, I'm keeping it real – all opinions are my own like you could expect less from me!