In August 2013 ago I took the plunge and hopped on a one-way flight to New Zealand. Six years later, residency and a newfound love for this pacific island nation, and I haven't looked back since.
I've spent a lot of time in those six years exploring the two islands that make up this magical part of the world and have gotten to know it pretty well. From climbing big mountains to road tripping through old farm country to eating at my favorite spots and getting lost all along the way, I've been lucky enough to discover some fantastic corners of New Zealand.
It's a place I never tire of traveling around, and I love returning to old haunts again and again, especially on the South Island where I call home.
If you're looking to visit New Zealand for yourself (which you definitely should), be sure to give yourself plenty of time to get around.
And don't miss the South Island in all its epic glory. A wild land of ice mountains, turquoise lakes, and gnarly haunted forests home to exotic birds and a few locals too, the South Island is a place that will blow you away.
With a much smaller population than the North Island, and with much more dramatic scenery, the South Island beckons those looking to get off the grid in a place that seems somewhat otherworldly.
Here are my best tips after years of spots that are must-visits on the South Island. Enjoy!
1. Go hiking in Mt. Aspiring National Park near Wanaka
Wanaka is number one for me because it's where I call home, and I'm unashamedly biased.
A beautiful little mountain town on the edge of a stunning blue lake an hour from the adventure capital herself, Queenstown, Wanaka was New Zealand's best-kept secret until the lid got blown off. If you play your cards right, you might never leave.
The gateway to Mt. Aspiring National Park, home to some legendary hikes
2. Get extreme in Queenstown
You can't come to the South Island and not check out Queenstown, the adventure capital of Aotearoa.
The birthplace of bungee jumping, there is no shortage of high places to throw yourself off of in the name of adventure. Unabashedly touristy, Queenstown earns its accolades with epic views, big mountains, blue lakes, and experiences everywhere.
I recommend the Shotover Canyon Swing for a pants-shittingly scary but fun experience, though less scary than a bungy (in my honest opinion) or a stunning zip-trek adventure overlooking the lake with Zip-Trek Eco Tours.
3. Go look for penguins in the Catlins
The Catlins is a remote corner of the South Island of New Zealand, along the southeastern coastline, and it's long been the seaside getaway of us Wanaka locals.
Sleepy holiday homes are scattered about the wild beaches, and the wind is often so strong here that the trees grow sideways!
But perhaps what I love the most about the Catlins is that it's home to some of my favorite rare birds – the yellow-eyed penguins. You can safely watch them come ashore at sunset in Curio Bay, one of my favorite getaway spots.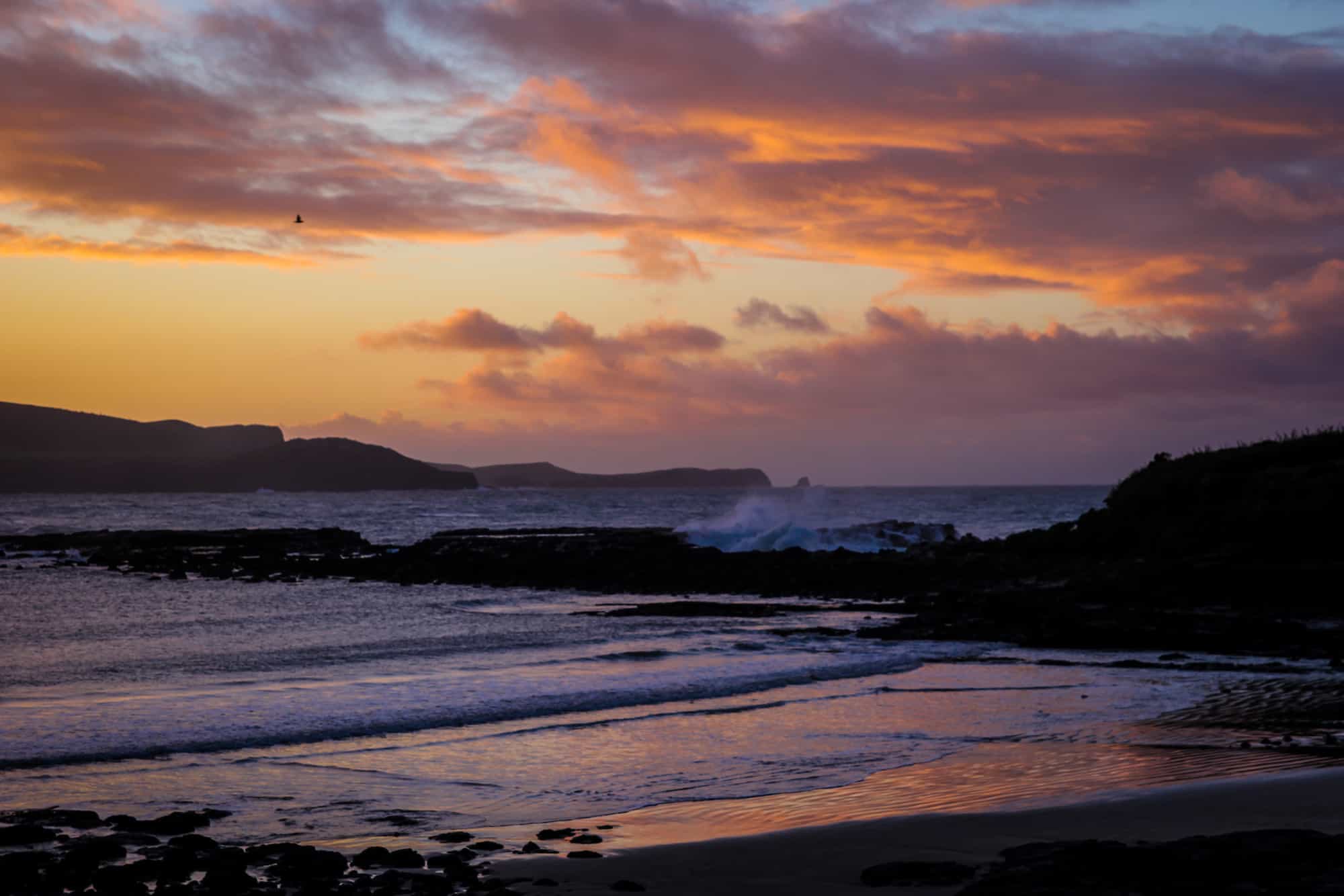 4. Go offline in Milford Sound
Milford Sound is often lauded as one of the many wonders of the world, and you don't have to spend long there to understand that appeal.
Perhaps one of the remotest corners of New Zealand, Fiordland is home to some of the most epic scenery and a place none regret visiting.
If you have the time, my advice would be to pack up the car and spend a couple of days down in Milford Sound, go kayaking, on a boat cruise and take in some of the many hikes and walks along the famous Milford Road.
5. Wake up in solitude in Doubtful sound
While Milford Sound is the gem of Fiordland, Doubtful is probably my favorite spot. Peaceful and quiet, it's a bit harder to get to and more overlooked than the shinier Milford.
Which is precisely why I love it!
Without a doubt, one of the absolute must-dos while exploring New Zealand is an overnight boat cruise in Doubtful Sound with RealNZ. Book in quick; they sell out fast. It's worth every penny.
6. Dig the Jurassic Park vibes in Punakaiki and the Paparoa National Park
The west coast of the South Island is one of my favorite places in all of New Zealand, and I don't say that lightly. Six hundred kilometers long and home to few, it's nothing short of wild, wet, and rugged. I love the isolation here.
On the west coast, you'll find big mountains that drop down to temperate rainforests and thundering beaches, with Jurassic Park vibes galore.
Call in for a stop at the famous Punakaiki Pancake Rocks further north and book in to do New Zealand's newest Great Walk, the Paparoa Track.

7. Explore where the mountains meet the sea in Kaikoura
Kaikoura has long been a beloved spot of New Zealand and has recovered significantly since it was shaken about by a big earthquake in 2016, changing the entire coastline.
Here huge mountains drop down to the sea, and then with a deep-sea trench right off the coastline, makes Kaikoura a perfect place to experience incredible marine life.
From whale watching to swimming with dolphins (responsibly of course) to looking for albatross and visiting fur seal colonies, Kaikoura is a pretty fantastic spot worth dropping in on any trip around the South Island.
8. Sip all the Pinot Noir wine around Central Otago
Central Otago is a different region than what you might expect on the South Island, home to vast undulating landscapes, rugged snow-capped mountains, clear blue rivers, and tussock-clad hills, not to mention world-class Pinot Noir – come to me!
Dry and rugged, Central was once a booming gold-mining region in the 1800s only to dwindle to a quieter food-producing and wine-growing region today. With dry, hot summers and dry cold winters, it's perfect conditions for grape-growing and harvests.
I love exploring Central Otago in the autumn (mid-late April to early May) and also in October when their annual food and wine celebration, Eat. Taste. Central is kicking!
9. Dip your toes into the Blue Pools on the Haast Pass, if you dare
New Zealand has no shortage of crystal bright blue water thanks to the glaciers that feed the mountain rivers and lakes – for now.
But if one spot tops the rest, it has to be the infamous Blue Pools on the Haast Pass in between Wanaka and the West Coast.
So bright and blue you can see straight to the bottom of the river, on a hot summer's day it certainly looks inviting – but remember that it comes straight off a glacier, and you can tell. Not to mention the minute you strip down and show some skin, you'll likely be eaten alive by sandflies.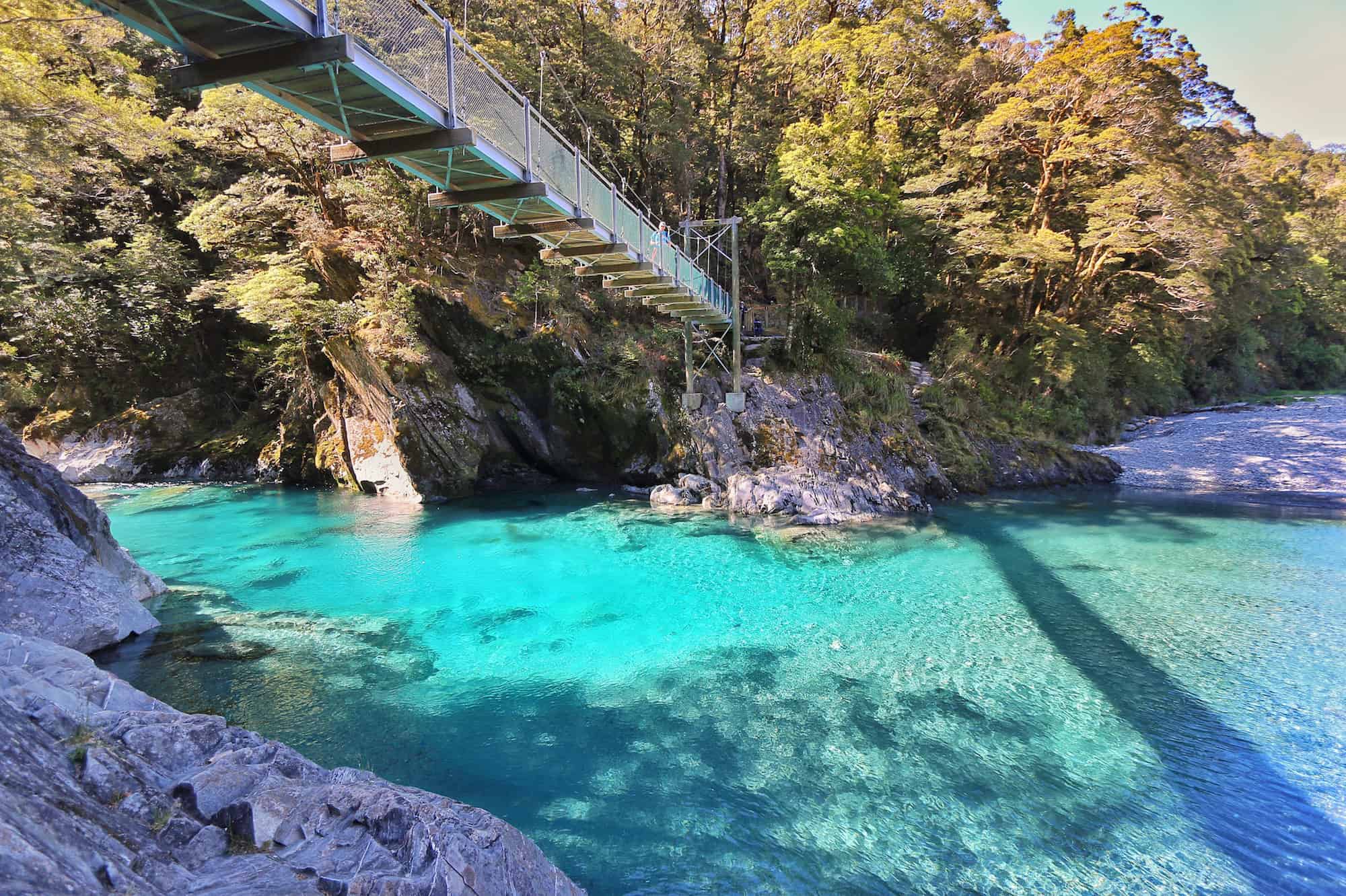 10. Hunt for street art in Dunedin
Dunedin claims the title for one of my favorite cities in New Zealand, hidden away on the bottom of the South Island. A comfortable place to escape to, I love being by the sea, and the grungy, but bespoke scene speaks to my soul.
I'm always on the lookout for the fantastic street art decorating the walls of the city, and it's a great way to get to know Dunedin.
Every time I visit Dunedin, something new has popped up, and I think I fall in love with it even more. It's an excellent base for exploring the wildlife of the Otago Peninsula.
11. Go for a helicopter ride and hike on Fox glacier
My all-time favorite activity is to do a heli-hike on Fox Glacier, one of New Zealand's great wonders.
One of the only glaciers in the world that winds its way down from the mountains, like a river of ice into a temperate rainforest, Fox Glacier is one of New Zealand's great gems.
The township of Fox itself is also pretty unique, with plenty of walks and beaches nearby, it's a place I always enjoy visiting.

12. Watch the sunset along the Moeraki Boulders
The Moeraki Boulders are one of New Zealand's geological marvels. These huge egg-shaped boulders dot the beach outside the sleepy seaside town of Moeraki on the east coast of the South Island.
To me, they instead look like dragon eggs, and their mystery is appealing.
Moeraki itself is small and quaint, and a favorite spot of mine to escape to, especially for a meal or two at Fleur's Place, one of the best restaurants in New Zealand.
13. Marvel at New Zealand's highest mountain, Aoraki/Mt. Cook
Experience the beauty of New Zealand's highest peak by heading on an inland road-trip to Mt. Cook village, deep in the heart of the South Island.
A behemoth of a mountain, Mt. Cook, while often shrouded in cloud, is stunning when he finally shows his face. The scenic drive along the neon blue lake Pukaki towards the town will take your breath away, especially on a windless day when the mountain can reflect in the waters.
From Mt. Cook itself, you can take in a variety of day walks, like to the Hooker Valley or a mightier tramp up to Mueller Hut. If you're after something extraordinary though, hop on a heli-hike or snowshoe up the Tasman Glacier – you won't regret it!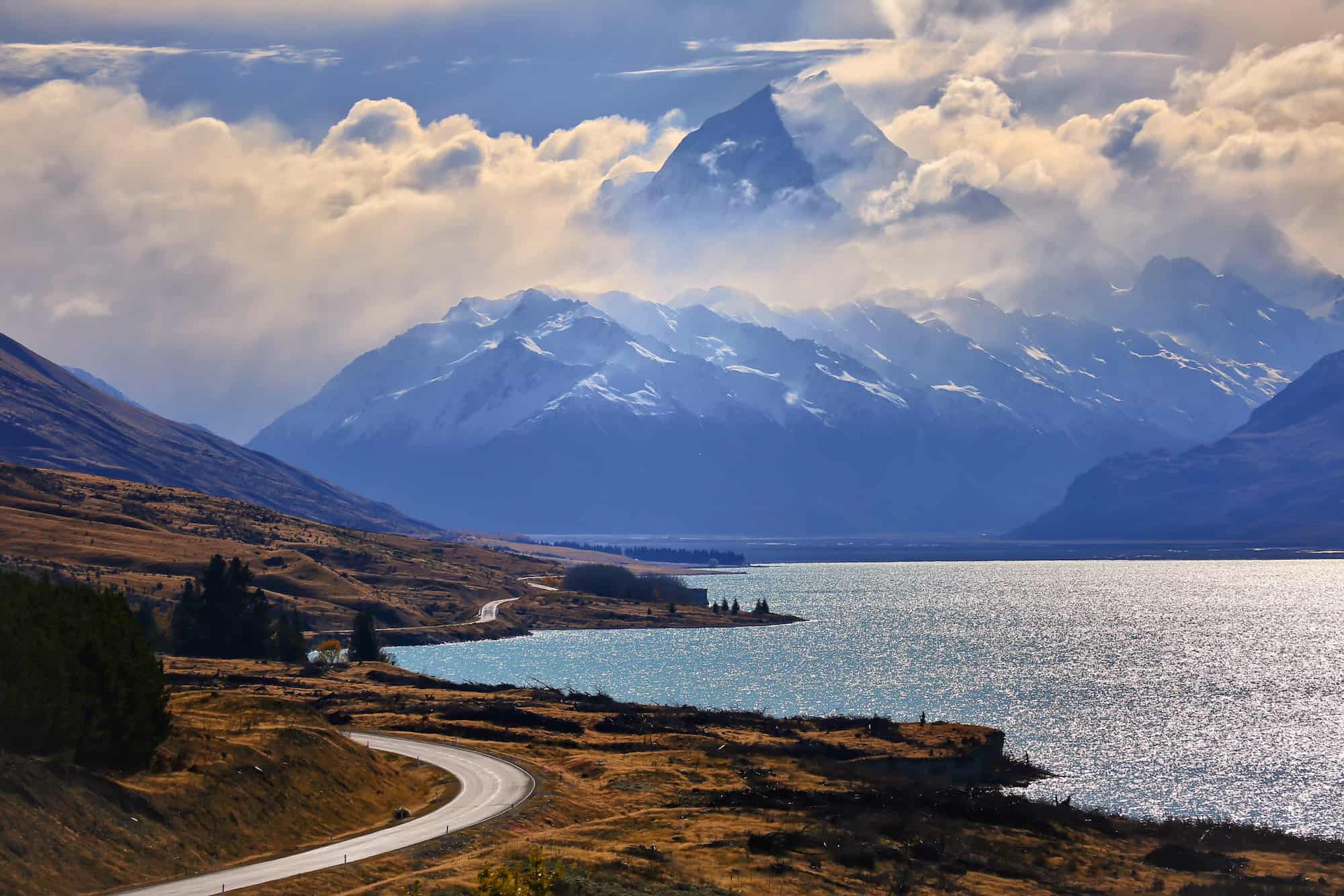 14. Kayak with the local dolphins in the Abel Tasman
You only have to drive an hour or two in New Zealand for the landscape to change dramatically, and none more so than the top of the South Island.
Before you know it, you'll arrive at the iconic Abel Tasman National Park, which looks like a tropical Southeast Asian paradise, home to sandy beaches, blue waters, and one of New Zealand's Great Walks.
The sheltered bays of the Abel Tasman are perfect for hiking and kayaking, with plenty of opportunities to see the seals and dolphins who regularly pop in to say hello. My good friend Kyle "Bare Kiwi" kayak guides there in summer (Abel Tasman Kayaks) and is a total legend!
15. Jet-boat up the braided rivers around Glenorchy
Less than an hour from Queenstown on one of the most beautiful drives in New Zealand, lies the sleepy adorable town of Glenorchy, and a gateway into the heart of the Southern Alps.
The starting point for many of New Zealand's great tramps as well as a significant character in the Lord of the Rings films, there are also plenty of adventure activities to choose from in Glenorchy.
My favorite would have to be the Wilderness Jet Boat ride up the Dart River. A crystal clear blue glacial river that's shallow and braided, the best way to get deep into the national park is by jetboat, a kiwi invention where a jet engine is strapped on the back of a boat that can power it through shallow mountain rivers.
Adventurous and fun, it's the perfect way to see some of the incredible nature here without hiking for days.

16. Road-trip around the Banks Peninsula
Just outside of Christchurch is a veritable paradise of beautiful bays, quiet beaches, and charming towns along the Banks Peninsula. Made for a road-trip, the drive out to Akaroa on the summit road is stunning, and it's a place that, while seems rather small on the map, actually holds heaps to explore.
A summer road trip around Akaroa is a New Zealand South Island must-do for sure!
17. Look for kea and waterfalls in Arthur's pass
Arthur's Pass is an alpine highway that connects Canterbury and the west coast of the South Island, one of the three mountain passes that traverse the mighty Southern Alps.
Climbing to more than 900 meters through Arthur's Pass National Park, it's one of New Zealand's most stunning stretches of road, with plenty of big hikes, waterfalls, and viewpoints worth stopping and exploring along the way.
You have a good chance of seeing kea, New Zealand's native alpine parrot along Arthur's Pass as well, and make sure to stop for a walk to the Devil's Punchbowl waterfall.

18. Visit iconic Arrowtown in autumn
Arrowtown takes the crown for the cutest village in New Zealand.
A charming historic gold-mining settlement tucked in between Wanaka and Queenstown, Arrowtown is an absolute must-visit on a trip to the area. My favorite time to visit is in autumn (our April/May) when all the colorful trees turn gold and orange.
19. Go stargazing in Tekapo
Tekapo has been a hot spot for tourists for as long as I have lived in New Zealand. While it can be packed come summertime, it's definitely a New Zealand South Island must do.
If you find yourself in Tekapo, don't skip out on a visit to the Mt John Observatory, where you will witness the clear and vast starlit skies of the world's largest Dark Sky Reserve.
Here is some of the best stargazing in the world, and with virtually no light pollution, you'll be blown away by the night skies here. If you're lucky, you might even see the southern lights twinkling on the horizon.

20. Soar around Lake Heron Station
One thing that makes the South Island so unique is its prevalence of high country sheep stations, beautiful farms that exist in what seems to be some of the most remote corners of New Zealand.
There is none so iconic as Lake Heron Station, a century-old family-run merino sheep station that spans across one of the most beautiful valleys I've ever seen. The geographical heart of the South Island, Lake Heron, is a stunning freshwater lake that sits at the end of lovely braided rivers dropping down from the Southern Alps.
You can stay out on the farm with the Todhunters in one of their cottages or huts and explore the area, which you will have all to yourself, though the best experience is to join them for a scenic flight around their land and the mountains. Prepare to have your mind blown!
The South Island is magnificent, and it's home to so many of New Zealand's greatest wonders.
From thundering waterfalls to iconic mountain peaks, from friendly locals and historic ghost towns to a quirky art scene, it's hard to pick a favorite spot.
What did I miss? Have you been to New Zealand? What are your must-visit spots on the South Island? Spill in the comments!