"Ronda is the place where to go, if you are planning to travel to Spain for a honeymoon or for being with a girlfriend. The whole city and its surroundings are a romantic set.… Nice promenades, good wine, excellent food, nothing to do…" Ernest Hemingway
Well, although I was not on a romantic getaway, on my honeymoon or even with a girlfriend, I decided to take on Ronda! So after the air traffic control catastrophe in the beginning of December, by the time the following weekend rolled around, I just needed to get out of Córdoba! So I bought a last minute train ticket to Ronda, a small town a few hours south. I have heard great things about Ronda over the years, and it's supposed to be famously beautiful. The American writers Ernest Hemingway and Orson Welles spent many summers in Ronda as part-time residents, and both wrote about Ronda's beauty and famous bull-fighting traditions, which have contributed to Ronda's popularity over time. So Saturday December 11th rolled around, and I hopped on a train to Ronda to see its beauty for myself.
After the usual train delays, I finally arrived in Ronda in the early afternoon. It was sunny and warm, perfect Andalusian weather. I walked to my hotel from the train station. Ronda is only about 35,000 people, so pretty small and totally accessible by foot. I read about Hotel San Francisco in my Lonely Planet (In my opinion, Lonely Planet is the ONLY guidebook that anyone should use. All else is just inferior), and I was able to book a room online for only €30 a night! What a deal! It's right near the main area of town, and I had a great room with a big bed and breakfast included. if you ever go to Ronda, you should totally stay there. Click here for the link.
So just like the rest of Spain, Ronda is ridiculously old. I am talking cave-painting nomad times here people. For those history nerds (like me), the current Ronda has Roman origins, having been founded as a fortified post in the Second Punic War with Carthage by Scipio Africanus. It was named a city during the time of Julius Caesar. In 713 AD it fell into Muslim hands (like the rest of Spain) until 1485 when it was reconquered by Christian armies.
So why is Ronda so interesting? This hidden jewel of a town is very cool because it is literally perched on a mountain with a canyon running through it. The Guadalevín River runs straight through the city, dividing it in two and carving out the steep El Tajo canyon (over 100 meters deep) upon which the city perches. Basically it is on a cliff. There are three different bridges that traverse the canyon: el puente nuevo, el puente viejo and el puente romano. This is actaully really hard to descibe which is why this blog post will be filled with many, many pictures. My words cannot do its beauty justice. Plus, I went a little camera crazy there, and I want to show off my shots! Also, Ronda is really cool because it is still off the beaten track from tourists. There were hardly any when I was there which was great, so I more or less had the city to myself, which is how I like it.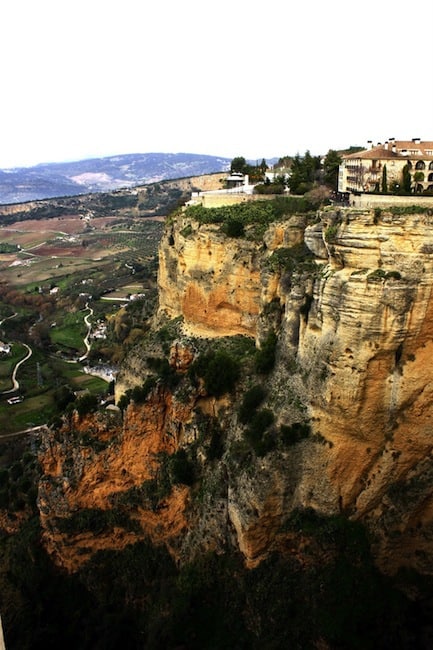 Ronda
View of the old town and the
puente nuevo
Tajo gorge that divides the town
So after plonking my bags down in my hotel room, I began to explore. I headed to the main square to the tourist office to get a map and some info about the town. What happened next I can't believe I am going to confess, but next to tourist office there was a McDonald's. Ok, I hadn't eaten a cheeseburger and fries in almost three months. THREE MONTHS! And if you know me, you know that my big junk food weakness is a burger. So I hate to admit but I definitely housed a giant horrible, deliciously tasty burger as my first meal in Ronda, breaking my own rule of avoiding the fast-food American stereotype whilst abroad. And I don't regret it. At all! YUM! Anyways, there is a walkway that heads around the cliffs from the puente nuevo past the parador hotel. You follow the path (pasaje de Ernest Hemingway and paseo de los ingleses) and to the right you have the town but to the left there is over a 100 meter drop down with breathtaking views of the valley below and the mountains in the distance. It's stunning! It leads to a pretty park and promenade called the Alameda del Tajo).
Alameda del Tajo: This looks like a promising view…

BAM! What a view!
View from the walk along the cliffs
After taking WAY too many photos, and walking back and forth admiring the view, I decided to head to the bullring. Ronda's Plaza de Toros is the oldest bullring in Spain and one of the only bullrings in Spain that you can actually walk into and walk around grounds and in the ring! Super cool! Ronda raised some of the most important bullfighters in Spain, including Pedro Romero (1754-1839), a key figure in the history of bullfighting who killed more than 5,600 bulls. I am not even going to get into the whole pros and cons of bullfighting in Spain right now, but let me just say that bullfighting is a very important part of Spanish history and culture, and I won't ignore its influence or impact in either the past or the present. Bullfights are brutal, like REALLY brutal (plus they kill six bulls, silly me I thought it was only one, but no, SIX!) but its a big part of Spain, so if you can stomach it, you should go to one if you ever visit. Here is a clip from a bull who didn't play by the rules. Hilarious! I dunno if the rest of you were cheering for the bull, but I was totally yelling, ¡vamos toro!
Plaza de Toros, Ronda
Plaza de Toros, Ronda
Me in the Plaza de Toros, Ronda
After playing around in the bullring, I headed over to the old part of the town to a place called la casa del rey moro (The House of the Moorish King). Ok, so this place was never actually belonged to a king, rather it was a grand 18th century house with awesome gardens and great views. And for some reason Michelle Obama visited here last year. Not quite sure why. This hidden gem of a place is a great place to visit if you ever come to Ronda, and I went at sunset and it was totally deserted! The house itself is falling to pieces and is closed to the public but the gardens are beautiful and offer some great views of the gorge. But perhaps the best part of this place is the water mine. Ok, I really should not have left my guidebook in the hotel because I had no idea what this was. As I was walking around the gardens, I came across a dark staircase cut into the rock wall leading downwards with a sign saying "la mina." Here is where my sense of adventure always defeats common sense. The common sense side (that has a voice surprisingly similar to my mother) would say it would be really stupid to head down a narrow dark, damp incredibly poorly lit staircase to some place called "the mine" at sunset totally alone, but my other side says, hell, go for it! You never know what you might find!
This just looks like a bad idea. Keep in mind that this
light is coming only from my camera flash
Well I went for it and it was totally worth it! I headed down over 300 uneven narrow, winding, stairs, with the ceiling dripping on my head, and no handrail and parts of which were entirely dark (no windows or anything-no light at all!). My legs were killing me, and it was pretty scary but suddenly I emerged on a metal platform at the water below in the gorge! It was so beautiful! The water was bright blue and reflected the white buildings from the town above as the sun began to set sending orange streaks across the sky. Incredible! As legend has it, in the 14th century, when Ronda was continually in the firing line between the Moors of Granada and the Christians of Seville, it was frequently besieged, and the first target of every besieging army was the water supply. Allegedly using Christian captives as slave labor, Ronda's Moorish king, Abomelik, ordered the cutting of steps into the stone walls of the gorge to enable the bringing of water from the río Guadelevin below. Unfortunately, you must soon shake yourself out of your reverie and return to the real world, for having descended that long, terrible staircase, there is only one way out.
After descending the mine to the water below
Ronda reflected in the blue water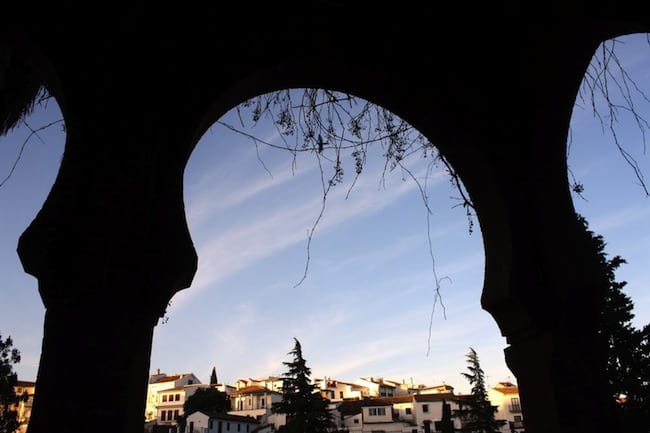 la casa del rey moro
After hauling myself back up those stairs (and beginning to regret that McDonald's meal), I headed back to the hotel to clean up before heading back out for some nighttime exploring and fine dining.
Main square all lit up for Christmas
Roasted furry chestnuts anyone?
The next day I woke up and went for a long walk down the other side of the town to see some the ruins of some Arab Baths. As you descend you can walk along the medieval walls. As I was walking along them, I discovered a little staircase cut into it leading up to the top part. And since there was no sign prohibiting me from ascending, I ascended of course! On top of the walls you have more great views of the surrounding countryside, and you can walk quite a ways up there, even along the backs of people's houses and yards! Just be careful you don't trip and fall 50 feet on the other side! I feel like all of Spain is just one giant lawsuit waiting to happen. Once you descend the rudimentary steps, you arrive at the baths which are said to be one of the best surviving examples of original Arabic hammams, water baths, in Spain. Built in the 11th or 12th centuries, their functioning parts vanished centuries ago but the underground chambers have been partly-renovated, and are open to tourists. Most notable are the star-shaped light and air vents in the domed ceilings, a common element in Arab architecture.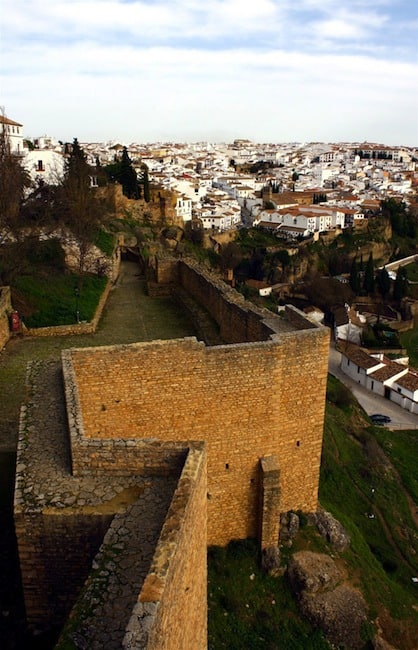 Walking on top of the medieval walls of Ronda
Me on the medieval walls
Arab baths in Ronda
After visiting the Roman Baths I climbed back up to the city center via the other two bridges and entirely too many staircases. Seriously, my legs hurt for days after this trip because of all the stairs. I had an "early" lunch (at noon-and I was the only one in the whole restaurant) but it was cool because I sat on the patio on the cliffs overlooking the gorge, and I totally bonded with my waiter Sergio (a Spanish Patrick Swayze if you will) and he gave me free liqueur afterward. WIN! I window-shopped for a bit before heading outside the city and down to the gorge on the other side to have some sweet views of the puente nuevo from the valley below. The path was really rocky and unkempt and should not have worn my chucks, but whatever. There were also some horses just hanging out on the train too, nbd I guess. After a while the trail just sort of ended and I headed down as far as I could to the rocks and waterfall below. I then headed back up, sat on a little perch overlooking the town and the valley and mountains for a while, contemplating life, you know, the usual. All in all it was an incredible trip and a beautiful still moderately undiscovered town which makes it a definitely stop for anyone traveling in southern Spain.
View from my perch headed down to the gorge
View of the
Puente Nuevo
on the hike