Sorry I am a little behind! I have been planning an "American Culture" week and my school, tutoring a bunch, learning to cook new things (recipes to follow shortly!), started running again since beach season is just around the corner, plus a lot of drama with my crazy roommates (Only 2 months left with them!) has kept me wicked busy! I'm off to London and Brighton on Thursday and then Granada next weekend, and then its Semana Santa! Man, spring is just flying by! Oh did I mention that it's been in the 70's every day for the past two weeks? Oh yeah, gotta love southern Spain!
So two weekends ago I visited my friend Kelsey in Zaragoza in the north. A fellow MHC Spanish major, she has been working as an auxiliar too and I had been dying to get up there to see her. Zaragoza is really far from me, about an 8 hour drive, but luckily there are high speed trains that run from Sevilla to Barcelona, stopping in both Córdoba and Zaragoza, which cuts five hours off the trip. However, you pay dearly for those five hours. Oooof, sorry credit card! This was my second trip to Zaragoza; I first visited in November 2007 when I was studying abroad in Salamanca, and I went to the three big cities in Aragón: Zaragoza, Huesca, and Teruel. So this trip was more of a relaxing, hanging-out in the sun, and cooking lots of yummy new things kind of weekend than a tourist trip.
Map of Spain with my route to Zaragoza highlighted
Zaragoza is actually a pretty big place given that most people from outside of Spain haven't heard of it; It is the fifth biggest city in Spain, and has a lot to offer. It was founded by and named after Caesar Augustus (Caesaraugusta-Zaragoza, sounds similar, am I right?) Not to mention, Augustus was my favorite Roman emperor-dorky moment, don't hate. Anyways, after the Arab conquest in 711, it grew to become the biggest Muslim controlled city in northern Spain. This is all interesting to me because you can see all sorts of ruins and historical sights all over the city, from Roman amphitheaters to Muslim castles and towers to baroque churches. Zaragoza has it all!

It was cool to walk around Zaragoza again, trying to remember the places that I visited before. Traveling around Aragón, the region that Zaragoza is in, was definitely one of my favorite trips that year. This was also the first time Kelsey and I were in Spain at the same time! We both studied abroad in Salamanca, but at different times, and we both go to and from Spain a lot, so it was pretty awesome to actually be in the same city in Spain with her! I think we both probably lost our voices by the end of the weekend from so much catching up! This post is more of a photo diary than a long-winded travel post
Kelsey and me in front of the Basílica del Pilar
My picture of the Basilica from 2007 when it was covered in scaffolding. I wished that one day I would come back to see it without it, and look, I did!
Catedral-Basílica de Nuestra Señora del Pilar
Basilica at sunset along the Ebro River
Sunday at the Parque Grande with Kelsey! Spring is here!
Exploring Parque Grande José Antonio Labordeta in Zaragoza on a beautiful Sunday!
Love the gazebo architecture, very similar to stuff you see in Barcelona
Cooking up a storm in the kitchen! This consisted mostly of Kelsey making great things, and me nibbling and attempting to help
Now these are photos from my 2007 trip to Aragón that I figured I would include for everyone!
Traveling on the train from Salamanca to Zaragoza in 2007. This is a picture I snapped while we passed through La Rioja, the region that I might be teaching in next year.
The 11th century Aljafería Palace in Zaragoza
The Aljafería Palace in Zaragoza
Roman theater in Zaragoza
La Catedral de San Salvador, or La Seo in Zaragoza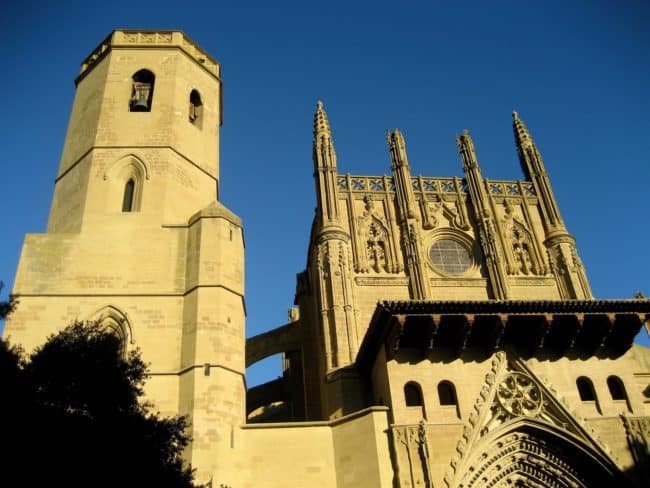 Cathedral in Huesca in northern Aragón
View from the top of the Huesca Cathedral
View of the Pyrenees from the top of the Huesca Cathedral
Typical Sunday in Spain, somewhere in Aragón
Los amantes de Teruel
(The Lovers of Teruel) A Spanish version of Romeo and Juliet. You can read more about it
here
.
Another beautiful sunrise in Aragón