So one thing I've noticed about Spain that I really like is that here they love to mix wine and beer with other drinks. One reason why I think they do this is the fact that wine is so cheap here, because of all the vineyards. You can get a decent bottle of wine for 2 euros and for 5 euros, we're talking fancy. One euro box wine is quite popular among the college students, Don Simón being the preferred brand of choice. And trust me, to get that down you HAVE to mix something in with it! Since summer is right around the corner, I thought I would ahead and share five of my favorites, all of which are easy to make and are perfect for a warm, sunny afternoon outside.
I'll start with the best known mixed drink in Spain-SANGRÍA! Ok, I'll confess I've never actually made sangría before. You can buy it premade in liter bottles for a euro or at bars it's really cheap too (it's the same price as a bottle of water!) It's really popular to buy pitchers of sangría when you're out with your friends. I've been reading tons of recipes online, and they all say something different. Basically, it consists of red wine, fruit, sweetener, triple sec, and cinnamon. I don't think you can really mess it up, though if anyone could, it would probably be me!
Take a bottle of cheap red wine and chop up or slice some oranges and lemons (you can add other fruit too like apples, strawberries, pears, or peaches), and chill in a pitcher in the fridge for up to a day so it absorbs the flavors of the fruit. If you want an extra kick, you can add a few shots of brandy or triple sec. Add a few tablespoons of sugar to taste or some kind of sweetener like honey, simple syrup or even OJ. You can add some cinnamon if you want some spice (to taste). After letting it chill overnight, you add ice and if you want some fizz, you can add 7-up, sprite, or carbonated water. Serve in a pitcher with ice and leave in the fruit with a wooden spoon! Just mess around with the different ingredients until you find something you like!
My friend Marie and I enjoying a pitcher of
sangría
in Spain, summer of 2009
Tinto de Verano literally means "Summer red wine," and it is a super popular drink all over Spain, and very easy to make. While sangría is a drink in restaurants and cafés, tinto de verano is what us young people drink at bars, parties and botellóns because you can easily just mix it yourself. It's one part red wine and one part gaseosa. Casera is the main Spanish brand of gaseosa, which is a mild flavored low sugar carbonated lemonade, but you can replicate it with mixing 7-up or Sprite with carbonated water. Serve over ice with a lemon slice.
Calimocho is a drink on par with tinto de verano in terms of being a young party drink-cheap and easy. These are the two along with beer that will be served on open bar nights. I haven't seen it as much this year in Andalucía, but it was super popular when I was in Salamanca. I think it's originally a Basque drink from the north-kalimotxo It is one part cheap red wine and one part coke or pepsi served over ice.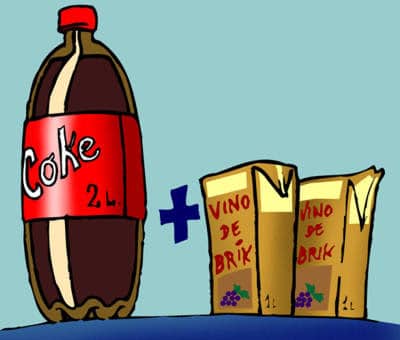 Calimocho served in the traditional porrón, it's tricky trying to pour it into your mouth
Rebujito is a typical drink in Andalucía, particularly during ferías and romerías, and it varies from city to city. Here in Córdoba, it is made from white wine that comes from Montilla-Moriles. Normally it's made from mixing a Manzanilla wine, a variety of fino sherry (like Tío Pepe), and gaseosa or Sprite served over ice and garnished with mint leaves or a slice of lime.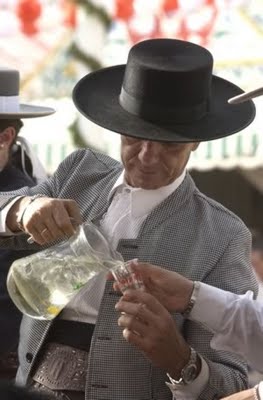 Pouring
rebujito
in the traditional
romería
costume
Spain is not really a beer country; here they drink wine more than anything, but the three big brands of beer are Cruzcampo, San Miguel, and Mahou, and they are all on par with Bud and Coors. So to make them taste better, why not add a little lemon or soda? Clara is one part Spanish beer and one part casera or one part lemon soda, like Fanta. It's basically a mixture of beer and lemonade, and it's actually really good! In English it's called a Shandy, but honestly I've never heard of it before. It is a very popular drink here in Andalucía.