Before I moved to Logroño, I lived for a year in Córdoba, in sunny southern Spain teaching English in a tiny village named "Mirror" (Espejo), I kid you not! Often overlooked and under appreciated, Córdoba has charm and tranquility by the bucketload, if you take the time to get to know it. It is the perfect embodiment of pure Andalucía without all the massive (Asian) tour groups to be found in Sevilla and Granada. Many tourists stop by for a day trip, if at all, on their way to bigger, better-known locals. But for me, Córdoba is traditional Spain at it's finest and it is worth visiting, even for just a quick weekend.
Living there amongst the roses and olive groves, I learned a lot about the lesser known side of Spain, from the importance of the white grape and olive harvest to learning to dance the flamenco Sevillanas in time for the spring and summer festivals to  the modernization of catholicism, not to mention the abundance of history spewing out of ever corner. Córdoba is famous for being the capital of Islamic Spain in the Middle Ages, as well as having been a center of learning for Christians, Jews and Muslims alike, something evident today in all the beautiful monuments and architecture sprawling around town.
In fact, something that cannot be ignored is that one of my favorite things about Córdoba is just how lively, vibrant and colorful this ancient city truly is. For me, color and travel are intertwined. Whether or not I like a city or place can be defined by it's color, what it feels like to me. I tend to love brighter cities with splashes of color around more than monotone and basic colored areas. When I think of eastern Europe I think of burnt red roofs with mint green church spires; when I think of Peru I think of bright green forests and the white snow-capped Andes mountains; when I think of Egypt I think of the yellow sands, pyramids and tombs and the bright colors dotted the souks and markets.
Every area around Córdoba is bursting with life and color, from the whitewashed walls and tan cobblestoned streets in the old quarter, to the bright fuchsia and red flowers that pop up all over the city in the spring to the bright blue sweeping sky that can only be found in southern Spain, there is no lack of color to be found.
Here is my guide to Córdoba by color.
Have you ever been to Córdoba or southern Spain? Has a city every impacted you because of it's colors? Do you notice colors while traveling?
Red: The Mezquita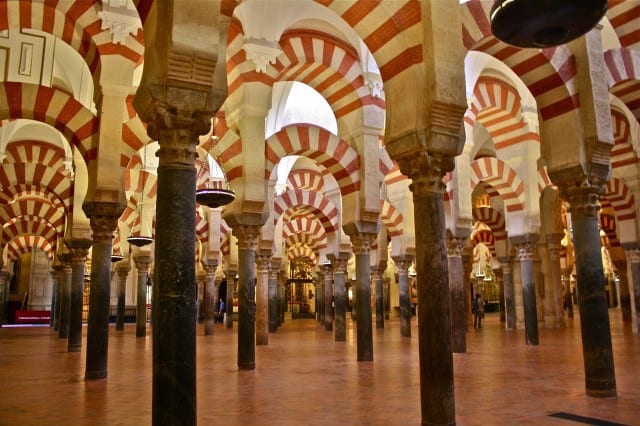 If Granada has the Alhambra, the Mezquita is Córdoba's shining pride and joy. Built as a mosque in the 8th century during the Islamic domination of Spain, it was eventually converted into a cathedral after the Reconquest by the Christians. Pretty standard practice in Spain really, once a mosque now a church. Literally it looks like someone plonked a medieval church right in the middle of it, making it both incredibly unique and a joy to photograph. My favorite part of the Mezquita is walking through the different stages as it was being built and rebuilt, especially with respect to the striped red arches. I love standing at once side of the Mezquita and getting to see down the tunnel of red and sandstone, it's like a maze. The splashes of red and gold everywhere give it an unearthly, vibrant appeal rarely seen in other sights around Europe.
*Tip: during the day, the Mezquita can fill up with people and tour groups, making it difficult to get good shots without people in them, not to mention the entrance ticket isn't cheap. However, early in the morning before mass, the cathedral opens up free to the public while workers prepare for the service. It is the best time to go because not only is it free, there is also nobody around, if you are lucky you might even get to hear the organ player warming up.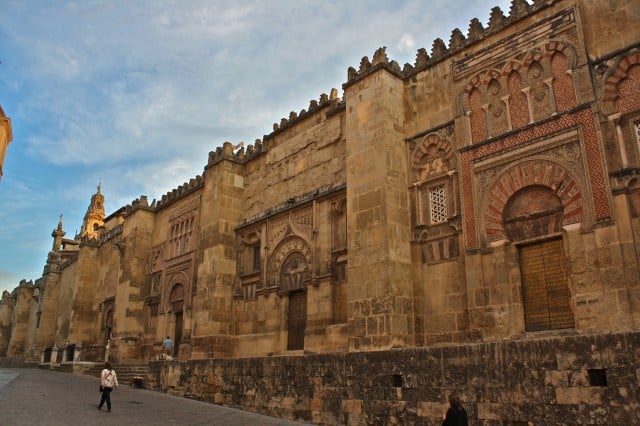 White: The Jewish Quarter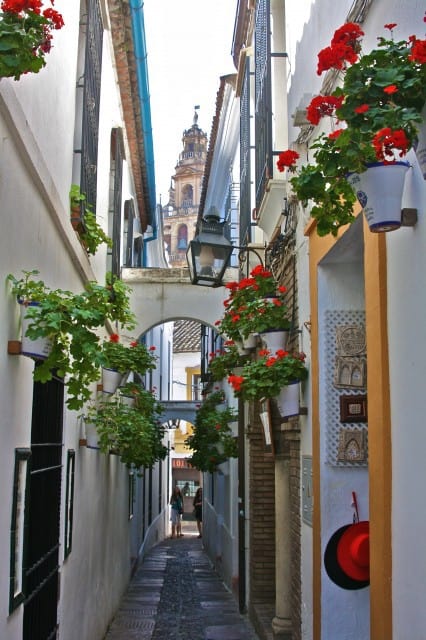 Wandering around the old part of Córdoba, la judería (Jewish quarter) and getting lost amongst the narrow white streets is perhaps the best way to get to know the city. Southern Spain is characterized by it's whitewashed buildings and walls, used to deflect the hot sunny rays in summertime, and Córdoba is no exception. I love walking around the old quarter along the pristine white streets, stumbling upon quaint restaurants, Arabic-style tea shops and inner courtyards; there is always a new place to find.
*Tip: in the early morning there are the least crowds and it feels like you have the old quarter to yourself, who knows what you might discover?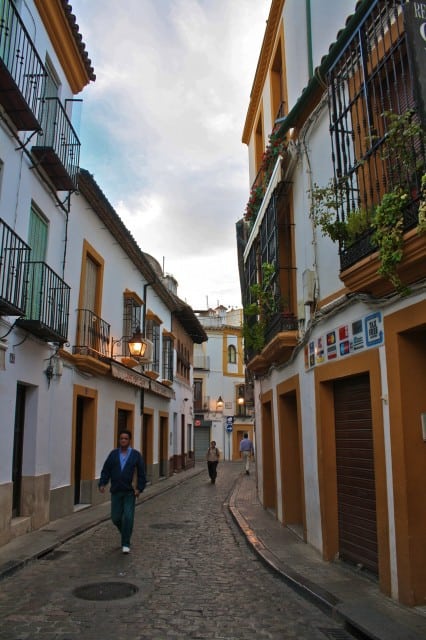 Pink: The Patios Festival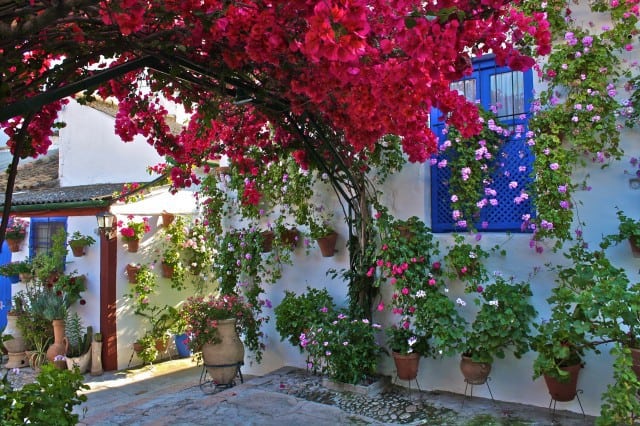 Without a doubt, if you had one chance to visit Córdoba, you should visit in May. In May there is a festival literally every weekend, making it a truly fun time to be there. And since it is peak springtime, there are flowers EVERYWHERE, making the whole city smell fantastic! Unless of course you are allergic, which sucks for you. My favorite of the May festivals are flower patios or courtyards competiton. In southern Spain, many of the old houses were built around a central courtyard, usually with a well and lots of flowers. Nowadays for 10 days in May, the houses with the most beautiful floral patios open them up to the public in a contest. You can grab a map from the tourist office and make your way around Córdoba, visiting as many as you'd like.
*Tip: go on a weekday or early morning to avoid the crowds. This festival is very popular with locals and tourists alike! Patios last for 10 days so there is plenty of time to check out the best. Houses with open patios are designated on the map and then there are two potted little pine trees placed next to the door so you easily spot them on your walk. And don't forget your camera!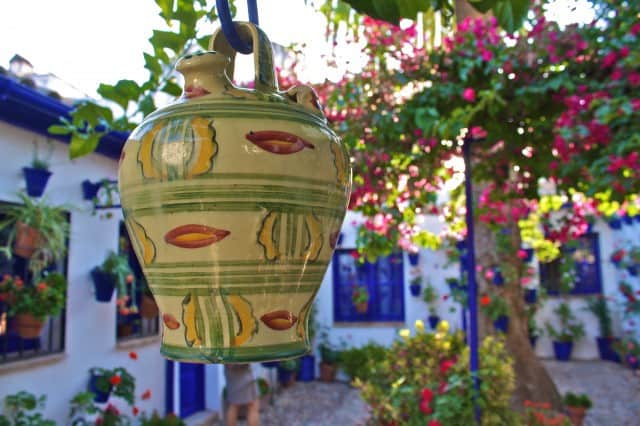 Sandstone: The Synagogue
Is sandstone a color? Whatever, it sounds better than "beige" so bear with me! There are only three remaining synagogues in Spain leftover from the Middle Ages and one is in Córdoba. Tucked away down a narrow side street in the aptly named Jewish quarter, you can enter for free and oggle over the beautiful carvings and prayers decorated the small space. The blank white walls contrast perfectly with the old sandstone color of the text and geometric designs, allowing you to fill in the blanks for the missing places.
*Tip: it is a very small synagogue, so to truly appreciate it, it's best to go when there aren't crowds, like around opening or closing time or on a weekday. 
Orange: Salmorejo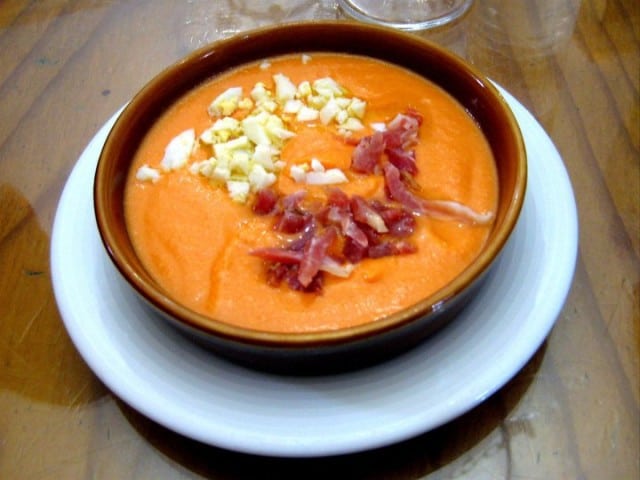 Córdoba is well-known for two dishes: Salmorejo and rabo de toro (oxtail), both equally delish. Salmorejo is almost like a thicker version of gazpacho. It is made from tomatos, bread, olive oil, garlic and vinegar  blended together and served up cold. Salmorejo is thick and normally is garnished with diced Spanish serrano ham and hard-boiled eggs, and odd combination that somehow works perfectly. The bread and tomato turn it the most beautiful shade of bright orange. It is the perfect spring and summer dish when temperatures rise to boiling points around town.
*Tip: check out my recipe for how to make Salamorejo! Make sure to pair it with a nice white wine for the perfect light summer dinner! Like many Spanish dishes, it's basic enough that you can tweak it however you like.
Green: The Alcázar Gardens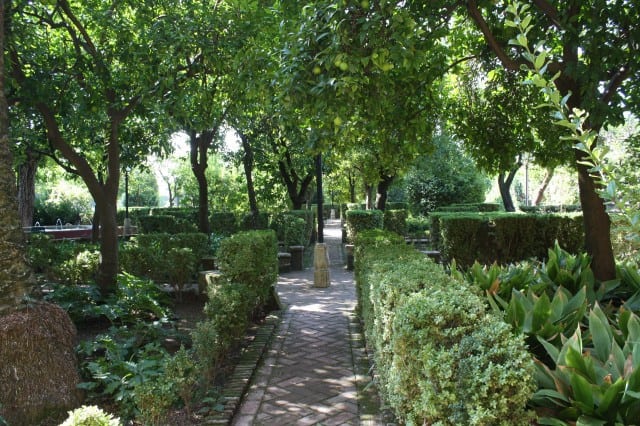 This palace and garden complex was once one of the main homes of Ferdinand and Isabella. It makes for a fun morning to climb the walls and wander around the ruins of the palace, though of course my favorite part is frolicking around the fountains and vast gardens alongside the palace, like the three year old I actually am. I used to bring a book and come sit and read in the shadow of the green trees and flowers, watching the fountains and kids playing around.
*Tip: Fall and spring are the best times to vist, when the flowers are blooming bright and it's not too hot. Córdoba between mid-June and mid-September is unbearable temperature wise. Second tip, don't go with your ex, it makes you never want to look through those photos again.
Black: Street Quotes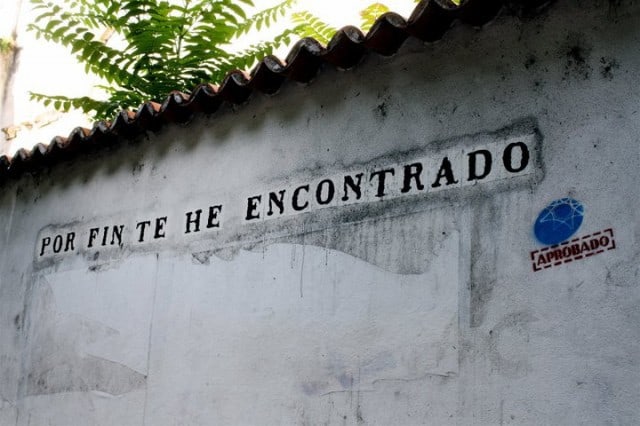 "Finally I've found you"
One of my favorite little things about Córdoba is the street art. Instead of cool graffiti or tagged images, someone has gone around over the years and posted Spanish inspirational quotes and typical andalúz phrases in inky black type on the white-washed walls of abandoned buildings in the old quarter. The best part is that no one knows who is behind it! It's a modern day mystery! Many of them get taken down quickly but new ones always go up! One of my favorite activities was to go around town and hunt for them, looking for the most decrepit white buildings and walls around; not only is it a great way to explore a different side of the city, I always thought of it as a game, trying to see how many quotes I could catch.
*Tip: Someone has created a google map of these quotes here; I don't know how accurate it is now, but I am sure plenty of them are still there. They have become a beloved part of the city.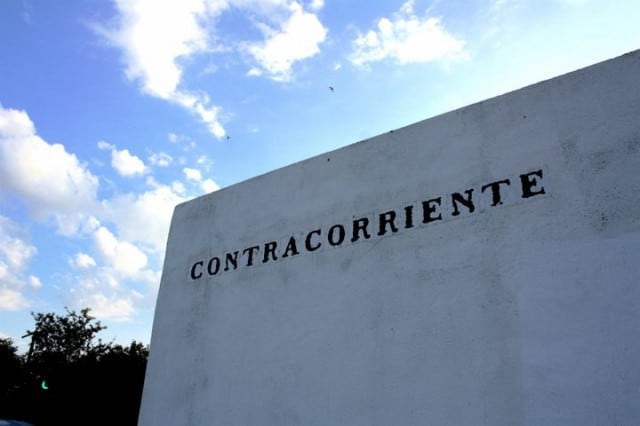 "Against the current"
A very southern Spain way of say "keep going straight ahead"
"Keep looking for me"
Yellow: The Summer Sunflower Fields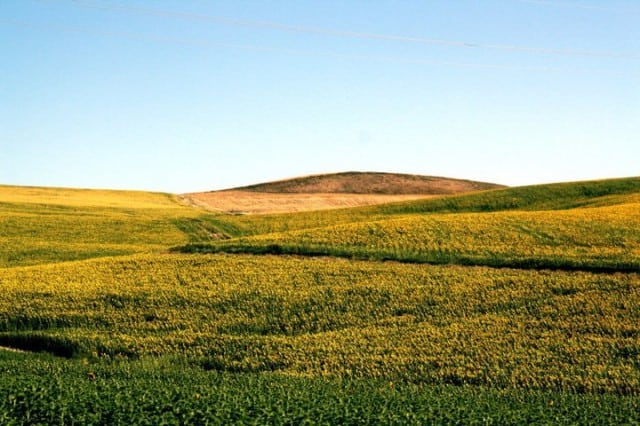 In summer, the surrounding countryside of Córdoba erupts in yellow sunflower fields. Normally dry brown or grassy green for most of the year, the fields around Córdoba come alive during July and August. I love when the seasons change and the colors of the landscape reflect it. In fall, the vineyards become red and orange while in summer, everything is as green as so can imagine. But the yellow sunflower fields that go on for miles is my favorite of all.
*Tip: you can pass them on the bus ride from Córdoba to Sevilla or Granada, you only have to go right outside the city to see them. Best if you can go by car or even cycle, that way you can stop and frolic amongst the tall sunflowers! The only downside is that they bloom when it's unbearably hot. Make sure you have AC wherever you are staying in Córdoba!
Blue: The Medina Azahara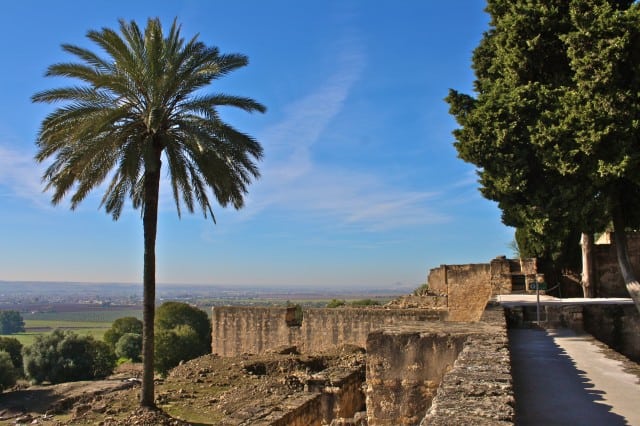 The Medina Azahara is one of Córdoba's best kept secrets. 8 miles outside the city, it was once the de-facto capital of Muslim Spain. Now the ruins of a great medieval palace city, it is almost forgotten among the many tour groups that travel around Andalucía. Over a thousand years old, nowadays only ten percent of the city is excavated, but man, is it a big ten percent. Most likely when you go, you will have the place to yourself, with plenty of opportunities to goof around and play amongst the ruins. It's the perfect half-day trip from Córdoba.
*Tip: there are buses that run out to the Medina , you can find all the information here. I think you have to buy your tickets in advance, not on the bus. Try to go on a clear day, that way you can get great views of the surrounding countryside.