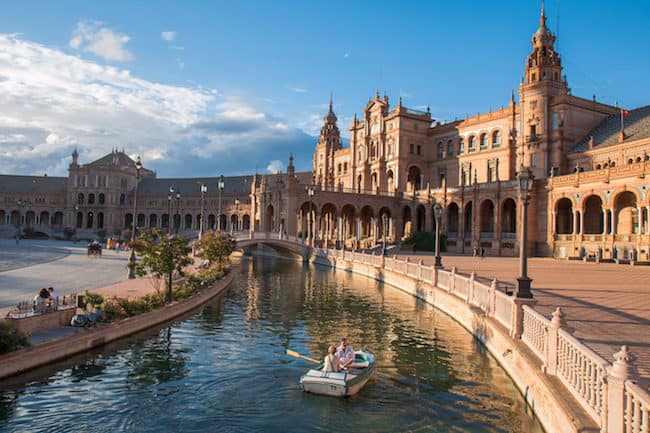 Sevilla is one of the first places I ever visited in Spain, way back when circa 2004. The heart of Andalucía – it's the typical Spain you envision. It has it all. Flamenco. Old stuff. Warm weather with hot winds that smell like orange blossoms. Honestly, it is all kinds of ridiculous.
Sevilla is bright and colorful and it's everything I love about Spain.
When I lived in Spain, Sevilla was one of those spots I'd pass through a lot. I have such amazing memories from there. It was one of those places that made me fall in love with Spain. If you ever visit, you'll understand. Southern Spain is the best.
I was so excited to pass through Sevilla on my trip to Spain last summer. It was the first time I would be back in years and years. I love returning to my old haunts with fresh eyes, especially after becoming a blogger.
I've shared some postcard shots and snippets of my favorite stories from a couple of days returning to beautiful Sevilla last June – Enjoy.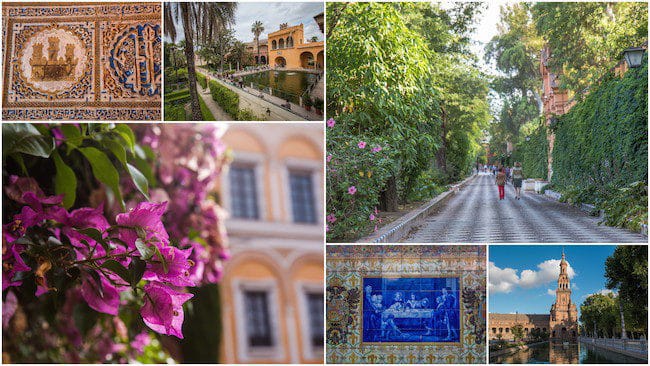 Early morning walks around the barrio Santa Cruz
Because Sevilla is so classically beautiful, it means it's popular. It's like the Florence of Spain and come summer time, boom it's busy busy busy.
I've never been a people person or a fan of crowds, and now after living in one of the least populated places on earth, it's become even worse. I didn't even try to take photos during the day around Santa Cruz, the main touristic and historic neighborhood.
But here's a secret – if you go walk around early, there will be nobody around. 8am in Spain is like 6am in the rest of the world – it's absolutely dead out and you'll have the place to yourself.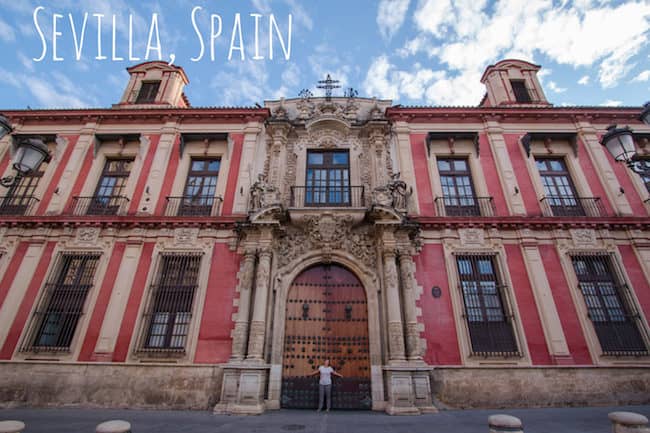 Sneaking into the Catedral de Sevilla in before hours
On Instagram everyone asked me how I took these photos without people in them. Easy. I took them at 8am.
Are you ready for another secret? You can get into the famous cathedral before they open in the mornings while they set up for mass. Oh, and it's free. Granted, some of the lights won't be on and you can't go up the Giralda Tower (that I know of) but you can get inside and ogle the amazing architecture and stare at Columbus' tomb with nobody else around.
For some reason I can't find any info about this online and maybe I am completely wrong and just walked in an open door and nobody noticed me. But even if that's the case, there's hope for you too. Good luck!
Falling in love with the charming Corral del Rey
Sometime in June, I caught a cheap bus into town with Busbud and headed down to the oldest part of the city to check into my room at the Corral del Rey, one of the cutest boutique hotels I've ever visited.
Without a doubt one of the things the miss the most about living in Europe are all the historic buildings. We don't have a lot of Renaissance palaces or Roman tombs down here in New Zealand, and I sure miss them.
I lived in a historic apartment in Logroño in the medieval quarter, and OMG I miss it every day. I definitely took it for granted when I was in Spain.
The Corral del Rey is in the most beautiful restored 17th century building a few minutes from la Giralda and cathedral in the cute Barrio Alfalfa, so just my cup of tea. I fizz over buildings like this tucked away down narrow cobbled alleys, one day I hope to own one myself to restore a la Under the Tuscan Sun.
I guess I should work on being able to afford rent first though, right? Haha.
Woah, am I really thinking about a mortgage? What is happening to me?
I also just have to add that the Corral del Rey had one of the best breakfasts I've ever had in Spain, which is saying something.
At least for me Spanish breakfasts usually leave something to be desired. I'm a brunch girl through and through and holy crap did I miss weekend eggs or fresh fruit muesli when I lived in Spain, as much as I love the traditional tomato bread and olive oil toast in the south.
The breakfast here was really impressive and beautifully displayed, so I had to mention it. I don't know if you can dine in if you aren't a guest, but it's worth asking.
Sunset at the Plaza de España
Another thing I miss about living in Spain is the walkability. I loved being able to walk wherever I wanted to.
My last night in Sevilla I took a long walk towards the iconic Plaza de España. It had been a hot day and I was eager to visit this open space late in the afternoon once it began to cool down.
It looks so different from the typical patios in Spain, I was keen to return. I don't think I had been since I visited with an ex in 2011.
I'm obsessed with the colorful tiles around the plaza and looking for the cities where I've lived:
So many memories. I love (and often hate) returning to places that have a tie on my heart.
Tile love from Sevilla
I freaking love the tiles and patterns around Spain's mudejar architecture. Swoon!
Patterns make me happy, is that weird?
Don't answer that.
Getting my Game of Thrones on at the Alcazar de Sevilla
Hands up if you love Game of Thrones as much as me? Anyone? Anyone?
Well, if you are a fan of Fire and Ice, then you probably already know that the Water Gardens of Dorne were filmed in Sevilla. And not just anywhere, at the famous Alcazar (palace). Holy crap!
Oberyn Martell, where you AT?
The Alcazar de Sevilla is not really a hidden gem or secret. In fact it's probably one of the most visited places in Spain. The first time I visited was back in high school and I took photos with a disposable Kodak camera, so you can probably imagine I was pretty stoked to go back with a big girl camera (and you can read all about what I've got in my camera bag here!).
Even though it was crowded as hell which basically just frustrated me to no end. But that's summer in Spain for you. I spent hours taking my time to wander around the gardens which is my favorite part of the grounds.
After that I caught up with my friend Cat from Sunshine and Siestas for an afternoon of walking, tapas, beers and ice-cream. As it should be, right?
Seriously, the Alcazar Gardens just blow me away.
And they are big enough and if you have enough time to wander around them, you will find a corner of peace and quiet. So bring a book if you can.
And maybe you'll run into the Prince of Dorne. Fingers crossed.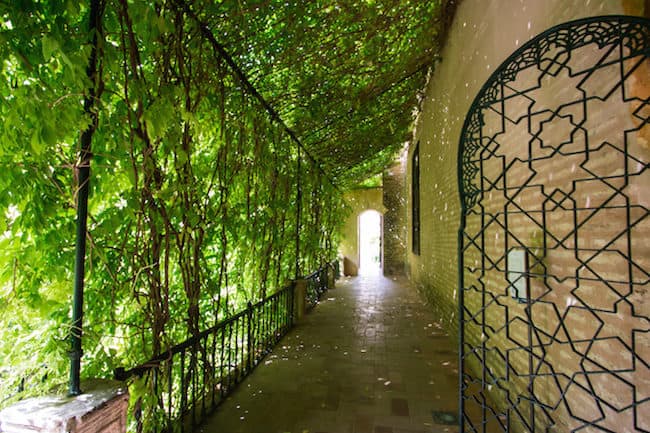 If I can, I love returning to places that have special moments for me, which was certainly the case with Sevilla.
Time always brings fresh eyes, so in some ways it's like going to a new place, know what I mean?
Have you ever felt that way about a place? Have you been to Sevilla? Is it on your bucketlist?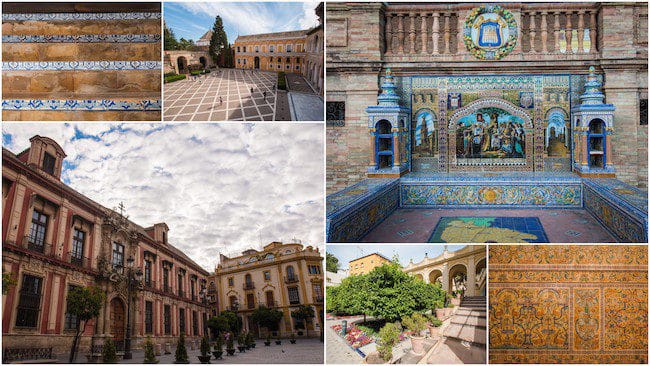 Many thanks to Corral del Rey for hosting me while I was in Sevilla, aand there are some affiliate links in this post (I gotta pay the bills!) – but like always I'm keeping it real, all opinions are my own. Like you could expect less from me.