I just realized it's been way too long since I've written about my beloved Spain and I thought I'd share some of my reasons to love Madrid.
For those of you who are new to the blog, I lived in Spain for three years on and off before moving to New Zealand in 2013. Spain has always been one of my homes, and I hope it always will be. And while I've called Salamanca, Cordoba and Logroño home, I realized I have neglected to talk about a place where I spent quite a bit of time over the years – Madrid.
For me, Madrid is the heart of Spain and it's a place I know really well. Geographically the center of the country, it's also the center for travel and work and I pretty much am always passing through there over the years. It's where many of my friends are and it's a massive hub for expats. I know it well.
For some reason Madrid doesn't always have the best rep – people tend to compare it to Barcelona a lot. Madrid versus Barcelona is more than just an epic soccer rivalry, and tourists tend to love the flashy beachside Catalán capital a lot more than traditional Madrid. Having spent a lot of time in both, I can safely say I hate Barcelona and love Madrid.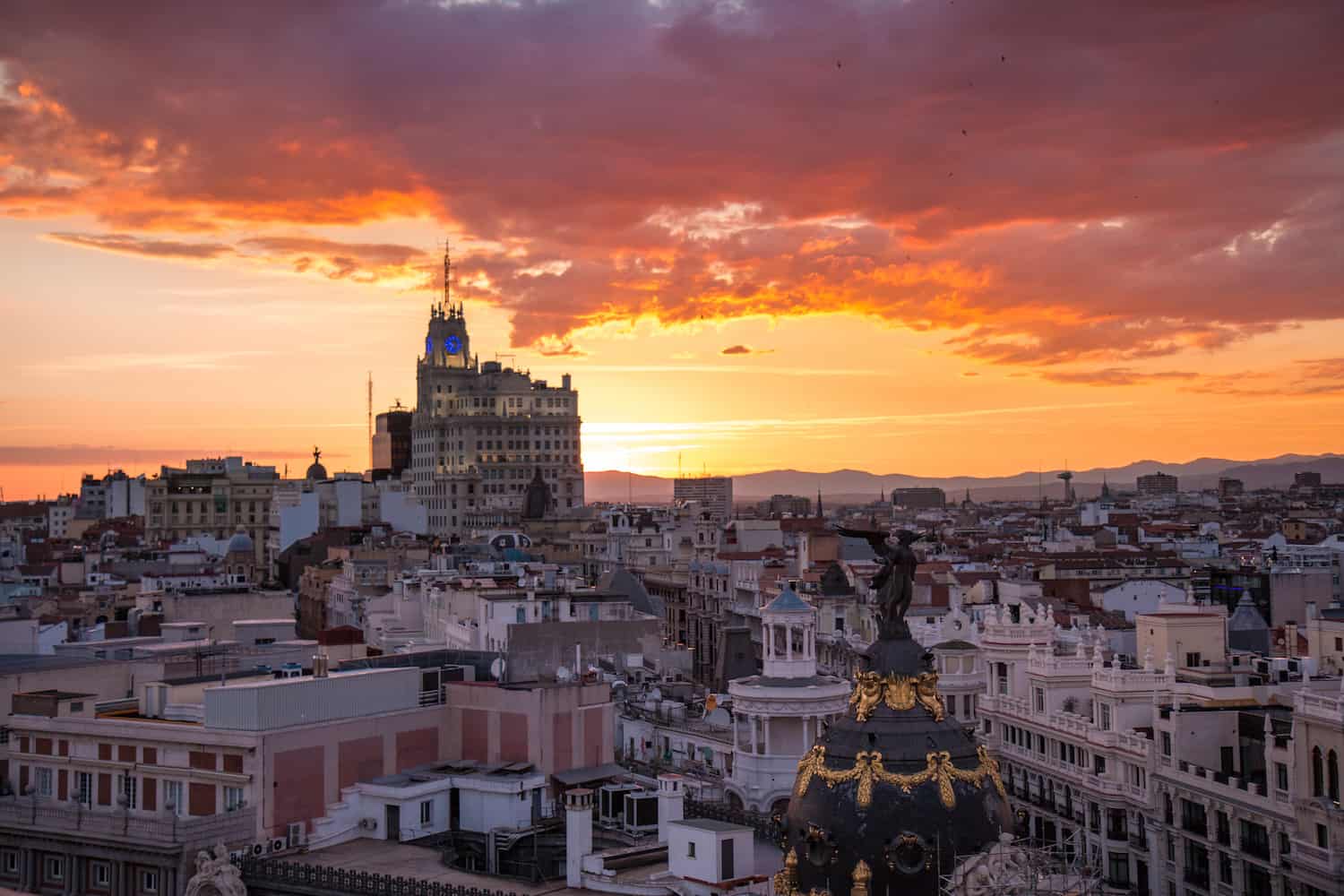 For me, Madrid is the real Spain. It doesn't get anymore Spanish than Madrid. With great food, amazing arts and culture, historic neighborhoods, adorable old man bats, fabulous shopping and super fun events, not to mention it's the center for just about anywhere, Madrid a very livable lively city. I have so much nostalgia for it, especially in summer!
Why have I not talked about this before on the blog? Why? Better late than never, I guess.
I visited Madrid for the first time in 2005, spent a lot of time there in 2007/2008 and finally lived there for the first time in the summer of 2009 which researching for my college senior thesis at the National Library and have been coming back on and off ever since.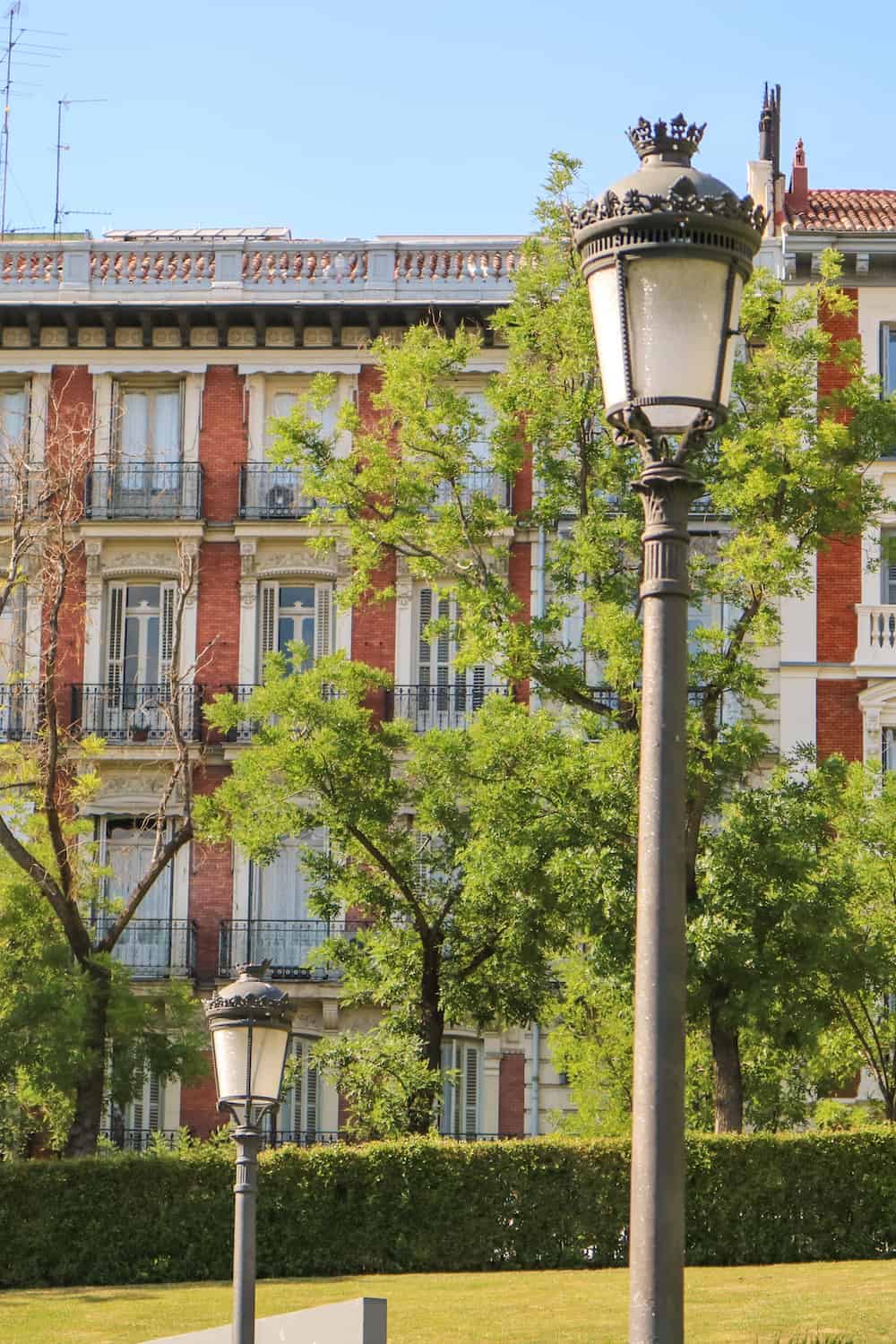 Even though Madrid is a well-known city, for me it doesn't feel touristy. It still has an authentic, traditional Spanish vibe that I love and adore. And while I generally always enjoy being in the countryside or small towns, I really also love big cities, especially ones that I know pretty well.
I spent over a week chilling out in Madrid a year ago and thought I'd piecemeal together some bits and pieces of my time there and why I love Madrid so much. I literally spent so much time there that I had to force myself to leave and head south to go exploring!
There are so many reasons to love Madrid. Far from being any sort of clear guide of what to do or what not to do in Madrid on holiday, and since I have never really gone to Madrid for a holiday anyways, I thought I'd go ahead and share personal reasons for why I love Madrid, what keeps bringing me back there and where my favorite haunts are.
Enjoy!
1. Pigging out on all the amazing food
It's no secret, I love food; and Madrid has some banger Spanish food which by default means I love Madrid. And since Madrid is usually my first stop on my way to or from Spain, I always start my stay with eating my favorite Spanish food.
Bring on the ham!
Since I had left Spain, a good friend of mine Lauren from Spanish Sabores launched Madrid Food Tours which have grown massively over the years. I was so stoked to check them out when I was in Madrid. While I know a lot about Spanish food (mostly if it's delicious or not and what wine to pair it with) I don't know that much about the history behind it, which is why I wanted to give it a try and learn more.
I've known Lauren since the very beginning of my blog over six years ago when we were both English teachers and I'm so impressed with the business she has built out of a passion over the years.
I opted for the Huertas neighborhood food and market tour since it was I place I didn't know that well. I am a big believer that you can learn a lot about a country through its food and traditions, so I recommend taking food tours whenever you get the chance as a introduction to a new place. It's also a great way to experience a city like a local.
A morning tour, don't eat anything before showing up! You've been warned.
Exploring all over Huertas, we got a literal and figurative taste for pretty much every aspect of the Spanish diet. From churros with chocolate to the mighty acorn-fed cured ham to the typical cheeses to tapas to drinks, you literally get it all with stories and history and interesting travel tips woven in.
It's the perfect introduction to food in Madrid but also to Spain and great for people like me who just love to eat!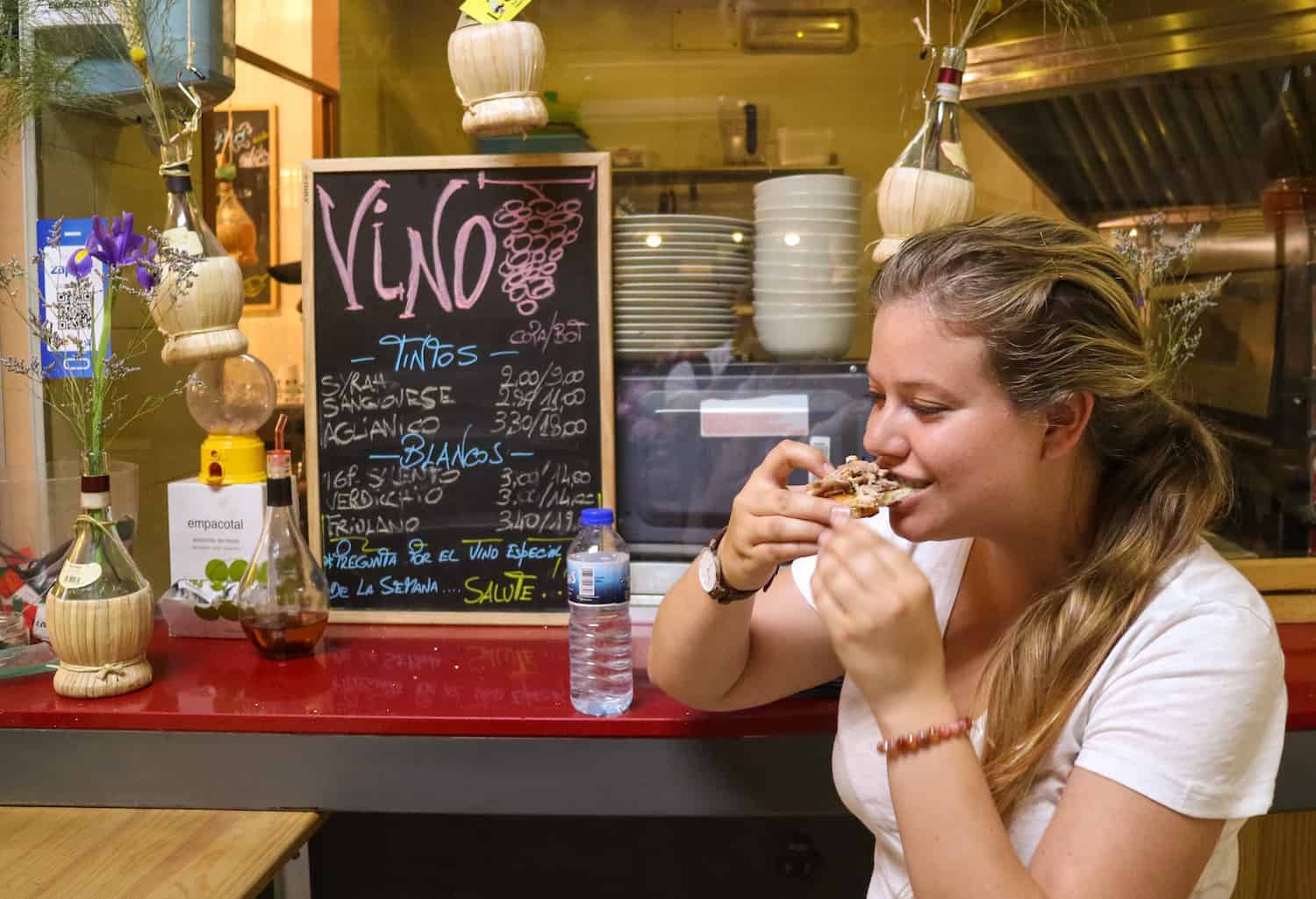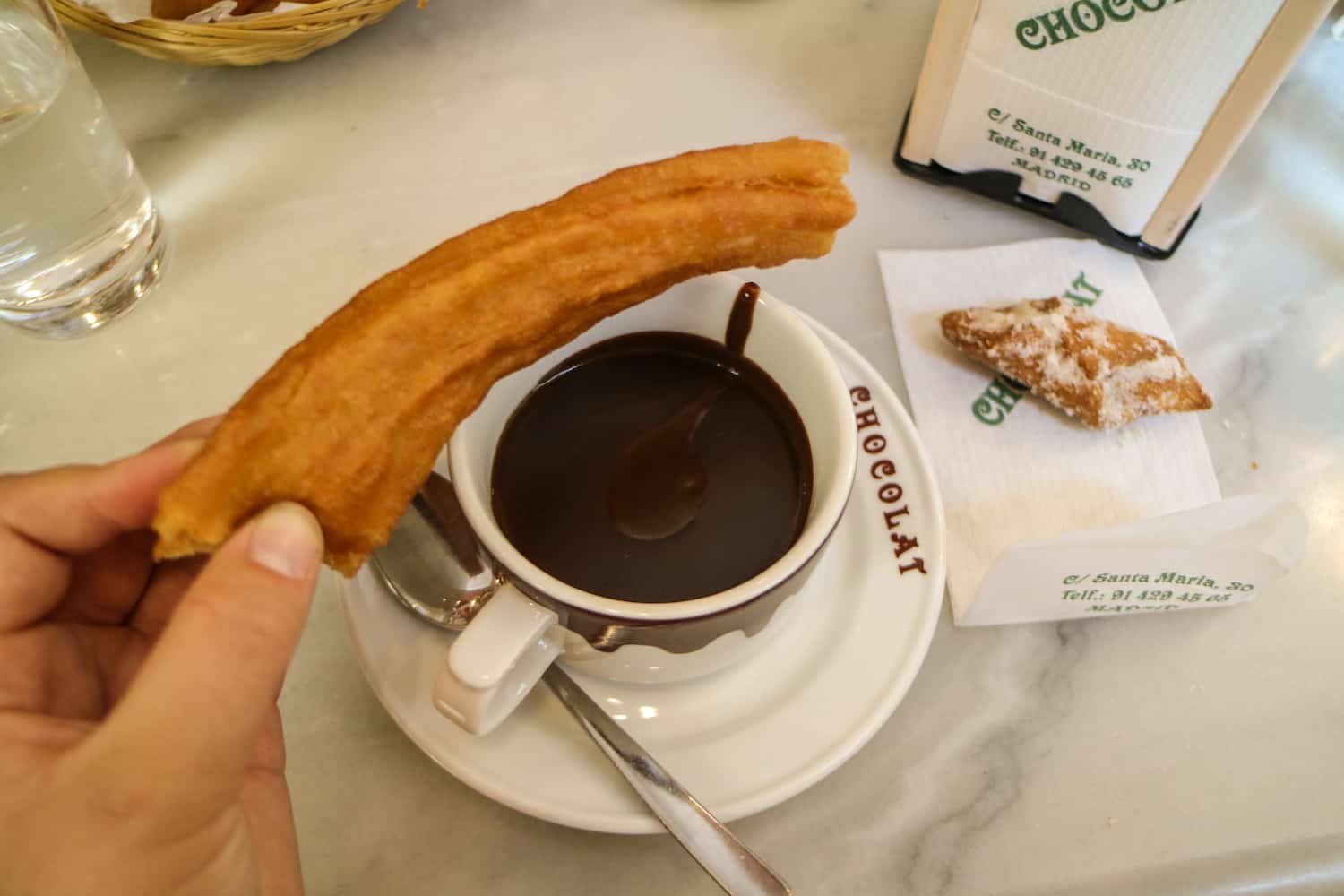 2. Airbnb on Gran Vía
My last trip to Spain I spent most of my time staying around Gran Vía. If I'm only there for a short amount of time I like to be as central as possible. Gran Vía is like the Broadway of Madrid, a huge ornate boulevard that sprawls through the center and is near the famous Plaza del Sol. But even though it's big, it's super easy to turn down a side street and get lost for hours.
Also Gran Vía has like every major shop you could ever want, and I always look forward to heading back to Spain and buying as much Zara, Mango and everything else that I can get my hands on. No shame.
I stayed in a super cute Airbnb right next to Gran Via, it was tiny and adorable, perfect for solo travelers. Airbnb's are really affordable in Madrid and you can get ones that are very central. While I often stay in hotels on work trips and campaigns which I love, I tend to prefer apartments when I am on my own or have longer to explore a certain place. This time around in Spain I mostly stayed in Airbnb's.
If you want something more intimate, my favorite other neighborhoods are Malasaña or La Latina – my friend Lauren has a good blog about neighborhoods here.
Sign up to Airbnb with this coupon and get $32 in credit! You're welcome!
3. Hanging at the Prado
The Prado is Spain's greatest art museum, and I first visited back when I was in high school over a decade ago – what?!
Seeing works like Velázquez's Las Meninas after reading about it in my Spanish high school textbook is something that sparked my deep love for travel. The journey to seeing or experiencing something you've heard about for a long time is quite special for me. Like an art pilgrimage. I am a huge history and art nerd, so I absolutely fizz at museums and love spending a lot of time in them. Especially ones that have as great of collections as the Prado.
I kid you not, every single time I am in Madrid, I got to the Prado. And I often go back multiple times when I'm there, I just love it. By now I've been dozens of times, especially as you get free admission for the last two hours of every day.
Here is 16 year old me in Spain for the first time (green dress) – glad to see my posture hasn't improved
4. Naps at Buen Retiro
El Parque del Buen Retiro is a massive old public park in the center of Madrid. As someone who loves green spaces, it makes me so happy to find one this big in the heart of an urban jungle.
There's a lake you can paddle around in, so many gardens and terraces where you can sit out in the sun, or take naps in the grass after a long morning at the museums nearby. Though one of my favorite places is the old Crystal Palace.
Retiro is the kind of place that exists on any traveler's must-do list for Madrid, but it's worth it. And it's big enough you never really feel crowded there and a great place to try out a siesta and sleep off a hangover. Cough cough.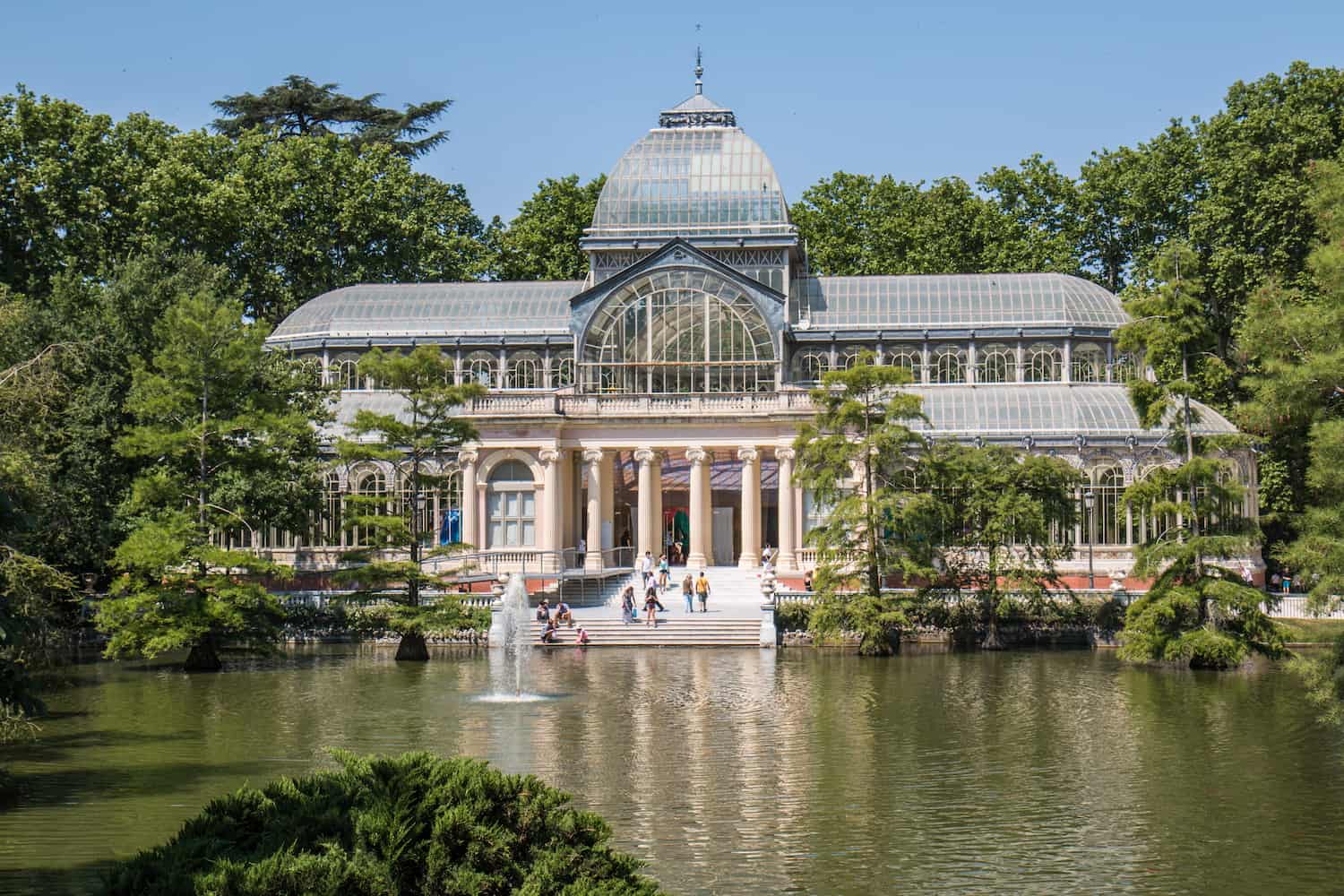 5. Tapas at Mercado de San Miguel
If you find yourself in the center of Madrid with a hankering for tapas but have no idea where to start, head to the famous Mercado de San Miguel. While it could seem to be very touristy, and trust me, it can be. At the same time it's a really traditional and affordable market.
While you can pick up your bits and pieces and get an idea of staple ingredients in the healthy Spanish diet, there are also plenty of tapas waiting to be had here.
Wear your stretch pants.
6. Getting lost among the cute streets
My favorite pastime in Madrid is to wander and get lost amongst the cute streets and quirky neighborhoods. Madrid is a very walk-able city so it's worth it to just wander around though you can always hop on the Metro if you need to go further.
Luckily Madrid has those in abundance. You could live there for years and never explore them all. Since I flew in from New Zealand I was incredibly jetlagged and tired once I got to Spain; I was wide awake around 5am which meant I went for plenty of early morning walks around the city. Oh how times have changed. When I lived in Madrid in my early twenties, the only time I saw the city at 5am was when I was stumbling home from the discotecas.
I definitely suggest building in time to just wander around and explore. You'll find the cutest places that way. And definitely check out the Huertas neighborhood food tour with Devour Madrid – you'll get to explore the old Literary Quarter of Madrid and get to eat well at the same time!
7. Rooftop sunsets
This last time I was in Madrid, I was really starting to get into my photography and wanted to go up to a beautiful spot for sunset. After doing a little research I realized that near where I was staying on Gran Vía is the Círculo de Bellas Artes which has an epic rooftop bar called Tartán Roof.
It's amazing and has some of the best views of Madrid I've seen, enjoy!
8. Day trips galore
One of the best things about Madrid is that it's geographically in the center of Spain and it's very well connected to pretty much everywhere, especially by train which is my preferred form of transport. On most of my longer trips in Europe I end up traveling with an Eurail train pass which helps get me around. Since I was just in Spain I used the one country pass this time around.
Ever since I first started visiting, there were three places I would always end up going on day trips from the city. Toledo, Segovia and El Escorial. While I didn't get around to visiting these spots on my last trip, they are still amazing spots that I want to go back to.
Toledo is an ancient city on a hill that has one of the best views in Spain and it's an easy quick train ride from Madrid; you can even get there on the high speed train. Segovia is another favorite spot outside Madrid with an ancient Roman aqueduct and a Disney-esque fairytale castle. Finally another famous daytrip I often make is to El Escorial which was the historical residence of the king of Spain. Along with the nearby grim and controversial Valle de los Caídos, where Franco is buried, it's the perfect daytrip from the capital.
9. Indulging at the Corte Inglés
No shame – I love El Corte Inglés – Spain's major mega department store. I go into the one in Sol in the morning and can spend all day there AND not even buy anything! Just sucks me in!
10. Enjoy the Madrileño lifestyle
But above all I love Madrid because of it's vibe. A very Spanish city that while it could be fast-paced and have a hustle lifestyle, it still manages to maintain a sense of peacefulness about it. I love hanging out on the terraces with friends eating and drinking after work, going shopping on the weekends, going on walks through the park and just enjoy being there.
Like most places in Spain people are friendly and social and enjoy being out and about instead of stuck inside. It's cheap and affordable and beautiful to boot, what's not to love?
Have you been to Madrid? Do you love it too? Madrid versus Barcelona? Where's your favorite city to eat?