Just when I think I've seen it all, New Zealand continues to delight and surprise me.
While I've explored so many far reaching locations in this beautifully country I'm privileged enough to call home, there are some regions that I've yet to get to, like the Hawke's Bay. On the east coast of the North Island, I just haven't found the time yet to make it up there, until now. The land of art deco and delicious wine, not to mention a place where a lot of my kiwi friends are originally from, I am not quite sure how I held off visiting for so long. Did I mention wine?
Man oh man, what have I been missing out on!
This summer I've been determined to check off some of the areas I've been dreaming about and do some of the lesser-known New Zealand walks and hikes, and I'd been dying to get up to see the famous gannet colony at Cape Kidnappers in the Hawke's Bay, and it was great to check it out with some old and new friends from DOC, including park ranger Crystal Brindle (seriously – check out here Instagram!)
Honestly guys, this is one of the most unique day hikes in New Zealand I've done yet!
Ever heard of a gannet? Don't worry if you haven't. A special and unique bird, Cape Kidnappers in the Hawke's Bay is home to the largest mainland Australasian gannet colony ON EARTH with about 6,500 pairs nesting here. Pretty cool, right?
Gannets belong to the booby family – no laughing. They are beautiful and big, with a 2 meter wingspan. White, with yellow heads, a neon green stripe on their feet and the most piercing blue eyes, eyes so blue they are almost alarming. In short, they are a very pretty bird. The younger ones are spotted brownish white.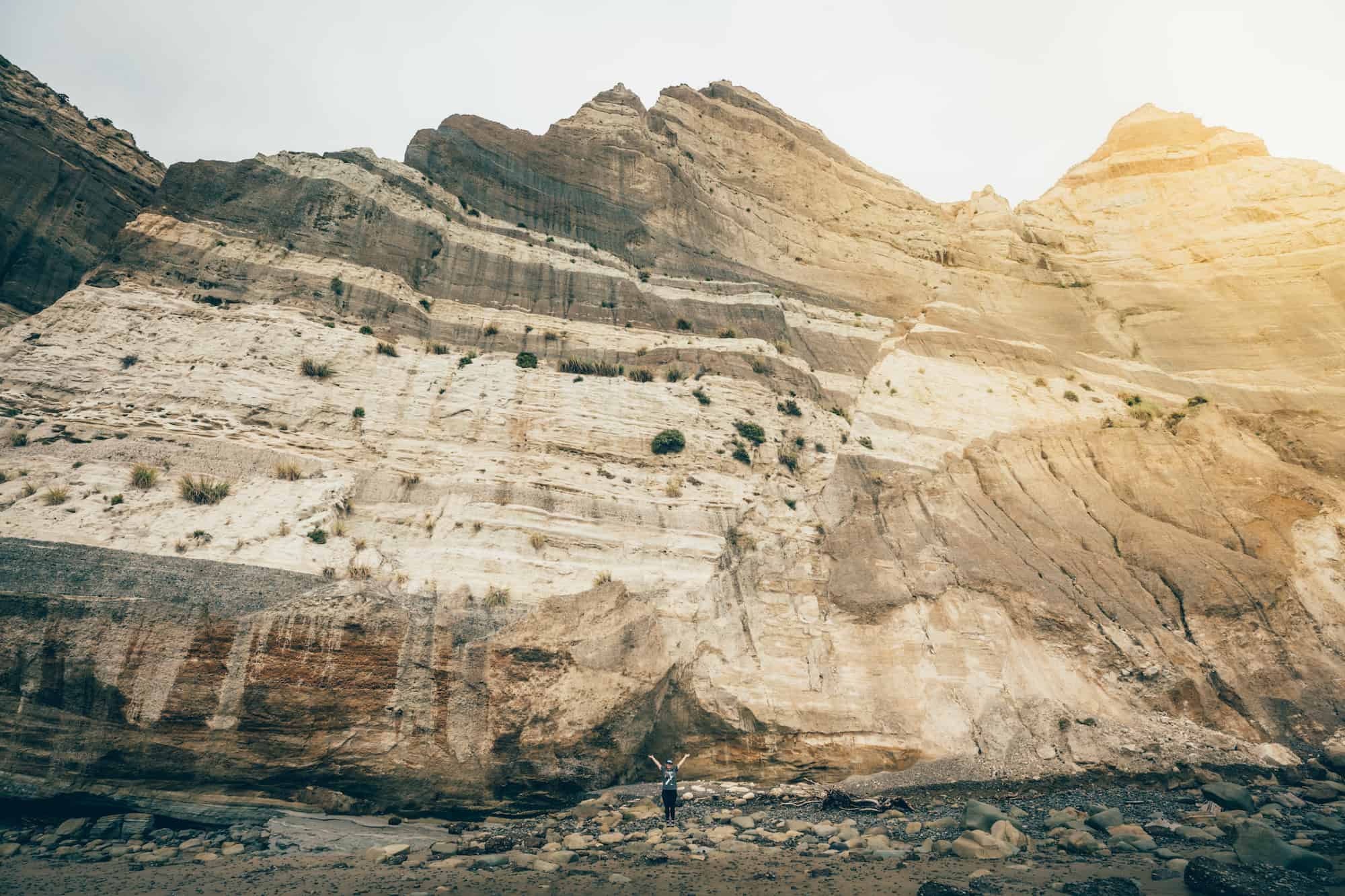 There aren't many hikes in New Zealand that bring you to somewhere quite so special as the Cape Kidnappers walking track.
What makes this hike even better is that there are several different ways you could do it. A 19 kilometer return trail from Clifton. Normally it takes about five hours return if you walk, and you carry on along the beautiful beach beneath stunning rugged cliffs, so nice and flat for most of the while, before a short climb up a nice path to the cliffs to see the gannets at the end.
What's tricky is that you can only walk it at low tide because otherwise the track (i.e. the beach) disappears. So check the tide times before you head out to the colony, with the best times being no sooner than three hours after high tide and departing from the Cape home no later than 1.5 hours after low tide.
Instead of walking you could also get a ride out there on a tractor with Gannet Beach Adventures for a guided more hands-on option. This way you skip the long flat walk along the beach, instead riding along on the back of a tractor stopping and learning about the history and geology of the area before walking up to the colony.
I think you can also four-wheel drive out along the beach to the bottom of the colony, though you have to be really careful about speed and tides with that one.
The best time of year to visit the gannets at Cape Kidnappers is from November to February, with chicks hatching in November. We went in March and there were still plenty left before they depart for Australia. I believe the trail is closed to the colony from July to October to protect the birds as they nest.
The walk or ride out to the bottom of the track up to the Cape is beautiful in and of itself.
A wild beach with huge cliffs all along the way, Cape Kidnappers is a stunning natural wonder on its own. Every kilometer you go, the view just gets better and better. Though I will take the opportunity to mention the rock is loose, and you might not want to hang out directly underneath the cliffs.
There are also lots of plant, shell and animal fossils visible on the rocks on the beach and in the cliffs. Made up of gravel, silt and pumice, and often moved around by earthquakes, it's a really cool place to see the history written in the landscape, visible to all.
I'm far from a geology nerd, but even I can see that the cliffs here tell a rich history, with different layers of rock, even visible ash layers from the great Taupo volcanic eruptions over the years.
Sidenote – modern-day Taupo and the lake, the biggest lake in New Zealand, is actually a volcanic caldera, and one of the craziest volcanoes on earth.
The supervolcano at Taupo erupted 70,000 year ago (The Oruanui Eruption) and it was the world's largest known volcanic eruption. And it's not dead yet. It's last major eruption was 1800 years ago turning the sky red over Rome and China, and it was the world's most violent eruption in the past 5000 years.
Won't be buying land there any time soon.
As you wander further along the beach, you'll eventually reach the first colony of birds nesting on the rocks right next to the beach.
What's even more incredible is that the 16 week old chicks first flight is not a small one – rather a 2,800 kilometer Tasman Sea crossing to Australia. Go big or go home gannets.
Obviously not many make it along with predation by introduced pests in New Zealand, like stoats and possums, means that these birds need protecting and help from us.
And if the views and the birds weren't cool enough for you, the history of Cape Kidnappers is equally epic. In ancient times, the demigod Māui (anyone seen Moana?) took his grandmother's jawbone to use as a fish hook and snuck out to sea with his brothers to go fishing.
He covered it in his own blood, prayed and with it, he fished up the North Island or as the Māori name call it, Te-Ika-a-Māui, (the Fish of Māui).
The sacred jawbone formed what is now known as Hawke's Bay.
In more modern times, Cape Kidnappers got its name from an altercation between Captain Cook (modern-day discoverer of New Zealand) and local Māori in 1769.
Some local Māori paddled up to their ship the Endeavour in their waka (canoes) to trade, and took back with them a Tahitian boy who was working on the ship, mistaken him for being one of their own who was being held against his will. Obviously a fight broke out.
The boy swam back to the ship and Captain Cook named the bay Cape Kidnappers.
The views all along the coastal walk and then once again as you wind your way up the hill are magical and worth every step. A relatively easy walk, just long, it's one that is good for just about anyone who is keen to see an incredible bird colony.
Great views, colorful legends, fossils, history, cultural, wildlife? And vineyards right down the road, Cape Kidnappers really does have it all.
Have you ever been to a bird colony? Have you been to Cape Kidnappers? Share!
Many thanks to DOC for hosting me at Cape Kidnappers – like always I'm keeping it real – all opinions are my own – like you could expect less from me!