I hope you're hungry! I'm about to share what to eat in Buenos Aires!
I'm not sure I've ever felt so fat after a trip than when I visited Buenos Aires for a week. Blanket statement, I know. To be honest, I did it to myself, obviously. Why eat one empanada when you can eat five? Am I right? Or am I right?
I'd been having a truly healthy summer in the lead up to the trip in New Zealand, running every day and living on green smoothies, but that all went out the window the minute our Air New Zealand plane touched down in Argentina. A land famous for meat and wine, I knew I was in for a treat.
Good thing I love both. It would be rude not to try it all, right?
Buenos Aires is a great gateway to South America now with the new Air New Zealand flights directly over from Auckland, making places like Argentina even more accessible to hungry humans like me.
While I definitely needed longer than a week to write a comprehensive food guide to Buenos Aires, and probably some kind of qualifications, I did, however, manage to chow down on some pretty incredible things before I had to head on down to Ushuaia to catch my boat to Antarctica.
In fact, most of my time in Argentina revolved around food. And drinks. And deserts. Some modern, some traditional, all delicious.
So I've put together my list of my picks for favorite foodie experiences and what to eat in Buenos Aires in the hopes it might inspire some of you guys to eat all the treats while you're there too! Enjoy!
Go on a food tour around San Telmo 
While I've gotten pretty good at internet sleuthing to find the best dining spots in new cities, I have full and proper respect for locals who can explain food culture to me so much better than anything that I could learn on my own.
Perhaps also because one of my old friends from Spain successfully launched her own food tours, I now often join in on food tours when I first visit a new country or place. Especially in a place as big and intimidating as Buenos Aires.
Let's be honest, pigging out on the best local spots is the perfect introduction to a new city.
I joined in on a food tour of San Telmo with Parilla Tours, and it was the perfect introduction to classic Argentinian cuisine. We wandered the beautiful backstreets of San Telmo and learned about the history of the food, where to go and what to look for.
Everyone knows Argentina for the Malbec wines, the Parrilla steaks, and of course, the empanadas. But with so many touristy places, you could easily end up not getting the best of the best.
That's why I always try to get the best advice from locals about where to wine and dine when I'm a new place, especially if I don't have heaps of time.
Life's too short for bad food.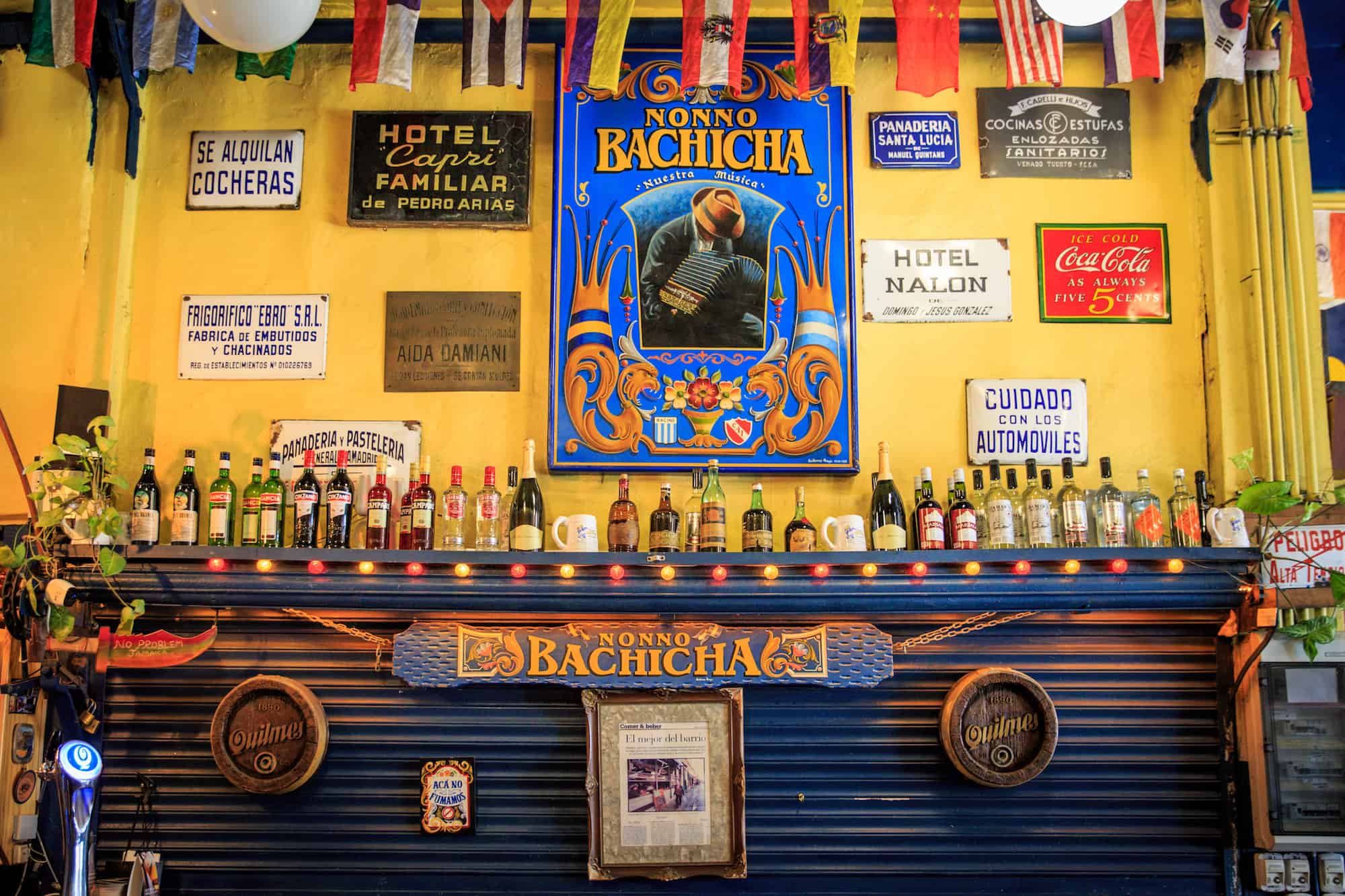 Stuff your face with all the cheap and fresh empanadas
You can't talk about food in Argentina and NOT talk about empanadas.
I am pretty sure I ate at least two a day while I was there, not only because they cost like 30 cents each freshly made at empanada bakeries, but more because they are the ultimate comfort food. My  main tip is go where there are other people and where they are made fresh, and here are the main flavors you'll usually see, each with its own unique fold:
de carne – ground beef with onions
carne picante – spicy beef (not really spicy it's just cumin)
jamón y queso – ham and cheese
roquefort –  blue cheese
humita – corn
queso y cebolla – cheese and onion
de verdura – usually swiss chard in a white béchamel sauce
I noticed that if I ate more than four in one go, I felt a bit sick later on. You're welcome.
Binge on dulce de leche ice-cream and chocolates at Rapa Nui
Now, I haven't tried all of the ice cream shops in Buenos Aires, but I did take an Uber all the way to Recoleta to go to Rapa Nui based on local tips and it was worth every penny!
They have an entire menu dedicated to creative dulce de leche flavors!
Now, if you haven't heard, dulce de leche is the sweet to eat in Argentina. Similar to caramel its a thick sticky sauce made from caramelized milk that is a main ingredient in many deserts. It's delicious, I'm obsessed and often ate it til I felt sick. No regrets though.
Coffee at Aleph cafe in La Boca
I wish I had had more time to explore the foodie spots in the colorful neighborhood of La Boca, but didn't.
I did stumble upon this cute little gem of a cafe called Aleph which was great for average coffees and exceptional people watching.
Learn how to make local treats at a cooking class
I think my favorite memory from Buenos Aires was participating in a local cooking class with Tierra Negra. I love being able to come home learning how to make a new dish from the places I visited.
While I wish I had time for their empanada class, I really enjoyed the street food class one evening while in town. Bonding with the other visitors, we spent a fav night learning how to cook all my favorites, from choripán to dulce de leche pastries, learning about the local wines and the stories from Argentina from locals Manuel and Verónica.
As a solo traveler, cooking classes and food tours are two of my favorite ways to meet other people on the road.
Try mate at least once
You can't come to Argentina and not try mate at least once. I can't promise that you're gonna like it though!
Mate (pronounced mah – tay) is a strongly caffeinated tea made from yerba mate, green leaves infused with water as a tea, drunk in a slightly ritualistic shared fashion from a gourd kind of mug with a special metal straw that filters the leaves.
It's an acquired taste, even for one who loves caffeine more than life itself.
Be prepared to eat a lot of meat 
Vegans, Argentina might not be the place for you, where beef is its own food group and the average local consumed more than 70kg of beef per year.
Good thing I love steak!
Meat, specifically, the art of grilling meat, in Argentina is its own fascinatingly complex art form, that I can only begin to understand. The history of an asado is the grilling event at a family home on Sundays where the local grill restaurants are called parrillas while the parrillada is a big old platter of grilled meat. I think. They also have their own cuts of meat:
Bife de chorizo – sirloin steak
Entraña – skirt steak
Bife de lomo – tenderloin/filet mignon
Vació – flank steak
Tira de asado – rack of ribs
Bife de costilla – rib steak
And one of the best part is the sauces that come with it, like chimichurri. We learned all about this on our San Telmo Food tour.
Wander the San Telmo market
The market in San Telmo is famous and for a good reason, it's awesome.
There is great food, coffee, fresh veggies and meat and antiques, ect, it has it all in a hodgepodge mix. We visited on our San Telmo food tour and I would recommend going back. It's open every day and then on Sundays there's the fair in San Telmo which is well worth visiting too.
Munch on crepes at La Panera Rosa
I can always depend on my talented friend Tara Milk Tea to offer good foodie tips at places that are colorful and with a good vibe and she didn't disappoint in Buenos Aires!
La Panera Rosa has a few cafes in town and they are, you guessed it, bright pink, with a delightful menu of waffles, crepes and all around incredible deserts. I think I got a dulce de leche crepe with walnuts and bananas if memory served, and it was fabulous.
Yum!
Sip on a gin mate cocktail at Florería Atlántico
This is probably my new favorite bar in the world!
A speakeasy style bar in the Retiro neighborhood, it's so trendy and hip I almost felt uncomfortable descending down into its depth. But not enough to stop me, even though I was underdressed in my Antarctica clothes and leggings after a whole day of cooking and eating.
A bar slash restaurant, you enter through what appears to be a flower shop upstairs with a huge wall of liqueurs and homemade gins for sale before opening the big fridge door and climbing down the stairs into the the bar itself. Shivers, one million points for creativity!
Be sure to get a drink made with the local yerba mate gin! And plan to stay for hours!
Try all of the alfajores and medialunas that you can
At our cooking class we learned how to make the iconic alfajores treat – a typical soft cookie filled with, you guessed it, dulce de leche, and rolled in flaked coconut.
While medialunas are crescent moon shaped croissant-like pastries. Some are made with butter others with lard, both are delicious.
Hang out at the classic Cafe Tortoni
Cafe Tortoni is the grandaddy of cafes in Buenos Aires. Full of old world pomp and splendor, it's definitely the most famous cafe in the city, with a century of history of visits by artists and other famous people.
Personally I found it to be overpriced with bland food and the waiters had a look of wanting to kill themselves, but besides that I'd go just for some churros and chocolate and to enjoy being in an historic place with charm and character.
Come for the scenery not the food.
Have as much choripán as you can
Choripán is my JAM!
A simple sandwich of yummy sausage, fresh bread and flavorful chimichurri sauce, it's a staple dish in Argentina. We used to have a place where I lived in Spain that made these, and I didn't realize how much I missed them til I got to Argentina.
The ultimate street comfort food, a trip to Buenos Aires would be incomplete without at least one choripán.
Try all the wines
All you need to know about Argentinian wine is that it's cheap and delicious.
I jest, I jest.
But seriously, I could write a whole post on this but I am not going to. The most famous of Argentinian wine being the bold and intense red Malbec, which is hearty and full-bodied and obviously goes well with steak.
Another favorite was Torrontés, a dry white wine that smells sweet and tastes a bit floral. It was lovely.
Be happy and have a healthy brunch at Gratitude
Before leaving Buenos Aires, I really wanted to make sure to visit the incredible Frida Kahlo mural in Palermo.
Right next door was the cutest little healthy food cafe. Now, I am such a sucker for cute cafes, and this bordered on too much, but I still loved it. And it was a really nice break from all the carbs and meat I'd been chowing down on.
The cafe is called Gratitude – vivir, disfrutar, regalar, which means "gratitude – live, enjoy, and gift" cheesey as all hell, but it got me, I was hooked. I even bought a mug, and the brunch was divine, and the pastries delicious. I recommend!
Have a coffee on stage at el Ateneo
Where else in the world can you sip a cappuccino on a historic theater stage surrounded by books?
While I can't speak for the quality of bean, being a total coffee snob, the atmosphere and location gets a 20/10. Worth it.
Dig into ice-cream at the classic Nonna Bianca
More people immigrated to Argentina from Italy than any other place in the world, and luckily brought both a pizza and a gelato culture with them.
There are tons of ice-cream shops to chose from, but besides Rapa Nui, my other favorite is the local popular spot of Nonna Bianca in San Telmo which we visited on our food tour.
How did I do? Did I cover it all?
Have I made you hungry yet? I am certainly starving after writing this and I don't have any good substitutes at home for any of this. Sigh, I guess it's time to start planning a return to Argentina.
Have you ever visited Buenos Aires? Do you travel for food too? What's your favorite foodie city – inspire me, share!
Many thanks to AirNZ for hosting me in Buenos Aires – like always I'm keeping it real – all opinions are my own, like you could expect less from me!