Is there anything more beautiful than the first big snowfall of winter?
Waking up to a pure wonderland of shimmering white? When you see the blue glow from your windows and just know that yes, there is a fresh layer of snow outside. It reminds me so much of my childhood in Virginia, listening to the radio with my mom with my fingers crossed hoping to hear my school district closed, instead of just a two hour delay.
Hands up if you can relate.
I have always loved the first snowfall of the season. Before we become haggard and jaded, annoyed with the inconvenience of it all, and sick of just being cold. Before it gets all dirty, gray and slushy.
There is a simple joy to be had I think.
In Wanaka, where I live in New Zealand now, it's rare that is snows down to ground level; the massive glacial lake keeps the surface temperature fairly warm, so the days of getting snowed in are few and far between.
Though I'll admit it's equally exciting to wake up see the snowline fresh and low on the surrounding mountains outside of town, knowing that powder days are coming in soon.
This year is looking to be a whopper of a winter here on the South Island. In fact, we've had so much early snow that my local ski resort, Cardrona, opened early to everyone's excitement, including mine.
But by May (which I like to think is our November in the southern hemisphere), we were already getting buried in snow and the mountain passes around me were frequently closed or requiring chains, which are seriously the worst.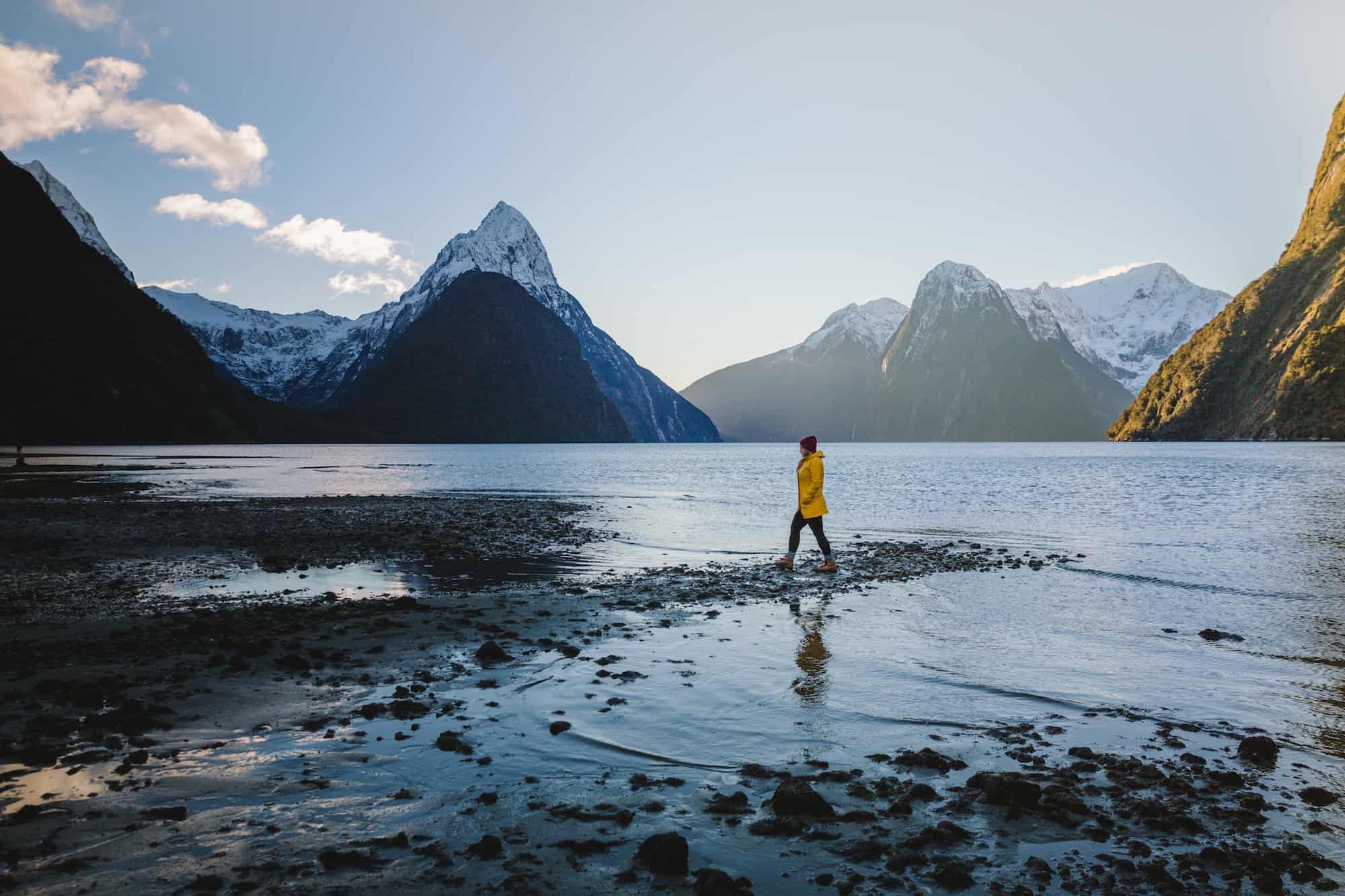 Towards the end of May, we had several big snowstorms in a row, and once the Milford Road reopened after being closed for heavy snowfall and avalanche danger, I decided to spontaneously take a roadie out for the day to Milford Sound – one of the most scenic and beautiful drives in New Zealand.
To be honest, a day trip to Milford Sound from Wanaka isn't really a day trip as it takes almost 5 hours in one direction to get there. Fiordland is fairly far from anywhere but with its wild rivers, vertical cliffs and jurassic mountains, it's totally worth it.
I've been dozens of times and I keep going back again and again.
And it was also the last week that Mercedes-Benz kindly leant me their brand new X-Class, the first ute they've ever made. And when faced at the thought of sitting down at my computer doing last year's taxes OR going on a road trip in the snow in flash wagon, the decision was easy.
Milford Sound, I am coming for you in my hot new whip.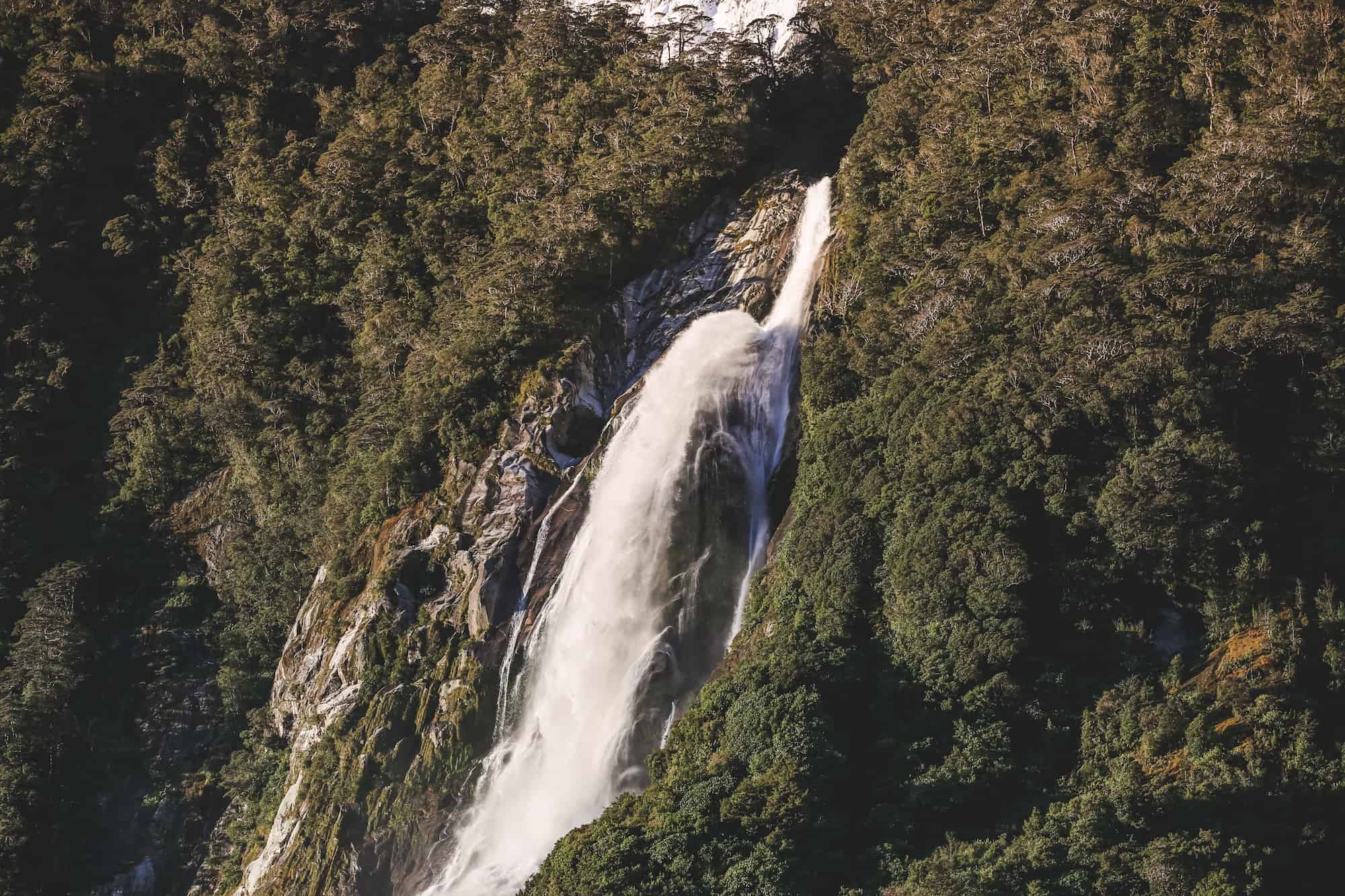 Ever since I was a teenager I've owned grunty 4WDs that could get me through anything. I find it hard to drive anything less, especially now that I live in the mountains, and New Zealand's idea of snowplowing is a joke. I like owning cars that can get me through anything.
Plus I grew up a bit of a redneck, and I particularly enjoyed parking my yellow SUV on plowed snowbanks and doing donuts in the mud, you know, because I could.
You can take the girl out of the South….
Somethings never change.
And while I had put the X-Class through its paces in glacial river crossings and in the mud on farms, I had yet to take it into the mountains in the snow. Honestly, I was doing Mercedes a favor, really. You're welcome.
I swear it had nothing to do with the fact that anywhere I went I would get ogled and hit up by (mostly) men interested in the truck.
It's the first ute that Mercedes has ever made, and she's a looker. It also happened to be the very first one released in New Zealand EVER and probably one of the first down on the South Island. We are in SUV and ute country down in these parts, folks, and the X-Class got a lot of attention whenever I took her you, which, you know, I didn't mind. Like at all.
Oh hey! *hair flick*
I just learned real quick to brush up on all my key facts around the model so when I got asked about things like towing capacity and engine size, I didn't look like a total fool.
I had my first driving over the Crown Range at sunrise, our notorious alpine pass connecting Queenstown and Wanaka and topping out at around 1100 meters. The highest public road in New Zealand, it's chock full of windy bends, tight turns, steep climbs and a descent with large drops that can intimidate even the bravest of drivers.
Just remember it wasn't that long ago that it was dirt and without a guardrail and harden up!
In winter it often is closed or required to have chains for mostly 2WD. It was a veritable wonderland when I crossed over, easily flicking the X-Class into 4WD near the top.
Several strong lattes and a few hours later, I began to get a glimpse of the snowy mountains of Fiordland.
May and June while aren't always the best weather to experience New Zealand, are the very lowest of low season which means you often have popular haunts like the iconic Milford Road all to yourself.
I find great happiness in revisiting some of my favorite spots in all weather at any time of year around the world, each visit is like seeing it with new eyes, and getting to see Fiordland with fresh snow so early in the winter was even more glorious than I imagined.
The low cloud and fog clung to the mountains on the Te Anau side of the Homer Tunnel, the dividing pass of the Milford Road that descends down into Milford Sound on the other side. It shifted in and out in the sharp winter wind, offering stunning glimpses of the peaks and with the occasional beam of sunlight bathing a slice of the world in golden light.
The cheeky kea (New Zealand's endangered alpine parrot) were out in full force, equally excited for the fresh snow as I was. Or perhaps the more likely scenario was that they just caught a whiff of new car smell, and were ready to go in and leave their mark, as they are well known for.
One opportunistic kea took a nice bite out of the rubber around the doorframe while I was taking a video. Little shits.
Sorry Mercedes!
As I wove my way higher and higher towards the Homer Tunnel, fresh signs appeared warning of the avalanche danger and advising no stopping, quickly destroying my hopes for revisiting all my favorite photos spots.
The snowy views more than made up for it, and as I made the final leg into Milford Sound itself at sunset, all the cloud disappeared, turning the white peaks orange and gold before quickly dipping behind the iconic Mitre Peak.
Warmed up by the sea air and sunshine, I patrolled the banks of Milford at low tide, one of my favorite past times. Enjoying the disconnectivity and rejoicing in the simple happiness that comes from being alone in a beautiful place, I reflected on that day's journey, once again glad I chose an adventure over taxes.
I mean seriously, who has ever regretted a spontaneous snow road trip?
Have you been to Milford Sound? Do you love the first snowfalls too? Are winter road trips your jam? Share!
TIP: if you're planning to road trip around the South Island in winter (May – September), it's a good idea to hire a 4WD and rent chains AND know how to put them on. Roads like the Milford Road and the Crown Range often have restrictions or close and are covered in snow and ice. Here are some good winter driving tips in New Zealand and you can check the Milford Rd status here)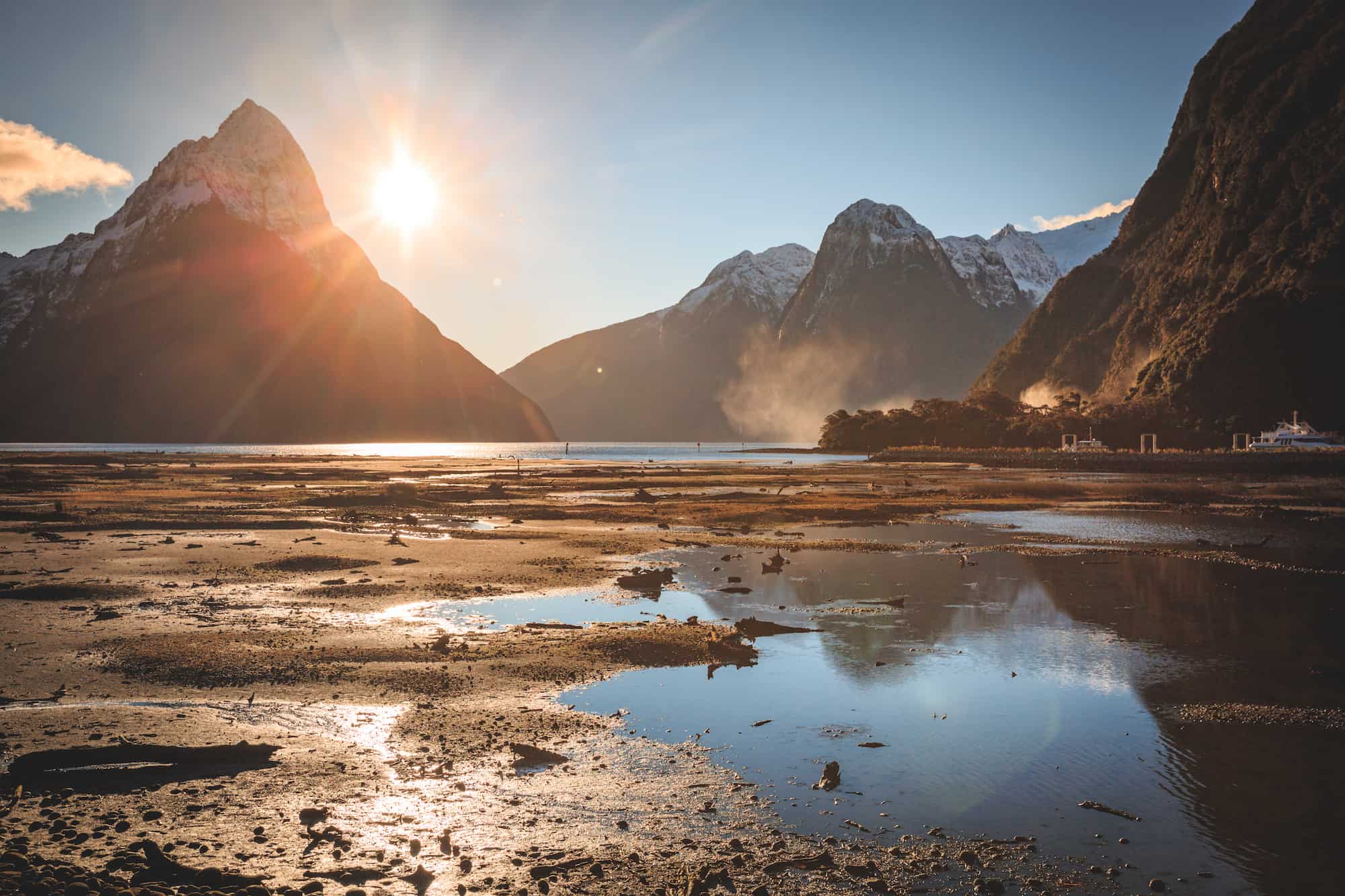 Many thanks to Mercedes-Benz for hooking me up with the sweet X-Class, like always I'm keeping it real, all opinions are my own, like you could expect less from me.