"Bullfighting is the only art in which the artist is in danger of death and in which the degree of brilliance in the performance is left to the fighter's honour." Ernest Hemingway in Death in the Afternoon.
I don't know if entirely agree with this statement, though I do agree it probably had more truth in Hemingway's time than now (speaking of Hemingway, has anyone seen Woody Allen's new film, Midnight in Paris? Hemingway's part is hysterical!!!) So bullfighting, another symbol of Spanish culture, right? Along with flamenco, siesta, tapas, and sangria, though I am not quite sure Spain would agree with us on that. When you think of a bullfight, what do you imagine? red capes? Big angry black bulls? Men in tights? Bizet's opera Carmen? (or is that just me?) Well that's not that far from the truth.
If bullfights are more predominant in any specific areas in Spain, it would definitely have to be down here in Andalucía. They are prevalent, especially during feria season and in the spring. I first went to a bullfight during feria in Salamanca in 2007, because I thought why not? I figured I should see at least one for myself and then judge whether or not I liked it. Well, after that traumatic experience, I vowed, never again. But where did I find myself during the last Saturday of feria in Córdoba? In none other than the cheap seats of the Córdoba bull ring. Yes, I am a hypocrite.
There was just something that drew me back to it, like slowing down when you pass a car accident; you shouldn't look but you just can't help it. I thought, well maybe it won't be so bad this time. Dead wrong. Now I don't presume to suggest that if you come to Spain you should see a bullfight. The topic of bullfighting is a very controversial issue in Spain. It has finally been banned in Cataluña (where Barcelona is). I don't know if it's possible but I agree with both sides of the argument. I think bullfights are violent, barbaric, and cruel, but at the same time I recognize that they are a tradition, and I understand the argument that it is an art that takes great skill and technique to perform. What I say to you all, is that if you ever decide to go to a bullfight, prepare yourself beforehand because they are rough to watch.
Bullfighting has a very ancient history and has a long tradition of being practiced in Spain. In Spanish, a bullfight is called a corrida de toros, literally meaning "running of the bulls." The guy who fights the bull is called a torero, not a matador, and in Spain toreros are like rock stars. I remember when I was at the feria one night, my Spanish friends pulled out a camera and were showing off pictures they took with some famous guy at a bar. I had no idea who he was because it turns out he was a torero. Of course. Bullfights are highly ritualized affairs, with three distinct segments. In a corrida there are three toreros who each fight two bulls. That's right folks, your ticket will not only get you to see one bull die, but six! I was not prepared for that the first time I went. I thought there would only be one bull. Naive little me.
So first the torero comes out with his minions (banderilleros) and they perform a series of passes with their capes to check the bull out. You can distinguish the torero because he has a red cape while the rest have magenta and yellow capes. Also the color of the cape makes no difference because bulls are in fact colorblind. The torero also wears a ridiculous outfit called a traje de luces (suit of lights). It consists of extremely brightly colored tight capri pants and a top and jacket, covered in gold and frills, topped off with hot pink tights and black flats. Not exactly the outfit I would chose for a job so ostentatiously macho, but to each his own!
Announcing the bull's stats: 6 years old and 9 months and weighing in at a whopping 1,300 lbs. I wish they gave the torero's stats haha
Step one: after making the bull run around for a while, the picaderos come out. They are two men on horseback with a lance (vara). The horse is heavily padded and it's eyes are covered so it can't see the bull. In ye olde days, they horses weren't padded and were always killed. Humane right? The picaderos stab the bull in the neck to weaken it. I really loathe this part because the bull attacks the horse and sometimes there is blood and the horse is injured.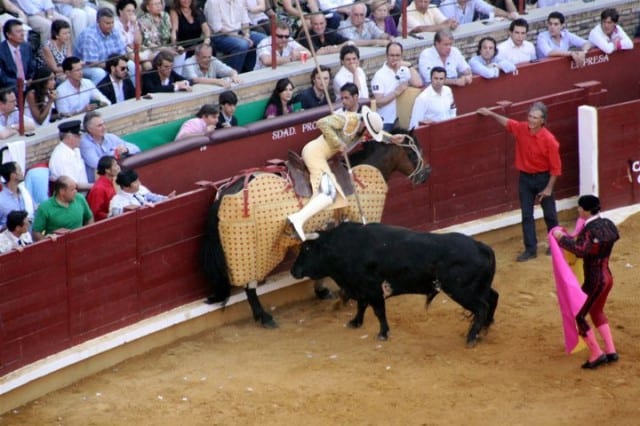 Step two: three banderilleros come out carrying two banderillas (colorful sharp barbed sticks), and they take turns running at the bull to plant them in the poor bull's shoulders. These further weaken and tire the bull. Though it takes someone much braver (or much stupider) than I to charge head on at a bull. Usually the bull chases them, which I quite enjoy.
Step three: by this point the bull is really weak from it's multiple injuries and is covered blood. The torero then enters the ring with his sword and red cape. He goads the bull into charging at the cape and doing several intricate passes to show off his skill; for example he tries to get the bull to charge past him as close as possible, and then he'll turn his back to the bull or touch it's horns to show off. Each time the bull goes by the crowd will yell olé! I think bullfighting all comes down to men having to show off and prove their masculinity. Something which I think is EXTREMELY hindered by their choice of costume. Sometimes the toreros get gored by the bull, but that is rare. I wish it happened more. Click here to see a photo of the most horrific goring in the history of gorings. Be warned-it's traumatizing.
Anyways, after completing the series of passes, I think you know what comes next. Usually the bull is so tired and injured that he won't even charge at the cape, and the bullfighter has to goad and yell at him to get him to charge. This is really depressing to watch. Finally he lines up the bull and runs at him, and stabs him through the heart, killing him instantly. Well that is what is supposed to happen. In my limited bullfighting experience, I have never seen the bull die instantly, usually it takes a few minutes and a couple attempts at stabbing him or putting him out of his misery as he lies on the ground. It is utterly and completely horrible and sad to watch. If the torero has performed well, the crowd will wave white handkerchiefs and he'll be awarded an ear or two. Again, that isn't barbaric either.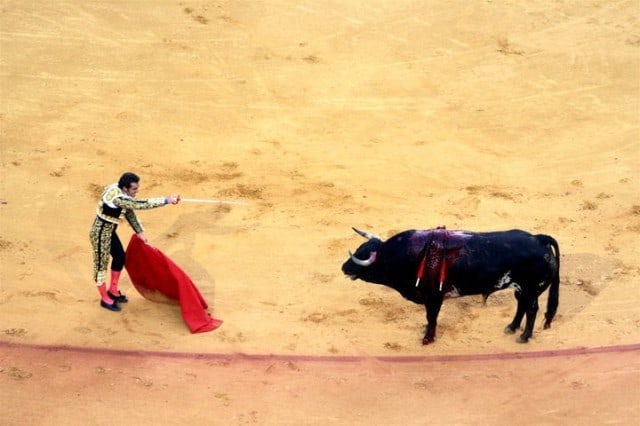 Death blow
Waving white handkerchiefs to salute the torero's performance
Dead bull being hauled out of the ring
As I sat there, watching the sun set over the ring, while the dead bull is dragged off by two horses listening to the crowd cheering, I remembered a children's book that I read when I was little, The Story of Ferdinand. Have any of you guys read that? It's the story of a bull who doesn't want to be in a bullfight, and who would rather sit in a field and smell the flowers. Oh Ferdinand! Poor bulls! And then I promise to myself, never, ever again! No more bullfights for me! For now…
Have you ever been to a bullfight? Do you think they should be banned or allowed?