Ok here it comes, another post about Switzerland! I know, huge shocker! At the end of June, I threw most of my stuff in a suitcase and said hasta luego to Málaga and headed to the airport (where I promptly had to throw out a bunch of stuff to meet the weight limit-3 pairs of shoes, waaaaaaah!) before catching my standard Easyjet flight to Geneva. This was my 3rd trip to this alpine paradise this year; I just can't stay away. My childhood best friend was getting married there. I owe C and Y a huge thanks for sharing their home with me and always making me feel welcome, along with introducing me to their beautiful, perfect country.
I arrived a few days before the wedding, and had plenty of time to help get everything set up for the big day. I was excited even though this was my second wedding of theirs I had been to (they had a ceremony in the US last summer). Y's inspiration was the 2nd Chronicles of Narnia movie (Prince Caspian), in the beginning there are some scenes of a ruined castle with apple orchards and trees and flowers that have begun to grow all around the ruins. Really beautiful. (I feel like I MUST add that this is the same movie that inspired me to go to Slovenia in 2009, where they did a lot of filming). Anyways, Y was hoping to turn the church into a forest; how cool is that?
So the next day I found myself in the woods up in the Jura mountains yanking long strands of ivy off trees, collecting moss and flowers to adorn the church, and trying not to slip and fall down the hills mumbling in my crap French. Luckily Y has a couple of family members who speak English, so I was able to get along more or less, and his mère took me under her wing as we worked to prepare the church. We lined the aisle of the church with garden arches covered in ivy with ivy winding across the top, connecting them down the aisle, and then interwove beautiful pale pink roses and baby's breath and other beautiful flowers among them. Wwe hung boughs of ivy and flowers from the walls and chapel, set up trees and candles everywhere, and completed the forest look with two mushroom stools for the bride and groom to sit on. A lot of pricked fingers later, we were done! It took days to get everything ready, but it was completely worth it; it looked like something straight out of a fairytale!
Early morning wedding decorating crew. Thank god for hot coffee and fresh chocolate-filled croissants. Yum yum!

Inside the church

What an aisle!

So beautiful!

My handiwork! My thumbs ache just looking at those roses though! Thorns!

I was so excited; it almost felt like my wedding haha! Saturday arrived and it was perfect. K and M flew up from Spain, so I got to hang out with some fellow non-suisse. The ceremony was in French of course, but it was lovely nonetheless. My favorite part was Y played his vows to C on the piano. Swoon. Afterward, the couple headed off in some fancy vintage convertible that all the guys oo-ed and ah-ed at, and I have no idea what it was. Everyone drove off together in a parade of cars up the narrow winding road to a monastery up in the mountains for aperos. Everyone honks their horns and throws candies out of the windows to passing children, one of many Swiss traditions of the day. The views from outside the monastery were spectacular; perched overlooking the vineyards, you could see all the white sailboats out on the lake with the Alps shimmering in the distance. Kinda ridiculous.
Me and K, the two Spanish Americans in Switzerland. Confusing much?

Y's dad and choir sang during the ceremony. Surprise!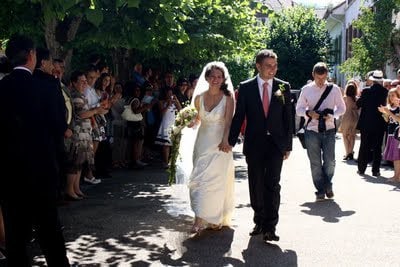 The exit! So beautiful!

The view from the apero place. Pretty awesome.

Peeps! Spain comes to CH. ¡Toma!

All dolled up!

Mount Holyoke ladies

From their we got back into the honking parade of cars and headed even further up into the mountains for the dinner. After a wonderful, long meal (that did NOT consist of fondue) full of entertainment from both the bride and groom's family, and waaaaay too much wine and champagne and ridiculously delicious chocolate deserts, the real fun began. In Switzerland it is traditional that during the wedding celebrations, the families do skits, plays, sideshows and presentations all night long making jokes about the couple and their new life together! They also had a backdrop and a bunch of costumes and a photographer who would take funny group shots of everyone that he then printed and we posted in the guest book and write notes on. Such a good idea! Unfortunately though, I think I have been ruined because now that I have been to such an incredible wedding, I'll probably always compare everyone elses to it. All in all the Swiss wedding was so much fun, and such a memorable experience; I was so glad to be a part of it (even though it reminds me that my friends are getting married. oof)!!
The Americans. Pic of the year

Have you ever been to a foreign wedding? A Swiss wedding? How was it different from the cookie-cutter weddings back home?