One of the things I have been looking forward to sharing with you guys the most from my time in South Africa has been the wildlife.
My first week there I went on a safari near Kruger National Park, and while I got to see some amazing animals, 2 days wasn't nearly long enough. So I did the only logically thing possible – I rang the airline and rescheduled my flight to Spain so I could go back and have the full safari experience I had always imagined.
As a little girl, I used to eagerly flip through my parent's copies of National Geographic, my curiosity in the world insatiable. Maybe it had something to do with the fact that the Lion King was one of the first movies I ever saw. Who knows!
I wanted to trek through the Andes in Peru, climb Everest, float down the canals of Venice, be a war correspondent in the Middle East, and of course, track lions in Africa. Not to mention Out of Africa has always been one of my favorite movies. Robert Redford, swoon!
Of course, my obsession with the world, as we all know thanks to this blog, only grew over the years, and my desire to visit Africa has been lingering in the back of my mind since as far back as I can remember.
While I have been to Morocco and Egypt, I knew I needed to get to sub-Sahara Africa, but I wasn't sure where to begin. So many amazing corners and spots to visit!
So when I got invited to South Africa, obviously I said yes about as fast as humanly possible. Show me some lions!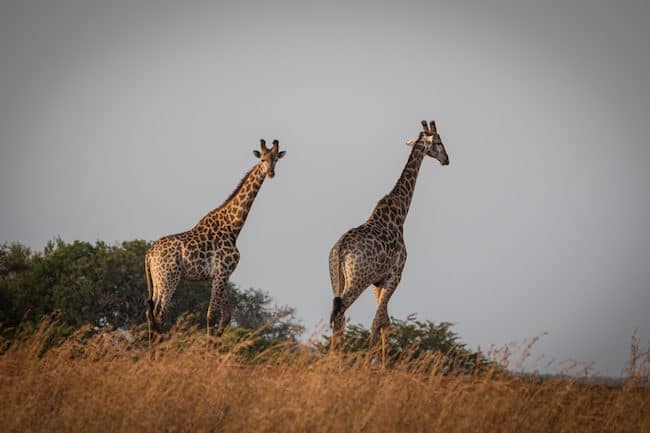 Before I begin I'd thought I'd also share a few photography tips for those interested. Recently I've been partnering with Canon Australia trying out some new gear, and truly working on taking my photography to the next level, something I've always dreamed of.
And trust me on this one, if there is one place you want to take photos, it's on safari in Africa, as you are almost always guaranteed to see something mindblowingly awesome.
My standard kit is a pretty simple one, I shoot mostly on a Canon 70D (and upgrade from my 60D) with a 17-55mm lens. But when are you shooting wildlife, you need a good telephoto zoom, trust me on this one. The majority of the shots below were taken on a Canon 70-300mm lens which I CAN'T LIVE WITHOUT.
If you want to know more about photography and my kit, head over to my post What's In My Camera Bag!
I had heard great things about Phinda Mountain Lodge, an amazing And Beyond property located on the northeast coast of South Africa, and knew this was where I needed to go. Not to mention it is a Big Five reserve so I would finally be able to tick off seeing some of Africa's greatest creatures (the hardest animals to hunt on foot historically:
Lion – Elephant – Leopard – Rhino – Cape Buffalo
I am happy to say I saw them all, though the leopard was the hardest and most elusive and I didn't take any photos – I was too caught up in the moment.
A safari lodge on a game reserve is one of the best ways to experience African wildlife, though it's important to do your research about which places are passionate about conservation and maintain high standards about wildlife.
As soon as I heard about And Beyond's Rhinos without Borders program, I was hooked! Relocating 100 rhinos from South Africa to neighboring Botswana, which has a much smaller poaching risk, it was a huge step towards protecting rhinos, which are in rapid endanger of extinction.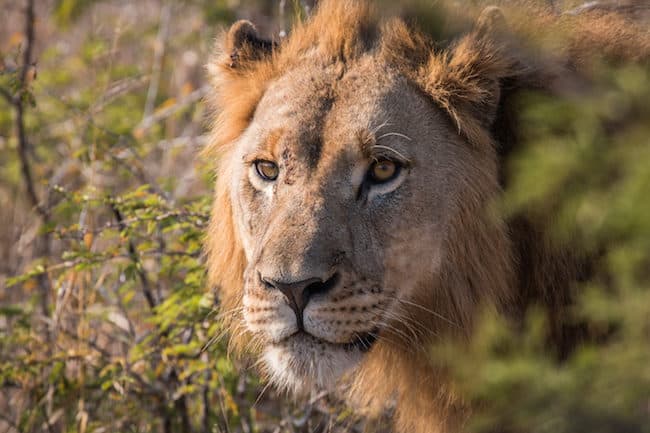 I've always had strong feelings about protecting animals around the world, and unless you've been living under a rock this week, there's no way you could have missed what's been happening in Zimbabwe with the death of Cecil the lion being killed by a trophy hunter, taking the world by storm and loudly condemning the practice.
While I hardly think I am qualified to weigh in on the matter, besides the usual grumblings of "fuck that guy" and "lock him up for life," I thought I would take the time to do something more positive, and show all of you guys just how amazing Africa's wildlife can be, especially the lions.
I had but a taste on my recent trip to South Africa, and was luckily enough to spend a week at Phinda, and went out on safari every day, quietly following, observing and watching these amazing animals. Oh and taking about a million photos along the way.
Enjoy!
Zebras
The first zebra I spotted at Phinda I squealed so loudly I freaked everyone in the jeep. Couldn't help it, especially as there was a baby in the herd!
Impala
Impala are the like the squirrels of Africa – there are so many by the end of the first day you are likely to ask your ranger to stop pointing them out. They are still such beautiful creatures though.
Lions
I've got a bigger post coming up soon about my experience with lions at Phinda because it was truly phenomenal. But in the meantime I'll leave you with a few of my favorite snaps.
Warthogs
Logically it only makes sense to follow up Simba with Pumba.
Giraffes
Giraffes have to be the weirdest, most beautiful and most iconic creatures I saw in Africa. I only saw a handful of them when I was there, but perhaps the most memorable was this mamma, who stood in the same spot every day for a week when we were there, guarding over her baby who had died. It was the first time I felt like I could see empathy among these animals.
Hippos
I don't know why hippos aren't included as a big 5 animal, they are freaking scary. Until I saw a newborn baby next to his mom one night. Then I lost my shit – cuteness overload!
Cape Buffalo
Probably the least known of the Big 5, the Cape Buffalo is the only buffalo that hasn't never been domesticated, mostly because they are pretty wild and dangerous and will gore you without a second thought.
Cheetah
We tracked these two cheetah brothers for half a day before we finally found them, and even now I am amazed that our tracker was able to spot them (see what I did there?) because they blend in so well.
Monkeys
I hate monkeys probably more than any other animals. They are naughty, terrible creatures who know no fear. Guard your breakfast because they will steal it along with anything else they can get their mitts on.
Elephants
My god do I love elephants! Between their herd mentality, watching the babies trip over their own feet to seeing them use their trunks like a snorkel, I find them to be some of the most fascinating animals I've ever seen. They were also the only ones that are truly scary, mostly because they are much much bigger than the safari jeep and you know they could flip it.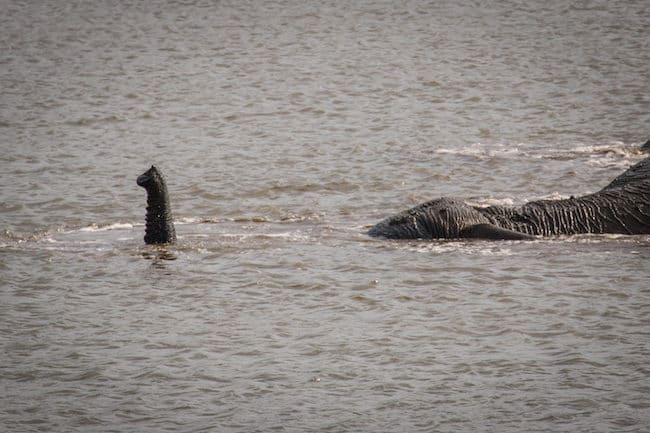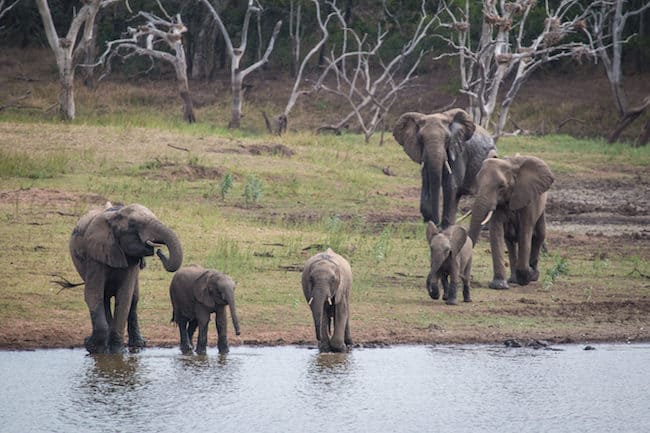 Wildebeest
Crocodiles
Run for your lives!
Other animals whose names I can't remember (help!)
Actually, I think these are vultures (but don't quote me) – how creepy are they perched in that tree?
Rhino
I saved the rhinos for last because for me they are the most special of all the animals I was lucky enough to see at Phinda. One rhino is poached every 8 hours (fact) for its horn, mostly for traditional asian medicine, and within the next year or two, their population will decline faster than their births, meaning they will go extinct very soon.
Luckily reserves have strong anti-poaching teams who watch the animals and do their best to keep poachers out. For me, rhinos were the most special animals to see, both black and white rhinos, because they were quiet and elusive, and just a joy to watch, especially the babies. How people could hack their faces off and leave them to die, I can't even imagine.
I feel very privileged to see them in the wild, knowing that one day, if I ever had kids (jesus, what a thought!), they might not get to see them. SAVE RHINOS!
Disclaimer: Many thanks to Phinda for hosting me on safari, aand this post contains some affiliate links (I gotta pay the bills!) – like always I'm keeping it real, all opinions are my own, like you could expect less from me! Also this post contains affiliate links.