Guys, are you ready?
I know this is a bold statement, but I am pretty sure I've just found Spain's prettiest seaside village. And maybe even the prettiest village in the whole country. And definitely the prettiest fishing village, for sure, no question – hands down.
Cudillero in Asturias in northern Spain. Put it on your bucketlist now!
40 minutes northwest from Oviedo as the crow flies, you'll find a teeny tiny fishing village called Cudillero tucked away on the wild Asturian coast. Blink and you'll miss it, so be sure to pay attention!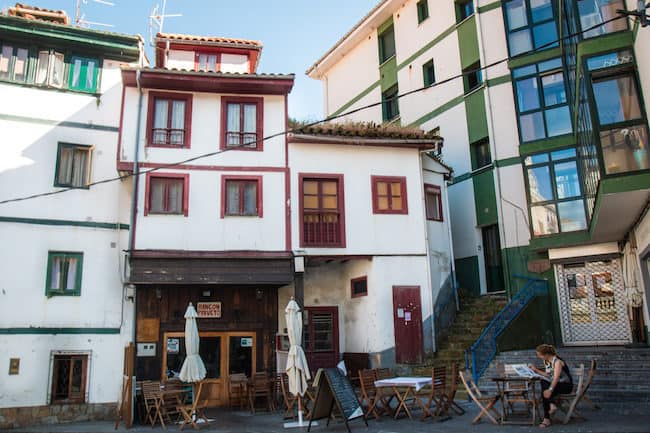 As part of a project called #NotATourist with Visa, over the next few months I'll be sharing some of my best travel secrets for exploring beyond the usual landmarks. All of my cards are Visa which is a bonus if you travel as much as I do, both for all the extra travel benefits involved as well as the fact that they'll replace lost or stolen cards wherever you are in the world. Word.
I wanted to share one of my favorite memories from my time in Asturias – getting to finally lay eyes on Cudillero, one of Spain's most off the beaten track spots.
I've dreamed of visiting Asturias for years and years, never having time to go when I lived in Spain, even in the north. Well this time around, I wasn't going to miss it. If you follow me on Instagram – you will know that I was borderline obsessed with it, and I've been posting photos nonstop from my week in Asturias since June. Can I go back now?
Cudillero definitely has a reputation within Asturias as being one of the most picturesque fishing villages, but beyond Asturias, I think it is less well-known, and outside of Spain? Well, it's totally waiting to be discovered!
After catching a very very long train to Oviedo this summer with my Eurail pass, I ended up getting around with a rental car in Asturias. Too much to see, not enough time.
Asturias is so far off the beaten tourist path in Spain it can be hard to get to. It's not really on the way to anywhere, if you go there, it's because you WANT to.
We parked outside the town, as cars aren't allowed in the center anymore and walked our way in along the new harbor. Colorful fishing boats bobbed along here and there and I was waiting for the "wow" moment to happen.
Then, as we turned the corner, the colorful village popped into view at the end of the twinkling blue harbor and my mouth dropped open with a loud "oh díos mío" in Spanish to my guide. Oh my god! What a place!
I literally stopped in my tracks and took it in; it was as if everything beautiful about all the small villages around Spain were combined together in a single moment to create the beautiful pueblo of Cudillero.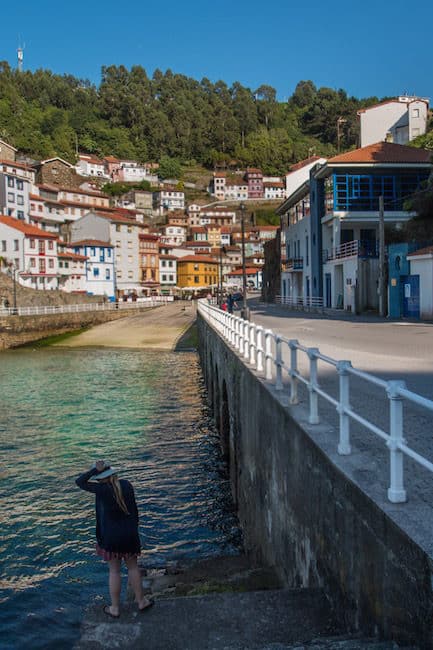 Whitewashed houses mishmashed together and piled on top of each other, each one standing out with its own brightly colored shutters. I'm told this corresponds to each family's fishing boats, which are painted the same.
Beautiful terracotta roofs stand in stark contrast to the white houses that tumble down to a tiny little harbor with turquoise water.
Seriously guys, this place feels like it should be swarmed with tourists, it's quite possibly the most picturesque place I've seen in Spain, but, thankfully, there was hardly anyone about, and many of the typical houses are crumbling down and abandoned, just waiting for someone (like me) to swoop in and save it!
A fisherman's town through and through, things start to pick up in the late afternoon (Spain time!) when the boats come back in with their catch and they head to the market to auction them off.
Along the walls by the harbor you might even see lines of fish stretched and hanging in the sun to dry called curadillos – these are very typical and are actually small sharks; a common dish in Cudillero. The skin even becomes like sandpaper when dried and are used to sand down the boats.
This was one of the many moments in Cudillero that made me feel like I had stepped back in time.
By the time we had to leave, I almost had to be dragged by my hair from the village. Who knew that such a tiny little town could make me want to stay for a year just to explore; getting to know its winding narrow streets, moss covered cobbles and back alleys overlooking the sea.
I wanted to sneak onto the fishing boats that head out before sunrise and learn all the local slang and vocabulary. I wanted to live in one of those white houses, open green shutters every morning, and try all of the seafood. YUM!
So yes, at least for me, Cudillero is Spain's prettiest seaside town. Well, until next time.
Have you ever heard of Cudillero? Ever been? Have you ever felt this way about a place you've discovered while traveling? Share!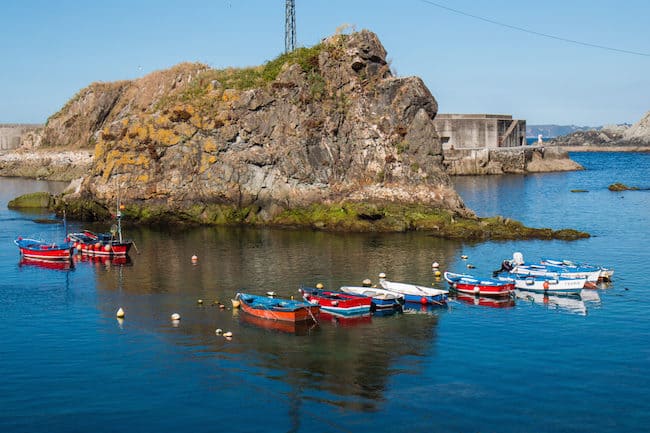 Many thanks to Turismo Asturias and Visa  for hosting me in Cudillero – like always I'm keeping it real – all opinions are my own, like you can expect less from me!
For more tips from Visa on exploring the world like #notatourist, visit Travel with Visa.