Oh man, has it been a while since I've written about what has become my favorite little corner of Spain: Asturias. Seriously guys, Asturias is Spain's best-kept secret.
Honestly, I am kicking myself for only visiting last year for the first time, and not during all the years when I actually lived in Spain and it was right there!
Anyways, thinking back, if I had to hanker a guess as to why this little region in northern Spain tugged at my heartstrings so much, it might be because it ticks so many boxes of my favorite things. Cute villages, historic houses, delicious food, friendly people, big mountains, rolling green hills, and a wild coastline.
Seriously, Asturias packs a punch. What more could you want?
But what I might have loved the most was the amazing coastline along Asturias. The whole region stretches along the sea, so you are never too far from a beach or two.
I was also amazed at the diversity of beaches. There are sweeping sea cliffs that tower over wild waves that remind me of New Zealand as well as white sandy beaches with tropical blue water begging you for a swim.
And don't even get me started on the quaint and colorful villages and towns that dot the coastline. I think I could pick up my life and move to any one of them and find myself content. That's pretty much my standard measurement for how much I like a place.
It's too good not to share, so sit back and enjoy my little impromptu guide to the amazing coast and beaches of Asturias, Spain!
Asturias wins at beach names!
1. Lastres
Honest to god, I can't pick a favorite place in Asturias, but for some reason I really really loved Lastres. I loved the look of the town, the amazing cider there and have great memories of how lovely everyone I met there was.
The burnt red roofs of the white hillside stood out to me wherever I walked and the cobbled streets made me feel like I stepped back in time.
This was a place I really want to get to know better.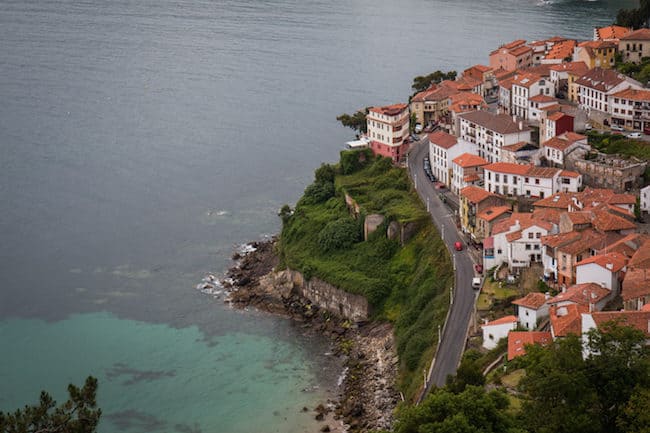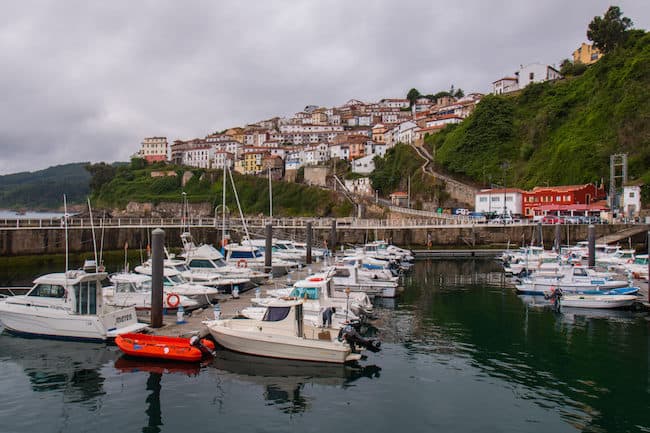 2. Playa del Silencio
What a spot, what a spot!
I remember the road to the Playa del Silencio (Silent Beach) was rather tricky, and parking even trickier, but man oh man was it worth it! It's like as if Asturias dreamed up the perfect beach, and poof, it appeared here.
15km from Cudillero, It's a perfect rocky cove with a sandy beach and crystal clear water. It's a bit of a walk to it, but it's worth it.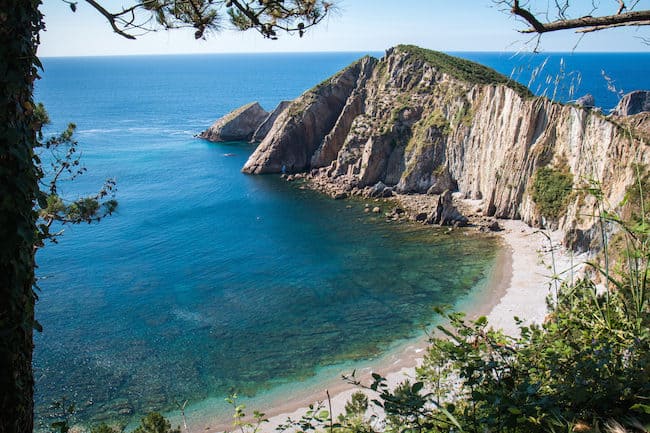 3. Cudillero
I've already dished about this amazing little fishing village, but it MUST be included. Cudillero is probably the most picturesque place in Asturias, and it's fairly well-known and considered "touristy." That being said, I think you have to take that with a grain of salt because tourist in Asturias is not very touristy at all.
Colorful shutters, whitewashed houses, a bright blue harbor and amazing terraces where you could sit for hours in the sunshine sipping cider and thinking about nothing. Heaven.
Take me back, Cudillero, por favor!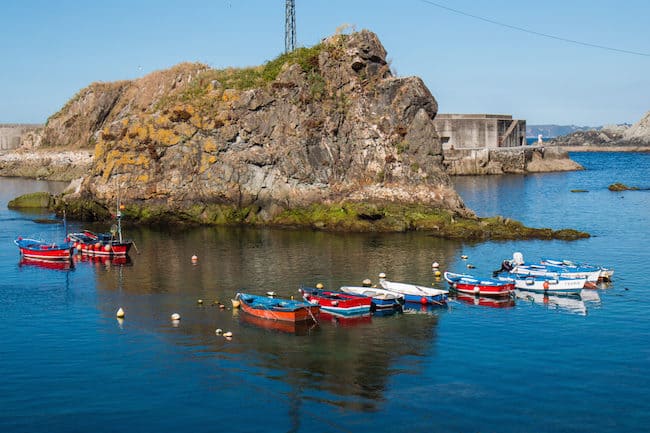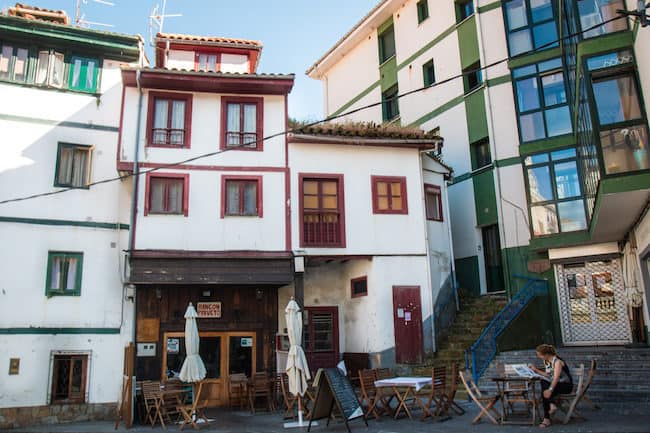 4. Playa de Gulpiyuri
How many places in the world can boast of a landlocked beach? A beach without a view of the sea? And did I mention it's in the middle of a meadow?
Well guys, it exists, and it's Asturias, at a magical place called Playa de Gulpiyuri. A flooded sinkhole near Llanes, it's 100 meters from the sea, but thanks to a series of tunnels and caves, it's connected to the sea so there are tidal flows and even waves.
Though you can't see it in my photo, imagine that you can hear the sounds of the sea as the tide ebbs and flows.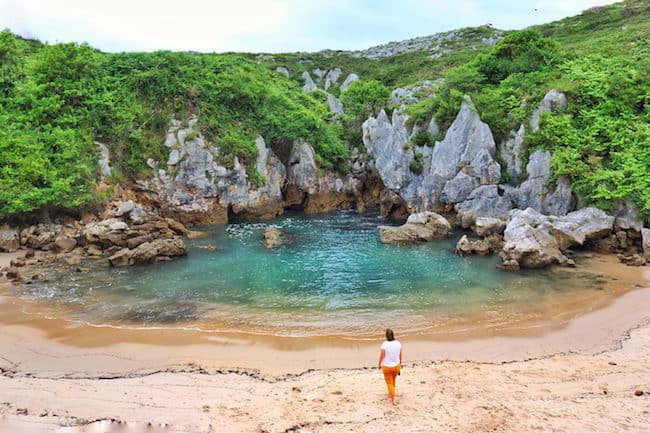 5. Llanes
Another beautiful fishing port, Llanes is tucked away almost on the border of Cantabria with great views to the foothills of the Picos de Europa mountains. It's the gateway to many of the wild beaches that make Asturias so freaking special.
6. Playa de Torimbia
Playa de Torimbia is one of the most epic places I've ever watched the sunset. Endless rocky outcrops and beachy coves and little islands dot the coastline as far as you can see from the lookout above.
The waves roll in the most perfect sets and make me want to try my hand at surfing again here.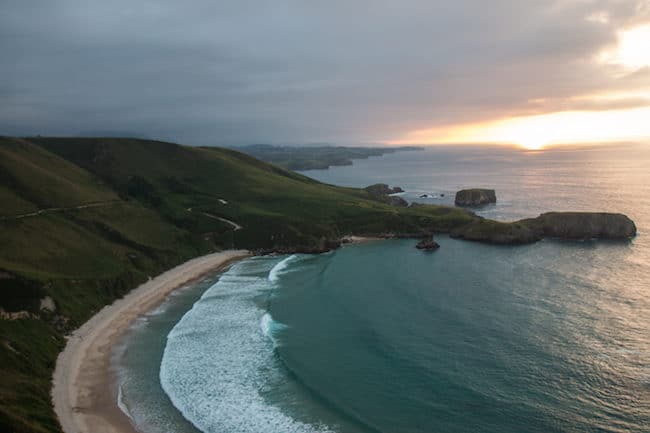 7. Ribadesella
I had really moody weather for my time in Ribadesella, but it was ok. This colorful town was beautiful and full of old casas indianas, mansions styled after colonial houses in the Americas jutting against the dense greenery.
8. Niembru
Niembru was one of those places we just were passing through but I had to yell "stop stop"and get out and explore a little bit. The sun was setting and the sky turned bright orange over the still waters of the estuary as the tide began to move and the little white church perched on it's edge felt like something out of a fairytale.
It couldn't have been more otherworldly.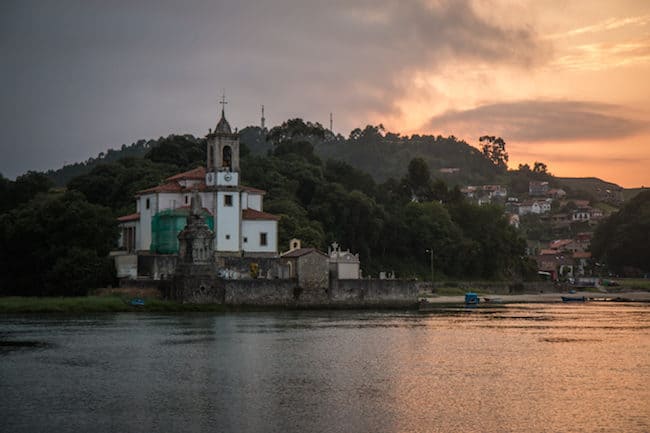 9. Luarca
Luarca is another one of those beautiful white seaside towns in Asturias with dots of color everywhere. Seriously, Asturias?! I can't keep all these amazing places straight! There are too many!
Luarca definitely had the most picturesque harbor filled with old wooden boats of different colors dotting along the bright blue water.
We grabbed a massive seafood lunch outside in the sun here and just enjoyed Luarca for what it was.
I fell head over heels in love with Asturias when I was there, and so many of these seaside beaches and towns had a big impact on me. As much as I love living in the mountains, there is something just so natural about being by the ocean. Combined with everything else Asturias had to offer, it's no surprise really that I want to live here one day.
Sigh, I better start saving.
Have you heard of Asturias before? Are you a seaside person too? Do any of these spots sound appealing? Share!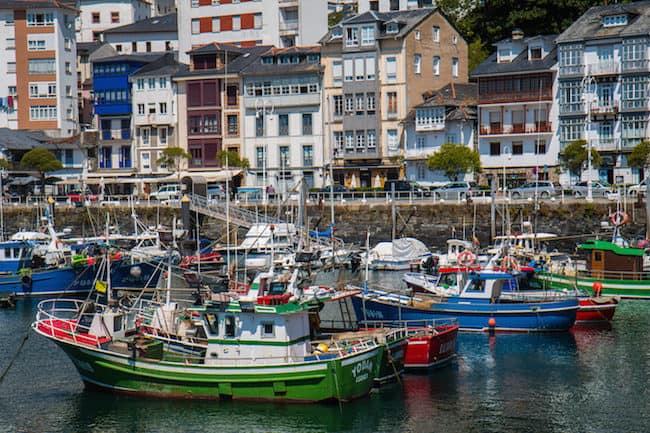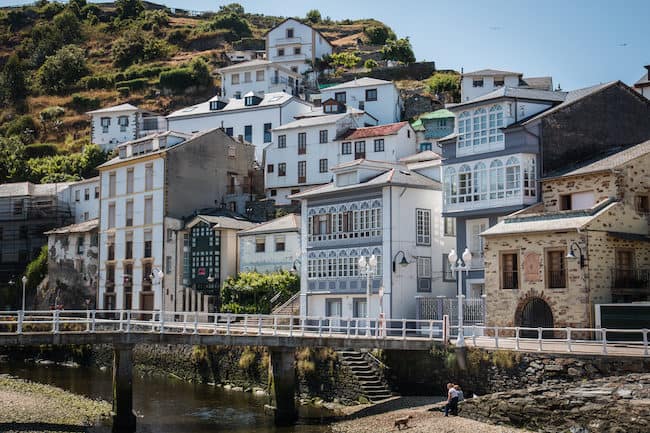 Many thanks to Tourism Asturias for hosting me in Spain, like always I'm keeping it real – all opinions are my own, like you could expect less from me!