"What's the tea?"
Me: a bit confused. "What tea? You know I only drink coffee."
18 year old sister gives me side eye and laughs. "Nevermind."
Me: "what? What? TELL ME!"
UGH. This basically sums up a good 10 percent of our conversations while travelling, and yes, I've never felt my 31 years more than this past June while in Spain with my 18 year old sister on her high school graduation trip. Sister travel, let's do this.
I maybe be all big and famous on Instagram but the reality is that I'm still a dork and STILL out of the loop and have no idea what these youths are saying.
Turns out "tea" is a metaphor for gossip, for all you equally old and dorky folks out there. You're welcome.
This is one of an infinite number of moments where I felt super old on this sister trip to Spain. You see my beautiful half-sister is enjoying her last summer before going off to college in the fall. Over a year ago I promised once she graduates high school, we could go on a trip together.
We've been looking forward to this for a very long time.
And the time finally arrived, and she wanted to go to Spain, a place that has long held a huge part of my heart, and I place where I really began to grow up and get my first taste of travel; where I learned to become independent. How amazing to share with my younger sister?
Cue all the nostalgia, all of the "oh I remember when…" moments from when she was born up until now. She's so well-spoken and put together, much more than I ever was at her age.
I mean, I remember when she was a baby, and when she barfed on me once when she was a toddler at the beach and when she started school for the first time. And now she's taller than me and going to college!
OMG I'm not ready!
If this is what having kids is like, count me out!
I first moved to Spain when I was only a year older than she was now. My first great adventure overseas was when I was 19 and I studied abroad for a year in Salamanca, Spain's renowned university city, and also (equally important) home to the most bars per person in the country with a nonexistent drinking age.
I would call home and chat with her and she was only a little girl.
But back in the day, we didn't have iPhones and used calling cards at internet cafes and you could still smoke inside the bars and Instagram wasn't a thing, travel insurance didn't even cross my mind, and flying by the seat of my pants was the only way I knew how to live.
If I had a couple hundred bucks in my bank account, I was stoked! I used to save money by couch-surfing and sleeping in airports, spending every euro on a trip or an adventure. Consumed by curiosity for the world and the newfound freedom of adulthood, I wanted to see and do it all!
I was unstoppable.
In retrospect, I also can't help but reflect on all those crazy moments that led me to developing a lifelong passion and love for travel. And also all those memories where now I'm all like, man, how did I survive?
I won't go into details (perhaps because I truly can't remember) but your girl was FUN.
The very definition of winging it without a care in the world, I lived perilously close to the edge for a long time, convinced of my own immortality, with a very whimsical "c'est la vie" attitude that kept me going. The "what-ifs" and "oh shit" moments back when I was 19, didn't seem to matter.
Consequences were temporary, but a damn good story lasts forever. Trust me, I've got heaps.
And so began my 10 day walk down memory lane with my sister through Spain, beginning and ending in Madrid with a jaunt up to Northern Spain for a week in between. Is there anything better than summer in Europe when you're young?
It didn't take long for me to utterly bore her with those "oh when I was your age…" narratives that promise nothing but eye rolls and deep sighs. I mean, I get it. No one likes that condescending life lesson from older people, it's super annoying; and yet I couldn't stop myself.
And therein lies the deeply personal conflict I felt on this trip – wanting to both bond and have an unforgettable time with my sister but also remembering how wild I was when I was her age and I would honestly lose my mind if I saw her do the things I did.
Lucky for me, she is a good egg, as we say in New Zealand, and the genes of wanting to push every single button possible and laugh while doing it skipped her generation. Phew!
Beautiful, sweet, kind but also fun, I couldn't think of a better person to share my favorite country with. My face hurt from smiling so much to see her joy in visiting all of these cool places and watch her fall more in love with travel too.
It took a decade for me to hone my travel intuition and skills, a decade of screw-ups and unpredictable adventures, that taught me more than I could have ever learned anywhere. That's what I hoped to share with her, to teach her travel skills and preparedness but also the sweet joy of spontaneity while on the road.
It's a delicate balance in travel, walking that tightrope in between being prepared and smart AND not being too anxious or fearful.
It was in these moments that I truly felt my purpose, after a decade of inspiring you guys to travel more and step out of your comfort zones, here I had the chance to do the same firsthand with my own sister. I could teach her how to be an amazing traveller too. How cool is that?
"Christ. Don't be an idiot and leave your purse out like that. You're asking to be mugged. BE VIGILANT."
Why is it that all tact goes out the window when you're travelling with family and the people you love the most? Sometimes I wonder if I'll ever learn.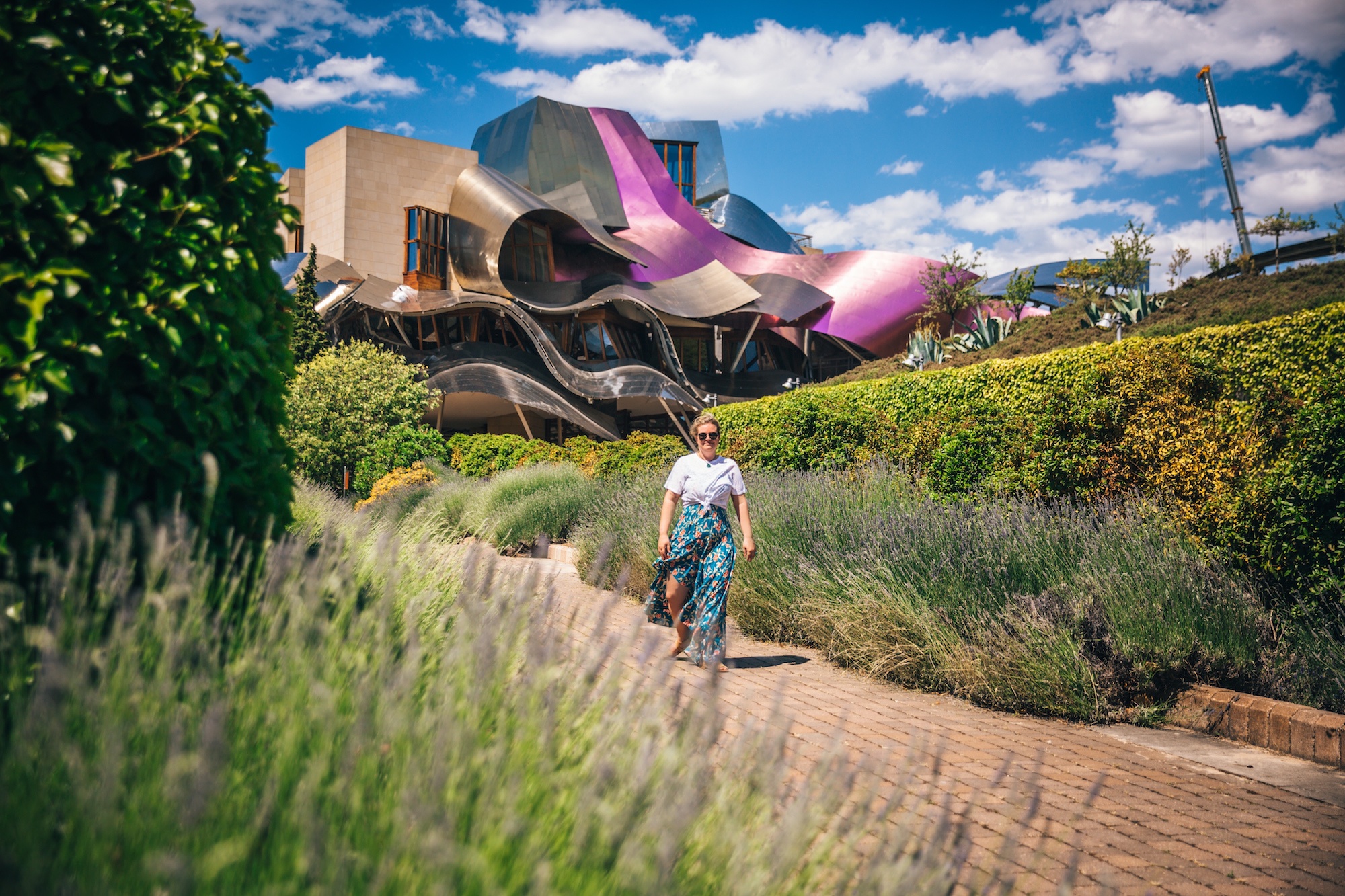 And so it began, a journey together in Spain. Visiting new places together and returning to some of my old haunts that shaped and made me who I am today.
It was so cool to return to places like Toledo, Bilbao and San Sebastián, where I used to visit in my ESL teaching days, before social media. I'm also not going to lie, it was pretty cool to go back to these spots from my early twenties now that I'm in my early thirties and not broke AF.
I also made sure to remind her all the time she was getting lucky now that I have reached a certain expectation of travel comfort, and therefore she reaped the benefits of it travelling with me, i.e. there's no amount of money you could pay me now to step foot in a backpackers.
I told her how I used to never be prepared, how I'd travel with basically no money and end up in a shit creek on the regular, in the hopes that she'd be smarter and more practical than me in her future travels. Utterly ruthless in my anecdotes of being the cool older sister in Spain, I was determined to lead by example. Or not.
Taking the time to share my best travel advice and tips for her, like how I've always made sure I've had travel insurance for years. I told her about how now I buy an annual policy with Southern Cross Travel Insurance (SCTI), my go-to provider for all things insurance related on all my travels around the world, and how I can't imagine how reckless I was when I was her age to not look after myself like this.
Obviously I taught her other important things like how to drink vermouth like a local in Madrid and the importance of picking the right jamón serrano to eat, and how I just couldn't bring myself to go to the discotecas to dance until dawn like I used to.
I LOVE saying yes to seemingly crazy new adventures and returning to Spain with her, and SCTI really gives me the freedom to explore the world with peace of mind.
So what's the verdict? Have I empowered, inspired and shaped by beautiful sister into being an expert traveller at the tender age of 18?
Who knows but I can say at least I helped try and share how I travel around the world safely. Not to mention showing her how to prepare for overseas adventures.
I can also happily report there were no pickpocketings and/or muggings from our time in golden Spain. And most importantly, how to get your overweight bags packed with too many things from the Spanish summer sales checked in for free. You're welcome, baby sister. Til next time!
Have you ever traveled with a sibling like this? Any good sister travel stories? Do you have nostalgia for a place like Spain when you were younger? Any advice to share? Spill!
Many thanks to SCTI for sponsoring this post – like always I'm keeping it real  – all opinions are my own, like you can expect less from me!