The more and more I travel the world, the more I've come to realize how much I value and adore going off the grid, voyaging to far shores few have been to and seeing places that barely exist on social media, if not at all.
Trust me; there are still so many spots out there.
These wild places beckon to me, they call to my soul, and they are the spots that fill my heart with pure joy, a joy I can't even share because there definitely isn't wifi around.
Does that sound like somewhere right up your alley? Or do you prefer to read about it from the comforts of home? No shaming whatsoever. As an ambitious adventurer full of fear, I devour plenty of stories that I would never in a million years attempt on my own. I get it.
Who doesn't love a good story?
Last year over the Christmas holidays, which is summertime down in New Zealand where I live, I had the incredible opportunity to journey to the bottom of the world with Heritage Expeditions, back to the subantarctic, but this time on the Pacific side of the map – instead of from South America.
A Christchurch-based expedition company, Heritage Expeditions, and I go way back. These guys are badass. Pioneers in conservation tourism, they have been leading the charge over the past decade in responsibly sharing our precious places, encouraging us to be guardians of the natural world.
And I can safely say, there is nowhere better to see this than in the New Zealand subantarctic.
If you were to head south from the bottom of New Zealand's South Island – past Stewart Island, many probably know that you'll eventually end up in Antarctica.
But before landing on the icy white continent – you'll first encounter a series of rugged, windswept, uninhabited desolate islands home to a lot of birds. Including the Auckland Islands travel here will blow your mind.
Many might find that description unappealing, but I can tell you, THEY ARE SO AMAZING! Wild weather? Rugged and remote? No people? All the birds?
Does it get any better than that? Don't think so.
A few years ago, I traveled to South Georgia and the Falkland Islands, which are subantarctic islands on the South American side, and I felt with the profound and somewhat surprising revelation that I think I like the subantarctic islands better.
Why? Because for me, I enjoyed the wildlife there more. And it's less white, less icy. I prefer the colors you see there, and it's a place few ever visit.
Along with the Snares, Campbell Island, and Macquarie Island (Australian managed), on my trip south last year with Heritage Expeditions, we also visited the Auckland Islands – our trip was the Galapagos of the Subantarctic.
The Auckland Islands are roughly 465 kilometers due south of Bluff, where the ship departs from.
They are the largest of New Zealand's subantarctic islands, with a combined area of 57,000 hectares or 220 square miles, according to Google – but don't quote me on that. I have little to no comprehension of size and scale whatsoever.
The Auckland Islands are big but not that big, none of the subantarctic islands are enormous. I imagine this is because they are constantly battered by gale-force winds which have whittled them down – but that's pure conjecture on my part.
Moving on!
The big-but-not-too-big Auckland Islands are home to a massive variety of plants and wildlife, as well as having a rich human history that failed spectacularly many times.
Leave it to the birds.
What's cool is that the Auckland Islands is considered to be the furthest south wayfaring Polynesians traveled to, with evidence of ovens and middens on Enderby Island from the 13th to 14th centuries before disappearing.
In about 1842, a settlement of Māori and Mōriori tried to establish themselves here too.
You only have to spend about an hour down here to understand that the weather patterns are grim, grimmer, and less grim. In fact, there were so many shipwrecks down here, eventually castaway depots were left along with wild pigs to feed shipwrecked sailors until they could be rescued again.
Eventually, humans returned in the 19th century to decimate both the seal and whale populations, with attempted settlements that, surprise! Failed.
Only the pigs and pests survived.
While on the ship, I plowed through many of the stories and diaries from early explorers, sealers, and attempted farmers down here, and I just couldn't even believe anyone would have given it a go. It's so remote and wild; it would have taken a powerful person even to try.
Like I say, they don't make men like they used to, eh?!
Even rugged up in my expensive Goretex and merino layers, I could feel the weather here. You've got to be prepared. But it's important to remember that this wild landscape is what has allowed too many incredible creatures to thrive, like the albatross who need high wind.
No humans inhabit the Auckland Islands these days, no matter how many times I pester the Department of Conservation to let me go down and set up shop. I'm just saying, and I could totally live there and be happy.
Sign. Me. Up.
What makes the Auckland Islands so unique from the other islands is its sheer biodiversity and abundance of very cool, enormous plants.
The subantarctic has an incredible phenomenon called megaherbs – which is what you might expect – huge flowering plants that exist nowhere else on earth. How cool is that?
It's undoubtedly one of the first things I noticed wandering around the boardwalks and beaches of the island. The plants were big, way big, like Jurassic Park big.
Some of the plants we would frequently see are the Ross Lily, Anisotome latifolia, Dracophyllum, along with a beautiful and gnarly southern Rata forest. Enderby Island has kilometers of boardwalk built across it to protect the native fauna from being disturbed, and it certainly made our walks around much more accessible.
I couldn't help but send a massive thank you to the team of people who installed them – it would not have been an easy feat. I salute you.
There are vast numbers of seabirds on the Auckland Islands, despite feral cats and pigs feasting on them until somehow conservation groups raise enough money to eradicate them. Any millionaire philanthropists looking for a project which might be reading this – hit me up!
A vital breeding ground for many birds in the Southern Ocean, the Auckland Islands are home to white-capped albatross and millions of sooty shearwaters.
The Auckland Islands are also home to the largest breeding population of wandering albatross – which are one of my favorites. They are beautiful creatures, and we were lucky enough to observe them dotted amongst the hills and soaring over our heads.
The Auckland Islands are also home to the highest proportion of the rare yellow-eyed penguins breeding here, the rarest penguins on earth.
We saw so many while exploring the islands, and it made my heart sing to see them here, somewhat thriving where they are in decline in mainland New Zealand.
Some of the other land birds on the Auckland Islands are the Auckland Island snipe, the Auckland Island teal, tomtit, the red-fronted and yellow-crowned parakeets, tūī, bellbirds, pipits, and even falcons.
Did you know the Hooker's Sea Lion, which is the world's rarest sea lion breeds on the Auckland Islands?
I spent a lot of time sitting and quietly observing a breeding sea lion colony while on Enderby Island – and trust me – I'll never be the same again.
Life, death, birth, sex, dinner, poo, blood, we saw it all. Repeatedly. I left filled with knowledge and the sincere gratitude not to have been born a sea lion female because that just sucks.
Fun fact – a breeding sea lion colony is called a harem. I can attest to the accuracy of this title.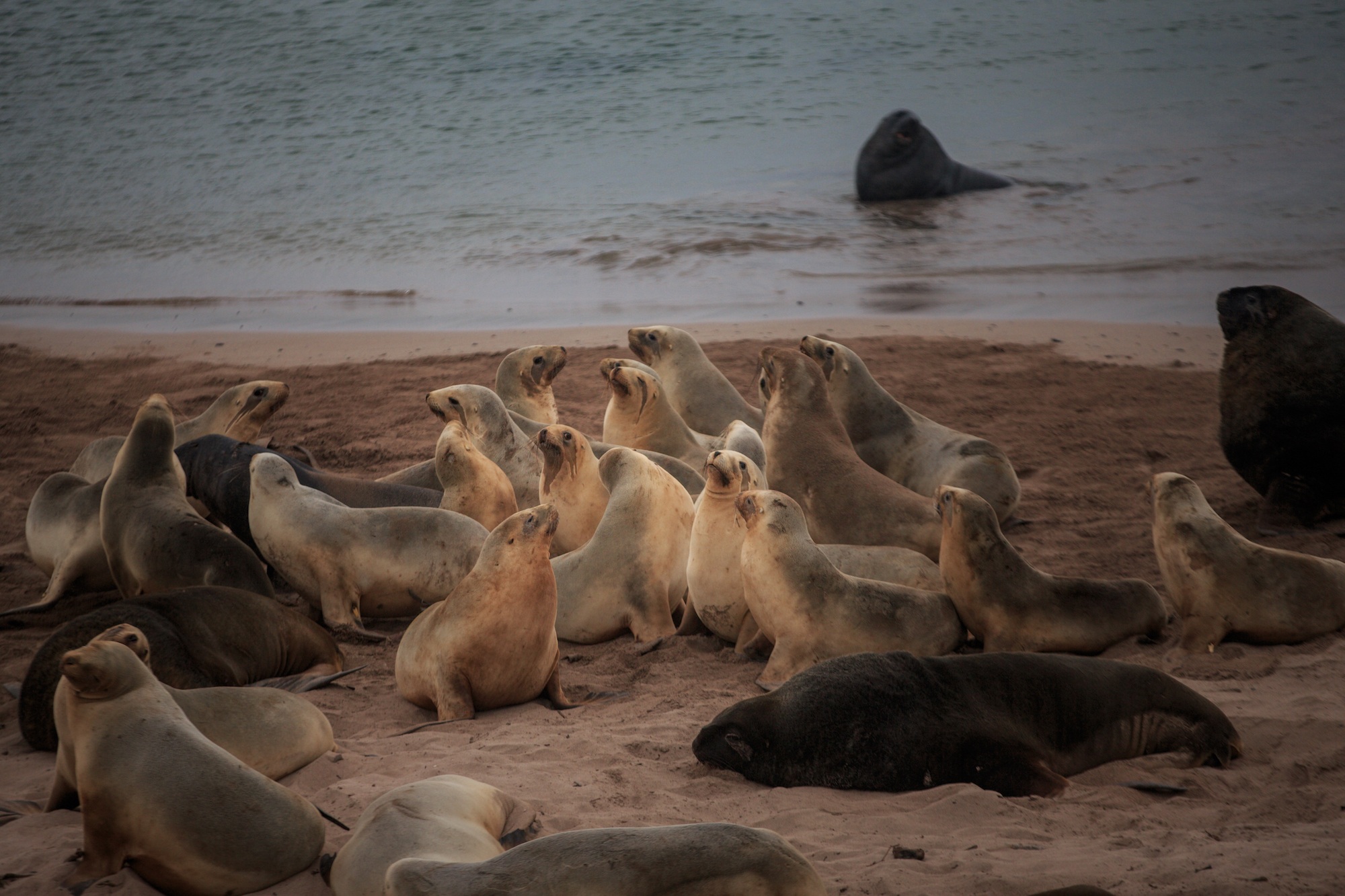 So what's the current state of the Auckland Islands? Well, let me update you.
Animal pests introduced by humans over the last 200 years have inflicted severe ecological damage to the Auckland Islands in many ways, but luckily that might change.
Following the successful eradication of mice from Antipodes Island, DOC is currently investigating the feasibility of eradicating pigs, cats, and mice from Auckland Island to achieve mammalian pest-free status for the New Zealand Subantarctic Islands. This would be SO COOL.
In the meantime, if you're keen to get down to the subantarctic like me, and see this incredible place for yourself, hop on one of Heritage Expedition's trips as it's pretty much the only way to get down to places like the Auckland Islands.
Have you heard of the Auckland islands? Is this the kind of place you would visit too? Do you love wild landscapes like me? Share!
Many thanks to Heritage Expeditions for taking me to the Subantarctic Islands – like always, I'm keeping it real – all opinions are my own – like you could expect less from me!