Ok, everyone, I know we've had a bit of a horrible spring and a somewhat lackluster start to the summer down here in New Zealand. The copious amounts of rain and flooding we had last month made us question if summer was ever going to arrive.
But finally, it's official; summer is here in Wanaka!
Hot days, lake swims, summer tramping. It's all go here on the South Island, and there's nowhere better to be.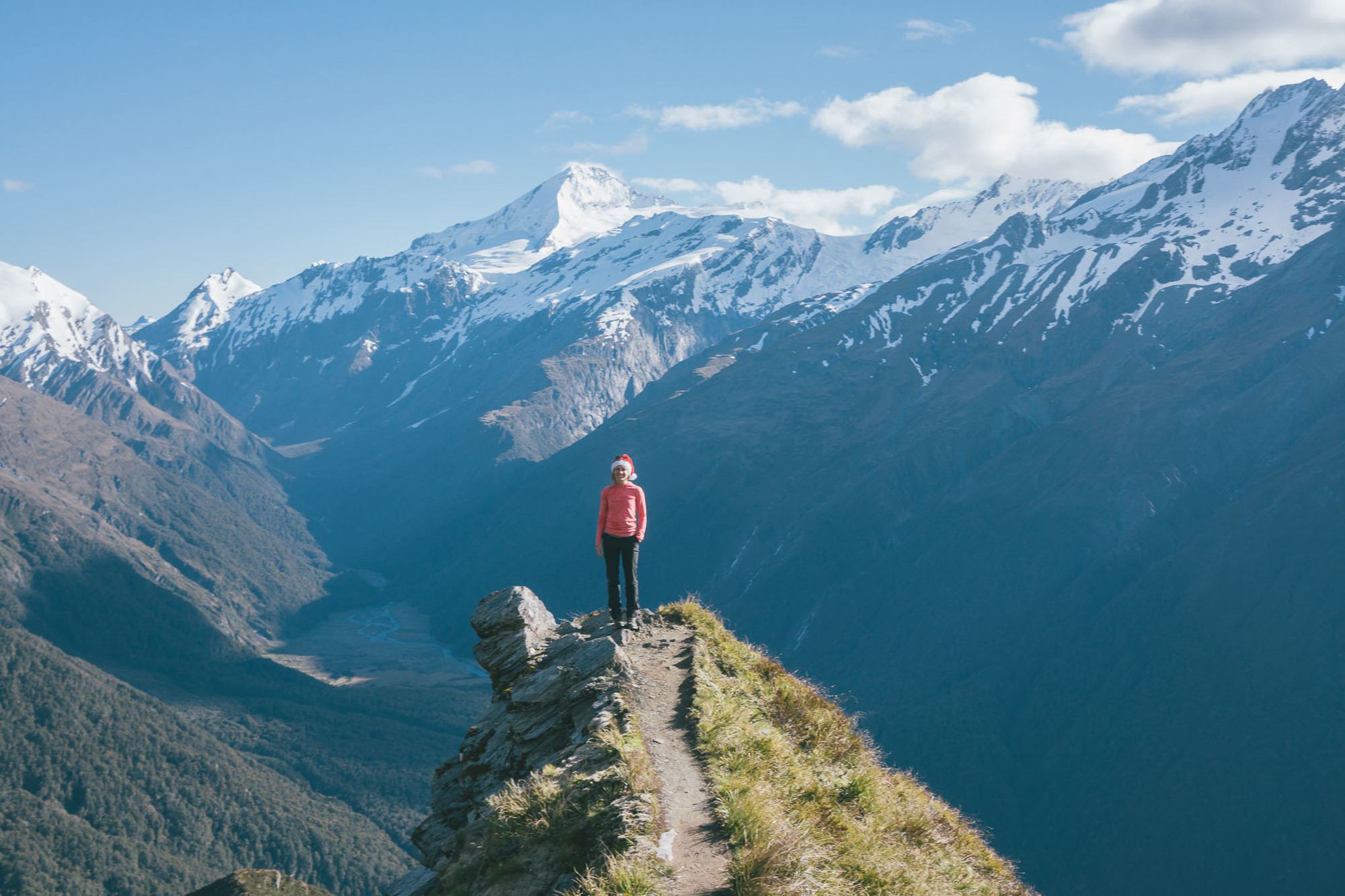 Wanaka is fantastic for a lot of reasons, but one of the best parts of this location is its proximity to Mt. Aspiring National Park. Technically, Mt. Aspiring National Park is pretty big and can be accessed from as far north as Makarora as well as over by Glenorchy. Still, there's no denying that the Mt. Aspiring Road from Wanaka will take you to some unbelievably beautiful places that will quite literally make your jaw drop.
If you're heading to the south, here are my top recommendations for hikes in Mt Aspiring National Park hikes near and around Wanaka – enjoy!
1. Cascade Saddle
Cascade Saddle is one of many terrific hikes in Mt Aspiring, but don't underestimate it.
This expert hike routinely claims lives every season, so if you're thinking of giving it a shot, it's non-negotiable you check in with the local Wanaka DOC office before venturing out to make sure the conditions are right. Also, make sure to plan with the Mountain Safety Council before venturing into the kiwi backcountry.
No rain, no snow, no ice. You want to do this one dry and safe.
The track starts from the Raspberry Creek Car Park (an hour from town down a gravel sometimes impassable road) and leads up you the valley towards Aspiring Hut.
Once at the hut (which usually takes a few hours to reach), you'll see the sign for the Cascade Saddle. You can kiss that sweet flat trail behind because the track gets steep fast.
The trail climbs up over 1,000 meters, so make sure you have allocated enough time, water, and snacks for the ascent.
This track is dangerous because it's steep and covered in snow grass, which is mostly like hiking on slippery ice when it's wet, which is why you want to make sure your weather window is dry as a bone before you start the Cascade Saddle Route.
Take care with your footing, and you should be alright, along with having a head for heights. You can head up to the pylon, which will give you incredible views across the valley floor, or you can continue to the true Cascade Saddle itself.
There is actually a campsite up here, so if you're keen, you can spend the night but beware of the keas, naughty alpine parrots who notoriously will tear your tent to shreds without giving one single fuck about you or your restful night of sleep.
For the extra keen, you can connect this track over into the Dart River Valley below. It's not recommended to walk the Cascade Saddle in the opposite direction down to Wanaka as ascending is much safer.
This will be a multiple-day trip, so if you haven't planned for being out for multiple days, don't go trying this track all willy nilly once you've reached the saddle. It's long and will drop you off in Glenorchy, which, FYI, is nowhere close to Wanaka unless you have a car.
Also, depending on the time of the year, you may need crampons and ice axes (and experience!) We did this hike the week before Christmas, and it was still snowy.
2. East Matukituki Valley
The East Matukituki Valley tracks are such a hidden gem I'm almost afraid to share it publicly even though it's public on the DOC site for all find. Hikes in Mt Aspiring like these will blow you away.
When you're driving up the Mt. Aspiring Road, most visitors will head straight to the dead-end, which is where most of the tracks start. If you're paying attention, you'll see a sign for Cameron Flat, a few kilometers before the Raspberry Creek Car Park.
You can park by the sign and cross the river (which, full disclosure, can be very sketchy or even completely impassable), or you can park at the swing bridge further up and walk across adding some kilometers to your tramp.
Once you've crossed the river, you've got a long boring walk through farmlands where you'll fill your time hiding from the sun and dodging cow pies.
You will most certainly come across some cattle as well, so ignore them and give them a wide berth.
Once you've spent an hour or so walking through farmlands, you'll head into the glorious bush of the East Matukituki.
You'll follow an undulating track through fairytale-like forests. The route will most likely be wet in some places, so don't be afraid to get your shoes wet. This track can take you all over, depending on your fitness levels and how much time you have.
You can head up the Kitchener Track to get a glimpse of Aspiring Flats and the Turnbull Thomson Falls, which are stunning. You can keep going and head up and around the Bledisloe Gorge landing at Ruth Flat, which is an excellent place to camp.
If you're confident in your navigation, you can even go off-trail to explore Dragonfly Peak and Mt. Eostre. The options are limitless, and you won't be sorry you chose this track as long as you're prepared.
3. Rabbit Pass
Perhaps one of my most favorite multiday missions of all time, Rabbit Pass is not to be missed if you have 3-4 days and the right weather window. Also, you need a solid hiking experience and a head for heights.
Rabbit Pass is one of the many hikes in Mt Aspiring known for taking lives and needs to be taken seriously.
This tramp can be a little difficult when it comes to logistics as it starts near Makarora and ends at Cameron Flat. You will need to have two cars and do a car drop the night before or organize some transportation options at the local iSite but trust me. This hike is worth the hassle.
You start the Rabbit Pass track by getting across the mighty Makarora River. This river can be a real pain in the ass because it is deep as hell and mighty swift.
I've had friends cross this river by wading through water nearly chest high, so if river crossings are not your specialty, perhaps be like me and book the Wilkin jet boat to cross and knock some time off of it.
Not only will you get a fun 15-minute ride on New Zealand's favorite watercraft, but you'll also save nearly 20km of boring valley bashing. At over $100 per person, it's steep but very much worth it.
Once you leave the jet boat, head up the valley to Top Forks Hut. You can spend the night here. If you have extra time, leave your bags at the hut the next day and explore Jumboland (or take your tent and camp up near the lakes!)
Having not much time, we only stayed one night before heading to the crux of the hike the next morning, the infamous Waterfall Face of Rabbit Pass.
Again, not to scare you, but this can be a sketchy as hell climb, which has also claimed multiple lives. Fatalities are common on this part of the Pass, so listen up.
I personally found the climb to be more comfortable than I expected, but it does take confidence, climbing skills, and nearly perfect weather. If the waterfall face is wet at all, you should not attempt to get to the top. Slippery grass, damp rock, and severe exposure can make this a deadly climb. With that said, with the right conditions and skill, it's manageable.
Once you've topped out at the waterfall, get ready to enjoy some of the best scenery in the entire national park. You'll follow the hanging valley up to Pearson Valley, where you'll begin to make your way back to the valley floor. The descent can be a bit dodgy at times, so being a confident down climber will be a massive advantage for you. There are also bolts up here in case you bring ropes and decide to rappel down.
We camped at Ruth Flat that night, but you could camp anywhere along the valley. One word of advice, though, the last day of Rabbit Pass is deceivingly grueling, so if you can get as far as possible on the second night, you'll be thanking yourself in the morning.
The next day, you'll climb up and around the Bledisloe Gorge and connect up with the East Matukituki Track, which will drop you off at the Mt. Aspiring Road back to Wanaka. It is possible to hitch, but be mindful you may not finish the hike until quite late in the day/evening.
4. French Ridge Hut
Ahh, French Ridge Hut. One of my first huts and certainly one I love to return to time and time again. This track starts at the Raspberry Creek Car Park and takes you along the flat-ish valley for several hours before crossing the river (via a bridge) and steeply climbing up for a few hours.
This track, while grueling at times, is immensely fun.
You'll get a full-body workout, pulling yourself up and over the tree root track. It feels like a jungle gym for adults but with a heavy pack. Fun! This one of my favorite hikes in Mt Aspiring, and you can probably see why.
Once out of the bush, you still have a way to climb before getting a view of the beautiful French Ridge Hut.
This classic red hut is perched precariously on the ledge of the mountain, looking over the valley below.
It's a stunning view and a beautiful alpine hut!
You can see the neighboring and smaller Liverpool Hut across the valley. There are stunning views of Rob Roy Peak, Glengyle Peak, Plunket Dome, Mt. Liverpool, and Mt. Barff.
You cannot see Mt. Aspiring from here, though.
If you want those views, you'll need to try out Liverpool Hut, which as equally grueling but at a slightly lower elevation.
5. Upper West Matukituki
Perhaps the best-kept secret in all of the Matukituki Valley. Most people head into the valley and seek out Liverpool, French Ridge, Rob Roy, or Cascade Saddle, but if solitude is what you're looking for, head to the Upper West Matukituki. These are some of my favorite hikes in Mt Aspiring.
To access this track, park at the Raspberry Creek Car Park. Follow the signs for Mt. Aspiring Hut and then on to Pearl Flat. You'll take the same route you would go for French Ridge, but instead of heading up the hill once you've crossed the river, follow signs to the Upper West Matukituki.
Overgrown but well-marked tracks lead to an isolated and quiet valley with amazing views. This route is often used for those heading up Bevan Col en route to Mt. Aspiring. Even if you're not a fancy pants mountaineer, you'll still find beauty and joy in this hike up the valley.
The valley floor is densely vegetated early on, so you may not find a great camping spot until you reach the absolute head of the valley near the waterfall. There is a rock bivvy, but in my opinion, it's a little damp to be comfortable, but it certainly could do in a pinch.
6. Gillespie Pass Circuit
If circuit tramps are your thing, you have to check out Gillespie Pass Circuit. This tramp can be done in either direction, but I did it heading up the Wilkin Valley first.
Again, I opted for an expensive jet bot up the Wilkin instead of testing my shaking river crossing skills. Now there is a new track and swingbridge the Blue-Young Link Track, which can provide access to the start of the Gillespie Pass when the river is too high to cross safely.
From the jet boat drop off, you have a pleasant few hours walking to Siberia Hut, which is reasonably straightforward. Be warned, this hut is busy and requires booking from December to April.
If you get to the hut early enough, you'll have enough time to hike over to Lake Crucible on a side trip.
In my opinion, this side trip is best in the morning when it sees the full sun. Maybe it's best to wait until the next day, but if you do, you'll have a double climb: one up the Lake Crucible and the second up the Gillespie Pass, which is steep and long.
Either way, you do it, you won't regret seeing Lake Crucible. If you do it closer to spring, you may even see icebergs floating in this alpine lake.
The hike up to Gillespie Pass is steep and challenging. Snowgrass covers the track, thus requires extra careful footing when wet.
The views from the top are seriously top-notch, so plan to spend your lunch at the top gazing at Mt. Awful. Despite its name, it's genuinely a thing of beauty to look upon.
The track down is steep but manageable. After a few more hours, you'll arrive at Young Hut, where you can stay the night.
The rest of the track is through the valley, and you can also add in the famous Blue Pools if you haven't seen them yet. If you're brave, you may even attempt to cool off by jumping off the bridge into the icy water.
So there you go, here are some of my favorite hikes in Mt Aspiring near Wanaka, New Zealand.
These multi-day adventures are not for the faint of heart. Remember that tramping in New Zealand requires an advanced skill set and experience. The backcountry here is beautiful but unforgivable.
Where are your favorite hikes in Mt Aspiring? Have you tackled any of these tramps? Spill!