When it comes to women's fashion, Europe sets the bar, and Spain is no exception (read about my previous post on men's fashion here). It seems that every woman in Spain is born with fashion sense, as well as the ability to walk for hours in 5 inch stilettos on cobblestones without falling once, with a cigarette in one hand and a drink in the other. Women (and men) are careful about how they dress, making sure to always look nice, as well as being careful about how other people look too. This has had the unfortunate effect of making me care more about how I dress in public. If I dress nicely, everyone will say how pretty I look, ect. But if I ever showed up at work in just jeans and a t-shirt, no make-up and my glasses, literally everyone (and I mean everyone-including my students) would say, "teacher Liz, are you sick? Are you ok? What's wrong?" Come on! Can't a girl just have a lazy day? Gone are the days of sweatpants, comfy t-shirts and sweatshirts, if I wore you in Spain I would be forcibly exiled. People stare at me enough as it is (being a little blondie, I stick out BIG TIME), but having people stare at me even more because I didn't feel like showering and putting in my contacts, now that's the worst!
Part 2: On to the ladies
The general rule of thumb is that if you wouldn't wear it back home, you can definitely get away with it in Spain. The trick is you have to wear it with confidence; women in Spain exude confidence. Start with putting on your face make-up, think of it as war-paint or a shield, getting ready for battle against all the judgmental people out there. Make-up you would normally only wear out at a party is totally acceptable to wear during the day. You must blow-dry your hair and style it. Ponytails are only for the weak, children, and hippy men. You must always look nice, ALWAYS! And when in doubt about shoes, wear heels. It is completely normal to see women shopping or buying groceries in high heels. If you go out at night, feel free to go all out. Women in Spain really dress up to go out for fiesta. And if you are ever invited to a Spanish wedding, now that's a gold mine! Picture the royal wedding but with less pastels and frompy suits, and more colors and skimpy gowns! You must also wear some sort of hat or flower thing in your hair.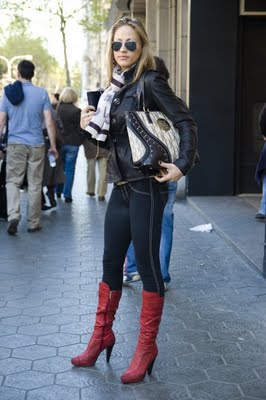 She is probably just going out to buy groceries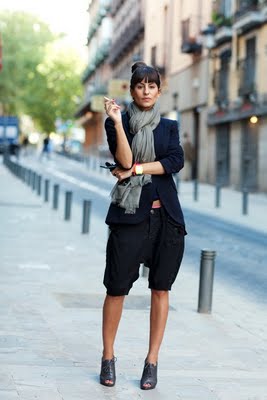 Fashionable euro women, can't you just smell the confidence?
Just like the men, you are encouraged to wear white or brightly-colored pants all the time. In fact, I finally plucked up the courage and bought a pair of red skinny pants from MANGO today on sale. I will definitely wear them in Spain, maybe in America. Vamos a ver. Feel free to match colors. I see women all the time who wear purple pants and a purple sweater. Heck, why not? The alternative dreadlock hippy crowd, ie, my roommate, are big fans of what we have coined "Aladdin pants." Basically cotton pants that are stretchy and baggy, and the crotch hangs down to your knees. Other popular pants are ones with a higher waist with a shirt tucked in and a belt. Also, always wear black and brown together. Brown boots with black tights.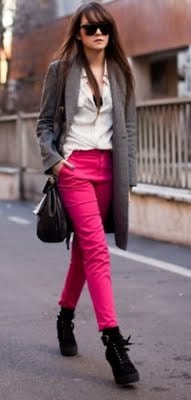 Hot pink pants=totally fine
Very popular pants right now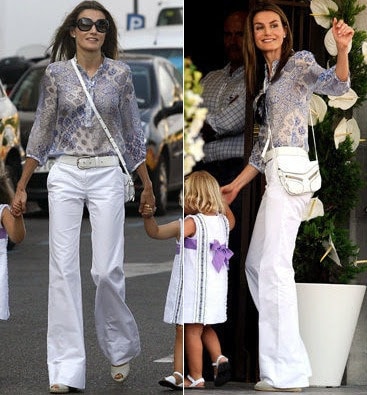 Style icon princess Letizia, rocking white pants
Oh the Aladdin pants, I will never be a fan
Speaking of boots, between the months of November and April, you are only allowed to wear boots. Whether they are cute booties, ankle boots, have a heel or not, leather riding boots, or over the knee hooker boots, you must always wear boots. Over the knee boots became very popular here in Spain this past winter. Every girl and her mother has a pair. They can be any color. As a general rule, the more leather, the better. And if wearing leather isn't enough to keep you warm, you can always invest in a fur vest. Again, very popular. Here in Andalucía, central heating still hasn't become the norm because of the warm climate. However, December to February, it's f***ing freezing!! So that means layers, bundling up and no bare necks. I would be verbally abused at my school if I didn't show up with at least a turtleneck and a scarf.
Hooker boots for the hooker inside all of us
Fur vest
The rest of the year you can wear flats or cute sandals, but never flip-flops. You can only wear flip-flops on the beach, to walk to your towel. If you are over 18 years old, you are not allowed to wear sneakers, unless they are oxford shoes or converses and you are an alternative hippy or perroflauta. Right now every women in Spain owns a pair of tan wedge platforms. If you don't want to be stared at and be labeled a foreigner immediately, then leave your uggs and your northfaces at home. No one wears them here, and if you do, they will think you are stupid for wearing outdoor gear and furry snow boots in a country where there is no snow and most likely you are in a city and not in the wilderness. Likewise, no one wears Coach or Vera Bradley. And just like with the men, sneakers and jeans together is beyond unacceptable and bordering on profane.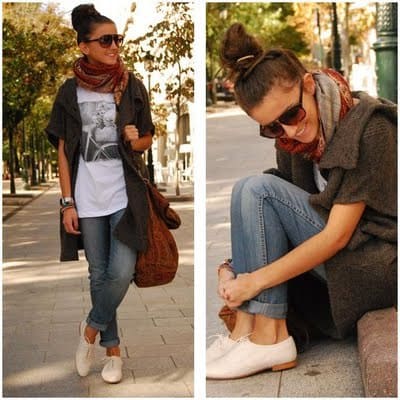 A very Spanish look, baggy sweater layers, oxford shoes, big sunglasses and a big scarf that you probably don't need
If you feel like wearing shorts, you must always wear them with tights. You also may never leave your apartment without a belt. Wearing a belt over a t-shirt on your hips is very popular or belts around the waist too. Right now, all the girls are rocking baggy off the shoulder tops, and channeling the 80's in terms of colors. Neon everything! If you are at the beach, you should have a very tiny bikini that barely covers your butt. Thongs are unacceptable and vulgar, but it's ok to shove the bottoms up your behind when you are laying down. Also, 1 out of every 2 women will go topless, but it is not the 1 out of 2 you would expect or wouldn't mind seeing.
Shorts with tights
Shorts, tights, and over the knee boots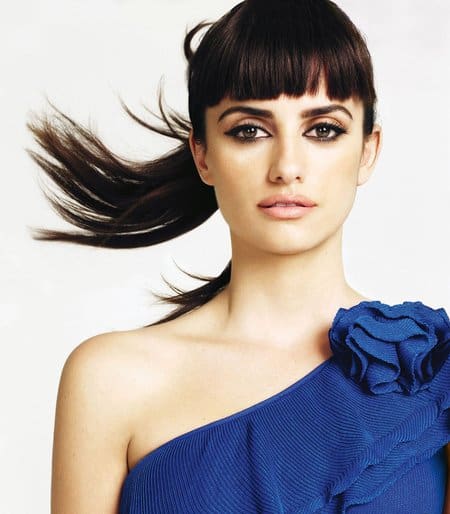 And miss Penelope Cruz
So remember, colors, boots, layers, make-up, and heels, oh and a belt, and you are on your way to dressing Spanish! Don't forget big dark designer sunglasses, long hair and straight bangs, and you should probably start smoking for good measure, lose 20 pounds y voila! The trick to looking like a Spanish lady to dress like you're famous and like you don't care about what people think, even though you probably do.
What are your thoughts on how women dress in Spain? Any crazy fashion trends where you live?
Rule number 1: never, ever, dress like this in Spain. No 7 jeans, no ugg boots, no north face fleece, and no ugly coach purse or wristlet
Rule number 2: do dress like this