While I was living in Málaga in June, I decided to head west on the Costa del Sol to visit my awesome friend Emmalie, who was an auxiliar in the fabulous beach town of Fuengirola! The Costa del Sol, literally "The Sun Coast," is named thus because it gets over 300 days of sunshine a year! It stretches from Nerja in the east past Málaga down to Estepona in the west, and nowadays it is a huge tourist destination for the rest of Europe, specifically for it's fine beaches and reliably sunny weather. In the summer (and for most of the year as well) it is swamped with Brits, Germans, Swedes, Norwegians, Danes, and Fins/Finnish (how do you say people from Finland? Anyone? I think I prefer Fins) looking for a bit of sun. It is one of the few places in Spain where people will occasionally speak to you first in English. Shock!


So I hopped on the local train to head out to Fuengirola for a weekend. Since Em was busy during the day, I decided I would first head up to Mijas, a typical white-washed Andalusian village in the mountains overlooking Fuengirola. This little village is perched high on the mountain with the Mediterranean in the background. It is super cute, and definitely worth a visit for half a day if you are ever in the area.
View from Mijas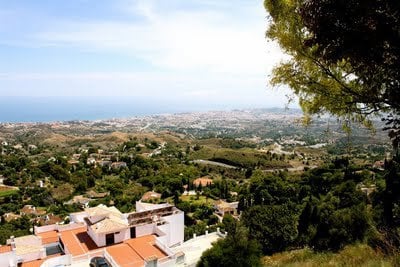 View from Mijas

I spent a lot of time wandering around the cliffs and parks, taking the same photo over and over again. There is a ruined church with some great views along with a small bullring that is still in use today, and is open to visitors. It is one of the few that allows you to walk around in the actual ring and pretend you are a torero (not on bullfight days though, of course). If you are interested in bullfighting, check out my post here. Since I was the only visitor, I chatted up the groundskeeper, who let me go in the back and see the bulls set to fight the next day. I think Mijas is famous for having these donkey taxis, like in Greece. However, I felt so bad to see them all chained up in stupid outfits in the hot sun that I refused to ride one. Nor was I about to waste my few precious euros on riding around on a donkey when they were gelato stands everywhere! Priorities people!
Church in Mijas

Church in Mijas

Me in the bullring. ¡Olé!

Visiting the two bulls, I named them Ferdinand and Enrique after two of my favorite kings

Poor donkey! Don't ride them!

I spent the rest of the afternoon sampling gelato and drinking coffee at a tucked-away little cafe overlooking the sea, reading and writing, before I headed back down to Fuengirola. There are local buses that leave very regularly up to Mijas (about 30 minute winding ride). I met up with Em and another friend Rachel and we walked along the beach before heading back to her apartment for dinner and mojitos! Although Fuengirola is an ancient city, it has been overdeveloped due to the massive demands from the pale northerners seeking sun. However, if you are going to see one thing there besides Mijas and the view from your beach chair, I suggest you make the trip to the Sohail Castle, a medieval 10th c. Moorish stronghold. You get great views of the sea, city, and mountains. In spite of all the tourists, it still has some really great beaches compared to Málaga. If you are looking for a resort beach vacation destination on the Costa del Sol, Fuengirola is definitely your place! But don't forget to check out Mijas while you are there!
Have you ever been to Fuengirola or Mijas? Vacationed on the Costa del Sol? Ridden a donkey? I would LOVE to hear your input!
Beach in Fuengirola
Sohail Castle, Fuengirola

View from Sohail Castle, Fuengirola

Beach in Fuengirola, I love those clouds!!