There's no better place in New Zealand than Wanaka. There I said it, and I'm not taking it back.
Sure Milford is stunning, Queenstown can hold its own, but there's something so idyllic about Wanaka's small-town charm and instant access to epic peaks.
It's unlike anywhere in New Zealand, and far too often it's seen by tourists only in passing, as the quickly rush from Fox Glacier to Queenstown. I know that driving down the West Coast can be an overwhelming experience. The abundance of activities can make it hard to decide on where to go and where to spend your precious vacation time.
One of the best ways to have adventures here is to take in some of the famous day hikes in Wanaka.
In a perfect world, you could spend months and see it all, but most of us don't have that luxury, so if you're looking for a reason to stay a few days in Wanaka, let me help convince you.
Wanaka is the perfect place for hikers. There are hikes for literally every ability within a short drive, all of which pretty much have epic views in Wanaka.
Here are my top recommendations for day hikes in Wanaka that are a 30-minute drive or less from the Wanaka city center. Here we go! 

1. Roy's Peak Track
We've got to cover it, so let's do it and get it out of the way. Roy's Peak. The famous peak. The mountaintop every hiker dreams of summiting when they come to New Zealand. I'm not going to pretend I'm better than Roy's Peak because, many years ago, when I too was a wide-eyed tourist ready to take on the world, I also dreamed of getting to this mysterious, other-worldly place.
Tacking one of these day hikes in Wanaka was number one on my South Island to-do list.
If this sounds like you, let's clear the air. You should 100% do it, but before you lace up your boots and get walking, let's get your expectations down to reality.
The view from Roy's Peak is unreal. There's no question about it. The famous photo spot is *actually* about 2/3 of the way up the peak, not at the top, and the view is truly picture perfect.
Well, the more famous photo spot is Coromandel Peak, which is further along the ridge is accessed by helicopter.
The way the bays jut in and out of the turquoise water, the impeccably placed islands, the leading line of the trail culminating in what looks like a sheer drop off (spoiler, it's not). Composition-wise, it truly does make for a magnificent photo.
Now that we got that out the way let's get down to the reality of the hike, starting with the parking. This peak has become so popular that the parking lot often full by mid-morning. If you're doing this hike, consider hitching or car-sharing to the trailhead. The walk itself is long and tedious.
It follows a 4WD track that slowly snakes back and forth for hours before reaching the summit. There is no shade on the trail so, on a busy day, you need a sunhat and lots of sunscreen. There is also no water on the track. Because there are no trees, the views you get 100 meters up are essentially the same views you'll see at the top, so there is no grand reveal.
Finally, the track is hella busy. You will be sharing the trail with hundreds of others, and if you want to get to that sweet, sweet photo spot, be prepared to wait in an actual line. On a mountain. In nature. Ugh. A better alternative would be to do the Skyline track, which goes from Cardrona Valley to Roy's Peak. At the very least, you should try to get to Mt. Alpha from Roy's, which is a fun track and less busy. 
Anyway, the peak is excellent, and if this hike is your New Zealand pilgrimage, go on and do it. Get it out of the way, then move on to some much better walks. 
2. Isthmus Peak Track
As tourism increases for Roy's Peak, nearby Isthmus Peak has become the default for those who want similar views with half the chaos for those looking for epic day hikes in Wanaka. This used to be a quiet little track, but its booming popularity means it faces many of the same problems that Roy's faces. The parking lot can fit maybe max 20 cars, and parking on the narrow, winding, and the busy road can be dangerous.
The track is marginally more interesting as you get different views depending on what part of the trail you're on.
It's slightly less busy, and there is no one designated money shot, so at least you won't have to stand in a line. 
Once you get to the top of Isthmus Peak, you will be rewarded with the rare view of both Lake Hawea and Lake Wanaka and the special place called "the neck" where they almost touch. Fun fact, an Isthmus is a narrow piece of land with water on either side. 
You can continue on to Mt. Burke if you're really keen but no that there is no public access down to the road from there, so if you walk the ridge, you'll have to come back to Isthmus Peak to get down. 
All in all, this a great alternative to an easy hike with stunning views.
3. Grandview Mountain Track
With a similar grade to Roy's Peak and Isthmus, the Grandview mountain track is another excellent option for day hikes in Wanaka.
The track, while steep, is not technical at all, so as long as you have some strong legs and bit of determination, this hike should be no problem. The hike starts in Hawea, a 15-minute drive from Wanaka.
For the most part, the trail is wide and usually not too busy, so if you're looking to escape the crowds, this could be a good option.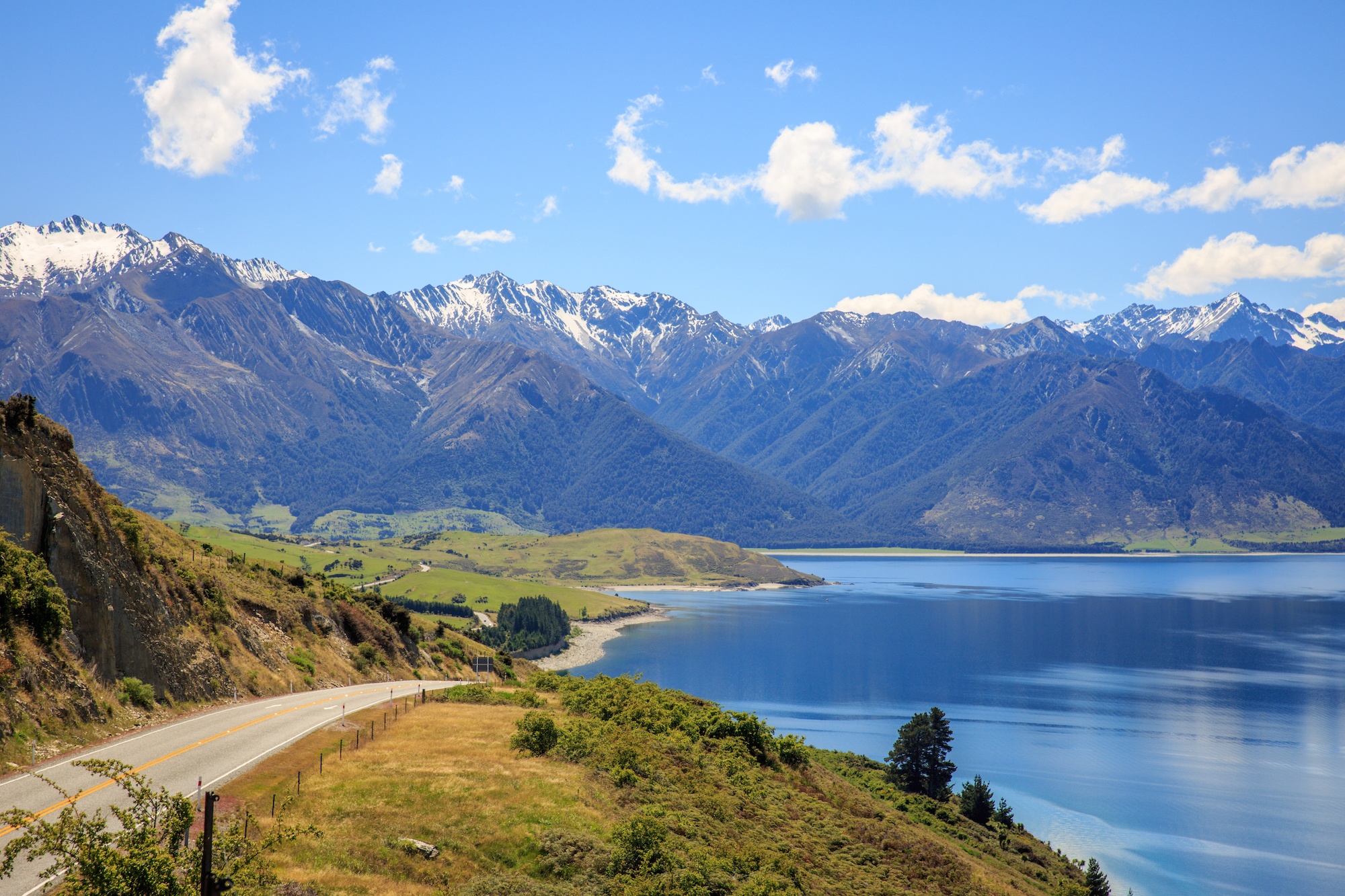 You'll start the hike going up the valley, which might require hopping over a few streams. You'll walk along a well-defined track through the quintessential Otago tussock land. After 9km of walking, you'll get to the Grandview summit where you will be rewarded with — ahem — grand views.
You'll have 360 degrees panoramic views of Lake Hawea, Lake Wanaka, surrounding peaks, and if you're lucky, you can even see Mt. Aspiring /Tititea's summit on the horizon. 
If you want a big day, you can continue the tracks and follow along across the ridge-line over to Breast Hill, but it is a long way, so you'll need to be sure you have plenty of time and food & water to get the job done. 
4. Diamond Lake and Rocky Mountain Track
For those looking for a shorter, half-day hike, Diamond Lake is sure to impress.
You can find this trailhead by heading up the Matukituki Valley. Diamond Lake is a popular spot and is a beautiful wee lake for those just wanting a short 15-minute walk. For those wanting a bit of elevation, continue on the trail past the lake and start heading up Rocky Mountain.
Rocky Mountain and Diamond Lake are fantastic day hikes in Wanaka.
The track past Diamond Lake towards Rocky Mountain is steep and often wet or, in wintry conditions, icy.
You'll want some good grippy shoes for this one in the wintertime if you can access it at all! You'll continue to climb until you get to a sign that points you on the east track or the west track, allowing you to do this hike in a loop. Both tracks are about the same, although the east gets less sun so it can be wetter or icier underfoot.
Nevertheless, the trail is relatively easy and straightforward, and after an hour or so, you'll be standing on top of Rocky Mountain, looking down on Wanaka below. 
5. The Motatapu Valley
Unfortunately, we don't have a lot of forest in Wanaka as it was cleared for farming a century ago. A lot of our mountains are bare, meaning there's not much shade cover, and your hike is probably going to look the same whether you're in the valley or on the peak.
The Motatapu area is a rare gem where you get a bit of variation in the terrain with a short, but beautiful, stint through a magical fairy forest. It's part of the land owned by Mahu Whenua, an incredible luxury lodge.
The main hike on the Motatapu Track starts by Glendhu Bay. You'll see the signs for the Motatapu track. This hike is part of a larger hike that takes you from Wanaka to Arrowtown over three days.
But for those looking for just a day walk, this hike still provides a great adventure to the Fern Burn hut and back. 
You'll start by walking through farmlands for 3km or so before you enter the forest. You'll follow a stunning little stream up the valley before crossing a bridge and continue up and out of the woods. Once you're out, you'll sidle along the tussock-covered hills on a well-maintained track for another hour or two before arriving at Fern Burn hut.
This is a great benchmark to get to for the day and an excellent lunch spot.
If you've got the time and energy, you can continue on a bit further to on the track and maybe even reach Jack's Saddle. Where ever you feel comfortable, turn around and go back the way you came. 
6. Corner Peak via the Timaru River Track
If you've driven down the West Coast into Wanaka, you likely remember the moment you turned on the highway from Lake Wanaka, went over a little hill, and then BAM — right in front of you was another stunning lake with a most impressive peak towering above.
This prominent peak that welcomes you to Hawea is called Corner Peak, and it's a real beauty.
Corner Peak is going to be harder than any of the hikes, as mentioned earlier, but it's well worth it.
The trailhead starts in Timaru Creek, a 30-minute drive from Wanaka. This track doesn't mess around, and from the get-go, your calves will be on fire. Fight through the pain; it's worth it. 
The track climbs relentlessly for a few hours before starting to sidle along the tops. You'll get to a point where you think you're close, and then you'll look at the ridge and see how far you have left to go. Don't let that discourage you. It's closer than it seems! Keep trudging on. While the track is fairly obvious, many people get lead astray by trying to follow the actual ridge to the summit. The trail actually sidles along the backside of the peak, and if you decide to follow the ridge, you'll likely end up on loose rock scrambling precariously. 
The views from the top are truly unreal. You get a rare peek into the Hunter Valley, and you can see all along Lake Hawea as well as over to Dingle Peak and toward the Ahuriri. Your legs are going to be tired, but you won't be sorry. Follow the track back down the way you came to get back to the car. 
7. Breast Hill Track
Breast Hill is my favorite hike in the Wanaka area, hands down.
Part of the Te Araroa trail that covers the length of New Zealand, Breast Hill has everything I'm looking for in a local mountain: proximity to home, varied terrain, a bit more technical than merely walking, stunning views instantly. It's simply exceptional.
The hike starts just outside of Lake Hawea, and as you drive to the parking lot, you'll likely spot the steep switchbacks up through the scrub and make no mistake, the switchbacks are STEEP. As your calves burn and you suck air trying to get up the switchbacks, remember after 30 minutes of so, the switchbacks will end, and it will get slightly more relaxed.
From there, you follow up the rocks and along the ridge. The trail can be scrambly at times, so you may need to use your hands to climb up or stabilize yourself. Keep mostly to the ridge until you get to a sign for Pakituhi Hut. This is a great hut to stay in if you want an overnight hut, otherwise, turn left and head up the mountain. The trail is obvious, and it won't take you long to get to the true summit. 
I love this area because the options are truly endless. From the top of Breast Hill, you can connect it down into Timaru Creek (a 30km+ day, but doable), head over into the Ahuriri Valley (overnight) or get over and down Grandview Mountain (another big day but still possible.) 
The views from the top are similar to Corner and Grandview: sweeping vistas of the surrounding ranges, perfect views of Lake Hawea and the township, and even a little peek over into Aspiring Mountain if the weather is clear. Honestly, this is a must-do on the day hikes in Wanaka.
8. Sawyer Burn Track
At the top of Lake Hawea, you'll find this little gem at the Kidds Bush Campsite.
It's not a particularly long or hard walk, but it's great for an afternoon. Park at the campground and follow the signs for Sawyer Burn Hut. You'll climb up steeply through the forest getting little glimpses of Lake Hawea below and Corner Peak over the east. After an hour or so, you'll be out of the bush, and you'll have epic views to soak in. 
You'll get to a point where the Sawyer Burn track veers right, avoiding the obvious ridge in front of you. Follow the track and traverse along the mountainside for a while longer before getting to Sawyer Burn Hut.
This hut, in all honesty, is in pretty bad shape, so while you wouldn't want to spend the night there, it's a great spot to get to for an afternoon stroll before turning back and going the way you came. 
9. Meg Hut
There's something so subtly stunning about the Pisa Ranges.
Sure, the mountains are as dramatic and intense looking as some of the other rangers, but the Pisas certainly have their charm. While still tall mountains, the peaks of the Pisas are more rounded and covered in tussocks, making them look like alien land formations from afar. 
There are plenty of tracks to keep you busy in the Pisas, and because of their gentle nature, you could explore the area for as long as you want in one go. My favorite day mission is a peaceful, gentle walk to Meg Hut.
This is also an exceptional hut to stay in if you're looking for an overnight mission, but it works great as a day walk too.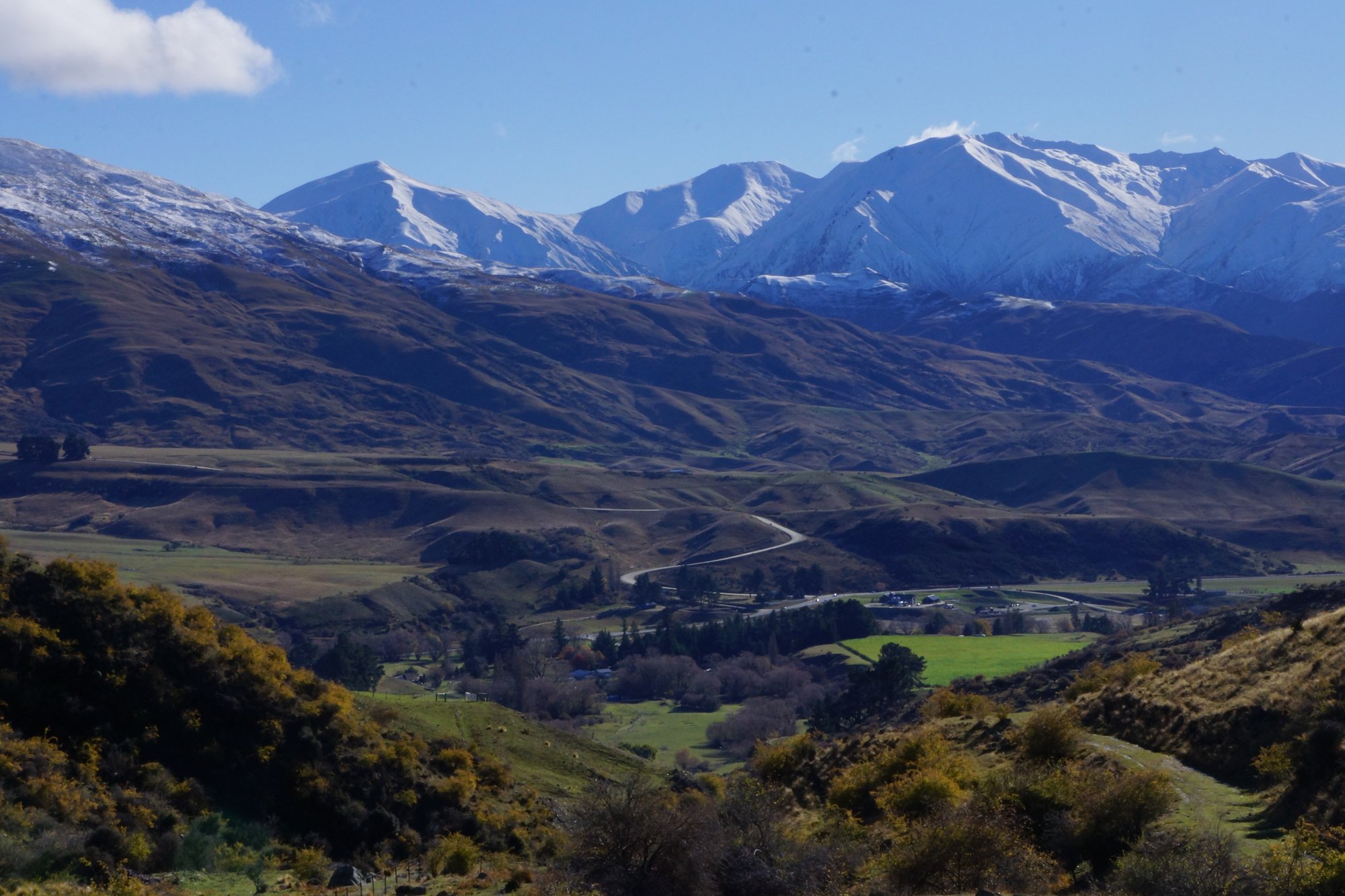 You can access the trailhead by driving to Cardrona and turning into the Snow Farm road. You'll see signs for the track (do not go up the snow farm road!) where you can park your car and start walking. The track is all smooth 4WD roads, so while it can be steep at times, it should be a much gentler walk than some of the others on the list.
After a few hours, you'll hit Meg Hut, which is nestled into a little valley next to a stream.
You can continue if you want over to Deep Creek Hut and out over to Cromwell, or turn around and go back the way you came. It won't have the epic lake views like Roy's Peak, but the lack of crowds and the sound of the tussocks blowing in the wind are well worth the trip!
Finally, one of the best day hikes in Wanaka, the Rob Roy Glacier track, unfortunately, is out of commission as of January 2020 – there was a dodgy slip (landslide) on the track worsened by some wild storms making the track too unstable to use. Fingers crossed DOC gets it back up and running soon – be sure to pop into the local office to check the status of these trails and the weather before venturing out.
Besides that, there are so many fantastic day hikes in the Wanaka area beyond the more well-known ones. Be sure to check them out on your next adventure in New Zealand.
What are your favorite day hikes in Wanaka? Have any more to share? Spill.