The most wild, remote and probably most beautiful corner of New Zealand is without a doubt, to travel Fiordland. Although it's full of adventure and possibility, few tourists venture beyond Milford Sound. Janey from Little Wanderlust Stories is a good friend of mine and was lucky enough to live and work down in this epic area, and she's agreed to share her local tips and knowledge with us!
New Zealand is known around the world as the land of adventure. And to be fair, it is the place that invented bungy jumping and where the Lord of the Rings was filmed. There are thousands of bucketlists out there telling you all of the 'must do adventures while in New Zealand,' and let's be honest here, they are all the same.
So many of New Zealand's best experiences, especially for true adventurers, are still relatively unknown.
Fiordland National Park is one of these lovely little secrets. Widely known to travelers as the home of the iconic Milford Sound, many won't explore beyond that, and most come in as a day trip from Queenstown or to hike the ridiculously popular Milford Track (which books out a year in advance). But there is so much more to experience, and if you're brave enough to venture away from the popular spots.
I lived, worked and played in Fiordland for seven months and let me tell you – if it's adventure you're looking for, Fiordland will not disappoint you, ever. I spent every free moment seeking something new and exciting, whether it was on the water, under the water, up a mountain or in the bush.
The biggest bonus about so many of my wild adventures in Fiordland was that no buses stop in these places and tourists don't really know about them, meaning you'll have the place to yourself! But seriously, this national park is so big, unless you're adventuring with other people you're unlikely to bump into anyone!
If you're like me and dying to get off the tourist tracks, away from people and experience some pretty epic raw adventure in a beautiful natural landscape, then keep reading! If you're not quite sure if adventuring in Fiordland is for you, I promise by the end of this blog post you'll change your mind.
So without further a do, here are my best picks for 12 epic adventures to have in Fiordland National Park!
1. Hike to the beautiful Lake Marian
This is definitely one of the most scenic hikes in New Zealand, and that's saying something!
The Lake Marian Track is pretty easy to follow; while it's getting more well-known in recent years, it's well trodden and would be tricky to get lost! Park your car just at the beginning of Hollyford Road and follow the sign marked for Marian Falls, cross the swingbridge and leave the tourists behind (or most of them anyways) who only walk up to see the waterfall.
It'll take around 1.5 – 2 hours to get to this beautiful alpine lake, and while the incline can be steep, it's not so bad compared to many other hikes in New Zealand, and it is so worth it!
The trail itself is not well-maintained. It's often muddy, there are a few parts you will have to climb up tree roots (but only a tiny bit). While this trail is easy to follow, it can be tricky underfoot so it is important to be wearing good boots (seriously, the amount of times I've seen people hike in flip flops is nuts) and take it from me, it's very easy to twist your ankle on this track if you aren't careful. 
Lake Marian's water is crystal clear green, often offering mirror reflections of the surrounding snowcapped peaks. Clamber over giant boulders down to the lake side to fully enjoy the view. Trust me, it's the perfect place for a picnic lunch. 
Or, if you fancy venturing further in summer you can walk around the edge of the lake with the option of going into the valley at the other end BUT DO NOT try this in winter/spring time when the avalanche risk is high. In winter, just stick to the main side of the lake. 
We hiked to Lake Marian in September which is springtime in Fiordland, it's getting warmer but still a little cold with snow on the mountains. The crystal clear water of Lake Marian was tempting enough for us to hop in for an incredibly quick swim!
2. Push your limits on Dore Pass
Getting into the wild of Fiordland is easily done on this hiking adventure, though after that, nothing is easy. Expect no phone signal, no clear trail and very little in the way of waymarks.
Dore Pass is a highly advanced hiking trail and I wouldn't tackle it alone or at the very least, without a PLB (personal locator beacon). Experts only! But man, it promises an awesome adventure!
Start the trail from a very tiny car park on the Milford Road with the doc sign post for 'Glade Hut' written on it. From here the route itself is only around 10.5km one way but it is going to be tough. TOUGH. 
You'll begin by crossing the Eglinton River – we opted to do this in bare feet. I'll warn you now, it is cold – and head into the treeline in front of you. There is no clearly marked trail, and the aim is to find the orange flag on the outskirts which then should lead you to a faintly marked trail.
And from here it is up, up, up you go!
For those of us with navigational skills, alpine experience and a love of the wilderness you will love Dore Pass!
Reaching the top of the pass is sensational. 360 degree views of where you came from to where you're going make the last few hours of bush bashing, steep climbs and trail finding totally worth it. You'll look down to the end of Lake Te Anau and the start of the Milford Track and from here this is when your alpine skills and the necessity of having a PLB or friend with you will make the difference.
The trail runs along the mountain ridges, with only waratahs/cairns guiding you (which are sometimes hard to spot). There will be sections you'll be shimmying around a boulder or crossing landslide sections. Don't panic, there are always hand holds somewhere or if not, the hardcore alpine weeds are pretty durable!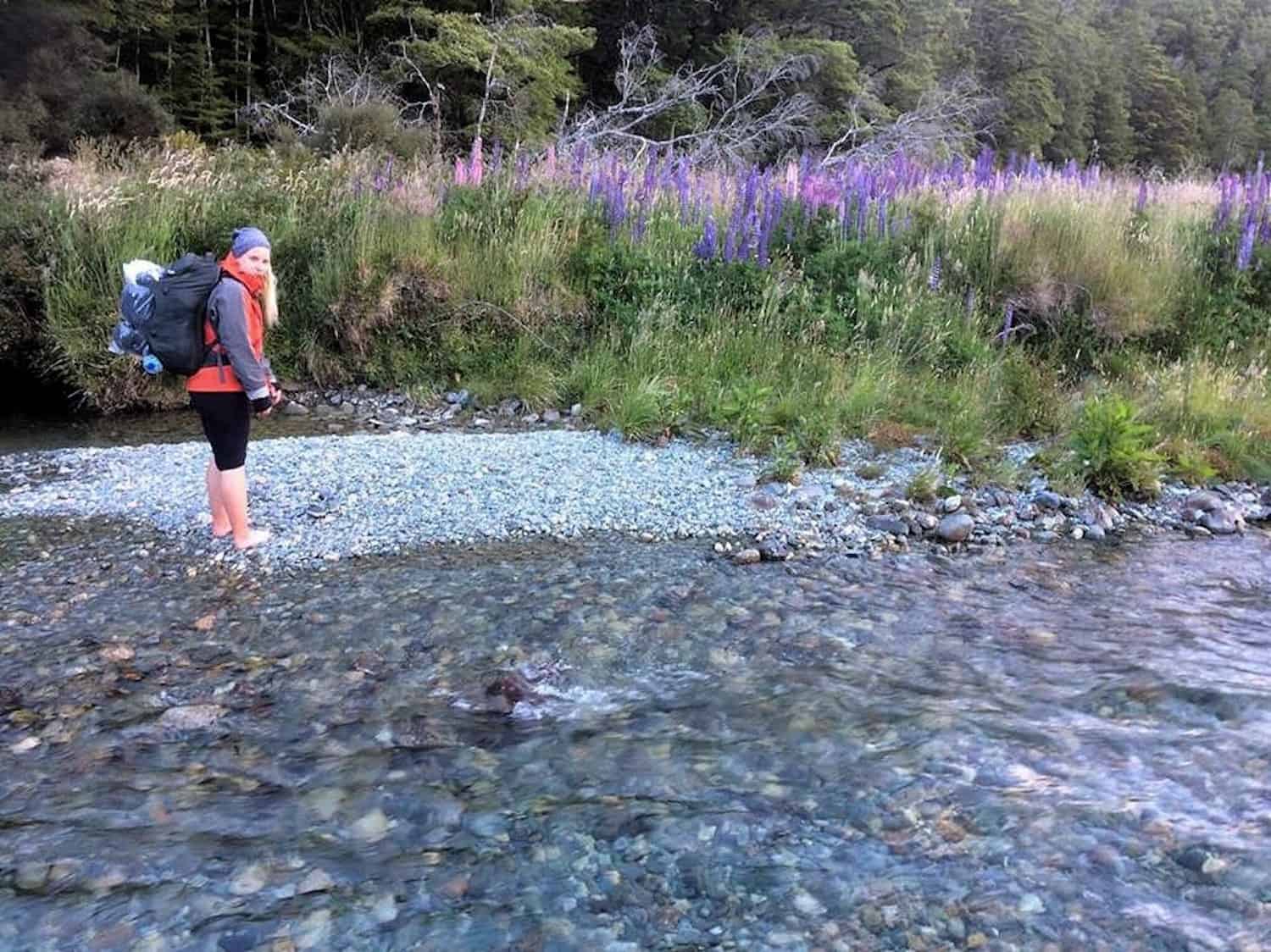 Ignore the 'bunny trails' leading you away from the waratahs to what seems like a shortcut. These are not shortcuts. Unless you fancy flying or rolling down into the valley below!
This trek will take anything from 7 – 10 hours. We did it over two days, started late, camped and then completed it the next day but camped in the woods before heading home.
The only bitch about this trek is you will either have to get the ferry back on the other side from Glade Wharf, which is the beginning of the Milford Track. Or turn around and hike back to the car the same way you came, which remember, is another 7 – 10 hours! What I recommend is to take the ferry back over to Te Anau Downs and then hitchhike back to the car! If you're lucky enough some of the tour buses will take you down!
This is one of the most epic hikes I've ever done. Don't get me wrong it is HARD and I struggled, cried, was covered in mud a lot and really had to push myself. But wow it was worth it!
3. Can you do the Routeburn Track in a day?
Another one of New Zealand's famous Great Walks is the Routeburn. Although they are popular, you can't stop your curiosity going wild wondering what the hype is all about. One of the shorter of the Great Walks coming in at a shy 32 kilometers, most people do it in three days. Unless you're a kiwi then you do it in a day to avoid the high cost of the hut fees. Or better yet, run it. 
Sounds crazy, but it's do-able, trust me!
If you like well trodden trails, don't mind bumping into a few other people along the way and are looking for some incredible scenery. This is a pretty epic trail! Starting from either The Divide just off the Milford Road or from the other side in Glenorchy.
The most beautiful part of this whole hike for me, was the Mackenzie hut and the climb up to Harris Saddle. The lush green valley and blue, crystal clear alpine lakes are surrounded by mighty mountain peaks giving the beauty a sense of drama. The views here never get boring.
There is a great mixture of up, down and flat walking. The trail is incredibly well maintained offering huts, shelters and camping options that allow both adventurers looking for a challenge and easy walkers to enjoy the same route at their own pace.
4. Alpine climb to Homer Saddle
If you love alpine hikes but you don't have days to spend off trail, carry camping gear and head for the high peaks deep in Fiordland, Homer Saddle is a cheeky hidden secret.
Drive down the Milford road and just before you get to the Homer Tunnel, turn off and park your car in the car park to the side of the tunnel.
From here, you'll see an old 'nature track' which used to be run by DOC but had since been wiped out by landslides.
Follow the nature trail as it begins to skirt up along the alpine mountain side, slowly gaining height. There are absolutely no markers for this trail, it's officially not maintained by DOC, so you're pretty much on your own. But that's what we love, right?!
The route up to the Homer Saddle has a faint trail, but really you're only going to make it up onto the ridge if you have a little alpine experience. If in doubt, just aim for the top! The top being a pretty gnarly sheer Alpine ridge with the perfect view to have a coffee too!
You'll be looking down the winding road into Milford Sound, after the homer tunnel. Be careful not to fall though, there's a few hundred meter drop below you!
Discloser – people have died on this hike even someone just last year; experts ONLY.
5. Venture into the Valley of the Trolls
If you want to enter a world where you could imagine trolls living under waterfalls, fairy rings and the home of elves then this is the place to be. Valley of the Trolls is a secret little spot just off the Routeburn Track. So for the first few hours of the day you'll be walking pretty much half of one of New Zealand's Great walks – that counts as being ticked off, right? – but your destination is way better than the end of the Routeburn.
I've been hesitant to give this beautiful spot up, but for adventurers looking for new, accessible trips this is a must do and deserves to be explored! There are no trail markers to take you here, I went on word of mouth advice from a friend and good guessing work! So how do you get there?
Follow the Routeburn Track until you get to Lake Harris. From here the lake seems to snake into a valley on the other side. That valley is your aim. Walk down to the lake side close to the harris shelter and look for small pink markers. These are trap lines and are basically found along the side of the Lake towards the valley.
Entering the valley the first thing you notice is a thundering waterfall cascading down the mountain peaks at the far end and a spiderweb of little rivers littering the valley floor. This makes the ground underfoot a little boggy and wet, not ideal for camping. But no worries! The walls of the valley have some epic Lion King styled over hangs, perfect to pitch a tent or just cosy up in a bivvy bag under the stars with little worry of rain!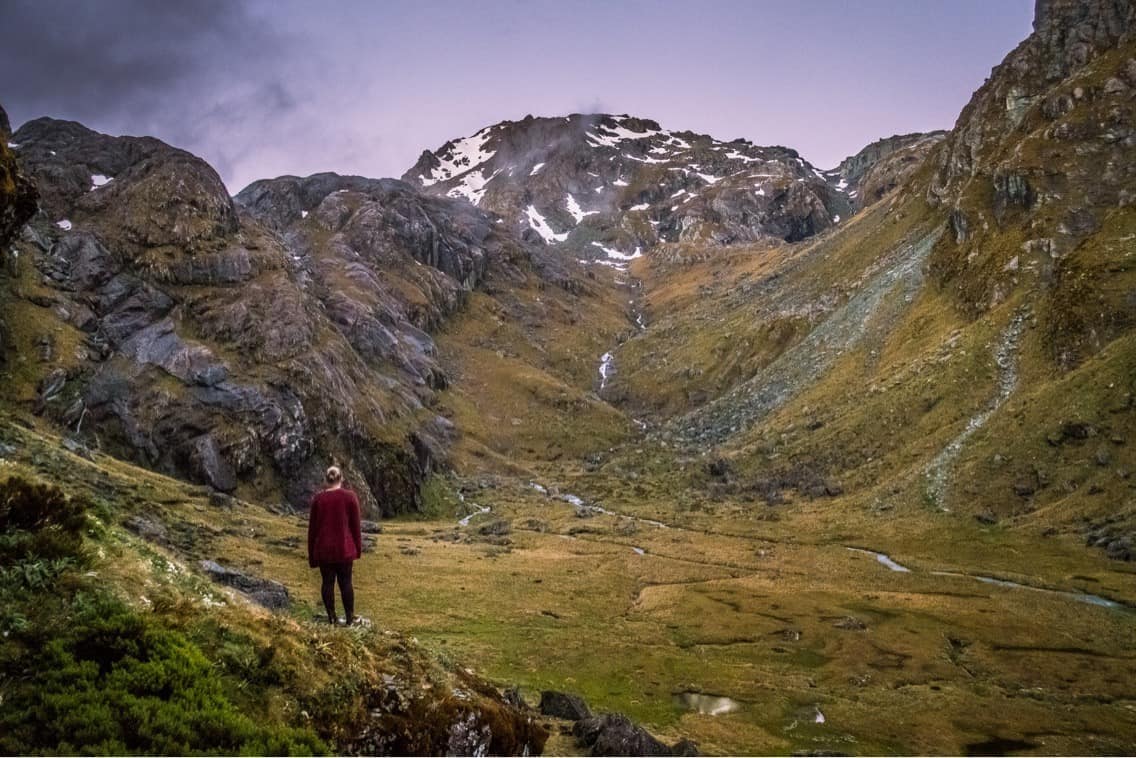 How many places in the world can you find a campsite setting in a valley of magical creatures? Even the toughest of us adventurers want to camp in a Disney-like setting!
6. White water kayak bright blue river rapids
Fiordland is a mecca for the white water kayaker but is not for the faint hearted!
It is steep, fast, continuous (not a lot of places to stop for a breather), full of boulders and technical maneuvers but most of all – a shot of adrenaline right to your heart!
If you look down, you're paddling over clear glacial blue waters. Look ahead to see you're paddling through a rainforest, the raging white water drops away between steep boulders and you look up and you're in the middle of the mountains, gazing up at snow capped peaks all around.
There is nothing quite like, white water kayaking in Fiordland National Park.
I say potential mecca because although Fiordland is full of amazing rivers, it is lucky a passerby will find the river at the right level unless you're very experienced. The rivers are formed at the base of glacial granite valleys, meaning the water races over the rock below without sinking into the ground and quickly flows away down river. This is why the rivers in Fiordland can be dangerous, flash floods can be pretty common here!
So basically if you're after some epic white water, it's best you plan to hang around a while for the rain to come. If you're like, you might even see whio or the Blue Duck, New Zealand's white water rafting duck that lives in the fast flowing waters of Fiordland. 
For those lucky enough to be here at the right time, the Hollyford river is where you want to be!
There's some easy but technical warm up sections down Falls Creek with grades 3/4 to get you started before you continue down to some epic grade 5 rapids below Marian Creek and eventually, flowing out through continuous grade 4 rapids as you pass Morraine Creek.
The Hollyford is hands down one of the most beautiful, magical and terrifying(ly awesome) rivers that will just stay with you forever. So if you're a keen white water kayaker, this is where you want to be!
7. Go on a sea kayaking adventure
Growing up on the water, sometimes there is no better way to explore somewhere so remote than in a kayak. Being on and close to the fiords in a kayak is a pretty special experience.
Being in a kayak up close and personal to the small caves, marine life, birds and native bush in the Fiords beats being stuck on a giant cruise ship with hundreds of other people any day!
You can kayak in both Milford Sound and Doubtful Sound through tour companies, but if you have your own kayak and a sense of adventure – there's not too much of a limit to where you can explore!
Kayaking alongside dolphins, rare penguins and seals while being surrounded by some of the biggest and dramatic mountains is just, indescribable!
My favorite moment was heading down to Milford Sound with a bunch of my friends just before midnight. Hopping in kayaks and paddling the length of Milford Sound until we just about reached the Tasman Sea. Kayaking with just the moonlight to light our way, incredible stars and the playing splashes of the jumping dolphins and seals nearby was sensational.
Just before we beached our kayaks onto Anita Bay a seal jumped over the front of my kayak giving me the absolute fright of my life! – Is it embarrassing to say I almost fell out of my kayak? – We set up camp at about 2am, enjoyed a beer under the stars before falling asleep to enjoy a early morning paddle back the next day.
8. Explore the depths of the fiords diving 
Scuba diving in Milford Sound is a completely unique adventure. The marine life and ecosystem down there is hard to find anywhere else in the world! Each dive is different and for adventurers looking for a unique experience in Fiordland, this will definitely satisfy you!
Milford Sound is famous for having some of the best diving in New Zealand, if you can bear the cold. A few meters of fresh rain water sits on the surface, so you descend through it to the saltwater below which is much warmer. You can even see a divide in the water.
The dark tannins in the freshwater layer trick deep dwelling sealife into living much closer to the surface than they normally would so you often get to see creatures and corals here that you wouldn't have a chance to anywhere else in the world.
Descend Dive is the only company in Milford Sound offering diving adventures; PADI trained, I was geared up and ready to go. Setting off early in the morning, we were out to make a day of it.
Jumping into the water and descending down a few meters everything goes fuzzy for a moment as you cross from the freshwater layer into the salt water. Finding my bearings and looking around, along the sheer cliff faces are trees of white coral (actually named black coral) it didn't take much more than that to blow me away. The sheer cliff faces were full of life, and the friendly locals came to join in the fun – seals! That was also the moment I realzed it's hard to scream (in excitement) with a regulator in your mouth.
So what are you waiting for? Gear up and jump in! You'll even get a fresh water shower under Stirling Falls before you hit shore!
9. Climb the iconic Mitre Peak in Milford Sound
Mitre Peak has to be one of the most incredible mountains I have ever climbed! And none is so iconic, lording over Milford Sound in all it's glory. But it is not for the faint of heart – or for anyone with a fear of exposure or heights. 
It can be done in a day, but why rush when you could camp on the saddle? For anyone who spends time in Fiordland, standing on top of Mitre Peak will be on your adventure list.
There is something captivating about that iconic spike that wills us to take on, not only the mountain, but the sea and the stubborn New Zealand bush as well.
Getting to Mitre Peak is an adventure in itself and is for hardcore mountain badasses ONLY.
There is no overland trail to the beginning of this climb so you have to approach the mountain by sea! The best way is to kayak – there is nothing better than gliding through smooth glassy water, especially when dolphins and penguins come to play along the way! Drag it onto the beach and leave it somewhere the tide won't wash it back out – that would not be a fun swim later! 
There is nothing on Mitre Peak for you, and you need to bring all your water with you. Most people I know who have climbed it end up getting lost in the bush for a while, running out of water, and having to steripen puddle water. Yuck!
Now it's time to take on the stubborn New Zealand bush. It's almost like entering Narnia and playing chase with a gremlin! The only thing to keep you on track is the occasional pink ribbons tied sneakily to tee branches and roots along the way but otherwise it's not an official trail and is unmarked.
As the trail rises it'll become so steep you'll be climbing on all fours, with the help of tree roots, cursing each step as you heave yourself towards the saddle.
Breaking out of the bush felt like I'd just broken out of jail.
Suddenly the light was back, the air was clearer and the views were already sensational. Now for the final push to the peak.
I hope you have a head for heights and serious alpine experience because it is dodgy as fuck! With sheer drops on both sides down into the fiord below, a slip here and you are a goner.
Unless you have incredible balance, nerves of steel and no fear of falling, you will be bum shuffling and be on all fours! But you've made it (hopefully) and now can enjoy the epic, snow capped peaks and the view out into the Tasman sea beyond the fiord.
There are companies like Adventure Consultants that do guided trips up Mitre Peak and I think there are options of roping in at the top.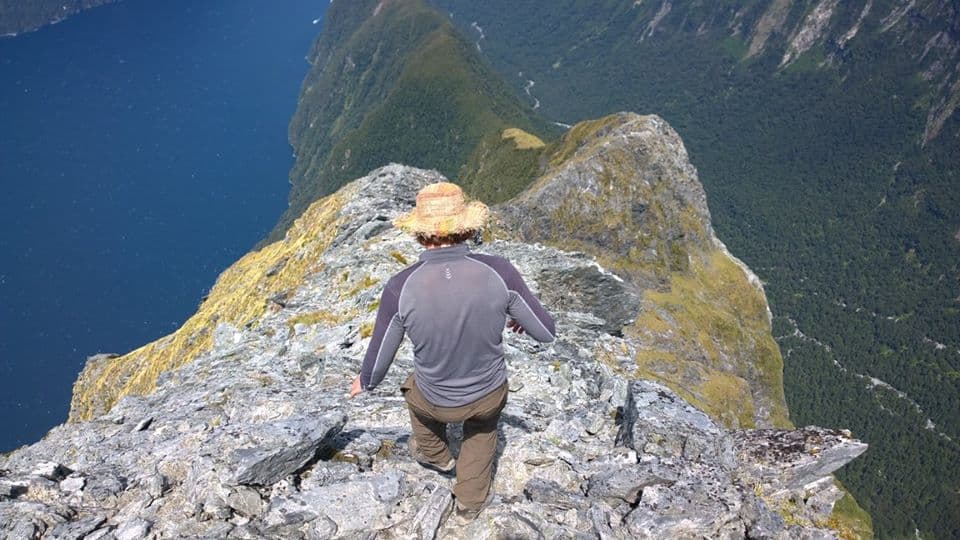 If you're looking for hardcore adventure in Fiordland, Mitre Peak will give you the thrill you're after!
10. Unzip your tent to some epic views from the top of Cascade Peak
Cascade Peak, although shorter than Mitre Peak is a much harder climb, mentally. There are no trails or tracks to follow, you're simply bush bashing your way through dense rainforest.
To find the start of Cascade peak you basically have to do the Lady Bowen Falls hike, but then follow the river further up for about 15 minutes (which involves climbing a lot of boulders and crossing the river). Then you keep heading up into the bush and eventually you'll get to the ridgeline where you'll walk along the ridge to the peak. It's not well-marked at all, so it's definitely for very experienced people only.
The trees offer no light or views and landmarks don't really exist to help you here. The best way to describe how to get to the top of Cascade peak, is to keep climbing up, until you quite literally, can't go up any higher!
Once at the top of this challenging mountain; the mental battle you just had, heaving yourself and your backpack up the steep slopes, makes everything worth it! You're met with a view of mother natures greatest creation, Piopiotahi (or Milford Sound). Camping on the top of Cascade is a bit of a squeeze. There are a few larger flat areas but the vegetation is slowly taking over and blocks those epic tent views we are all after.
If you want a tent view of the mighty Milford Sound and the surrounding Tasman sea, then you you're going to have to camp on pretty much, a knife's edge. Just make sure if you pitch your tent here, you don't roll over in your sleep, it's a long way down!
At the top, you can finally breathe fresh air and get to play with the cheeky and curious kea (the world's only alpine parrot) who will stop by for a visit – and try to steal your food – they are heaps of fun and good company. But keep your valuables and your boots zipped in your tent.
Remember in places like this in New Zealand, we always practice leave nothing behind except footprints.
In the evening sit round your small cooking fire and watch the sun go down out over the Tasman Sea and watch the shadows slowly creep up the mountains around you. In the morning, make sure you wake up for the sunrise to enjoy the incredible Alpine glow, lighting the mountains up in dazzling colors of orange and red, as the sun rises high into the sky.
This will be an adventure you won't forget in a hurry!
11. Sleep under the stars on Gertrude Saddle
Gertrude Saddle is a day hike on the Milford Road but can be more challenging than you expect it to be and often has fatalities for those going up in bad conditions or who are unprepared. Now maintained heavily and new safety measures in place after a few tragedies in previous years it is a great climb for both thrill seekers and avid walkers.
It's dangerous when the rock slabs are wet.
Normally Gertrude Saddle will take around 6 hours but where's the fun in just enjoying this hike for a day? Catch Gertrude Saddle on a sunny clear day you better pack your bags, bring your tent and sleeping bag and get ready for an epic camping experience.
On the top of the saddle are only really two camp spots, on is behind a rock with the purpose of sheltering you from the wind, the other just a few metes along. But the best camp spot is just upwards from here. Climb higher than the saddle to the humps above and find dry flat ground to pitch your tent.
The views down into Milford Sound and the surrounding mountains are incredible, and if there is anyone else up there, it won't feel like it. We went up here at the end of summer but caught a clear warm day. Laying in our sleeping bags outside, no wind and a perfect clear night sky filled with stars. We counted the shooting stars until we fell asleep, outside.
It was perfect until, of course, the 2am land wind came in and woke us up shivering, moving us back into the tent, though the sunrise the next morning, was one of the best I've ever seen!
12. Climb to the top of one of Milford Sound's iconic waterfalls
Lady Bowen falls is one of Milford Sound's permanent residents. Flowing all year round this lady can be thunderous and unforgiving or soft and gentle. If you kayak in Milford Sound you'll get the chance to get up close to the base of the falls.
But the view is much better from the top, trust me!
Lady Bowen falls track has always been a "locals only" haunt not known to tourists and travellers passing through, especially after some have fallen to their deaths from the top, but those who spend a lot of time down there eventually discover it.
The 'trail' starts just around from the visitors cafe just around from the cruise ship terminal. From here you'll bush bash your way through the trees, scrambling to look for the mixture of pink and red ribbons leading you up the trail.
Thankfully the popularity among the residents for this track has led people to put rope holds to help you. The track is relatively well-trodden until you reach the giant water pipes leading to the top of Lady Bowen Falls. I hope your balancing skills are good because you'll be walking along these pipes for a while!
Once off the pipes you'll come to a river, which, you guessed it, leads you pretty much to the falls. Just be careful not to get too close, the rocks up here are slippy and that would be a pretty unforgiving fall. But you'll be rewarded with the best views of Milford Sound, on top of one of the most iconic waterfalls!
Do you seek adventure when you travel? Have you been to Fiordland? Is this wild corner of New Zealand on your bucketlist?
Disclosure – most of these adventures are for people who have expert knowledge and experience in the outdoors, especially in wild alpine environments. People have died on some of them when they are unprepared or inexperienced from things likes falls or flash floods. When in doubt check in with DOC or go guided